Updated for 2019—we've partnered with our friends at BigCommerce to share even more ideas to prepare for Easter campaigns. Check it out here.
Shoppers have close to an extra month to stock up on candy, new clothes, and home decor for Easter this year. The National Retail Federation (NRF) expects consumers will spend a record $18.4 billion in 2017, up 6% from last year's record setting $17.3 billion. So, it's definitely time to begin exploring Easter marketing ideas!
Ecommerce companies will be eager to know that the NRF estimates 27% of consumers will shop online this year, up from 21% in 2016.
Most shoppers will hunt for candy (89%) but food ($5.8 billion) and clothing ($3.3 billion) claim the largest dollar shares. Even if your business doesn't have an obvious Easter spin, you should still send a holiday email to capitalize on the moment.
Below you'll find three ideas to help you send a stand-out Easter campaign.
1. Focus on Families Getting Together
Easter is more like Thanksgiving than Christmas–travel, meals, and family togetherness, all in a short window of time. If you're short on time, try reworking a successful Thanksgiving campaign with products and a motif that's fit for Easter.
Save on Easter Dress-up for the Family
Easter also marks a major wardrobe refresh. See how Burlington's email taps into three major Easter themes–family, new clothes, and cooking. The subject line also packs three themes (bargains, Easter clothing, and family) into seven words and a mobile-friendly 38 characters: "Save on Easter Dress-up for the Family."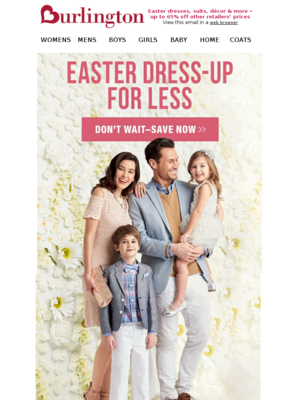 Gather family and friends around an Easter Dinner
Family is also the focus in this email from Honeybaked Ham, but the appeal isn't just the hero image of that enticing Easter dinner. The copy both reassures – "This Easter We've Got You Covered" – and suggests urgency with the countdown timer for the order deadline.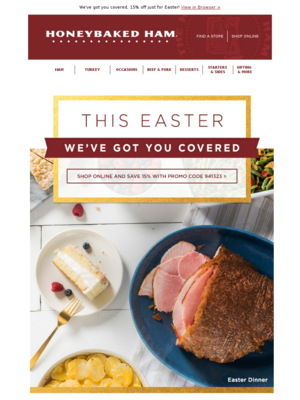 Takeaway: Focus on family gatherings and everything that comes with it: dressing well, cooking, traveling, and good times. If you're in a pinch, re-purpose one of your Thanksgiving emails.
2. Send a Non-Promotional Email for Easter Marketing
Your customers will be checking their emails while the ham bakes or after the Easter egg hunt. Give them something to open that says "We're thinking about you today" instead of "Buy this."
Happy Easter to you & your family!
We loved the email series Chasing Fireflies sent last year–a string of promotional emails that ended on Easter with this lovely, non-promotional, message.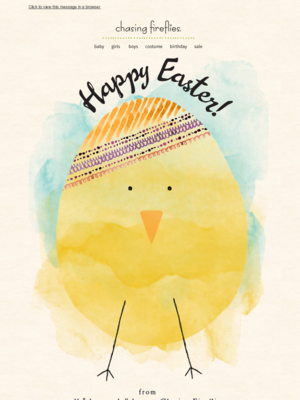 Takeaway: Sending a non-promotional email for Easter marketing keeps your brand visible in the inbox, and your warm-fuzzy message will earn you a smile—and maybe even some brownie points.
3. Avoid Clichés for Easter Sales Ideas
You know what we mean: any variation that uses "hop" or substitutes "egg" or "eggs" for "ex" ("egg-citing," "eggs-tra," "eggs-treme"). Every other email marketer is doing it, too. Your customers' inboxes will be filled with similar wordplay, and that takes the punch out of your pun for Easter sales ideas.
Up to 30% Easter basket savings!
This PetSmart email detoured around the "hoppy" road. Instead they opted for cute, on-brand, imagery. Notice how they also prompted subscribers to share Easter photos of their pets in their Easter marketing ideas.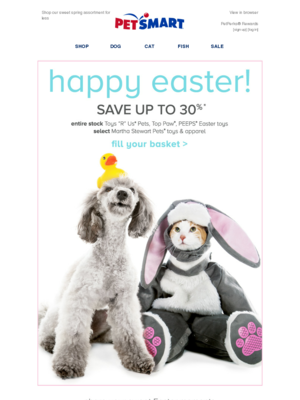 This just in: Easter
Lush avoided the cliché trap entirely by tying its new product to Easter with clever creative: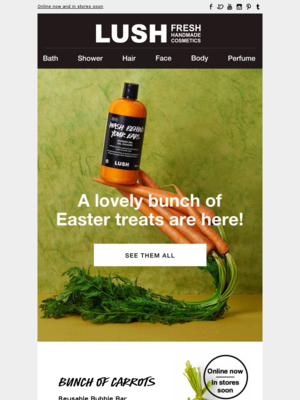 Takeaway: Your customers know Easter is coming. Concentrate your efforts on copy and creative that touches them emotionally while leveraging your brand equity.
There's three ideas to help you create a quick Easter email campaign that taps into the seasonal sentiments and won't look like everybunny else's in the inbox. We can't wait to see what you do!
Want to see more? Join MailCharts to spy on your competition and stay ahead of the trends in email marketing content and design, as well as explore Easter marketing ideas.