April Fool's Day pranks are a time-honored tradition that goes back centuries. Yet, despite the first of April's historical attraction as an email marketing holiday, the date's association with playful hoaxes and harmless fun carries an implicit risk: no customer or subscriber wants to be left out of the joke. Especially now!
With those risks in mind, email marketers embrace a spectrum of approaches — from gleefully attempting (at least briefly) to dupe customers to loudly refusing to do so.
Our Curated April Fool's Day list displays this full range of humorous and earnest methods to leverage the holiday to market most any product or service.
Let's sample 5 of them.
Go all in
Swimwear-maker Chubbies pretended to launch a ridiculous new product it had dubbed the "baggy Speedo." To drive home the comic absurdity of the bathing suit, it opted to have it modeled at the beach by a distinctly un-debonair young man:
NEW PRODUCT ALERT

Interestingly, this pseudo rollout is bracketed at the top by a presumably authentic 15% off "Spring Cleaning Sale" and at the bottom by the outrageous warning "Legally you aren't allowed to read below this point."
The warning is clearly meant to telegraph that Chubbies' new "baggy Speedo" is every bit the hoax recipients undoubtedly suspect it to be. (Note, too, that the warning goes on to declare that violators are subject to citizen's arrest by "Sheriff Grant Marek, Deputy Sydney Hawes, and everyone else at Chubbies HQ." Not surprisingly, we discovered that Marek and Hawes were both real-life colleagues at Chubbies when this email was sent.)
Explain you're kidding … sort of
KIND Snacks' April Fool's Day email begins by joking it was getting a headstart on the fall pumpkin season by introducing Caramel Almond Pumpkin Spice bars … at the start of April. But after shouting "april fools!" it unexpectedly announced it really was rolling out these bars — and offering them for 30% off plus a free shipping incentive.  So KIND's April Fool's Day email was in reality a standard promotional email.
It's never too early for Pumpkin Spice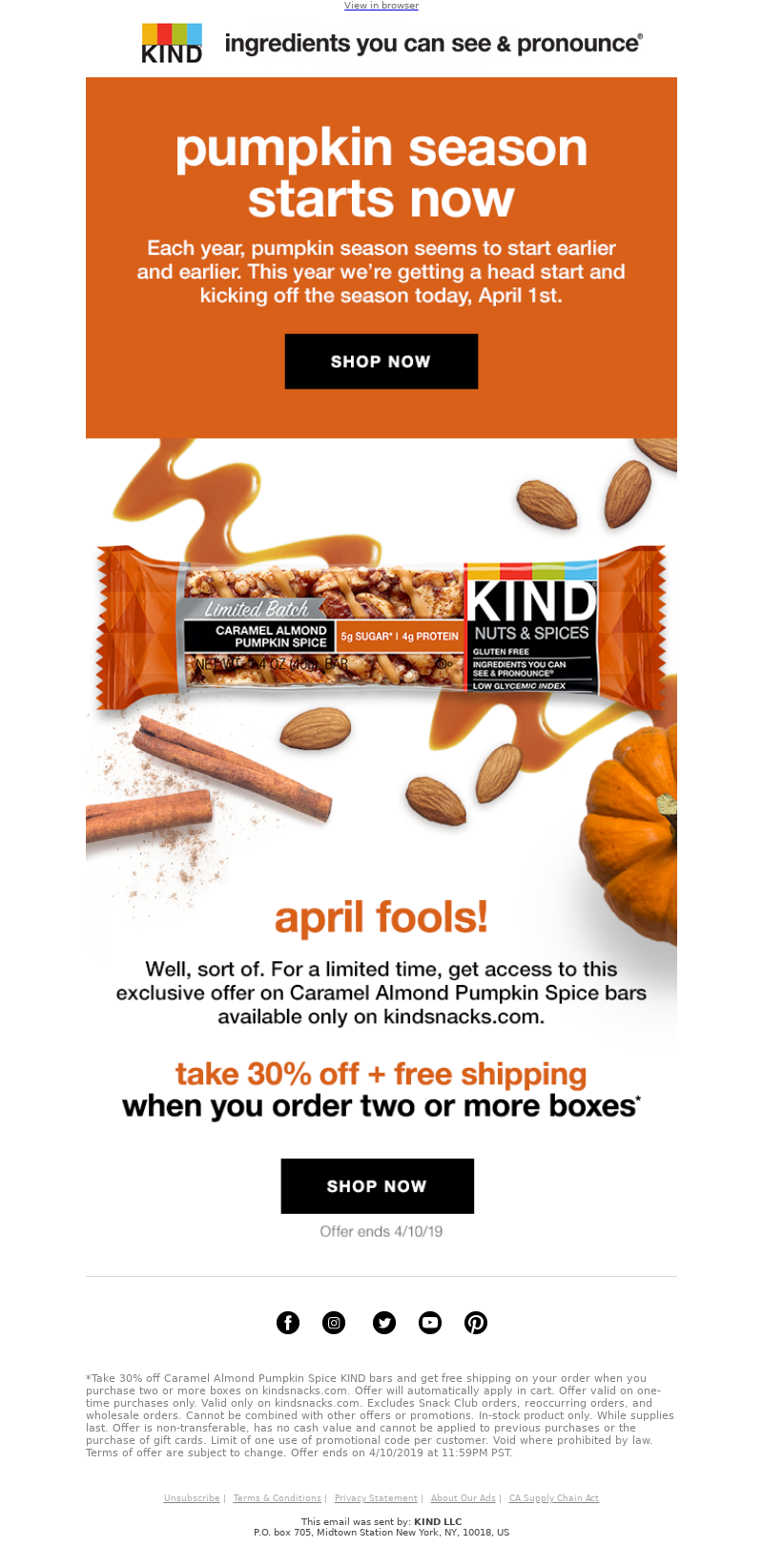 Fool around … but only in the subject line
Plus-size women's apparel maker Catherines limited its April Fool's Day humor to the words "fooled around" in the subject line. (Correction: its fine print at the top of the email reads "No joke: only one more day to save!")  In all other respects the messaging was geared to promoting the last day of an otherwise generous spring sale.
😉 We fooled around & fell in love… with $100 off.

Refuse to indulge in pranking at all
Boutique french fries purveyor New York Fries uses the date (and a countdown clock) to promote a special limited-time rewards-program "prankless offer." The brand's marketing team seems to have decided that merely mailing on April Fool's Day would pique loyalty program subscriber curiosity and boost opens … and that its vivid graphics and bonus points offer would do the rest.
😜 Say NO to pranks.  Say YES to April Fools Bonus Reward Points

Play it safe: Mail the day
after
April Fool's Day
Home cleaning and handyman service Handy could have sent its April Fool's Day email on the first, but by waiting a day it accomplished two goals. First, it eased whatever lingering doubts subscribers may have had that its "NO JOKE" promotion was genuine. And second, by sending a day later, it still took full advantage of the spirit of the holiday while dodging the inevitable April First inbox deluge.
🚨 NO JOKE: Take 50% OFF!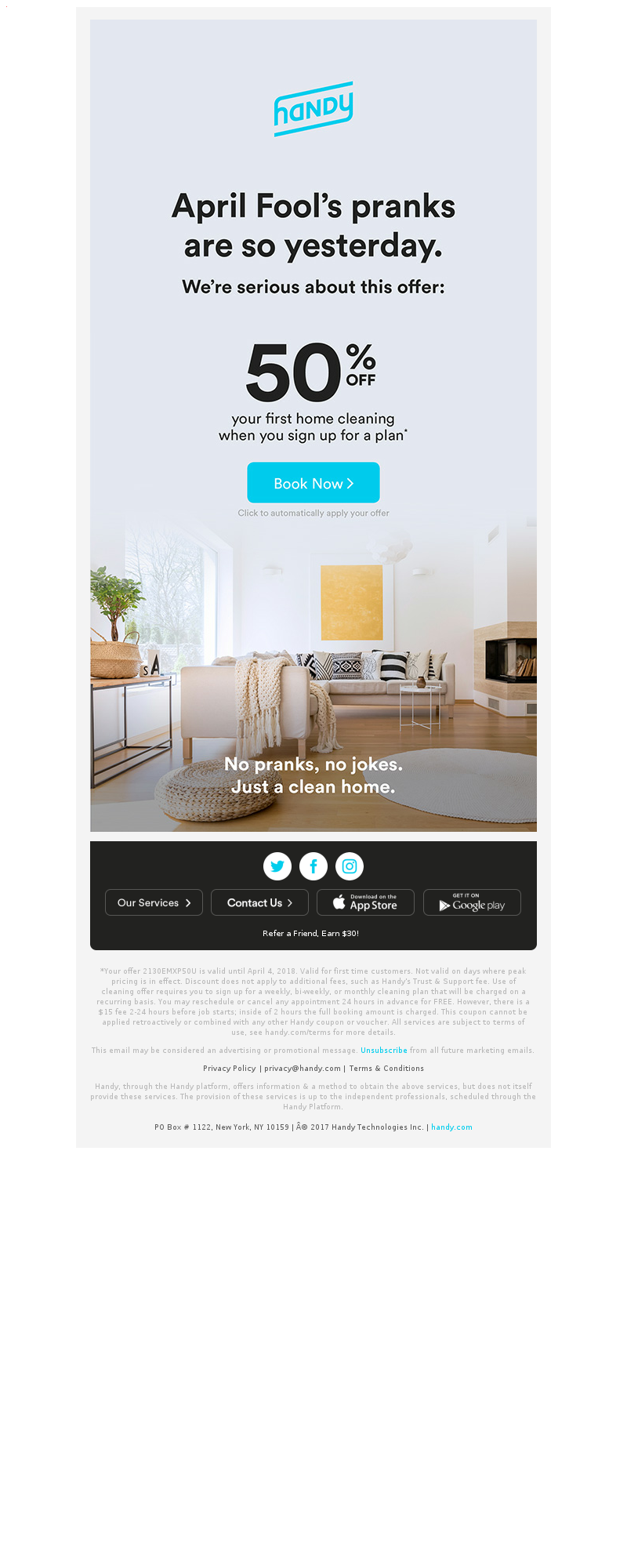 Bottom line: it's an irresistible marketing opportunity
As perhaps the first springtime holiday, April Fool's Day reliably unleashes a brief, nearly global outburst of hoaxes and pranks. As such, it offers a unique and irresistible, if somewhat contradictory, marketing opportunity.
Just because you're sensibly wary of pranking subscribers doesn't mean you must always resist your inner jester. April Fool's Day lets you show off your lighter side, permitting you to be silly and self-deprecating — and ultimately to disarm and engage your customers by letting them join in on your joke.
Still, if you're not yet ready to go all in, simply give the holiday a nod — even if it's only in the subject line. You're bound to spark your customers' innate April Fool's Day curiosity.
For more April Fool's Day ideas and inspiration, see our April Fool's Day Strategy Page.
Editorial Image by OpenClipart-Vectors from Pixabay