If a Target store were like the Internet, every aisle would be a maze of red shopping carts filled with items that struck shoppers' fancy… but not enough to actually buy them. At least not right now. Unfortunately, nearly three-quarters of online shopping carts are abandoned. But there is a silver lining: Cart abandonment provides a fantastic opportunity to increase revenue from email.
Not only is email where consumers most want to hear from brands, it's also far and away the most lucrative marketing channel. And just as the overwhelming majority of online shopping carts are abandoned, 77% of email ROI comes from segmented, targeted and triggered messages. Sent in direct response to a customer's actions, these emails stand out in the inbox in part because they're inherently personalized.
The open rate for cart abandonment emails is significantly above average: 45%, according to Moosend, with 50% of those messages being clicked through and 50% of those clicks resulting in purchases. Here are five strategies to capitalize on them.
1
Refresh customers' memories
Simply including a product name in the subject line increases an email's open rate and likelihood of conversion. Apply that to your abandonment messaging by refreshing your customer's memory. Don't just remind them of the item; remind them what made it appeal to them in the first place.
That's what we love about this abandoned-cart email from Everlane. It uses a friendly, conversational approach that echoes Everlane's regular brand voice to sell the benefits of owning the item – not just the features.
Eyeing Something?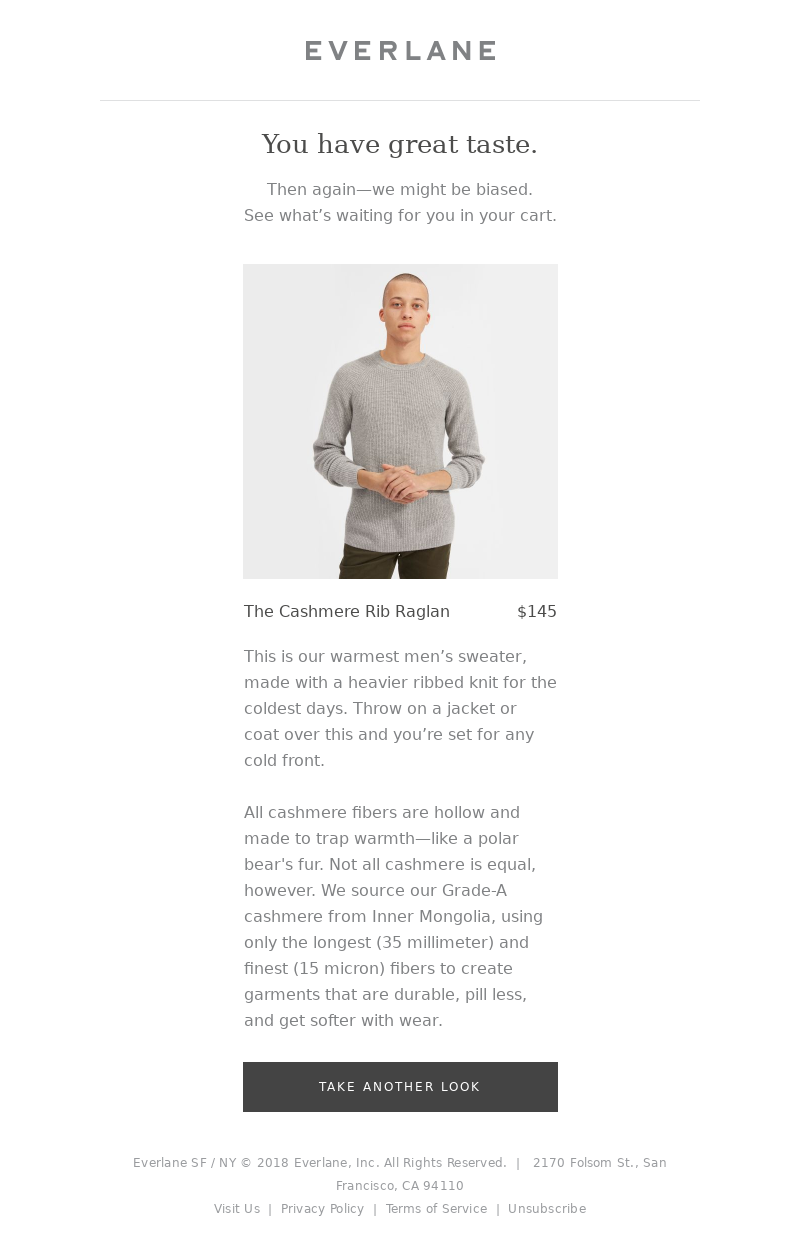 2
Discount strategically
A reminder is enough for some customers; others would be more compelled to act with a discount. However, defaulting to a discount can train customers to purchase only on promotion. Instead, increase incentives throughout a drip series and make them time-bound to drive urgency. Free shipping is a good place to start; shipping fees are the most common catalyst for cart abandonment.
This Under Armour email takes an unusual approach. It front-loads all of its abandonment offers in the email's preheader ("Free Shipping. No Minimum. Use code T4FQXZLED at checkout. Offer Ends 02/08") but mentions only the free-shipping offer in the email copy. It also has one of the more pointed calls to action to prod people into acting: "Return to your cart."
Forget Something?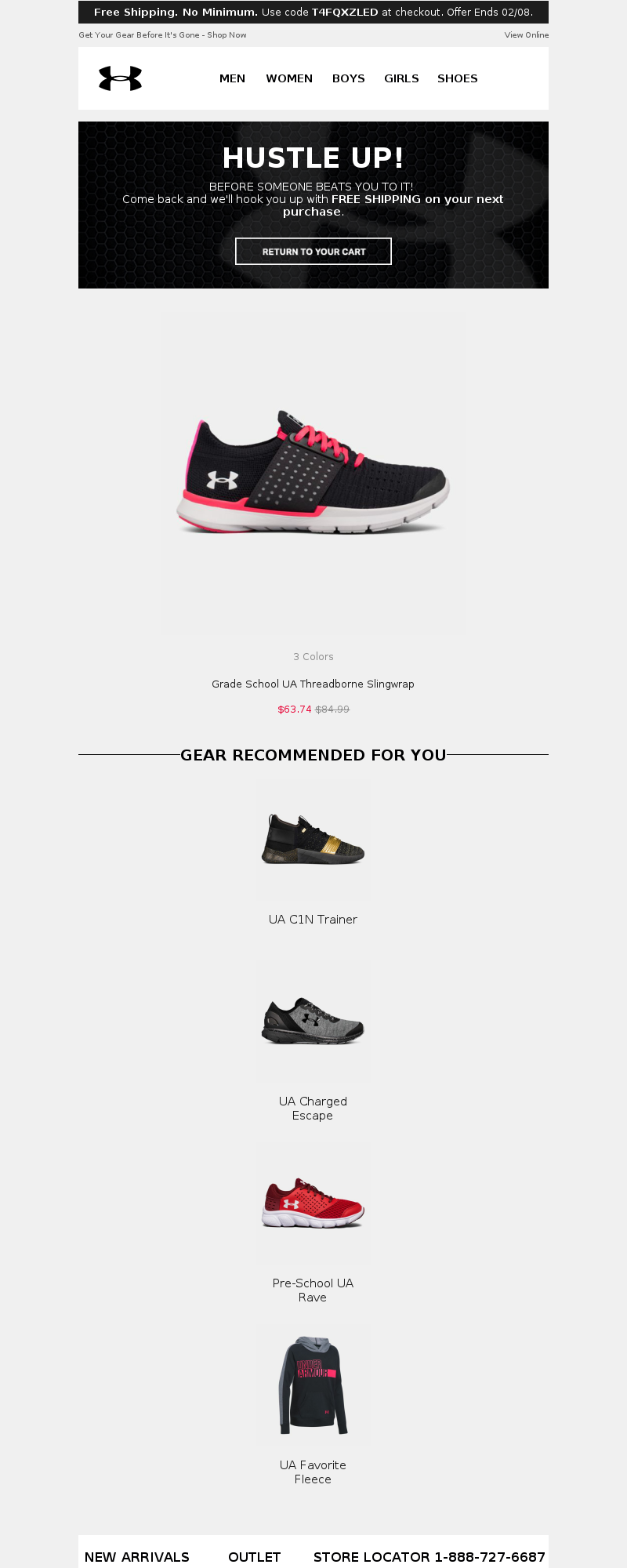 3
Personalize beyond the surface
Cart abandonment messages are personalized by nature. Go beyond the surface by looking past the product. Instead of using collaborative filtering to suggest similar items that have been abandoned by similar customers, leverage your profile data to make truly personalized recommendations.
Although the items that this Grove Collaborative email recommends might look like a standard assortment of related items, it suggests complementary rather than similar products, many of which would be next logical purchases.
Where'd you go?

4
Cross-sell and upsell
When customers add items to their carts, they're providing you with valuable data about their needs and interests. Use that information to recommend other items. Maybe the abandoned item isn't quite perfect, and a similar substitute could close the sale instead.
This Kat Von D Beauty email gets the message going with a little FOMO (fear of missing out) and then mixes up the cross-sell and upsell, bracketing the similar product (the lipstick) with two complementary products (mirror and highlighting palette).
Hey, darling! You forgot something in your cart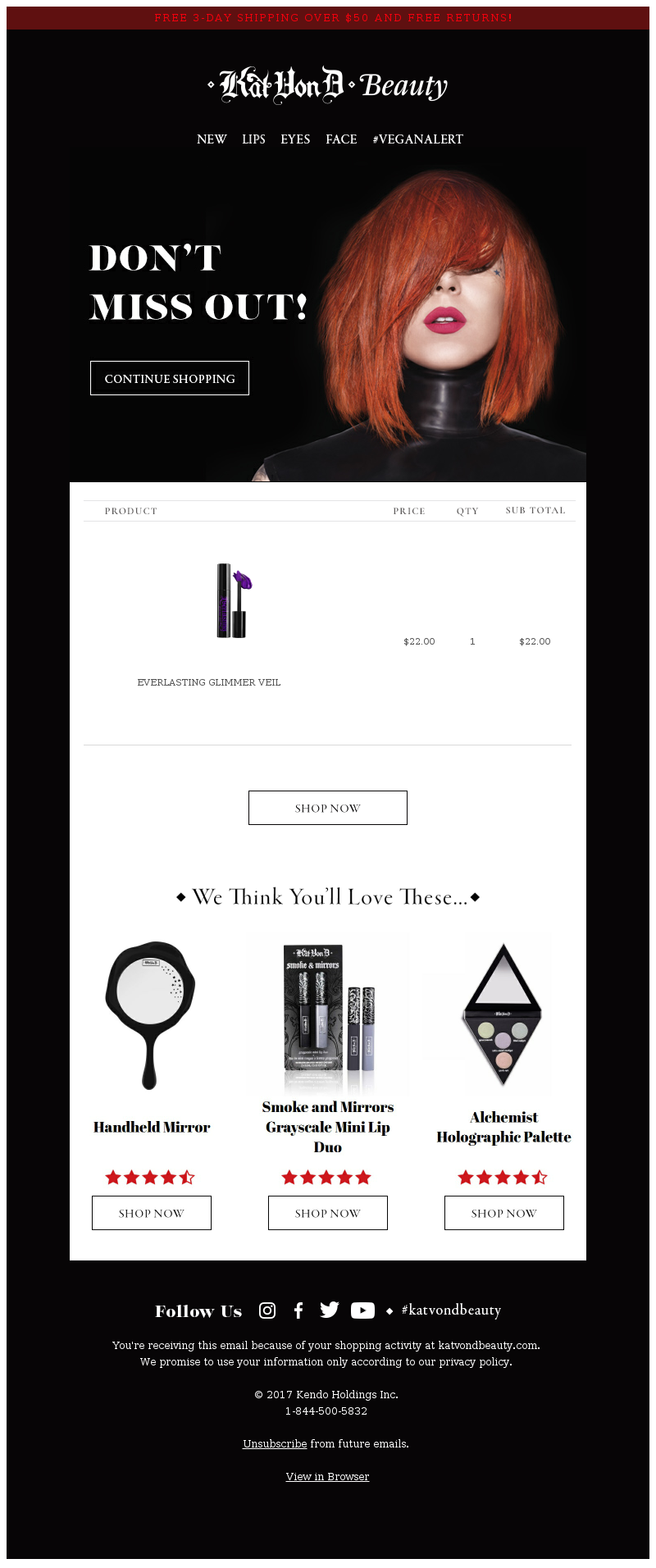 5
Re-engage browsers
Just because a customer didn't add something to a cart doesn't necessarily mean lack of interest. It could just as easily mean distraction. Given that browsing isn't as strong an interest indicator, it's a good idea to get playful with your language, and address the elephant in the room.
Tory Burch takes a customer-service approach to an abandoned sale. While also suggesting similar products, it acknowledges that the customer might have unanswered questions or other objections and lists the services that could help the customer click that "buy now" button. We also like the localized map at the bottom where the customer can go to get in-person help.
We like your style, Lorem …

Cart abandonment is just one trigger throughout the customer lifecycle. To learn about the rest, and how they can drive ROI, check out Sailthru's Guide to Increasing Revenue with Email.
Mike O'Brien is a content marketer for Sailthru, a leading platform for email personalization and cross-channel digital marketing.