Emails for December saw a huge jump in mobile strategy (thank the universe) as well as ease in their approach. Fashion, retail and ecommerce companies sent, on average, 5 fewer messages per month compared to November.
There was also a slight decrease in promotional emails. Promotions were much more aggressive, however, with many offering unusually high markdowns (up to 80% off anybody?) and flash sales. With the New Year right around the corner, a lot of companies also put emphasis on newness and sneak-peaks into their 2016 offerings.
Fashion and retail companies, not surprisingly, wanted their subscribers to know they were the go-to place to help them keep their resolutions … and these messages were especially popular among companies offering workout clothes and gear. Best products of 2015 summaries (and links to buy, of course) were also a popular strategy.
December emails saw an amazing variety of email campaigns. From newsletters, to restocking alerts and wish lists, the variety of emails for December was impressive.
Fashion and Clothing
December emailing truly evolved from November's stark profile. The vast majority of fashion and clothing companies chose to send their emails on Wednesdays, mostly between 7 a.m. and noon.
On average, companies sent 25 emails, exactly 10 fewer messages than last month. With 50% of these emails accounting for some sort of sale or promotion, brands also put less emphasis on the sale compared to November. There was, however, much more emphasis put on mobile sales, with 34% of emails optimized for mobile, or an eight percent increase from November.
Retail
Retailers also eased their approach for December, decreasing their average volume from 28 to 22 emails per month. These companies increased their promotions to 54%, up from 50% in November. The most active day to send emails was Wednesday, and mobile optimization stayed the same at 28%.
Clothing companies and other retailers gave subscribers all the tools they needed to have a successful holiday shopping season, and mobile email was at the center of this strategy. Like the email below for American Eagle that gave 25% off for mobile shoppers using their new app. Wish-list incentives and product launches were also popular this December.
From us to you: 25% off! TOP THAT, SANTA.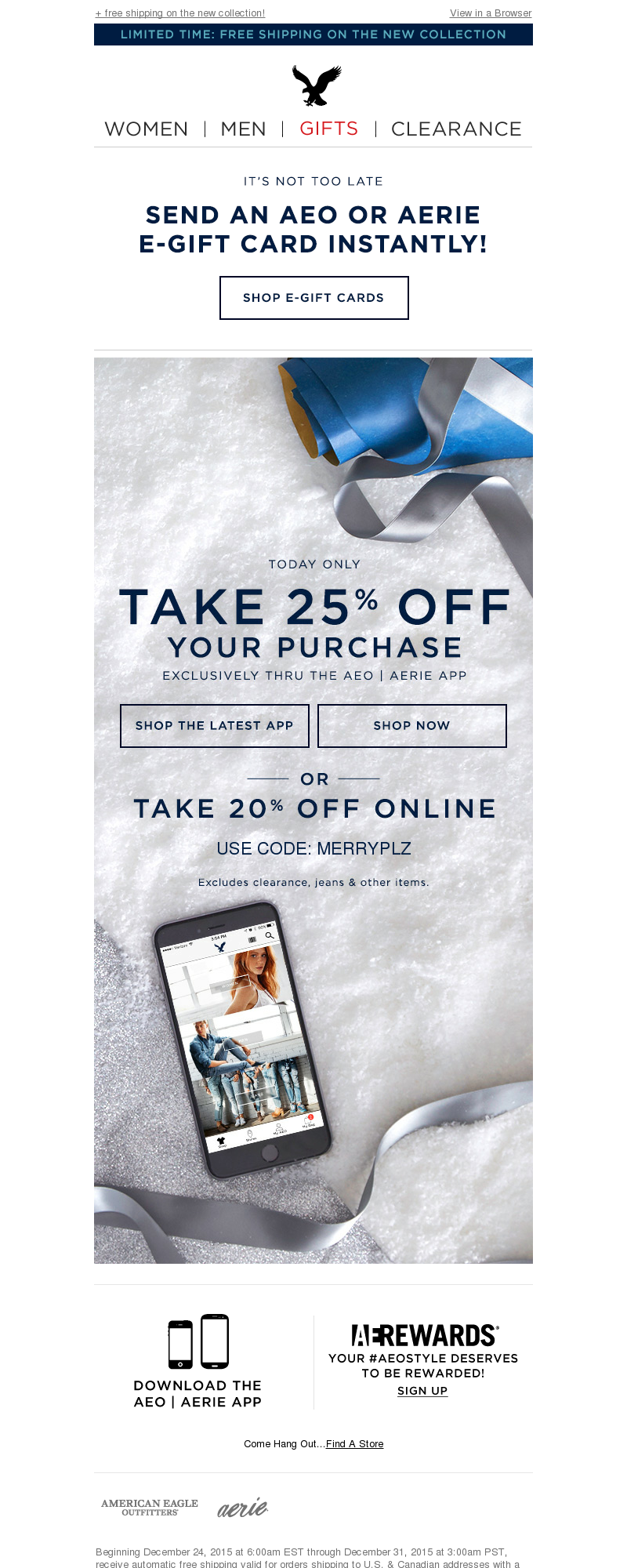 Ecommerce
Ecommerce companies also put a huge emphasis on mobile, increasing their email mobile optimization by 7%. These companies didn't change emphasis on sales however, keeping their promotional messages at 43%. While Tuesday (between 10 a.m. and noon) was slightly more popular than the rest of the weekdays to send messages, popularity was spread out evenly amongst all other weekdays. According to the MailCharts data, ecommerce companies were polarized in terms of how many messages to send subscribers; most companies sent up to three emails, while almost as many sent more than 19. This shows that companies needing to boost sales before end-of-year employed an aggressive email strategy.
Other insights
Most messages had subject lines between 21 and 40 characters
What does all this mean for you?
When it comes to price and sales alert emails, it would be best if you didn't flood subscribers' inboxes. Instead, segment your list based on your subscribers' behavior whenever possible. It would help even more if you provided subscribers with the option of getting flash sales alerts. If you don't have an email preference page available, consider building one.

Since we're talking about behavior, wish lists are behavioral gold. Turn a wish list into a "recommended for you" email, a price-change or restock alert. To make it even more appealing, add a some urgency to close the sale (e.g. free shipping until tomorrow). Don't neglect the

value of the wish list

.