Over the past several years, there have been many stats shared regarding cart abandonment. Some studies show that cart abandonment rates are astonishingly high (in the 75% to 80% range), while others share a more conservative 60% to 70% abandonment rate.
Regardless, both ranges include an alarming number of people not completing their purchase.
You can look at your own brand's cart-abandonment rate to see where you fall. If you're in the higher range, take a look at your checkout process and ask yourself:
Is it too time-intensive?
Is anything unclear?
Do shoppers bail early in the process?
Do they balk at the last minute when you show them shipping costs?
Some shoppers use carts like wish lists, parking items while they browse other sites and never coming back to start checking out.
Besides reviewing your checkout process, look at implementing a cart-abandoner email strategy (or revamping your existing one). These types of emails live in an automated campaign and contain targeted, product-focused emails triggered by known cart abandoners.
Let's have a look at a few of our data team's favorite cart-abandoner examples:
Still interested? How about 15% off?
Wanderer Bracelets uses a classic cart-abandoner strategy with a combination of product promotion (of the item left behind) and a discount tactic to encourage shoppers to complete their order. They send three emails over three days, including a limited-time 15% discount ending three days after shoppers abandon their carts. This is a tried-and-true method that you have likely seen other retailers use.
SOLD OUT – It Could Happen To You

Guess takes a different approach by spreading out its two cart-abandoner emails over five days. Although this feels like a more relaxed approach, the subject lines go strong on urgency: 'SOLD OUT – It Could Happen To You' and 'SOLD OUT.' Who wants to miss out on buying a popular product? This approach comes with no discount, but it includes additional benefits, such as a 'You Might Also Like' recommendations section.
Did you forget the wine?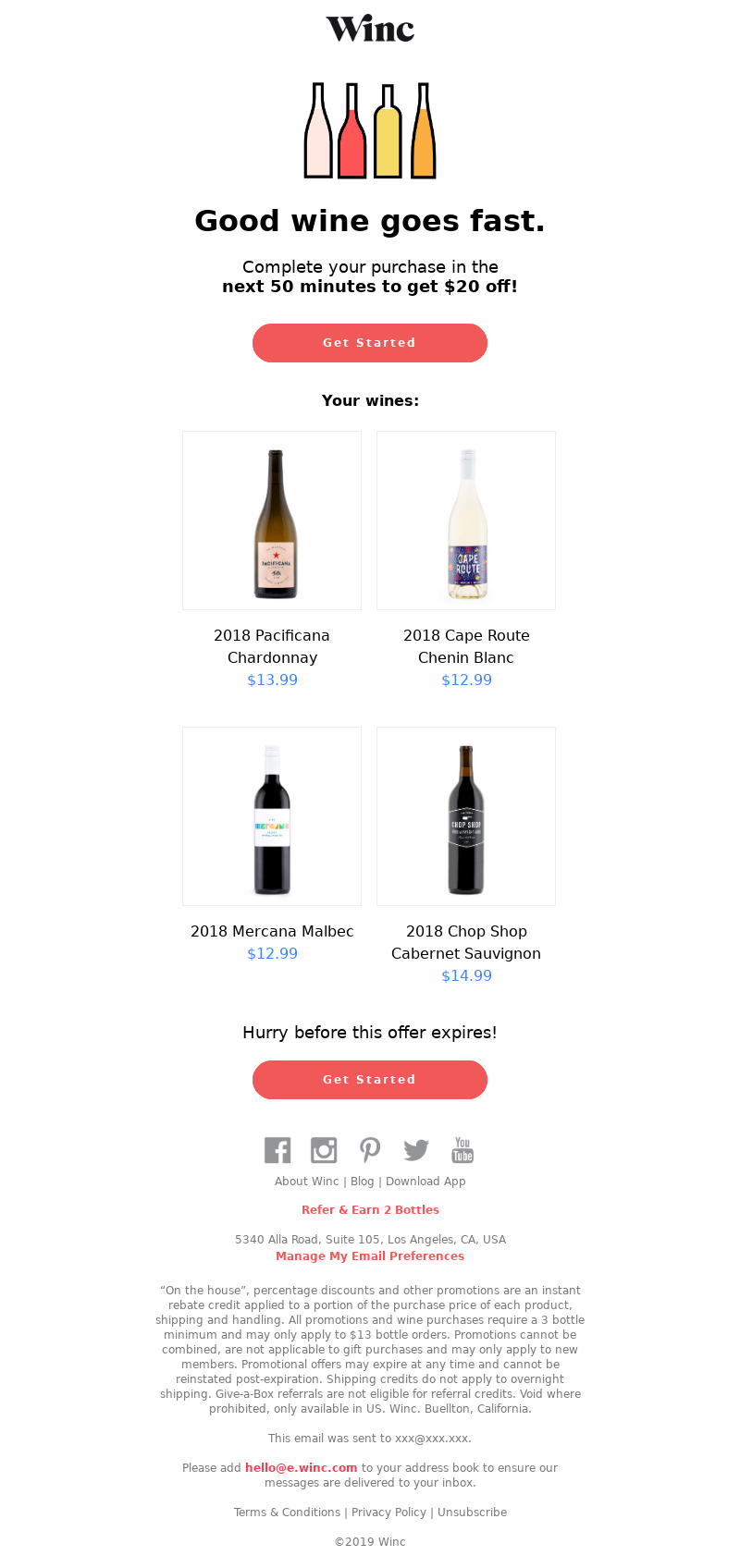 Speaking of urgent … Winc takes things a step further than Guess by stating a 50-minute deadline on their cart-abandoner email discount. While this is largely a marketing ploy (Winc sends several follow-up emails promoting the same discount for new customers), it's still a clever tactic for stressing urgency!
Your items are feeling abandoned – please help them

We love this email because Nations Photo lab incorporates more than just a discount and the item the shopper left behind. The email adds value by including a home-inspiration section comprising social posts from actual purchasers and another section focused on customer support for helping shoppers complete their orders or ask questions. As with our other examples, the brand capitalizes on sending soon and often, with four cart-abandoner emails sent over the first four days after abandonment.
---
MailCharts quick tip: When looking at a company's cart-abandoner journey in the MailCharts app, you can see the abandonment-related emails outlined in purple. This is a great way to quickly see related strategy-specific emails compared to other sends:
If you want to check out more cart-abandoner examples and implementation tips, head over to our newly curated cart-abandoner strategy page.
Editorial image by Preis_King from Pixabay