I like reminders. Do you? When I think about my day, I'm absolutely beholden to them:
Calendar alerts
Text message notifications
Unread message "badges"
… ahem, the alarm clock …
The above list isn't exhaustive, but could very well be titled "Key technologies keeping Tom from being a derelict."
I suspect most people like a good reminder here and there.
Email marketing and e-commerce has several reminders at their disposal:
shopping card abandonment / browse abandon
credit card declined / plan expired
re-active / re-engage
Do you employ a "reminder" in your email strategy? If so, which? Join our private LinkedIn group and let us know.
The focus of this post is two shopping card abandonment emails within the retail sector — specifically athletic wear.
Thanks for the reminder!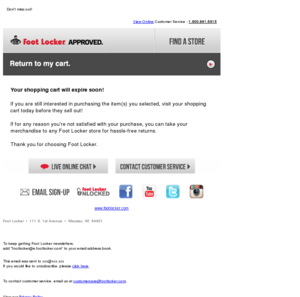 "Did You Forget Something?" is the subject line from Foot Locker's shopping cart abandon strategy.
The copy appears helpful and friendly. View the email here.
Shopping cart abandonment emails are overall a winning strategy. Those in e-commerce will largely attest to these emails' effectiveness. For those in retail, it is highly recommend to consider implementing the necessary technology.
Despite the effective strategy employed by Foot Locker, there are two key elements that feel lacking. Implementing them would improve the mailer even further:
Ensure that the mailer is mobile optimized
Reference the product(s) in the shopping cart
Do not arbitrarily "expire" the shopping cart
Foot Locker lets the view know that something is in the shopping cart — but what could it be? It's helpful to show a picture of the SKU directly in the mailer. How about even mentioning it in the subject line?
Further, the mailer recommends acting fast because "Your shopping cart will expire soon!" Is that true? Providing incentive to act fast: a discount, free shipping or a BOGO-type offer might feel more actionable and value-added. That the shopping card expires comes across as arbitrary.
Foot Locker's mobile website is nice — why isn't this very-powerful email optimized? Regardless of behavior, there's a 50/50 chance an email is read on a mobile device.
Knocks my socks off
Finish Line's triggered mailers take Foot Locker's approach and plus-up two earlier gripes: the SKU is visualized and urgency is instilled via an offer.
Their first email arrives to the inbox with the subject line "Hey. Don't forget about your cart."
Looking at the email, clearly the prospective customer was shopping for socks — ah, that's right! This email arrives within a few hours of the abandonment.
But there's more.
Finish Line follows up a day later with an even sweeter deal, 10% off purchases of $75 within the next week.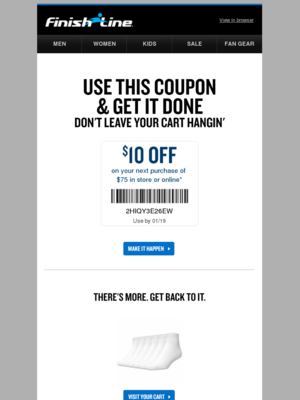 Finish Line as well has a nice mobile site — why aren't these emails also mobile optimized?
Next steps: How do I do it?
Cart abandonment emails are extremely effective given the visitor's high purchase intent. The best part? This type of email can be implemented in one afternoon.
Most ESPs support behavioral triggers
Most major ESPs provide the ability to trigger email sends based on the concept of "events". Your engineering team may be required to set up a few API connections to your ESP, and then you're off and running — take a look at your API document, or give us a shout and we'd be happy to chat.
Turn-key providers
Triggered emails is such a winning strategy that businesses are able to rally around it as a core feature of their offering.
Here's a few technologies we admire that offer really great triggered emails for a variety of use-cases, take a look for yourself:
Reminders aren't just shopping cart abandons!
Once you've got shopping cart abandonment emails in place, consider implementing this with "browse" abandonment for your logged in users, too!
Which reminders work for your business?
Depending on your business, you can implement different types of reminders. For an educational app, it could be whenever a user has not logged in over [d] days or [w] weeks. For a fitness app, it could be a "it's time to workout reminder". For a laundry cleaning place, it could be "winter is near, get your coats dry-cleaned", etc. Remember: we humans thrive on reminders.
Get inspired and execute
Building email copy, design and cadence is difficult enough on its own; adding in these behavioral triggers may make email marketing feel all the more overwhelming.
We're here to help. Really — email us at any time, we love talking about email marketing.
Even better, MailCharts is growing every day with examples in your industry and companies you admire. Curious what a good reminder mailer looks like?
Sign up for a free 30-day trial of MailCharts and see what others are sending.