Table of contents
As the year comes to a close, we wanted to highlight our favorite email marketing resources published in 2016.
Below you'll find articles covering everything from email optimization strategies, to preventing information theft, to measuring campaign performance. Use your holiday downtime to refresh and expand your knowledge in preparation for the New Year.
General Email Marketing Resources
There's no denying that a good email marketing strategy is a must-have. For starters, email is said to have a 38x ROI. There are other non-monetary benefits too, including building brand awareness and a strong relationship with your potential and existing customers.
For those just getting started with email marketing, creating a good email program can feel overwhelming. Don't worry about flashy designs and complicated trigger-logic at first. This example from Buffer shows how a clean, no-nonsense, email can be appealing.
Welcome to Buffer!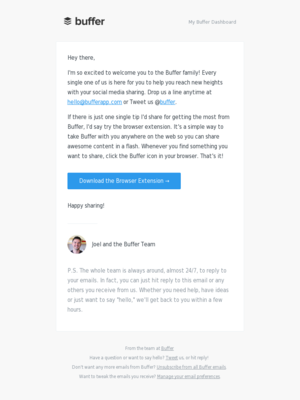 Email Marketing Fundamentals by
MailCharts
Are you, or a colleague of yours, just getting started with email marketing? If so, this free book is exactly what you need. Aside from running through the fundamentals of email marketing, you'll find optimization ideas and learn how to measure your campaign's success. Check it out.
The Modern Guidebook to Email Marketing by
Campaign Monitor
Another great resource for those getting started with email marketing. The Modern Guidebook is a beginner-friendly crash course. This guide will boost your general email marketing understanding before focusing on more challenging strategies. Give it a read.
Email Design Resources
The Ultimate Guide to Email Optimization and Troubleshooting by
Litmus
This handy guide from Litmus will help you optimize your email designs allowing you to stand out from the crowd. Find the guide here and learn how you can use personalized subject lines to increase your email open rates by 26%.
Making emails not so scary looking by
Really Good Emails
This article from our friends at RGE dives into what not-to-do when it comes to email design by helping you learn from the mistakes of others. It's up to you whether you'll fall into the same design traps or not!
Mobile Email Marketing is the New Standard by
Industrial Marketer
During the month of October, 56% of emails were opened on a mobile device. In other words, optimizing your emails for mobile is no longer an option: it's a necessity. This long-form article covers the ways you can design, develop, optimize, and modify your emails to succeed in this mobile-first world.
Template Resources
Designing an email template from scratch can be quite the feat—especially when you take into account the different email client quirks and coding workarounds needed for your email to render properly. This is where pre-built (and tested!) templates come in handy.
Email Templates by
Litmus
This set of email templates has everything ecommerce marketers need to get started. Including templates for: order confirmation, cart abandonment, and welcome emails. Use these templates as a foundation and modify them as needed based on your own brand colors and style.
Responsive Email Templates by
Zurb
If you prefer more bare-bone templates than the Litmus ones, check out these responsive templates from Zurb. They have everything you need to kick start your next email template.
Resources for Measuring Your Email Campaigns
Measuring Matters: Defining, Benchmarking, Evaluating and Improving your Email Campaigns by
Bronto
Before measuring the performance of a campaign you must first define your success metrics and determine the campaign's end goal—all before hitting "send". This white paper teaches you different methods you can use to optimize your email program. Once done with it, you'll have a clear framework for measuring, and optimizing, email performance.


Considering Email Marketing Risk
Email marketing is the best way to reach and engage with your audience. This often leads to email marketing driving a significant amount of your revenue. With this in mind, it's imperative that you consider, and work on, your email security.
Phishing: The Cost of Doing Nothing for Marketers by
ReturnPath
Email fraud can be extremely problematic, no matter your company size. Issues such as information theft, viruses, and hacking can cause mistrust amongst your subscribers.
And, unfortunately for you, as an email marketer, fighting email fraud at your company is your responsibility. If you're interested in learning about the effects of Phishing and the best practices for fighting back, you need to read through this guide.
Resources to Bring your Email Campaigns to the Next Level
Sending an email isn't too complicated. But standing out in a crowded inbox is another ball game. A little time and effort can go a long way towards providing a better experience and boosting your emails' performance. Take, for example, the impact of simply segmenting your list.
Working with Automation by
MailChimp
Companies who send automated emails are 133% more likely to send messages that relate to a customer's purchase cycle. It's crucial to incorporate automation into your email strategy. Learn how to send personalized emails and use automation with this detailed guide.
15 Industry Experts Share their #1 Email List Building Tactic by
AWeber
This post from AWeber shares tips and strategies from 15 email experts which will have you reconsidering your entire email marketing approach.
The Definitive Guide to Browse Recovery by Ometria
Marketers have begun to understand the importance of sending cart abandonment emails. That being said, browse abandonment emails often wrongfully remain forgotten. This guide will help you determine which user actions should be considered for your browse recovery program (e.g. looking at the same item more than once, or spending five minutes on a page). From there, you'll learn how to win those potential customers back.
What's Next?
The year is almost over and the New Years countdown is on.
As you put the finishing touches on your 2017 strategy, remember how much you can learn by simply observing the email program of your competitors and companies you admire. Whether you use a separate Gmail account to do this, or a powerful tool such as MailCharts, is up to you. But one thing is certain: a guaranteed way to come up with new email optimization ideas is to see what other companies are up to.

We look forward to achieving great things together in 2017. Happy New Years ?