NOTE: Through December 27th we're unlocking 🔓 these Running & Yoga industry journeys for our free users to enjoy. If you're currently a free user and want more journey access, upgrade to a Pro Plan today!
With people spending more time at home in 2020, the demand for both running and yoga products has surged as consumers look to stay healthy both physically and mentally at home. We've talked a bit about activewear being the new work-from-home uniform and yoga athleisure is a big part of that!
What we're seeing: Email Cadence & Promotions
For both running and yoga categories, we saw a significant increase in cadence at the beginning of the COVID outbreak. Compared to March-May 2019, the yoga industry saw a +17.6% increase while running saw a +12.3% increase. These early 2020 cadence increases ultimately led to a YoY increased cadence for both categories. 
Overall, emails offering a promotion remained flat throughout 2020 for both industries. Understandably, as demand for these products increased, brands didn't need to increase promotions which is what our team believes happened for these particular categories.
---
Journeys: Our favorites from Running & Yoga brands 
Our team of experts curated a few recent yoga and running journeys just for you! As we mentioned above, these journeys are unlocked for all users (yes, even freemium plans!) from 12/22-12/27. Let's talk about a few of our favorites:
We love this series from Under Armor because it's a textbook example of a cart abandoner: a discount, product recommendations, and dynamically populated images of the product left behind. We like that they used a free shipping discount instead of a percentage off which is something we typically see for these. Their first touch also incorporated emojis, and you know how we feel about those!
It can't make you better if it stays in your 🛒

Another cart abandoner fav is the lifestyle brand, Sub Urban Riot. Their journey consists of 3 emails spanning 3 days. While Under Armour featured free shipping, Sub Urban Riot takes a different approach and offers a $15 off discount instead of free shipping or a percentage off.
Carbon38's new subscriber welcome series takes a simple approach with 3 emails sent over 9 days. Our favorite from this series is their first email that highlights their 15% off welcome discount, explains what they do, and how they support female-founded businesses. All three touches use beautiful, on-brand imagery creating an enjoyable experience.
THRILLED TO MEET YOU.

While we did chat about Lululemon's purchase journey a few weeks back, we have yet to talk about their onboarding series! For this series, Lululemon sends 3 emails over 3 days to new account creators. Email 1 focuses on the key benefits of their new account and what new shoppers can expect without being sales-heavy. We love this short and sweet approach as an initial email sent as soon as an account is created.
Email 2 and 3 take a different approach with more branding throughout, a focus on various shopping categories, how shoppers can take care of their Luluelemon gear, and favorite products to try.
It's all about you.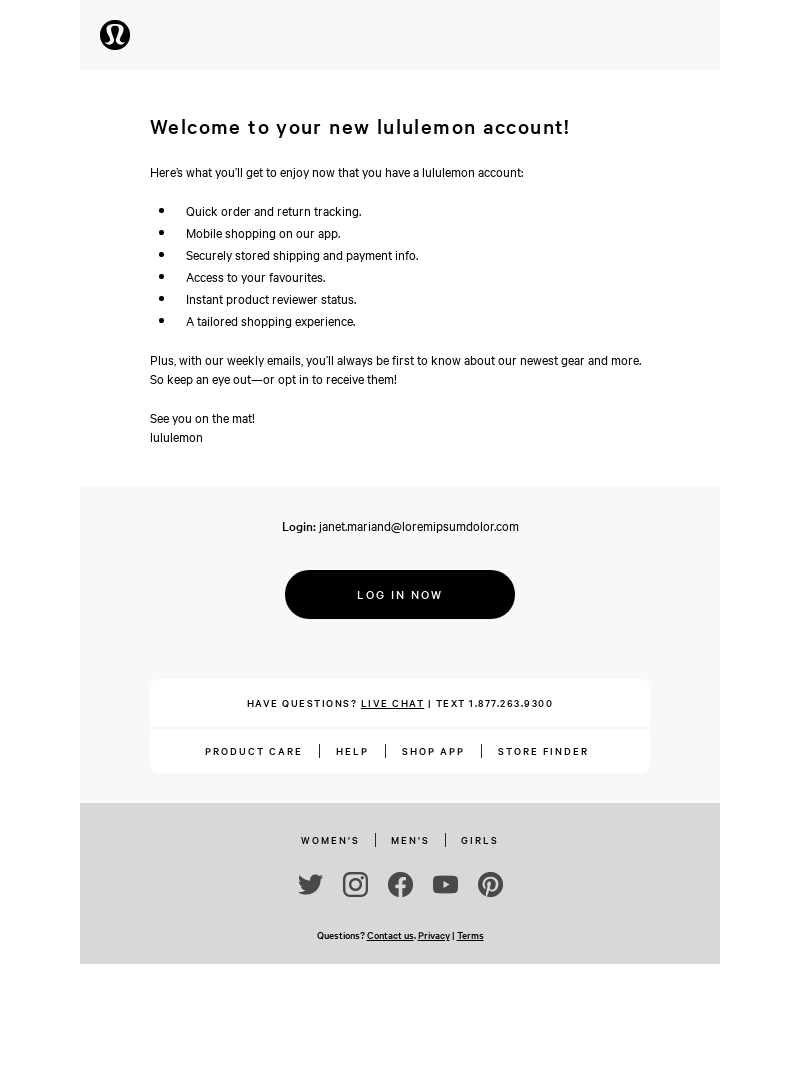 Similar to the cart abandoners above, this browse abandoner highlights the products the shopper left behind. This example comes to us from Fabletics and features multiple browsed products, first name personalization in the subject line, and product shopping categories. 
hey Rene, we like that too!

Get more in the MailCharts app
Log into the MailCharts app to browse our collection of 300+ Running and Yoga journeys — and search them by brand, journey type, recency and completion status.