Beauty Marketing Trends
Thriving on creativity, trends, social influencers, and personal desires, the beauty industry has continued to grow and touch a wide range of consumers, who are always in the market for new and effective products.
Explore all beauty emails
Sign-up for MailCharts to keeep tabs on the world of Beauty - and dozens of other industries.
Try for free
Revlon founder Charles Revson said in the 1930s that the cosmetics business sells "hope in a jar." That hope still generates big bucks today, making it a recession-proof industry. But change is coming.
Beauty consumers are evolving in their tastes and preferences. Younger consumers want to know whether the products they buy are sustainable and made by socially aware companies that are good corporate citizens.
Social media influencers who operate with nothing more than a YouTube channel or Instagram account are just as likely to start trends today as the movie and TV stars who were once the main source of inspiration and trends.
Email marketers should capitalize on the creativity that guides the beauty industry and the technology that allows them to craft highly personalized and meaningful messages. That can help them cement the customer relationships that might begin in other channels like print, broadcast or social media.
Beauty Industry Trends
Beauty Email Reporting Data
About Our Beauty Data
MailCharts has curated a group of over 60 Beauty brands to provide you with insight into the category. MailCharts tracks and offers reporting on over 30,000 brands. Join today and create your own custom groups to plan your strategy.
Beauty Industry Trends
For centuries, the beauty business has been all about artifice. Today, it's more like artifice enhanced with all-natural, cruelty-free and sustainable ingredients sourced responsibly. Has that taken the fun out of the market? Not according to the emails in the MailCharts database!
Beauty Goes Natural
Free $49 Cruelty-Free Gift 
Sent by jane iredale
More consumers are buying "natural" products that don't include laboratory-created substances, like phthalates, parabens and artificial fragrances, or animal testing. In 2018, sales of regular cosmetics fell nearly 1%, but sales of paraben-free products grew 2.3%, a Nielsen survey found. To get your brand's commitment, swap out a promo email with a message like this one from Jane Iredale, which promotes the company's ingredient policy.

Messaging Features A Diverse Audience
Get Better Brows, Guaranteed with BRETMAN ROCK!
Sent by Benefit Cosmetics
Beauty advertising was once the province of young, white women with perfect facial features and body proportions. Not anymore. Goaded by aging Boomers and socially liberal Millennials, beauty campaigns are diversifying. They're using a wider range of ages, cultures, physical features and skin types and a fluid interpretation of gender – male, female and those who identify across both. This Benefit email features YouTube star and beauty influencer Bretman Rock, one of the brand's brow ambassadors.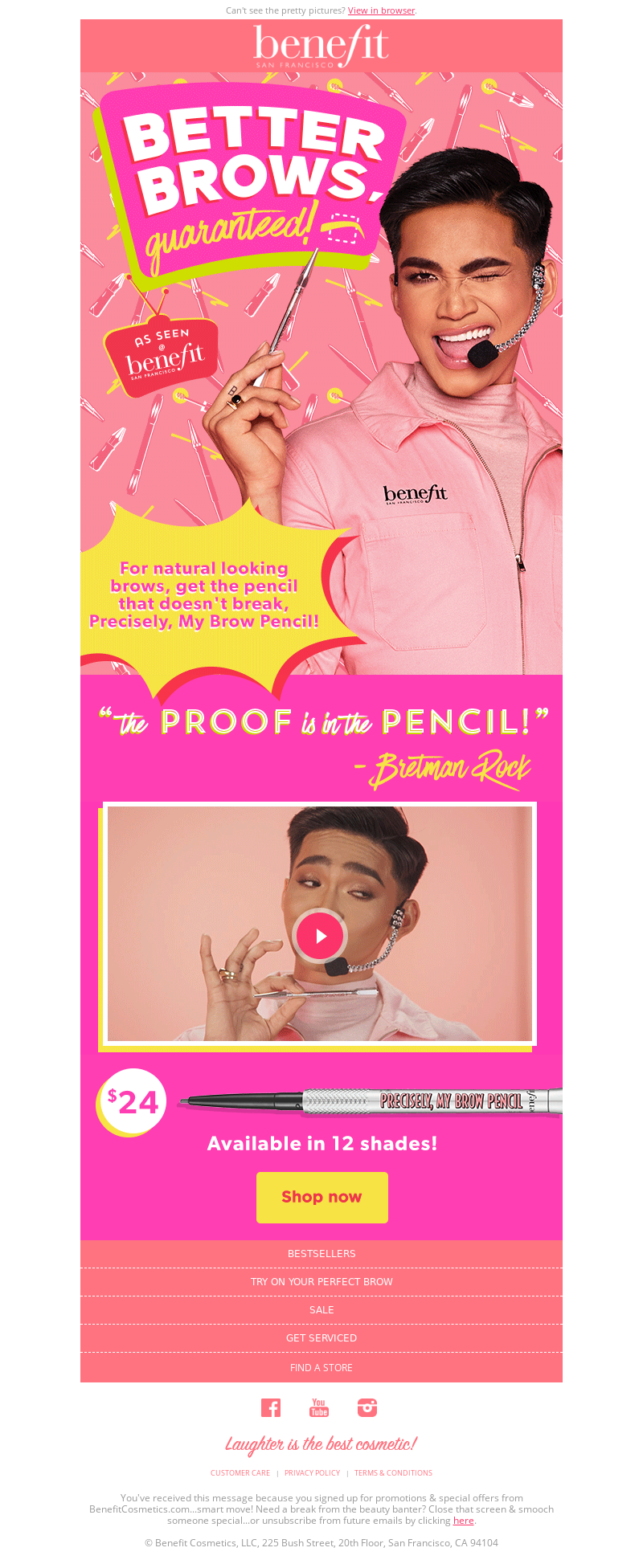 Consumers Want Authenticity/Transparency
Discover the Kelp Harvest
Sent by La Mer
The rise in interest in natural beauty products has a twin in the demand for and expectation of authenticity of claims and an interest in learning where and how beauty companies get their products. La Mer's email below details how it harvests kelp, a key ingredient in its moisturizer and a cornerstone of its marketing.

Start Planning Today
Join MailCharts to view the latest email data from the brands you are looking for. MailCharts tracks and offers reporting on over 30,000 brands, including hundreds of beauty companies. Access email data from 2019, 2018 and earlier to help you plan and build your strategy.
Beauty Promotional Trends and Sending Behavior
MailCharts Beauty Data From 2019
34%
Promotional Rate
Over one-third of the emails sent in Beauty in 2019 included a promotion. This was a 6% increase compared to promotional activity tracked in 2018.
32%
Percentage-off Promotions
Almost one-third of the promotions included in Beauty emails in 2019 were percentage-off discounts. The least popular promotion type was BOGO (Buy One, Get One) offers.
Monday
Most Popular Send Day
Beauty brands craft personalized messages often. Monday was the most popular send day in 2019, as brands started the week with focused communications.
8am EST
Most Popular Send Time
Mornings have proven to be one of the most popular and effective send time for companies, and this was no different for Beauty brands in 2019.
Start Planning Today
Join MailCharts to view the latest email data from the brands you are looking for. MailCharts tracks and offers reporting on over 30,000 brands, including hundreds of beauty companies. Access email data from 2019, 2018 and earlier to help you plan and build your strategy.
Beauty Promotion & Email Activity
MailCharts Beauty Data From 2019
Most promotional week
Nov. 24-30, 2019
The week that included Thanksgiving in 2019 was the most promotional Beauty brands. During that week, they sent the most emails that included a promotion.
Most active week
Nov. 24-30, 2019
Beauty brands sent the most emails during the week of Thanksgiving, as shoppers began to check gifts off their list.
Want To See More Reports?
To view current and historical promotional insights from beauty brands, join MailCharts today. You can find detailed reporting on thousands of brands, including hundreds of beauty brands.
Strategies for Beauty Messaging in Emails
How can email compete with social media, video, TV and print for the cosmetics buyer's attention? By delivering something they can't – highly engaging and personalized messages to customers who have requested them. The strategies below will help you raise your email game and send more effective campaigns.
Help Your Customers Buy And Use Your Products Better
Create Princess Jasmine's Makeup in the New Disney Aladdin Movie!
Sent by MAC Cosmetics
Buying beauty products online is easier than going to the cosmetics counter, but it means there's no trained expert to help buyers avoid hideous mistakes. Fill the gap by adding educational info to your promotional emails. LInk to your how-to videos and FAQs. This MAC email capitalizes on the craze for all things Disney to show customers how to achieve Jasmine's look (from "Aladdin") by using its own products. It's as close as you'll get today to the in-store demo.

Add Value To Email Messaging To Build Brand Loyalty
Progress Report: Our 2020 Sustainability Goals
Sent by Burt's Bees
Email is more than a digital discount channel. Value-added email can help you stand out in the crazy-competitive world of beauty marketing. Besides selling products, you can connect with customers by offering more than just another discount. This email from Burt's Bees, a high-frequency emailer, details the company's sustainability program, a move that might not sell more tubes of lip gloss but highlights a topic that is central to the brand's value and identity.
Get creative!
Because, Wine Not? 🍷 Plus Extra 30% Off All Weekend!
Sent by Stila Cosmetics
Makeup, nail care, hair color and style, even tattoos and piercings are the beauty consumer's way of expressing creativity and individuality. Your emails must be just as unique. This Stila email has great animation and capitalizes on the featured color palette. Plus, it works on a phone, which is mandatory when marketing to younger consumers. Add personalization – name, product preferences, gender, etc. – to show customers you know them as individuals, not just faces in a crowd.

Ready To Get Started?
Join MailCharts today to create your own groups and view current and past email data. MailCharts tracks and offers reporting on over 30,000 brands, including hundreds of beauty companies. Start planning your strategy today!