We love email marketing here at MailCharts. Marketers who use email responsibly have direct access to their customers in one of the most valuable access points: the inbox. Email is easily tracked and measured, so marketers know right away how well their campaigns are performing.
 And you can't beat email for return on investment, either. Email returns an average $38 to $44 for every $1 spent on it.
But you need a solid grounding in the fundamentals of ecommerce email marketing principles if you want to succeed. That's what this guide will deliver. Use it to understand email best practices, what kinds of emails to include in a well-rounded email program and how to measure success. Jump to any section here: 
What is ecommerce email marketing? 
Ecommerce email marketing is the method of using email to generate sales for an online ecommerce operation. It is part of an overall digital marketing strategy. 
Before diving into the nuts and bolts of ecommerce email marketing, let's explore the role email marketing plays within your entire marketing strategy.
At its core, email is a communication channel. Email allows you to build a relationship with current and prospective customers over time. The best way to ensure that subscribers open your emails tomorrow is to send great emails today. Email is not just a promotional megaphone.
As we've seen, email is extremely versatile. That's its main power. And its greatest weakness. When building your email strategy, you need to focus on one use case and make it great. Then, and only then, can you move and expand the role email plays in your organization.
To put things into context, trying to plan multiple email initiatives at once is akin to trying to plan a wedding, a birthday party, and a bar mitzvah all during the same week. Not a good idea. 
Start small and grow your email program over time.
Email is bringing sexy back. Why?
Your email list is a highly valuable business asset—even though it's not visible on the books, from an accounting standpoint. Recent changes in the PPC and social media landscape have made it more lucrative to focus on email marketing.
Just to give you some context, the average CPC for Google Ads is now $2.41. Facebook's organic reach (the percentage of people that see your posts without paying to increase distribution) dropped to an all-time low of 2.6%, and Tweets' click-through rates are generally in the 0.5% range.
Compare this to the typical email metrics. What do you get on your campaigns? A 20% open rate and a 3% CTR? 
That's an 8X better performance on reach and a 6X better performance on clicks when compared to social media. 
Oh, and remember, you own your email list. If you don't do anything spammy, no amount of "algorithm change" will drastically affect you. Take that, Facebook Newsfeed!
The only way to compensate for the lower organic page reach is to spend more money on ads. Then simple arithmetic kicks in: As more marketers increase their spend, CPCs rise, which decreases your ad campaign's ROI.
Let's put these numbers into context with an example. 
Imagine that you have an email list of 100,000 subscribers and your emails receive a 20% open rate, with a 3% click rate. Sending an email drives 3,000 visits to your site. Given the visitors' high intent (they are on your list AND they clicked through your email), let's say they convert at 3%. In total, this campaign would drive 90 sales. Now let's say that you want to get the same 90 conversions using Facebook. Assuming a $1 CPC and a first-time visitor conversion rate of 1%, you'd need to pay $9,000 to drive 90 sales.
This insight—that email is a phenomenal channel to focus on compared to social media—is supported by a study from McKinsey revealing that email is 40× more effective at acquiring new customers than Facebook or Twitter.
Now that you're convinced that you should focus your energy on email instead of social media, let's talk about the role email can play. 
Most marketers use email as a retention channel—to keep customers around—but email can be a powerful acquisition tool too, helping you convert prospective buyers into customers. In essence, a good email program works as a conversion tool, increasing your overall site's conversion rate.
Another reason for email's popularity growth in recent years is decreasing costs. Back in the day, to send emails you had to set up your own email servers, worry about downtime and deliverability. Security was also an issue. This was a complex and expensive process. 
Now, you can sign up for an email service provider (ESP) and get rocking.
Types of emails for ecommerce marketers
Next up, let's look at the types of emails you can (and should) send as an ecommerce email marketer. 
Every email you send is a customer touchpoint. 
Each email should have a clear business goal, provide value to the end-user, and have a CTA describing the next action the reader should take. 
Make sure each email focuses on only one thing. Don't lump a sale with a product announcement with your latest blog post.
Below, you'll notice some overlap between email types (e.g., is a newsletter with a discount the same as a sales and promotion email?). 
The specific details of "how should we classify this email"  aren't as important as understanding the different ways you can use email to drive value for your business.
Here are the different ecommerce email types we're about to explore:
Sales and promotions

Product announcements

Welcome emails

Surveys

Birthday emails

Cart abandonment

Browse abandonment

Purchase confirmation

Shipping confirmation

Replenishment series

Back in stock

Wish list sale
Sales and promotions emails
These are the typical promotional emails your favorite stores send you. These emails include a discount to prompt the subscriber to purchase.
Why use them?
To drive sales. Be careful, though. Running promotions and sales will boost revenue in the short term, but can hurt you in the long term if you overdo it. 
Once you've given a discount, there isn't much more you can give (other than another or a steeper discount). You don't want your subscribers to buy only when you're discounting.
When to send them?
Special occasions and holidays such as Black Friday, Cyber Monday, and the New Year are a great time to send promotional ecommerce emails. New seasons are a great opportunity for ecommerce, too, as are offbeat holidays or events like Pi Day (March 14, or 3.14) and Star Wars Day (May 4, or "May the Fourth (Be with You).) If you're behaviorally targeting users and creating segments based on intent, sales promotions delivered to high-intent customers is a solid strategy as well.
Pro tips
Include an expiration date or a real-time tactic like a countdown clock to provide a sense of urgency

Include any industry must-haves (e.g., free shipping for ecommerce or XX days 100% satisfaction guarantee for SaaS businesses)

Heavily test your subject lines and how you position your offer (e.g., percent off vs. dollars off)

Note: There's some research on this called the Rule of 100. When something costs under $100, percentage discounts seem larger than absolute ones. For goods over $100, absolute discounts seem larger than percentage ones.

Segment your list and provide different discounts to frequent purchasers vs. non-buyers. Yes, you can send the same deal to everyone, but just because you can doesn't mean you should. For example, it may take a large discount to convert a prospective customer (first-time purchaser), while a smaller discount may be enough to get an existing customer to buy again. It may take even less of a discount to convert frequent purchasers. You should test accordingly and use this to your advantage.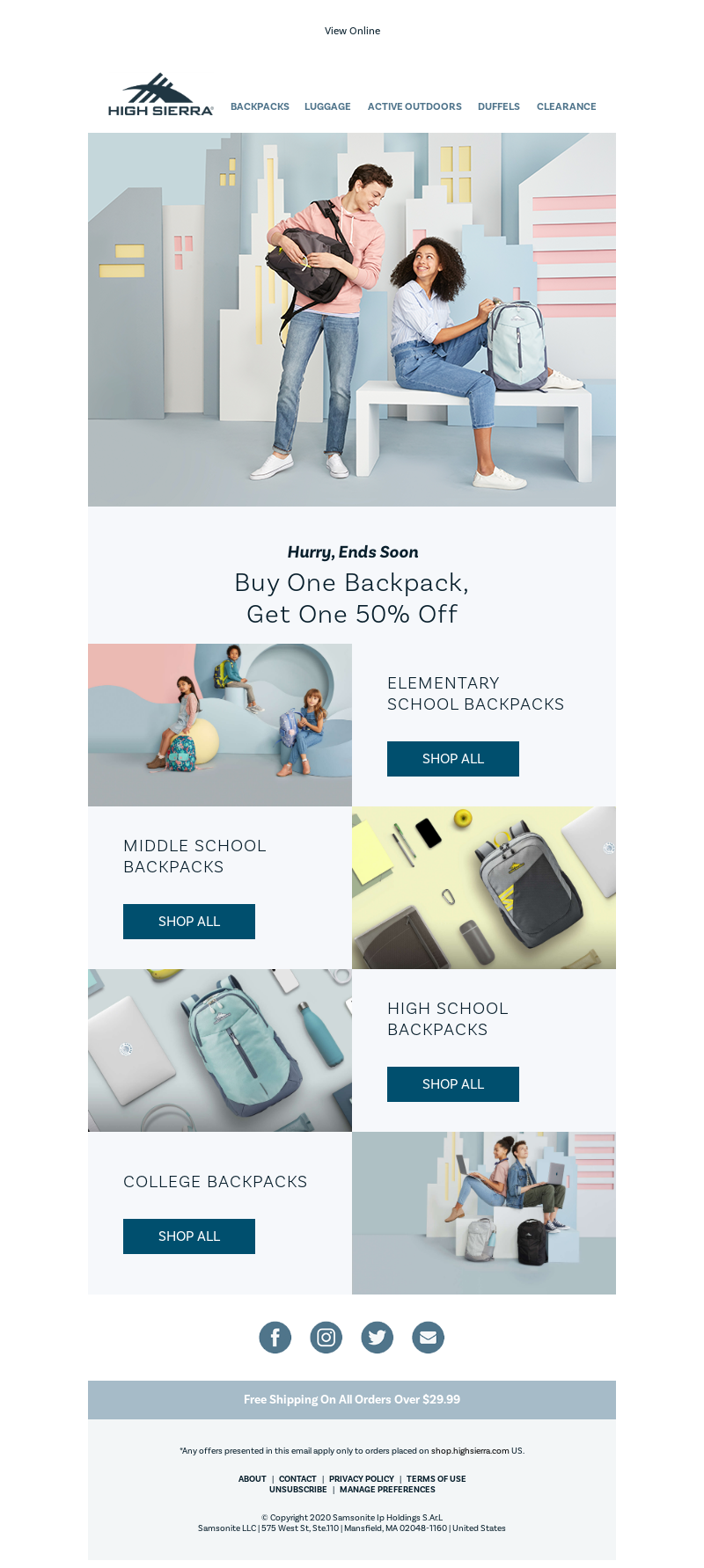 Product Announcement Emails
Includes product launch emails, new partnerships, and events.
Why use them
To announce what your company has been up to. Think of these as extremely focused newsletters. Use this type of email to drive the first wave of user adoption. From promoting a new feature to selling a new product, the use cases are plenty.
When to send them
When you've accomplished something special (e.g., launched an Android app) or launched a new product. 
Pro tips
Include only one, really clear, CTA. 

Make your reader feel special—that they're the first to hear about this.

Welcome emails
Welcome emails  are the first impression for brands, so make it count. 
Why use them
The welcome email is a must. Anytime someone subscribes to your website, newsletter, or service, you should send a welcome email to confirm they've successfully joined your list. 
Welcome emails typically have among the highest open rates, so make the most of your welcome email to keep subscribers engaged going forward. 
The welcome email is often used to confirm a user's email address by adding a "click here to confirm your email address" button (double opt in), establish credibility by including logos of companies that use your product or service, share a discount code to incentivize a user's first purchase, or get a user to take the next step in your customer journey (e.g., "take a style quiz" or "finish setting up your profile").
When to send them
Right after someone joins your product, service, or website.
Pro tips
Keep this email as simple and clean as possible. Have only one CTA and make it prominent. 

If applicable, include a discount code to encourage a user's first purchase (you can also wait 24 hours before sending a discount code, in case they're planning on purchasing right away).

Use the data your customers give you from introductory efforts like style quizzes or profile/preference-setting to segment or personalize messages.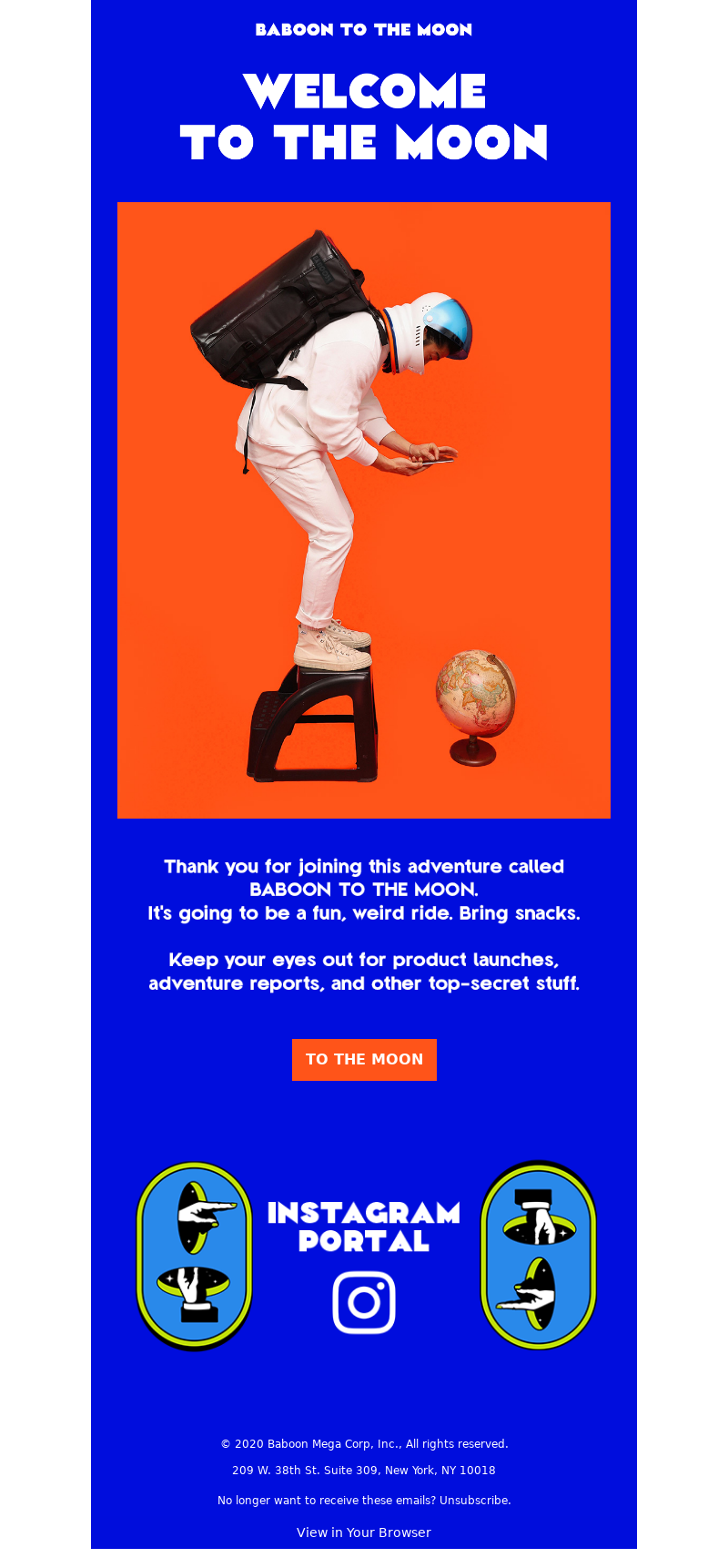 Surveys
Better understand your customers and get valuable feedback on products with survey emails.
Why use them
Surveys help you understand your customers and get a sense of your net promoter score (a common measure of customer satisfaction). 
When to send them
Whenever you have a list of questions you wish you could answer. Limit these emails to once a quarter max—otherwise, it'll get annoying for your subscribers. If you need fresher data, limit the survey to one or two questions.
Pro tips
Make sure your surveys have a single theme (e.g., don't ask about new feature suggestions AND feedback for purchase experience in the same email).

Surveys are, by nature, all about you. Incentivize your users to respond by offering them a discount, gift card, raffle, or other goodie.

Also, keep your surveys short: 3 minutes max (less than 1 minute is ideal). If your survey is really short (and it should be), call this out in the email to set expectations.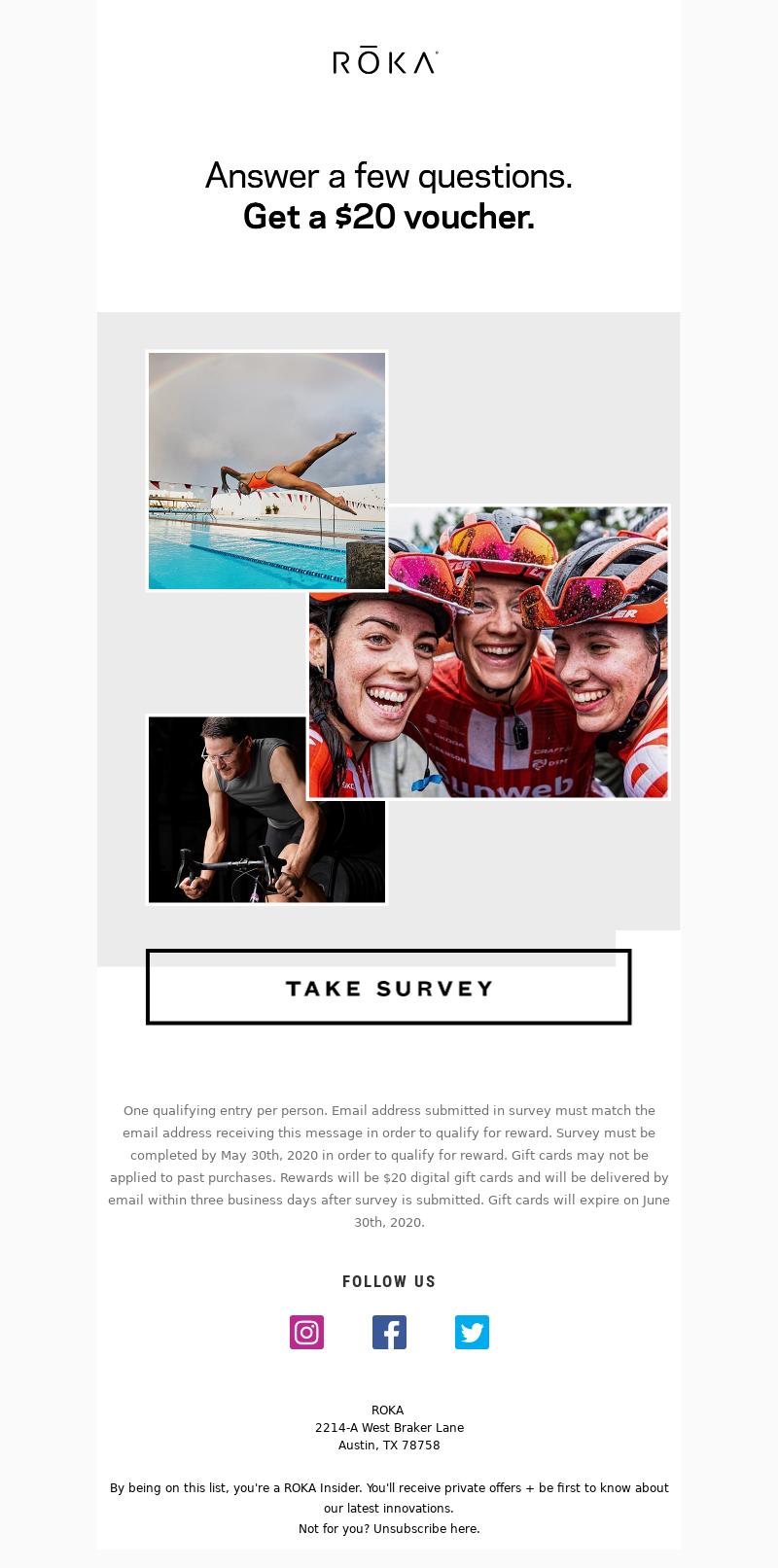 Birthdays
Recognize your customers with a special Birthday email on their big days.   
Why use them
Birthday emails give brands a unique opportunity to engage with their customers on a more personal level. If you're a high-frequency sender, you can easily substitute a birthday greeting for a regular promotion without reducing your marketing effectiveness or cutting into revenue.
When to send them
Some brands send emails in a batch at the start of the month. Others send them a week or so in advance to give recipients more time to use them or on the day itself. Your ESP and data integration capabilities will play a big part in setting up your sending schedule.
Pro tips
Begin collecting birthday data at opt-in or as part of your welcome message or onboarding journey. Be sure to explain why you're asking for their birthdays and what you'll send them.

Celebrate with a gift or generous discount if your profit margin allows it – or just send a thoughtful, personalized greeting.

Keep the message focused on your birthday greeting – don't clutter it up with competing promotions.

If you send a gift or incentive in your birthday greeting, include an expiration date and send a reminder email a day or so before to encourage them to use it.

Cart abandonment
Send reminders or promotional emails to prospective customers who've added products to their carts but did not complete the purchase. 
Cart abandonment emails tend to be very valuable, especially in the ecommerce world.
Why use them
The average person gets 1 interruption every 8 minutes, approximately 7 interruptions per hour, or 60 interruptions per day. The average employee gets interrupted 56 times a day. Needless to say, we get distracted a lot.
The problem with these distractions is that if they happen while a prospective buyer is adding items to their shopping cart, there's a chance they'll get busy and won't complete the transaction. 
This is where the cart abandonment email comes in.
Cart abandonment emails allow prospective buyers to resume the shopping experience.
Another shopping behavior is that people like to comparison-shop. They'll add similar products on competing websites to see how much a purchase would cost including shipping.
Last, but not least, it's worth noting that some visitors may be comfortable browsing on their mobile devices (e.g., on the commute to and from work) yet are more willing to complete the purchase later, once they're in front of their computers.
When to send them
As soon as 15 minutes after a cart has been abandoned. One hour or 24 hours are two other popular time frames.
Pro tips
Send cart abandonment emails! Seriously, do it.

Over 68% of transactions are abandoned

.  A cart-abandonment series can pay off, too. Check the stats: 45% of cart abandonment emails are opened. 21% of all are clicked on, while

50% of the users who clicked purchased.

 

Include popular or related items—if I leave a coffee machine in my cart, follow up and include the coffee filters, too.

Create a drip sequence to send more than one email—you can provide steeper discounts over time or even wait to send a discount until later in the sequence. A popular approach is to use a discount ladder where no discount is offered in email 1. Email 2 offers 10% off, while email 3 offers 15% off (for example). You should test these different approaches, and discount percentages, to see what drives the most sales without hurting your margins.

You can also leverage the

scarcity principle

by saying there are only X items left or that your cart expires in Y hours. If you work in the airline or ticketing business, you can mention that prices are likely to go up in the near future.

Browse abandonment
We often get distracted. A browse abandonment email allows you to extend the shopping experience via email.
Why use them
Your website experiences a higher volume of browse abandonments than shopping cart abandonments—more people look around vs. add something to their cart. 
While the purchase intent is lower than with shopping cart abandoners, this is a worthwhile email to set up.
When to send them
A few minutes, to a few hours, after an engaged visitor leaves your website.
Pro tips
Just like we saw in cart abandonment, don't feel obligated to offer a discount. This email can simply be around "Where did you go?" asking if they're still interested in item_1, item_2, and item_3.

Mention that they can reach out with any questions.

Purchase confirmation
Everything you do in marketing boils down to this one moment: the purchase. Treat your purchase confirmation email with the utmost importance it deserves.
Why use them
It's not uncommon for shoppers to get nervous when buying online, particularly those customers who did not grow up with the Internet at their fingertips. 
The purchase confirmation email helps reduce the anxiety associated with entering credit card information online. It's a way for shoppers to confirm that everything went as expected: that they bought the right item, in the right size, and are shipping it to the right address.
When to send them
Immediately after someone completes a transaction on your website. If you charged a credit card, send a purchase confirmation.
Pro tips
Many companies send purchase confirmations separately from their core marketing ESP. This happens because many payment processors offer confirmation emails out of the box. The challenge is that purchase confirmation emails may look different from the rest of your emails—potentially feeling off-brand or of lesser quality than the rest of your marketing communications. If that's the case, make sure to spend the time required to make these emails look good.

Get feedback from your support team when creating this email. They'll be able to tell you which questions come up frequently after someone purchases. Adding missing information to this email can help reduce support volume.

Whenever possible, include a one-click "track my package" link where the tracking code is clearly visible. Sometimes this will be a separate email, though, which we cover next.

Shipping confirmation
Are we there yet? Is it here yet? Where did it go? The shipping confirmation email keeps your customers updated. 
Why use them
Your customers bought something and they want to know where their packages are.
When to send them
Combine this email with the purchase confirmation (see above) or send it as soon as you have the package's tracking number. If you're sending two separate emails, make sure to point this out in the receipt email (which should go out the second the transaction is processed).
Pro tips
This is a great email to promote your referral program. 

You can also use this opportunity to reinforce something important about your brand (e.g., our candle wax is 100% organic and every candle is handmade).

Replenishment series
Are you ready to re-order? Prompt customers to replenish a product with this popular ecommerce email. 
Why use them
Buying household items online has never been easier. Use these emails to prompt customers to purchase from you again. Imagine that you bought diapers from buy buy BABY and you're almost out. 
You get the point: If you sell items that get used, customers will have a need to replenish.
When to send them
The right answer will vary based on the product you're selling. Send these when you know customers are running low.
Pro tips
This is a great email to upsell new product lines and popular items and to help customers discover something new.
Back in stock
The name says it all. The product was once gone and it's now available.
Why use them
Back in stock emails drive sales. 
Segment your list to find previous buyers and offer them to buy this product again. Look for shoppers that have shared this item or those that have marked it as a favorite—if that's an available option.
When to send them
Whenever you've replenished your stock.
Pro tips
Use this ecommerce email to make part of your list feel exclusive. Here's a quick example: "Hey, Tom, just wanted to let you know that <product> is back in stock. You've been a loyal customer for two years and, to thank you for your support, you've received this email before 98% of our other shoppers. Thank you again for shopping with us."

Create urgency with your CTAs. For example, "Grab your Product_Name before we run out!"

Wish list sale
Whenever a visitor marks an item as a favorite or adds it to their wish list, that's ecommerce marketing gold. 
Use interactions like these to understand which products your visitors like and leverage this in your email campaigns. If you have a site-wide sale and you know what products I've marked as favorites, send me an email highlighting these products.
Why use them
Because the added relevancy drives more sales. You know what your subscribers are interested in.
When to send them:
Whenever you have a sale.
Pro tips
Include some form of urgency. You know that the subscriber likes this particular item, so give them a little extra push to close the deal. This could be a mention of limited stock or a discount that expires.
Looking for more inspiration for email types? Sign up for MailCharts to view thousands of email examples for the above categories. 
Best Practices for Ecommerce Email Marketing
Let's go over some quick email marketing best practices you should incorporate into your campaigns. 
Common questions from ecommerce email marketers include: How frequently should I email? What content should I include? How often should I include a promotion? We'll briefly cover those questions here. 
Email Frequency
How often a company sends emails depends on their line of business and user preferences. A news site sending "breaking news" alerts will email much more frequently than a company like Apple, which seldom releases new products or sales promotions. Here are some benchmarks to keep in mind as you plan your ecommerce email strategy. 
Some ecommerce companies email on a daily basis (such as J.Crew, Bonobos, Gap, and Uniqlo), while others only a few times a week (such as Lululemon and Nike). The send frequency is a key aspect of your email marketing strategy.
At the time of this writing, brands in our core industries sent the following average monthly emails.
Apparel: 23.1

Beauty: 18.2

Home: 18.4

Health & Fitness: 15.7

Sports: 17.1
Monthly email volume for brands in our core industry groups tracked by MailCharts.
Email Promotional Rate
Once again, email promotional rate depends largely on your brand and positioning. While you don't want to overdo promotions, training customers to purchase from you only when you offer a sale, promotional emails are also one of the most effective ways to drive online purchases via email. Create a strategy that balances discounts and incentives with other promotions. Here are some benchmarks to keep in mind.  
At the time of writing this, the average promotion rate for our core industry groups were:
Apparel: 61.6%

Beauty: 43.9%

Home: 62.4%

Health & Fitness: 69.1%

Sports: 44.9%
Mobile Emails
46% of emails are opened on mobile, so ensure your emails are mobile optimized.
Use a

mobile-first

email template. This will make sure that your emails look good in most email clients.

Go beyond the email. Ensure that your landing pages are relevant and mobile optimized too.
Email design and code
What are the best practices when designing your email campaigns? Keep these tips and guidance in mind. 
Keep your emails to 600 pixels wide max.

Limit your email's HTML weight to under

102KB

of code (excluding images). If you go above this limit, Gmail will truncate your email.

When creating your email templates, use a tool such as

Litmus

to make sure your emails look good on most email clients.

Compress your images. Nobody wants to have to open heavy images, especially when on a mobile device.
Content
Not sure what to include in your email campaign? Consider these best practices for email content.
Use images to complement your email's content, but don't include just one large image. If a subscriber has images blocked by default, they'll see an empty-looking email.

Make sure all images are clickable.

Diversify your email content between high-value emails and promotions. A good guiding principle is the

JJJRH

model.

Add personality to your emails with gifs and emojis.

Personalize emails based on explicit user preferences and implicit, on-site behavior. The more relevant your emails, the better.

Send trigger-based emails, depending on the actions (or lack thereof) that users take on your website or app (e.g., cart abandonment email series.)

Make sure your pre-header text complements your subject line.

Send your emails from a recognizable "from" name.

Allow subscribers (and encourage them) to respond to your emails. Don't use noreply@ email address. If out of office notices are a problem, add an auto-filter for these.

Use low-friction CTAs that visually stand out. If you can, couple this with an incentive, which will maximize click rate.
Strategy
Let's talk about email strategy. Create a plan for email frequency, promotions, email types and more with these quick tips. 
Focus on relevancy over frequency. Imagine that you're about to receive the email you're drafting. Would you be excited to receive this? If the answer is no, go back to the drawing board.

It's okay to use promotions and discounts, but don't abuse them; otherwise, subscribers won't ever purchase at full price.

Segment your list for added relevancy. If you're in fashion, male vs. female is a good start. Time zone–specific sending is also another great option.

Test the heck out of your emails. Content, time of send, sender name, and frequency. Understand what resonates with your audience.

Review your email drips every 6 months. Your understanding of your subscribers will evolve over time. Incorporate these learnings into each revision.

If you have an inbound team, sync with them and leverage the great content they're creating.

When looking at data, go all the way down your funnel, from email open rate to purchase.

Send a welcome/confirmation email. Make sure it includes one clear next step the subscriber should take.
Highest-value emails
If you're looking for high-value, low-hanging fruits, here are the most valuable ecommerce emails to get started with. 
Shopping cart abandonment

Browse abandonment

Replenishment series

Back-in-stock announcement

Expiring credit card— especially for subscription-based purchases—give customers a heads-up before their credit cards expire; follow up once a credit card has expired
Now that you've learned about types of ecommerce emails you should create and best practices when sending your campaigns, let's wrap things up by discussing how to measure success.
Measuring success: What email marketing metrics should you track? 
Just like any other marketing activity, the email world has a few unique KPIs that are worth paying attention to and optimizing. Let's first look at an overview of key email marketing metrics for ecommerce. 
The cornerstones of email metrics are open rate and click-through rate (CTR). 
An email open rate is the percentage of recipients that opened an email. The click-through rate is the percentage of recipients that clicked on an email. 
Now, for someone to click on your email, they first need to open it. Hmm, so we need a way to standardize what we call "click intent." 
This is where the click-to-open rate comes in. This metric helps you understand what percentage of subscribers that opened an email also clicked on a link.
To calculate the click-to-open rate, divide the number of unique clicks in an email by the number of unique opens of the email. Express this number as a percentage. 
click-to-open rate = unique clicks / unique opens × 100
A few additional metrics of key importance are:
Unsubscribe rate:

the percentage of recipients that unsubscribed from your emails

Bounce rate:

the percentage of recipients who didn't receive the email (e.g. the send

bounced

)

Spam rates:

the percentage of recipients that marked your email as spam. 
Unsubscribes are one of the most misunderstood metrics in marketing. Embrace them.
To put unsubscribes into perspective, recipients are kindly asking that you no longer email them. This will always be some percentage of the recipients, and oftentimes it will be a trivial sample—2% would be incredibly high. 
What an unsubscribe helps you avoid is a poisoned list: a list full of bounces, or worse—recipients marking your messages as spam. Bounces and spam rates contribute to your ability to reach the entirety of your list. There is no greater fear for an email marketer than getting blocked—even temporarily—by an ISP like Gmail or Outlook. 
The net gain is far greater than losing those addresses who do not want to hear from you.
Pro tip: Allow subscribers to manage their communication preferences. Let them choose which emails they receive and how frequently.
Now that you know what to track, let's talk about how we can improve each metric.
Improving open rate
The easiest way to improve your open rate is to A/B test your subject line. 
Another good subject line complement is the preheader text. The preheader text is the first [n] characters of the email—the value of [n] depends on each email client. 
The preheader text will show either next to or below your subject line, again depending on the email client. Your pre-header text should complement your subject line to inspire the recipient to open the email and should be at least 40 characters long.
Another variable you can test is the from name—who the email is coming from. The sender of an email could be [company_name] (e.g., MailCharts), or [first_name] from [company_name] (e.g., Tom from MailCharts), or just about anything you'd like. Set this up in your ESP when creating your email.
The last variable you can use to improve your open rate is email send time—when is the email being sent. Your open rate will vary based on the day of week and time of day it was sent. You should test this and understand what happens when you send emails in the evening vs. morning vs. lunchtime. In a recent time-of-day test I did for a client, the difference between the lowest and the highest open rate was a 40% improvement. All emails were sent the same day and had the same exact content.
Also, if your ESP allows it, segment subscribers based on timezone—to standardize a "9 am" send time across the East and West coasts (and the rest of the world).
Improving click rate
When it comes to click rate, everything in the content of your email is up for optimization: calls to action, imagery, copy, links, length of email … and the list goes on.
Here are a few general rules that are likely to boost your click rate:
Make sure all images are clickable

Use low-commitment CTAs. "Learn more" is often a better option than "Buy now"

Make sure buttons and links stand out by using bright colors

Give subscribers an incentive to click through
When analyzing your click rate, remember to normalize based on the open rate—use the click-to-open rate, as mentioned earlier.
Email Conversion Rates
At best, opens and clicks can inform the success of your email campaigns. And at worst, they can wholly misrepresent the performance of your program. Let me explain.
An email's click rate and open rate don't really matter if the email doesn't achieve its goal—unless, of course, an open or a click is the goal. Most often, the goal is something else—it is a conversion. Conversions can take many forms—purchasing a product, leaving a review, or completing a survey. 
Here's where opens and clicks may deceive us. While an email may have a 100% open rate, if nobody buys, then did the email succeed (assuming your goal is to sell)? 
Look at the numbers based on the entire funnel. If revenue is your goal, you should be able to calculate how much money your last email campaign drove. 
If user reactivation is your goal, you should know how many users successfully reactivated thanks to your email.
When analyzing the entire funnel, opens and clicks are just one part of it. Optimizing these top-of-funnel numbers can have a dramatic impact all the way down the funnel. But in isolation, it's difficult to assess the efficacy of an email campaign by looking simply at opens and clicks. 
Improving conversion rates
While conversion rate optimization (CRO) deserves a whole guide of its own, let's cover some quick tricks you can use to boost your email conversion rates.
First, make sure you're linking to the right place. When showcasing a product, your links should drive visitors to the product itself and not to the homepage. Always aim to link as far down the funnel as possible. In the example of a cart abandonment email, drive subscribers directly to their abandoned cart.
Second, automatically apply discounts. If you send an email promoting 20% off, don't force subscribers to add the code manually. All this does is add friction, which reduces conversion rates.
Third, create some form of urgency. It could be that the promotion expires soon or that only a few items are left. Make subscribers feel that the best time to purchase is now; otherwise, it'll be too late (without sounding spammy or sleazy!).
Calculating the impact of your campaigns
The best way to measure the impact of your ecommerce email marketing campaigns is to have a holdout group (also called a control group). A holdout group is a set of users, usually between 2% and 5%, that don't receive specific email campaigns. 
By creating a holdout group, you can compare how users that receive emails behave vs. those that don't. Ideally, the group receiving emails does more of the thing you're trying to achieve: stay past a free trial, purchase more often with a larger average basket size, refer additional friends to your service, etc.
When determining the impact of your campaigns, the attribution model you use plays a very important role—switching from a last-click attribution to email open paired with a 7-day window can paint a very different picture.
Here's the spoiler, though: There's no right or wrong attribution model. You should look at your data through different models and understand what this means for your business.
Also, do your best to place dollar-based metrics around your email efforts. This is a lot easier for ecommerce email campaigns that are driving sales, such as cart abandonment and promotional emails. Many ESPs, such as Klaviyo, will track your ecommerce sales attributed to emails to help you better understand the revenue impact of each email, segment, and campaign. For survey emails or review emails, assigning dollar values to a campaign is more difficult. 
However, paired with the holdout group, you'll be able to point at the numbers and say, "Look, I generated an extra $1 million this year by sending these campaigns." 
Wrapping Up: Additional Resources for Ecommerce Email Marketers 
Successful ecommerce email marketing takes more than a campaign, an email list and an ESP. In this Guide, we've shown why email matters in your digital marketing universe, the different kinds of emails that make up a well-rounded marketing program and best practices for engaging subscribers and sending effective messages.
As we said in the Introduction, we love email and everything it can do to build engagement with your customers and drive revenue for your company. But even the best ecommerce email marketers can use a hand.
That's why we created MailCharts–to help ecommerce email marketers succeed. MailCharts gives email marketers tools to make email planning and executive more productive with less work:
Build and optimize email marketing strategy using competitor and industry data and insights
Plan campaigns and promotions
Benchmark campaign strategy against industry benchmarks
Optimize triggered campaigns
 MailCharts gives marketers a wide range of features to help them work more effectively and efficiently:
 Data and Insights:
Brand and Group Overviews of high-level email metrics and data

Industry Insights with data on custom industry groups
Search
Brand Search with powerful filters to help you find the results you need for your email search or campaign goal

Advanced Email Search with options to filter by date, holiday, special characteristic, content and more
Email strategy and design
Email Journeys with email examples and data on frequency, cadence, promotion rate and more

Email Views with desktop/mobile views, HTML code for reverse engineering, Inbox View to isolate subject lines

Custom Lists and Groups to focus on data and emails that matter most

Weekly roll-up email showing all messages sent by targeted groups
Planning and Reporting
Email Exports to save and share teams for team review and campaign reporting

Email Reports with actionable data and email visuals

Holiday Email Planning targeted to dozens of major holidays and events, with examples, data and strategy.
Ready to get started?
Sign up now and unlock access to thousands of brands and emails along with competitive data, analysis, and ecommerce insights.