When you first think of emails, an email newsletter is likely the first thing to pop into your mind. What exactly is inclusive of an email newsletter? Typically, email newsletters are sent on a regular cadence– either monthly or weekly. They contain content such as alerts, summaries, and digests to keep customers and blog readers up-to-date. You may be thinking, "isn't that essentially all email blasts?" and you're right. While newsletters cover a lot, we're hoping to distill them into 8 distinct categories:
With many newsletters containing different pieces of content, it's not surprising that many newsletters today span more than one category. In our examples we'll go through shortly, we'll see many examples categorized that could also be categorized as a different type due to the amount of content they contain.
What makes a good newsletter?
The best newsletters are the most targeted and tailored ones. If a customer or subscriber is looking for content, the content should relate to their interests. Segmenting based on topic, interest, and past purchase behavior can be a great way to tailor content to different audiences in your database. Before creating newsletter content, see what segmentation is possible and the data available to you in your ESP (email service provider).
If you're new to sending email newsletters or if you've been sending the same format for a while, A/B test your content, subject lines, and layout to ensure you're optimizing for the best experience. Many ESPs have built-in A/B testing tools to make this an easy addition to your newsletter send. This is a great way to test what topics your newsletter should cover and cadence (do you want to be sending monthly? Or weekly? What day of week and time of day works best?).
It's important to note that what may perform well for one company's email newsletter may not work for your brand as not all audiences are the same (even though some may look alike).
Newsletter examples we love
Using MailCharts data, our team has pulled together some of our favorite examples in the 8 categories we've defined above. In addition to the examples below, check out additional newsletter examples on MailCharts.
Discounts
Hey, you 💛 You've unlocked Easter projects & treats for your fam.

In this newsletter, Michaels sells art and crafts supplies for people looking to refresh their home decor. We love this discount newsletter because contrary to what most promotional emails do, it offers subscribers value before highlighting current discounts. The Facebook live event, the craft ideas, and the tutorials all serve to inspire shoppers to create something new. Due to this, readers are already excited and in a "warmed-up" state by the time they reach the offers at the end of the email where they may be more likely to take action.
Espadrilles with geometric patterns | 35% OFF

With a simple design and clear product shots, this email from shoe retailer TOMS draws the readers' attention to the unique patterns of its geo-woven collection. Subscribers get to see what the shoes will look like on their feet, which patterns are available, and the texture of the fabrics up close.
Buying TOMS isn't just a choice of style, it's also a sign of support. With the announcement of the TOMS Global Giving Fund, the brand speaks to people's desire to give back. This timely update softens the promotional character of the email and doubles down on their brand's values.
Product Updates
☀️ Hotspots just in time for spring

Software company Litmus uses colors and text styling to make their newsletter content easy to digest. Each section in this product update gets a designated color with a matching header image and call-to-action button. The large and bold headings make the email scannable while the clear CTA texts let subscribers know exactly what they'll get if they click. It is thanks to this layout that Litmus can share product updates, new features, case studies, resources, and even an event update in a single email without overwhelming the reader.
Office Decor Inspiration | First Sip of ☕

Society6 takes a different approach and focuses on a single topic: office decor inspiration. Right at the top of their newsletter, they call attention to a 30% off sale. This entices readers to click through when scrolling through the rest of the email.
The rather simple design of this product email and usage of large images makes it easy to envision what your home office could look like. They provide additional value by adding blog content around your office environment with "8 Tips to Make Your Home Office Work for You". Lastly, the Zoom Background Quiz offers something fun, timely, and topical, without hard-selling readers on products.
Launching: Women's Jordan Retro 4 'Rasta'

Foot Locker's subject line tells you in a few words what this product update is about and after opening the email, the content is focused and clear. It showcases their new sneaker against a colorful rasta background sporting the famous Jordan logo. The black-on-white text is easy to read and contrasts nicely with the white-on-black CTAs.
Holidays
Need stocking stuffers? Shop our games!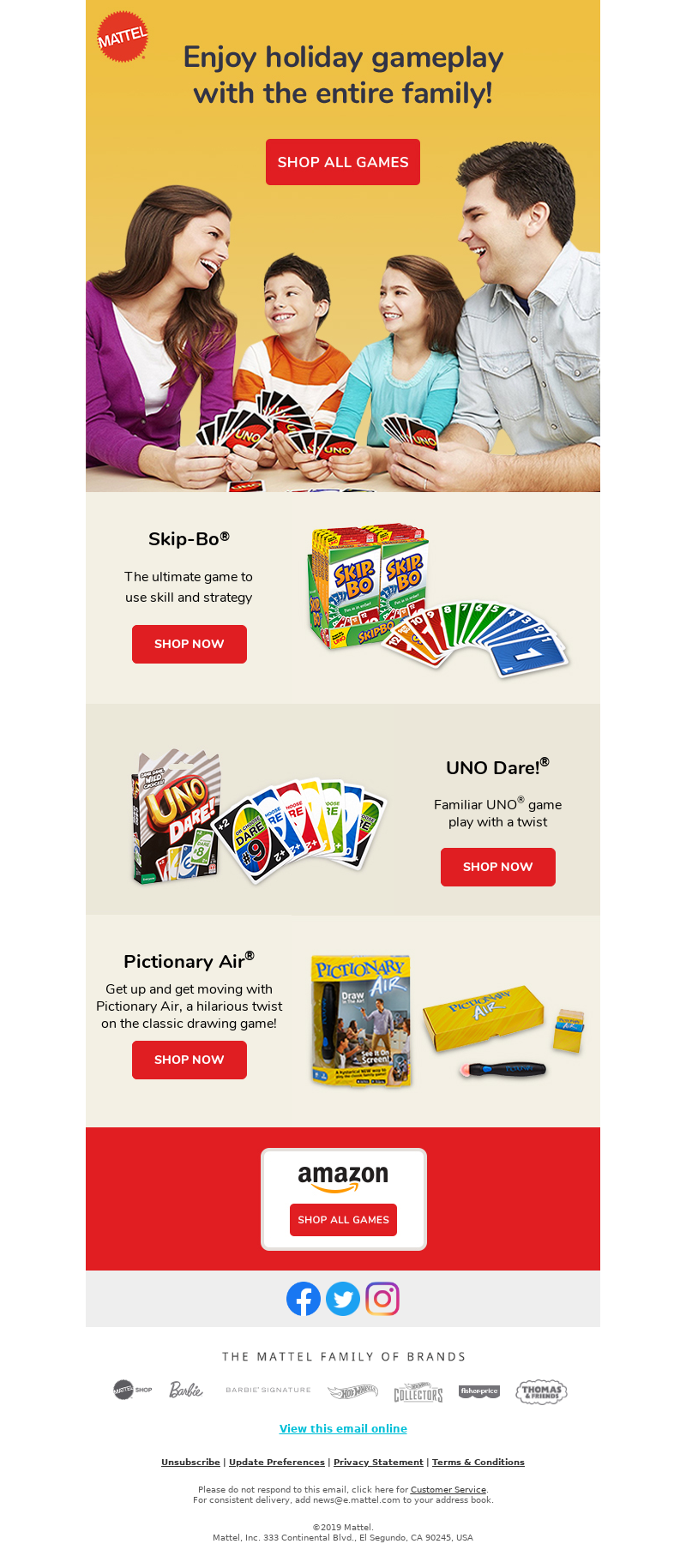 Holiday emails are often over-the-top and with the number of newsletters sent during this period, many get lost in the shuffle. Mattel keeps things subtle by referring to the season in the subject line and mentioning briefly in the introduction. The photo of the family playing games at the top of the email is a warm introduction to a brief and to-the-point newsletter. The short product descriptions pique the reader's interest and urge them to click the bold red "Shop Now" CTAs.
Our newest shop

Online flower store UrbanStems ticks a lot of boxes with their Mother's Day newsletter. Their header message acknowledges what's going on in the world and how it affects moms in particular. The boxed design of their template and beautiful photography make their products stand out and CTA buttons in between sections make it easy to complete a purchase.
We also love how UrbanStems offers flower subscriptions as an alternative option for those who want more than a single bouquet. Their holiday email concludes with an easy opt-out from Mother's Day specific newsletters which is considerate for those shoppers who are sensitive to the Mother's Day holiday.
A Halloween treat: open if you dare...

H&M uses Halloween as a reason to promote its loyalty program. It includes an incentive (10% off) and highlights the benefits shoppers get when joining. The "join for free" CTA makes it clear that signing up is risk-free but H&M also offers a secondary CTA for those not ready to sign up to simply "learn more". The Halloween theme itself is mostly established by the top image which showcases H&M products as well as the subject line, allowing the rest of the email to stay on-brand in terms of design and brand colors.
Gift Guides
• 2020 Spring Style Guide •

Home decor retailer Joss & Main enthralls us with this simple, clean Spring guide. The blocked combination of matching product images and short text followed by a clear call-to-action makes the first part of the email easy to scan and focuses the shopper on specific items to inspire their Spring Refresh. The green CTA bar also clearly divides this first section with the sales and category sections. These additional sections offer subscribers shopping options beyond just the Spring theme.
Hobby inspo for iso 🎨

This gift guide by online gift shop HardToFind uses colored banners to separate different gift guides. These guides are based on hobbies, making it easy for the reader to scroll through products that interest them without getting overwhelmed by options. In addition to the gift guides, they feature a photo of one of their small business owners, bringing to life what their brand is about while also acting as a break between the themed gift guides and the additional gift finder section. This final section allows shoppers to check out gifts for specific groups like: "gifts for mom", "gifts for him", and "gifts for couples".
News
Todd Jackson's advice for future founders

AngelList's newsletter packs various news updates into one email so that it doesn't need to flood the inboxes of its subscribers. The startup and investor platform keeps their newsletter clean with black-on-white text, blue call-to-actions, and a featured story at the top.
Each section of the newsletter is dedicated to a different type of update and is separated from the other sections by a blank space. The featured story takes up the whole width of the email while the other tech news reads more like a blog post feed. The fundings and acquisitions section uses bolded names and numbers to help readers quickly skim without reading each word.
Brighten your day with a peek at new classes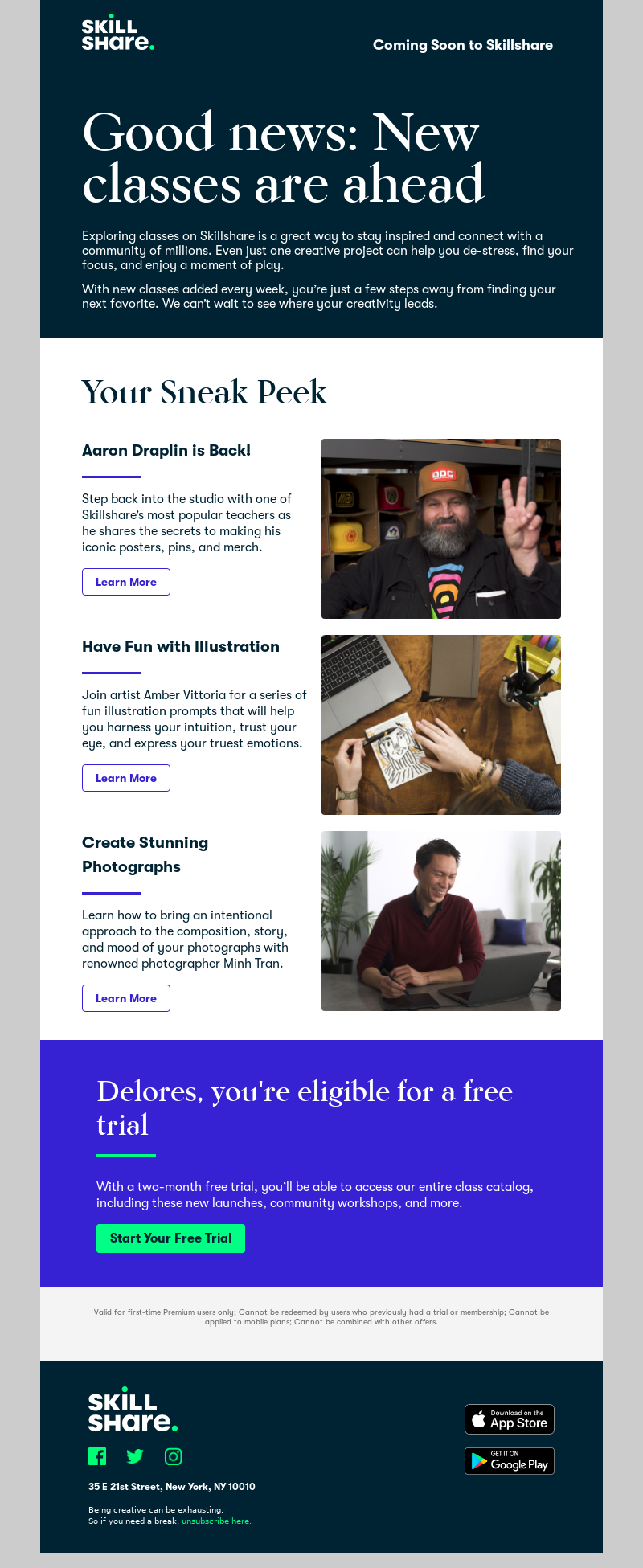 Online course platform Skillshare does a great job of including positive messaging ("stay inspired", "de-stress", "find your focus") before getting to the news. Their "sneak peek" makes it clear that the featured courses are just a few of the many they have to offer and allows them to keep their newsletter short while still sharing information about every course. The free two-month trial offer at the end of the newsletter is impossible to miss with its fluorescent green CTA button against the bold blue background.
Blog Roundup
Design's role in a public health crisis, getting more women in leadership positions, the fantastical world of face filters + more

AIGA's Eye on Design blog roundup does exactly what the design magazine is known for: showcase designs by emerging and established designers. They use a simple template that focuses on the designer's work accompanied by limited text so readers learn more. Interestingly enough, the only clear CTA button is not one that urges the readers to click through to Eye on Design's website, but to share the newsletter with a friend.
Grab the Kids & Get Cooking in the Kitchen

The usage of large red blocks for individual recipes makes Campbell's roundup newsletter easy to skim. The combination of red CTAs on a white background shows off their iconic branding colors. Also, they sprinkle Campbell's logo throughout the email making this the perfect on-brand blog roundup without being too over-the-top.
Events
Join our live Q&A with experts: Navigating postpartum care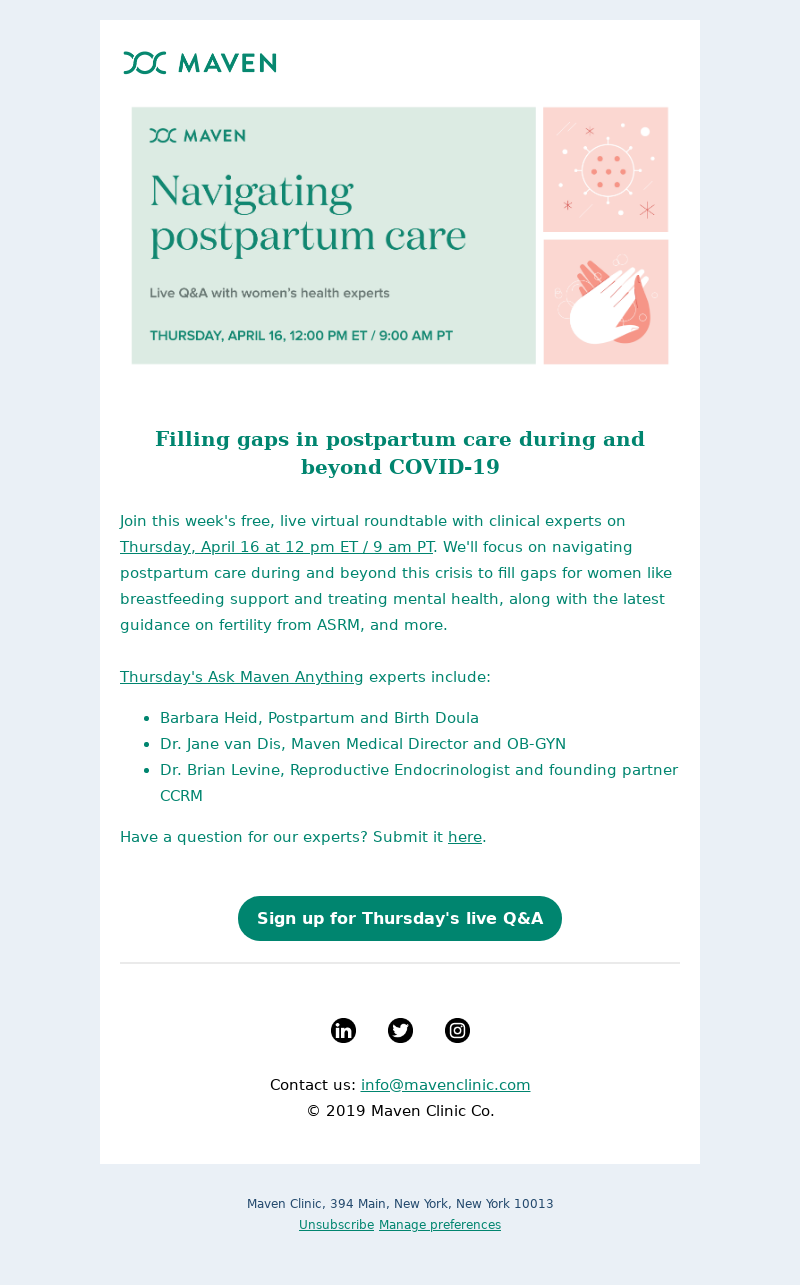 We love how this email from healthcare company Maven has a single focus: promoting their virtual live Q&A around postpartum care. The email clearly describes what participants can expect and how they can register. Maven also works a mention of the current times naturally into the headline, assuring readers that this roundtable will be relevant now and in the future. The main CTA stands out due to the button color and email focus.
We Are (Virtually) Here For You!

Diamond store Zales shows that you can turn jewelry shopping into an event. It instantly addresses the need for personalized recommendations when shopping for a high-ticket item and offers customers three easy ways to get the help they need by making a virtual appointment, chatting with customer support, or connecting with a jewelry expert.
Self-Care Through Skincare

Kiehl's email is a combination of sales promotion, product promotion, and event promotion in their newsletter. The event section stands out because of the colorful Instagram logo and icons used. Kiehl's organizes an Instagram live session every day of the week (except for Saturday). This is a great example of a brand promoting social media events via email. Subscribers who watch these Instagram Live events will have Kiehl's top-of-mind and likely generate sales or at the very least, a few more social media followers.
📱 Join Karlie Kloss & Violette on Instagram Live—Today at 1PM EST!
Estée Lauder's event newsletter addresses the subscriber directly ("You're invited") and has a feel of exclusivity. Not only will attendees get tips from the brand's own Global Brand Ambassador and Global Beauty Director, but they'll also get access to a limited-time offer. The white call-to-action button contrasts nicely against the dark background and tells the reader when the event is happening. This is a refreshing take on an event newsletter as it doesn't include any product promotion which is refreshing to see from a retail brand.
Tips & Tricks
Why Your Work's "Generous" Parental Leave Does More Harm than Good

This newsletter by online baby registry Babylist is full of value for parents or soon-to-be parents. Every article featured contains parenting tips and links to a longer post on their website with clear CTAs. In addition to their parenting tips, they share the results of a previous survey and encourage readers to participate in a new poll. They include additional value by adding in a small shopping section, a giveaway, and links to additional articles.
Today's delicious DIY? Edible terrariums

This email by Etsy might just be our favorite. Instead of putting tips and products next to each other as many newsletters do, Etsy combines both with a fun DIY project. Every step of the project requires the reader to use something that can be bought on Etsy. This makes the product promotion less explicit and ensures that the email is an entertaining read regardless of whether the reader is interested in the products.
Where do we go from here?
If you've made it to this part of the article, you're probably on newsletter overload and may be feeling overwhelmed. With the help of MailCharts, you can research specific industries and see what types of newsletters your competition is sending.
Our industry pages are split out into 13 categories: Accessories, Apparel, Arts & Entertainment, Food & Drink, Footwear, Sports & Activities, Home, Beauty & Personal Care, Travel & Tourism, Gifts, Health & Fitness, Pet Care & Supplies, and Baby. From there, users can dive into specific brands and examples. On individual brand pages, you'll find the most recent emails from companies and if you upgrade to a pro plan, you can experience full email journeys.
Also, MailCharts has curated several email newsletter categories on our email examples pages. In addition to walking through examples, we provide strategy and email implementation best practices, too! Improve your email newsletters with the help of MailCharts and stay connected with your customers.