Home Email Marketing Trends and Ideas
Today's successful home, decor, and interior design brands have moved beyond the traditional brick-and-mortar structure to embrace a "brick-and-click" hybrid. How should you optimize your email marketing strategy to keep up with the competition?
Explore all home emails
Sign-up for MailCharts to keeep tabs on the world of Home - and dozens of other industries.
Try for free
Physical stores, inventory, and promotional saturation are no longer the keys to sustainable success for home-furnishings retailers. The decline of both legacy and modern home-goods stores, even as overall sales remain strong, shows what happens when a retailer doesn't evolve with the market.
The store remains the backbone of the $114 billion US furniture market, but other models are chipping away. The brands that survive have moved beyond brick-and-mortar to embrace a "brick and click" hybrid.
"Customers want the physical and technical to co-exist in a way that adds value to their shopping journeys and convenience to their everyday lives," Storis reports in its annual consumer trends forecast. One manifestation: digital-only brands are tiptoeing into physical locations through stand-alone pop-up shops and co-branded spaces.
If price isn't the only motivator, what does motivate today's home-goods shoppers to buy? Social media influencers, experiential shopping and in-depth personalization. The following home decor email examples and strategies will show you how you can stay on top of these trends.
Home Industry Trends
MailCharts Home Data From 2018
About Our Home Email Data
MailCharts has curated emails from over 45 Home and decor brands to provide you with insight into the category. MailCharts tracks and offers reporting on over 30,000 brands. Join today and create your own custom groups to plan your strategy.
Home Decor Email Marketing Trends
Digital ecommerce has disrupted the home-furnishings market, but brick-and-mortar stores aren't going away. Discount brands and Amazon chip away at margins, but education and barrier-free checkouts can turn into competitive advantages.
DNVBs Disrupt The Market
You Have 1 New Message from Casper
Sent by Casper
It was only a matter of time before "digital native vertical brands" (DNVBs) upended the home-furnishing market the way they disrupted clothing and cosmetics by selling direct to customers online. Casper is an early DNVB and pioneer of the mattress in a box. It uses email to provide extensive product education, pre and post sale, as with this email designed to overcome typical sales objections.
Sign up free for Home insights

Marketers Focus on Competing With Amazon
Say Hello to Your (FREE) Design Crew
Sent by Williams Sonoma
About 55% of online shoppers in the U.S. first resort hit up Amazon first when researching home furnishings. But 90% will check Amazon prices even on good they plan to buy from other retailers. This "reverse showrooming" allows merchants to compete on something besides price. This Williams-Sonoma email highlights its interior design and delivery services to differentiate from Amazon and other deep-discount retailers.
Sign up free for Home insights

Ecommerce Makes Buying Online Smoother
It's Time For Trousdale – Your New Leather Sofa
Sent by Apt2B
Ecommerce is driving retailers to bridge the gap between physical and digital experiences and to make purchasing, especially of big-ticket items, as barrier-free as possible. Streamlined online checkout, free shipping and BOPIS (buy online, pick up in store) are three ways retailers are differentiating themselves from the competition in today's home furnishings market. This email from Apt2B uses clever animation, free shipping and a mobile app to create interest and remove shopping hurdles.
Sign up free for Home insights

Start Planning Today
Join MailCharts to view the latest email data from the brands you are looking for. MailCharts tracks and offers reporting on over 30,000 brands, including hundreds of home companies. Access email data from 2019, 2018 and earlier to help you plan and build your strategy.
Home Promotional Trends and Sending Behavior
Mailcharts Home Email Data From 2019
77%
Promotional Rate
Over three-quarters of the emails sent in Home in 2019 included a promotion. This was an right on par with promotional activity tracked in 2018.
65%
Percentage-off Promos
Almost two-thirds of the promotions included in Home emails in 2019 were percentage-off discounts. The least popular promotion type was BOGO (Buy One, Get One) offers.
Monday
Most Popular Send Day
Home brands deliver customized messages often. Monday was the most popular send day in 2019, as brands kicked off the week's messaging.
9 a.m. EST
Most Popular Send Time
Home brands found mornings to be the most effective send time, similar to other brands and industries.
Start Planning Today
Join MailCharts to view the latest email data from the brands you are looking for. MailCharts tracks and offers reporting on over 30,000 brands, including hundreds of Home companies. Access email data from 2019, 2018 and earlier to help you plan and build your strategy.
Home Promotion & Email Activity
Mailcharts Home and Decor Email Data From 2019
Most promotional week
Dec. 1-7, 2019
The week of Cyber Monday in 2019 was the most promotional for Home and decor brands. During that week, they sent the most emails that included a promotion.
Most active week
Nov. 24-30, 2019
Home decor brands sent the most emails as the year during the week of Thanksgiving, similar to most other brands and industries.
Want To See More Reports?
To view current and historical promotional insights from home brands, join MailCharts today. You can find detailed reporting on thousands of brands, including hundreds of home brands.
Home Decor Email Examples, Subject Lines, and Strategies
Create a Virtual Pop-up Shop
The shade of the season is S-T-U-N-N-I-N-G in our new Hushed Harvest Dinnerware.
Sent by Pier 1 Imports
Instead of posting one product image after another in an email, arrange products in showroom-style collections. Or, photograph them in logical settings, with people using the items. This helps customers picture themselves using the products. In this Pier 1 email, the images feature both simple product shots and the same products in real-life settings that bring the images to life. P.S. – you'll probably sell more. It's another department-store trick that translates well to email.

Emphasize Your Brand's Reliability, Education And Service
The future of design is here!
Sent by Ethan Allen
How can you persuade hundreds customers who live hundreds of miles away from your showroom? Use a 3-D planner and in-home visual app that users can manipulate to plan a room and see how a new sofa or recliner will look. Ethan Allen, a high-volume email sender, devotes an entire email to explain how 3-D works and what it can do to increase customer satisfaction. Try doing that on Amazon.
Add Some Education
The Fall Edit: GO BOLD.
Sent by Crate and Barrel
If you help your customers buy successfully, they'll be happier – and return fewer products. (Cue cheering from your customer support team!) Crate and Barrel excels at mixing in editorial content that informs as much as it sells. This monthly summation of trends reads like magazine editorial. It educators shoppers, shows them how to buy and use content and imagery to gives its messages an allure that a simple product shot wouldn't.

Add Real-time Content
You're Invited: Parachute Puppy Party
Sent by Parachute Home
Although some digital-only brands are trying out physical locations, brick-and-mortar still owns the sales-event space. Use real-time content using customer data and an interactive element or two to turn a standard invitation email into an irresistible event. Customers can click on the "Add to Calendar" button to create a calendar entry. The live map at the bottom shows the nearest location based on the customer's location.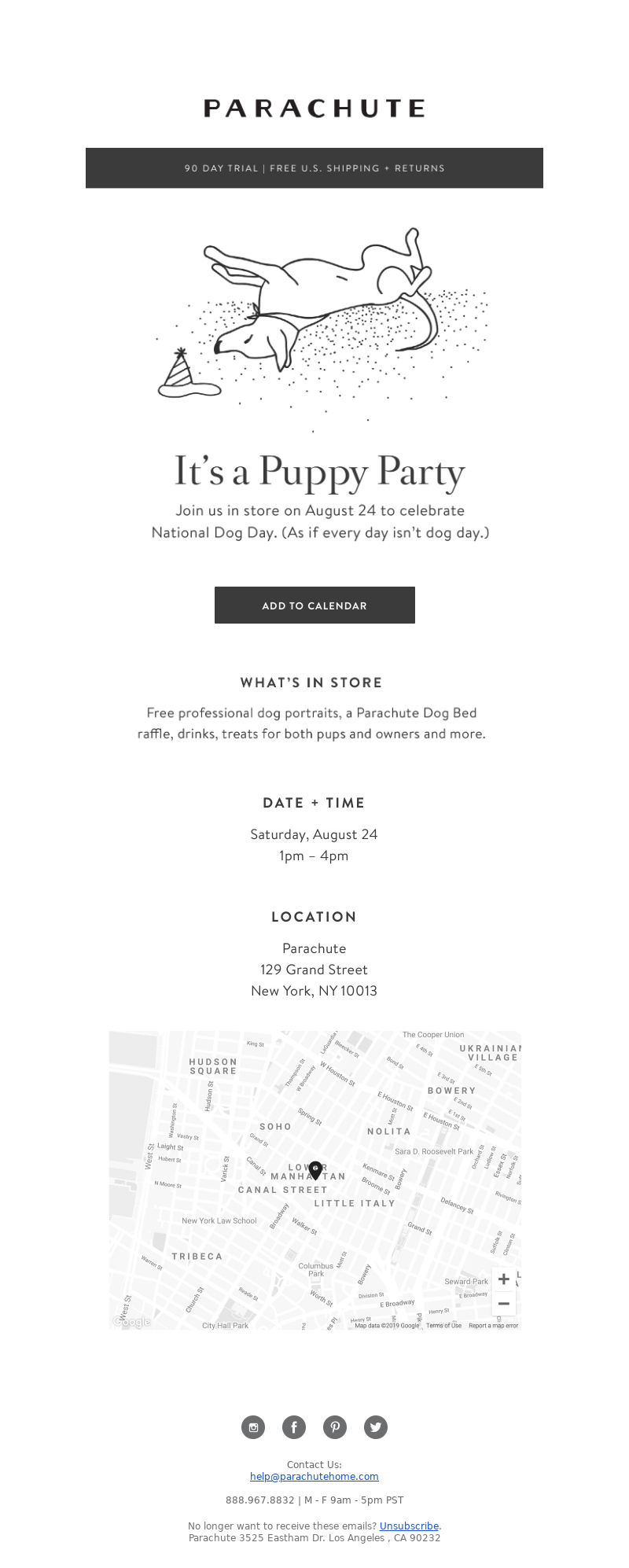 Buff Up Your Abandonment Emails
The 6 Inch Bonell Full Mattress in your cart has temporarily dropped in price!
Sent by Ashley Furniture HomeStore
Some little friendly persuasion can remind your shopper to finish buying, as in this Ashley Homestore email newsletter. Remind her why she put that product in her cart. Include an attractive image. Assure her she can buy safely fRecommend similar products that she might find more enticing. Anything you can do to recover more carts could help your CFO love email even more. This tactic can quintuple conversion rates or even lift sales 238%.

Ready To Get Started?
Join MailCharts today to create your own groups and view current and past email data. MailCharts tracks and offers reporting on over 30,000 brands, including hundreds of Home companies. Start planning your strategy today!