Getting customers to review recent purchases is incredibly important—88% of consumers trust online reviews as much as personal recommendations. The best way to drive reviews is to use email marketing. This is exactly how, a few years back, Mark & Spencer increased customer reviews by 400%.
As a follow up on our survey invitation email strategies post, today we explore six strategies you can implement in your own post-purchase email flow to drive more reviews.
Interested in viewing all the examples first, dive in.
Consider Offering an Incentive
As you can see from JCPenny's email below, the company leans heavily on the $1,000 sweepstakes to get customers to review their recent purchase.
Tell Us About Your Recent jcp.com Purchase and Win!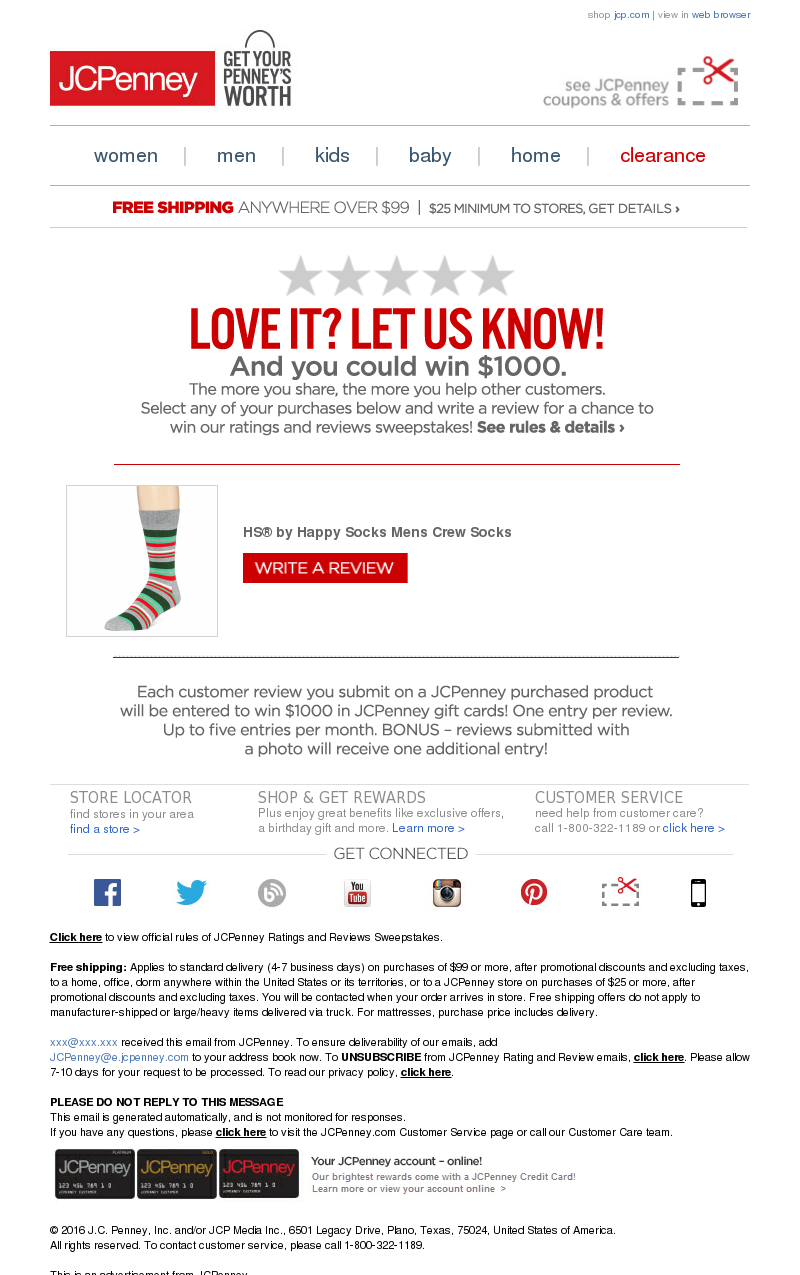 Another popular incentive is to offer a discount, just like Sleefs.
Please review your recent purchases at sleefs.com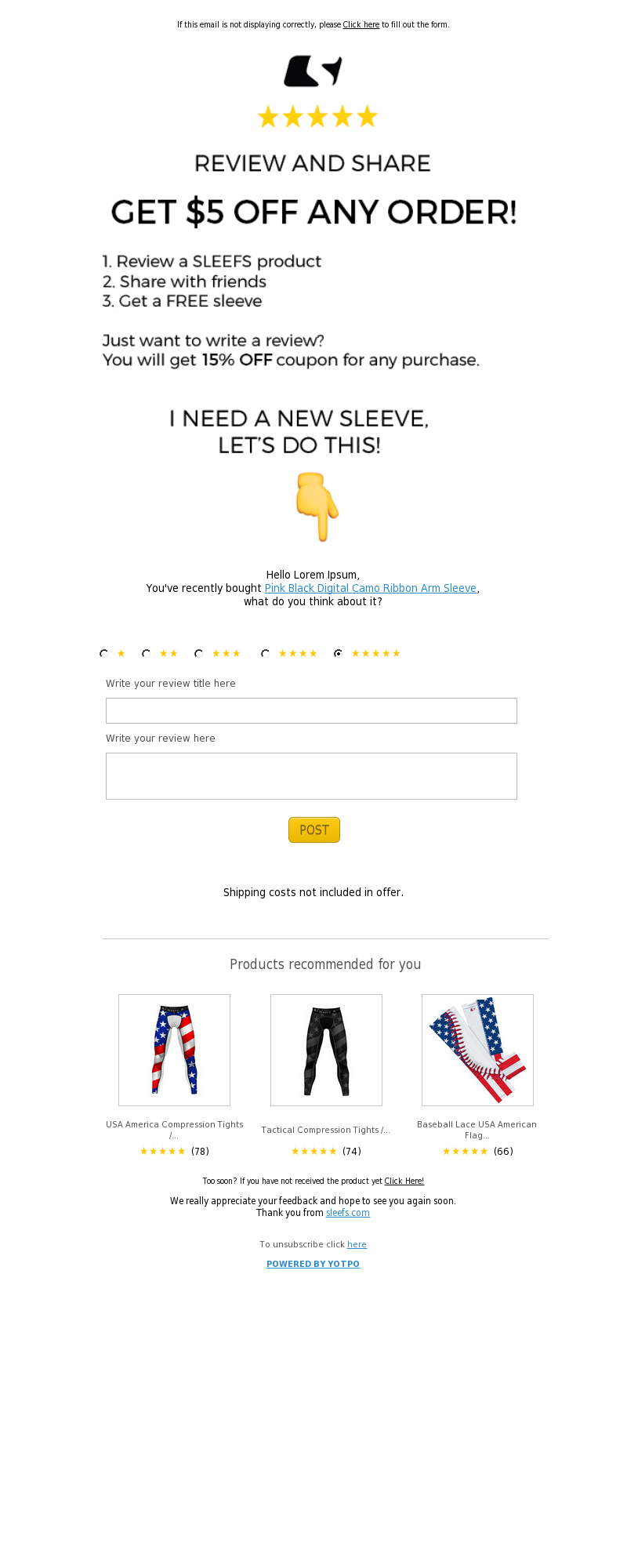 This approach incentivizes customers to leave a review while giving you a reason to follow up in a few weeks to drive repeat purchases ("Hi Carl, you have 15% off waiting for you. Here are some products you're going to love").
If offering an incentive is on-brand for you, this is a great way to increase the odds of purchasers leaving a review.
Don't Be Afraid to Follow-Up
Consider sending more than one email prompting customers to review their purchase. This is exactly what Athleta does with its first email …
Did you like your purchase? Write a review!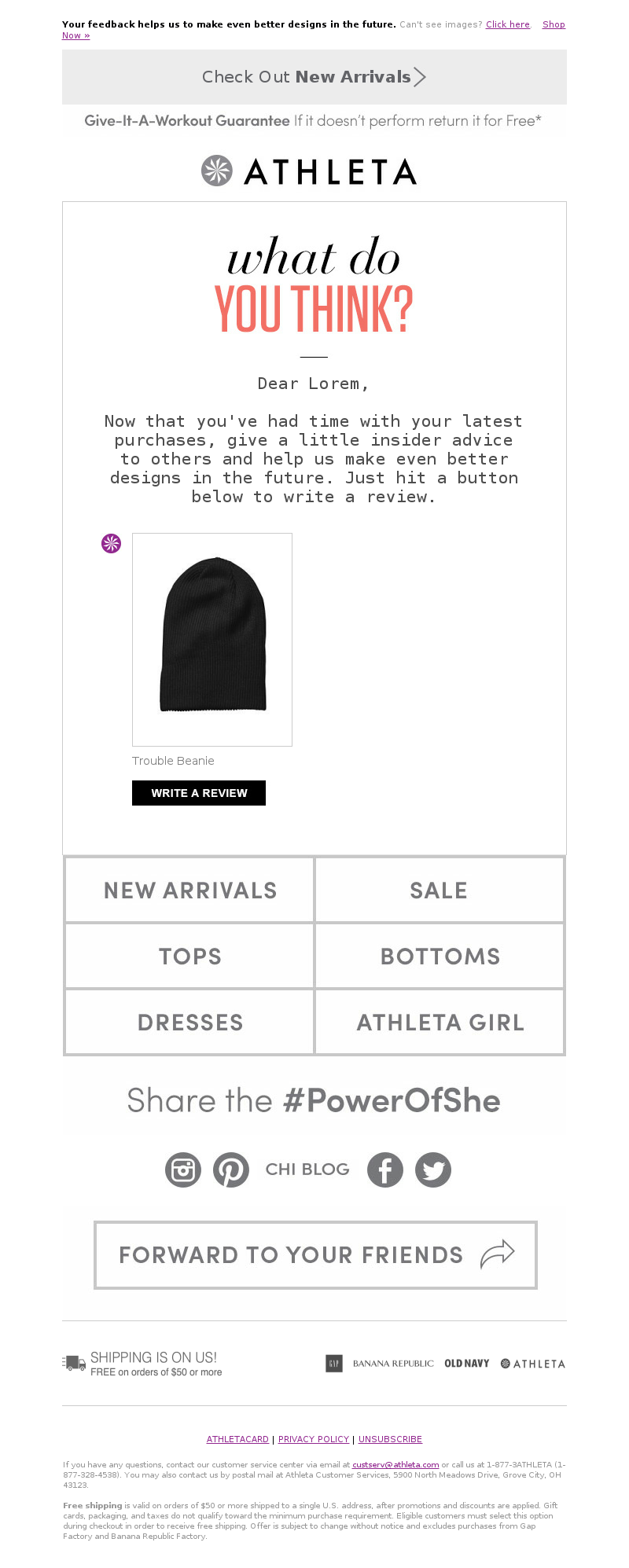 And its second, the following day …
Other customers want to hear from you!

Here is the Athleta purchaser email journey:
Quick note on timing: Consider waiting a few days between your product review emails. Also, consider opting purchasers out of your newsletters when they enter the post-purchase flow. This helps ensure you're not sending too many emails.
Interested in viewing the purchaser email journey of your competitors? Sign up for MailCharts.
Set the Stage with 5-Stars
One interesting trend we noticed is that many retailers included 5-stars as part of the email creative.  (In the examples below we've circled the use of star ratings in red.) Our guess: They're looking to prime the pump.
Consider running an A/B test to see if including a 5-star banner increases your conversion rate — not to mention your average product rating!
Keep the Email on Brand
As you browse through the many examples we collected for you, you'll notice that most emails look very bland. Shoutout to Boden for their playful email.
When it comes to reviews...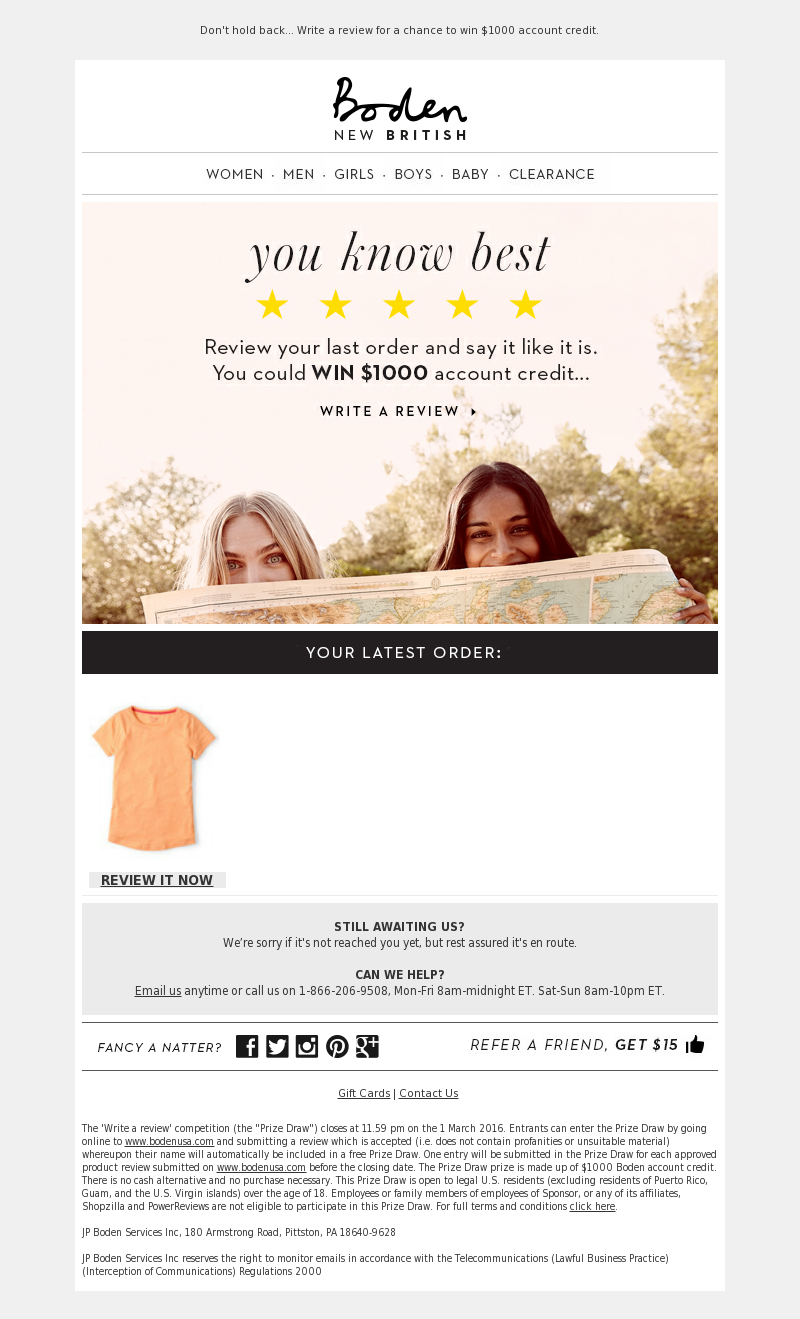 Notice the fun interplay between the subject line and the email body. This was, sadly, one of the few post-purchase emails that stood out.
Notice that Boden also includes a sweepstake but, compared to JCPenny, it feels much less transactional.
Collect Reviews Straight from the Email
One interesting trend we noticed is companies using tools such as Yotpo, Stamped, or Power Reviews to collect reviews directly from within their emails.
Any of these technologies allows you to send review emails with an embedded form. This reduces friction and tends to increase conversion rates. The downside is that you risk sending an email that looks like everyone else's — as you can see from the examples below.
Don't Make It about You, Make It about Others
Post-purchase reviews are, by default, about you. Appeal to your customers by focusing on other shoppers.
This is exactly what Athleta did with its "Other customers want to hear from you!" email we showed above and the angle that Backcountry took.
Review Your New Gear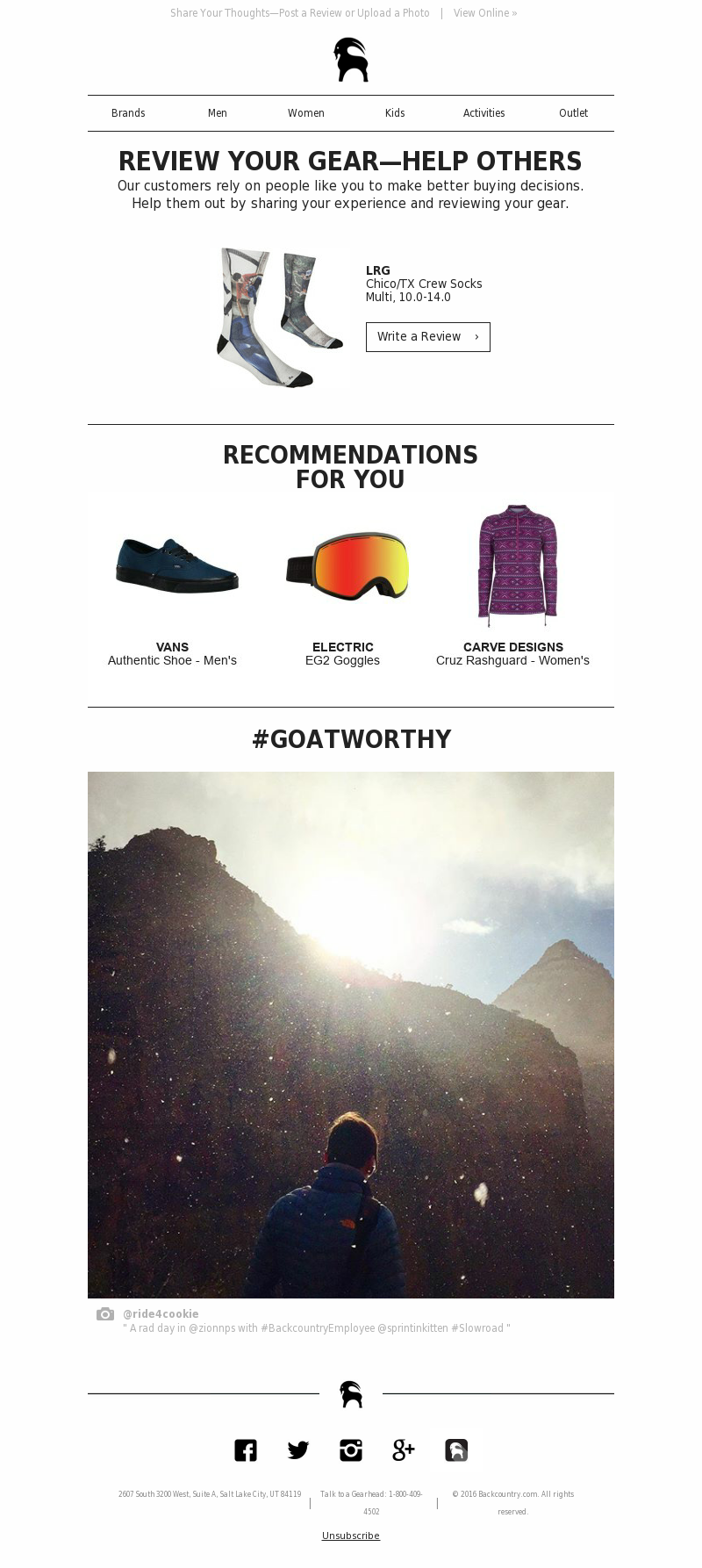 When planning your post-purchase survey experience, think about any great review emails you might have received when shopping online. And, if you're a MailCharts customer, sign in and browse the post-purchase email journey of the hundreds of brands we've purchased from.
Lastly, keep in mind that someone just bought from you. This is your chance to really personalize the email experience both in the post-purchase email as well as future mailers. You know who they are, where they live, and what they like. Use that information wisely.
Want more? Here are our most popular email tactics articles.