Birthday emails offer the perfect opportunity for brands to connect with subscribers on a personal level. Data from
Experian
show that birthday marketing campaigns drive 342% higher revenue compared to traditional promotional emails.
Today we'll share three birthday email strategies you can use to turn subscribers into brand ambassadors.
Strategy 1: Send Personalized, Discount-Free Birthday Wishes for Advanced Email Marketing
When it comes to birthday emails, most brands' de-facto thinking is to offer a discount. Bonobos uses a short discount-less email that feels personal and gives them a chance to stay top of mind.
Happy birthday, Leaplings.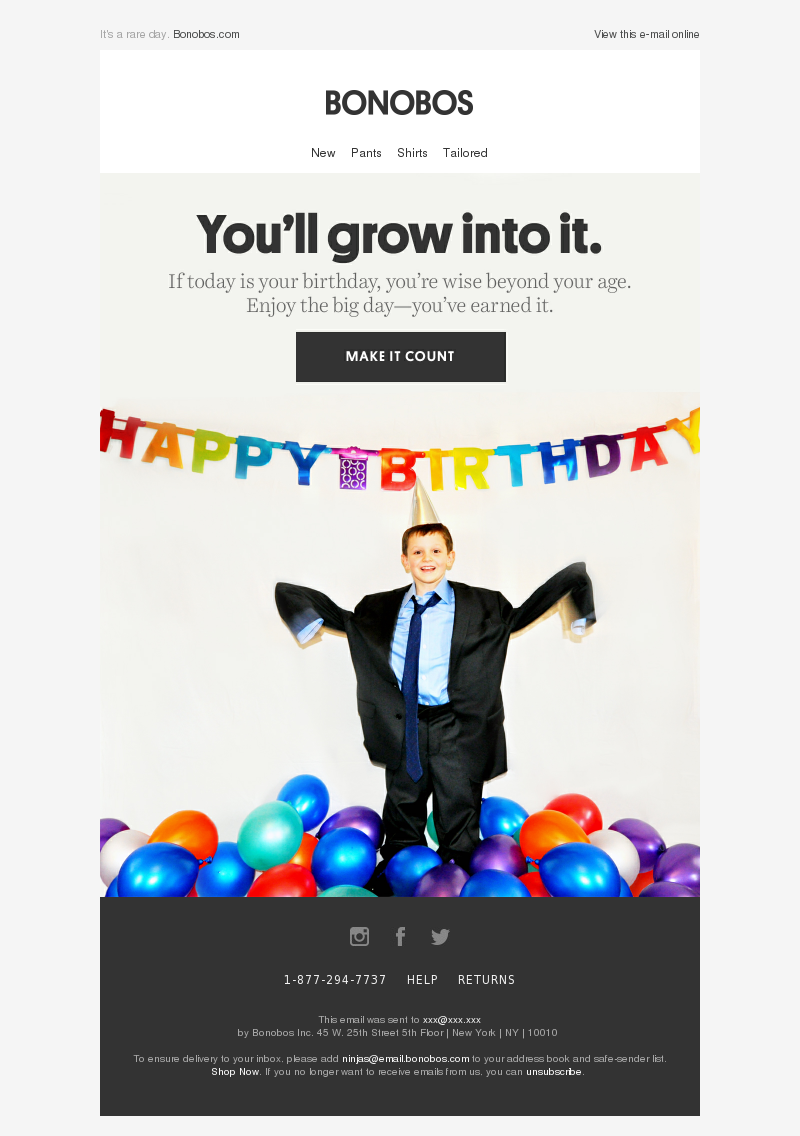 Takeaway: Staying clear from discounts gives you the opportunity to send an email that doesn't feel transactional. Simple copy with relevant imagery is all you need for advanced email marketing strategies.
Strategy 2: Offer Free Gift for Select Members for Your Email Analysis
Sephora makes its subscribers feel special by offering them a free 15-minute makeover plus a free gift at checkout.
Happy birthday, Lorem! Choose your gift…

Notice how this email also includes the member's current rewards points at the bottom.
Despite Sephora's end goal to drive a sale, their birthday email strategy is friendly and very much in-line with the brand's personality and can provide an exceptional way to do a complete email analysis.
Takeaway: What incentives can you offer that's not a discount? Also, notice how Sephora allows subscribers to redeem their gift at any point during the month—consider using a similar approach for your birthday marketing campaigns.
Strategy 3: Promote a Birthday-Only Coupon and then Do an Email Campaign Analysis
This is your typical birthday email, which includes a coupon. Foot Locker's "Happy Birthday" email offers either $10 off a $50 purchase or $25 off a $100 purchase.
MailCharts, Happy Birthday!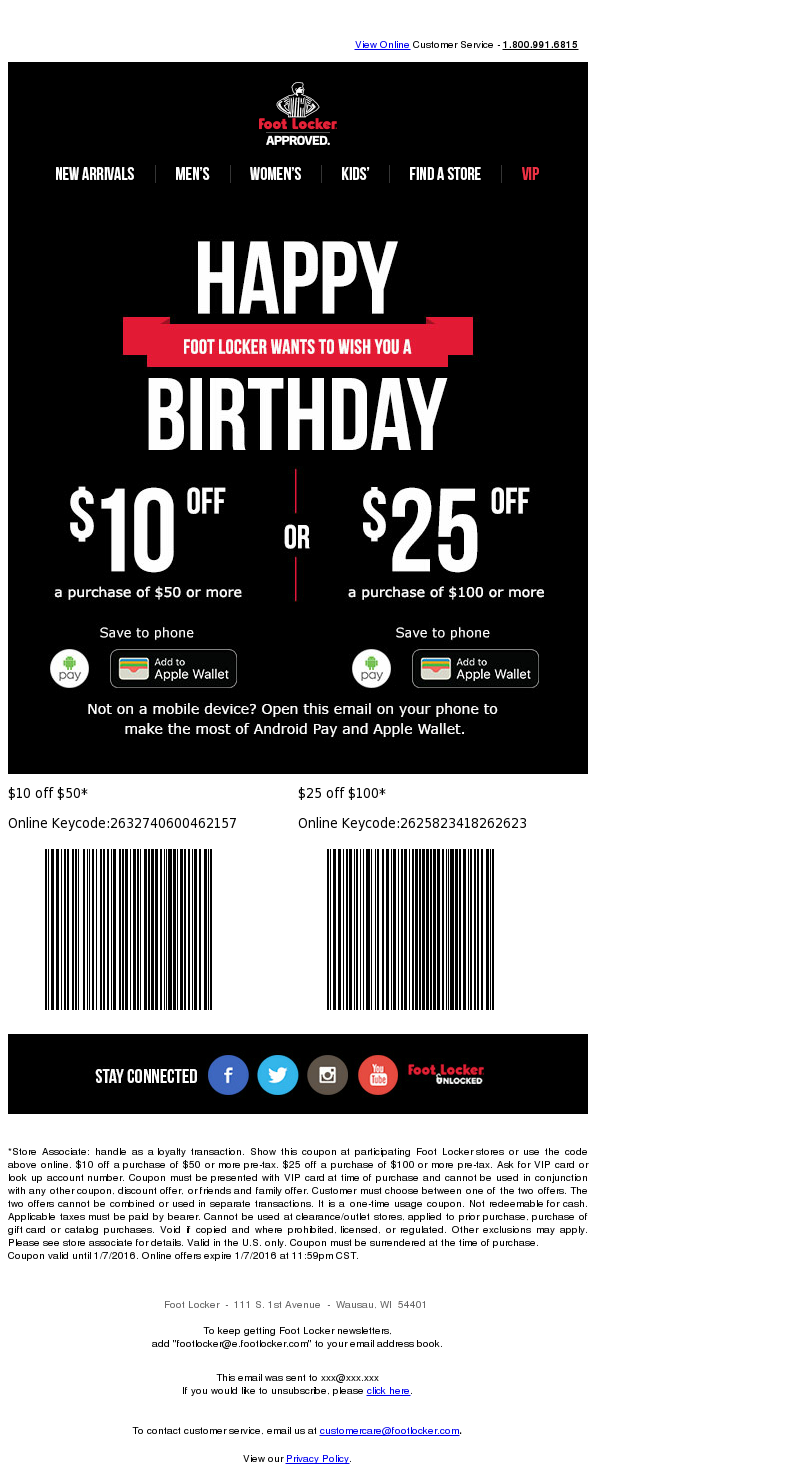 This is the most common birthday email approach, and there's nothing wrong with it. That being said, nobody will remember you for a $10 off coupon. A free makeover (as we saw with Sephora)? That's more likely.
When thinking about birthday emails, keep these tips in mind:
If you don't know when someone's birthday is, send them a survey. (You can also collect this information during the signup process.)
Depending on your birthday email strategy, consider sending a reminder. Rent the Runway, for example, sends an offer one month before the birthday. They also follow up 5 days before with a "last call" email:
LAST CALL: Use Your Birthday Gift Today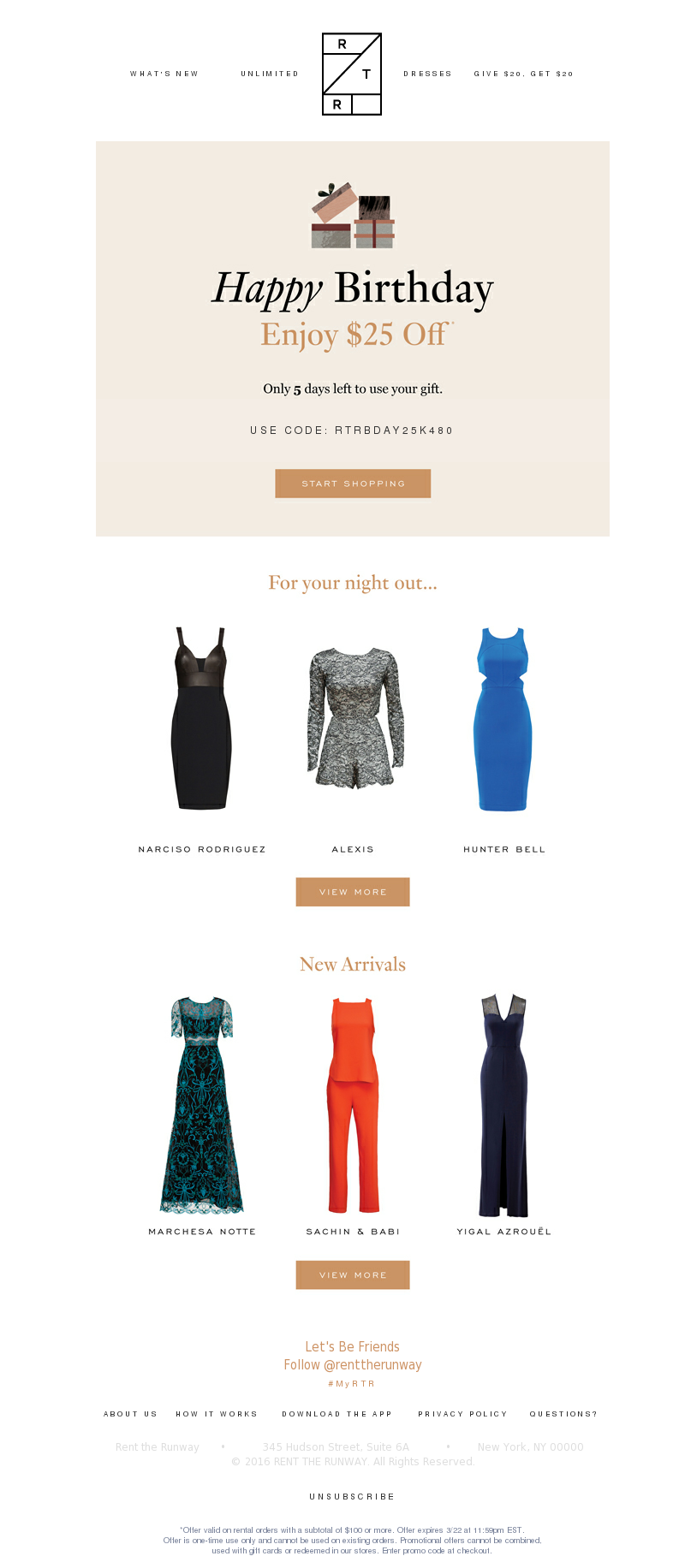 Personalize the email with the data you have available: first name, favorite products, nearby location, and so on.

Learn more about email personalization in this video.
Note: Although the above video is focused on cold emails, many of the concepts are still relevant for birthday emails, including: complimenting the recipient (easy to do, it's their birthday!), personalizing the CTA based on their persona (have they bought from you before?), linking directly to a relevant landing page (if possible create a dynamically personalized landing page), and so on.

Keep the email copy short and punchy with a clear call-to-action.
Finally, do an email campaign analysis to see your success.
You can find more birthday email examples here. If you're interested in seeing the birthday email strategy for your competitors (and companies you admire) join MailCharts to get started with a competitor analysis report. You can also check out a competitor analysis example report.
Lastly, check out our other email marketing strategy posts that can complement our birthday marketing campaigns!