According to the National Retail Federation (NF), 79% of Americans said they'll celebrate Easter in 2021.On top of that,the average Easter spending has been going up fairly steadily over the last decade, with a total of $21.6 billion expected to be spent in 2021.
Ecommerce companies will be eager to know that the NRF estimates 35% of consumers will shop online this year, a percentage that's been going up the last few years as well.
From an average expected spend per person of $179.9, consumers said that they expected to spend most on food, gifts, and candy (in that order). Even if your business doesn't have an obvious Easter spin, you should still send a holiday email to capitalize on the moment.
Below you'll some great Easter marketing ideas to help you send a stand-out Easter campaign.
8 Easter Marketing Ideas
1. Focus on Families Getting Together
Easter is more like Thanksgiving than Christmas–travel, meals, and family togetherness, all in a short window of time. If you're short on time, try reworking a successful Thanksgiving campaign with products and a motif that's fit for Easter.
Easter also marks a major wardrobe refresh. See how Burlington's email taps into three major Easter themes–family, new clothes, and cooking. The subject line also packs three themes (bargains, Easter clothing, and family) into seven words and a mobile-friendly 38 characters: "Save on Easter Dress-up for the Family."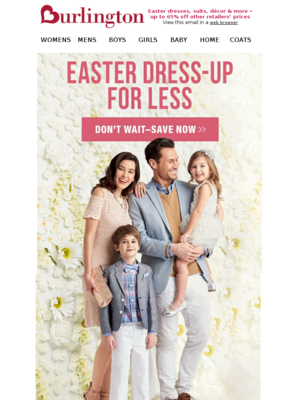 Family is also the focus in this email from Honeybaked Ham, but the appeal isn't just the hero image of that enticing Easter dinner. The copy both reassures – "This Easter We've Got You Covered" – and suggests urgency with the countdown timer for the order deadline.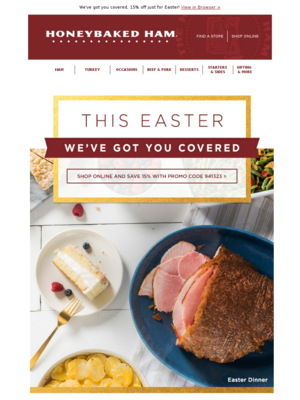 Takeaway: Focus on family gatherings and everything that comes with it: dressing well, cooking, traveling, and good times. If you're in a pinch, re-purpose one of your Thanksgiving emails.
2. Send a Non-Promotional Email for Easter Marketing
Your customers will be checking their emails while the ham bakes or after the Easter egg hunt. Give them something to open that says "We're thinking about you today" instead of "Buy this."
We loved the email series Chasing Fireflies sent last year–a string of promotional emails that ended on Easter with this lovely, non-promotional, message.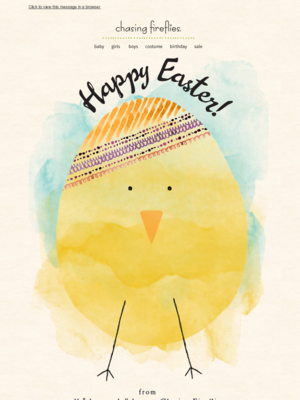 Takeaway: Sending a non-promotional email for Easter email marketing keeps your brand visible in the inbox, and your warm-fuzzy message will earn you a smile—and maybe even some brownie points.
3. Avoid Clichés for Easter Sales Ideas
You know what we mean: any variation that uses "hop" or substitutes "egg" or "eggs" for "ex" ("egg-citing," "eggs-tra," "eggs-treme"). Every other email marketer is doing it, too. Your customers' inboxes will be filled with similar wordplay, and that takes the punch out of your pun for Easter sales ideas.
This PetSmart email detoured around the "hoppy" road. Instead they opted for cute, on-brand, imagery. Notice how they also prompted subscribers to share Easter photos of their pets in their Easter marketing ideas.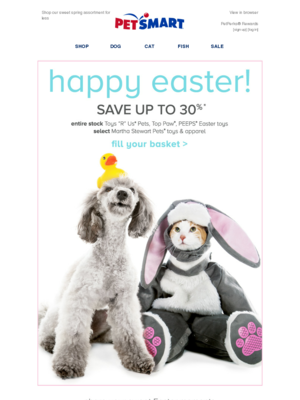 Lush avoided the cliché trap entirely by tying its new product to Easter with clever creative: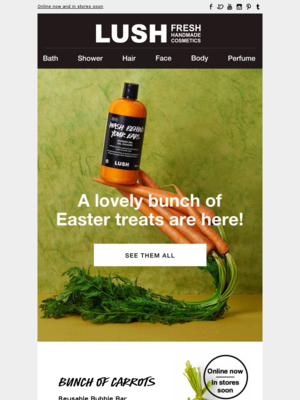 Takeaway: While puns can be funny, they won't make you stand out. Think of different ways you can draw your subscribers' attention.
4. Introduce a Sence of Urgency
All holidays come to an end, as does Easter. It would be a lost opportunity not to emphasize the limited-time character of your Easter sales.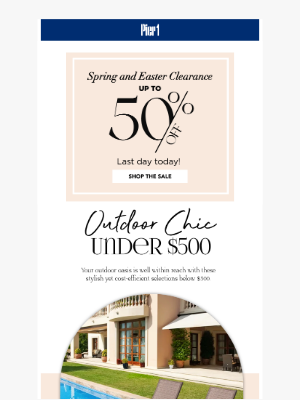 Pier1 goes all the way with this by emailing subscribers up until just a few hours before their sale ends. The subject line in combination with the preview text instantly tells recipients they need to hurry if they want to benefit from a 50%, and the two bright emojis ensure that the email pops out.
Takeaway: Never skip the opportunity to create a sense of urgency by letting subscribers know your Easter sale is about to end.
5. Hold an Easter Egg Hunt
The Easter egg hunt is the Easter highlight for many kids and adults alike, so why not organize one in your store?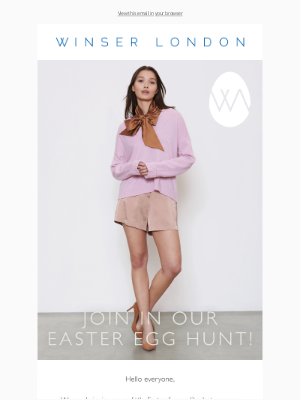 This email by clothing brand Windser London is the first in a series of nine that explains how the brand has hidden eight Easter eggs on their website that each hold a prize. They also introduce an element of scarcity by limiting the prizes to just eight people per day of the egg hunt. This is a great strategy to get people to their website and browsing through their products without running a big sale.
Takeaway: You don't need to run an Easter sale to get people to browse your online store. A creative Easter egg hunt will do!
6. Organize a giveaway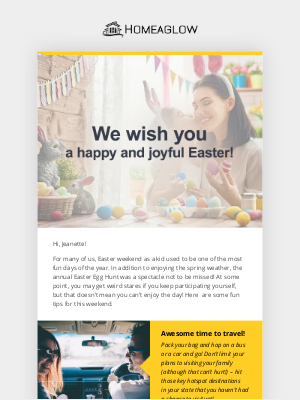 Another great way to get people to your website is by combining your Easter sale with a giveaway. That's exactly what 99 Bikes decided to do. By tying the giveaway into their Easter sale, they can create a double sense of urgency as both will end at the same time.
Takeaway: If you don't want to give prizes away for free, like you would with an Easter egg hunt, tie your giveaway to your Easter sale. You're giving subscribers an extra reason to visit your store and you make sure that you're only giving things away to people who buy from you.
7. Play The Post-Easter Blues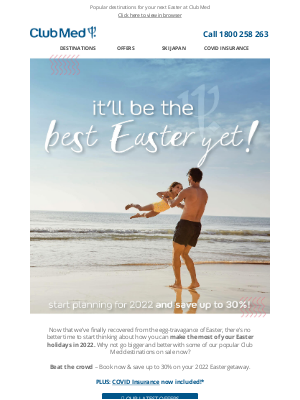 Who says your Easter marketing should end when Easter is over? The best way to get over post-holiday blues is to plan a next holiday, and Club Med knows that. They suggest their subscribers make sure they make the most out of their next Easter break by planning a getaway now, and they throw in a 30% discount to make the idea of a trip even more appealing.
Aside from that, this email shows that you don't need to use pastel colors and images of eggs to create a great Easter email. By mentioning Easter in the subject line, preview text, and email body, Club Med makes it more than clear what this email is about.
Takeaway: Prepare a post-Easter email campaign as part of your Easter email strategy to capitalize on the post-holiday blues many people are experiencing and offer them a way to make their next Easter even better.
8. Inspire adults to be kids again
As people grow up, they start spending holidays in a more "grownup way", often reminiscing of the fun activities these holidays held for them as kids. You can play into that nostalgic feeling by inspiring your subscribers to get playful and creative again.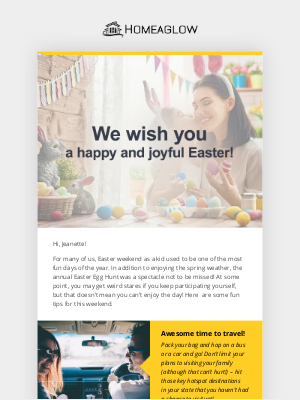 This email from cleaning service Homeaglow is all about that. It lists several things the recipient can do to spend Easter just like they spent it when they were kids. These activities can create a bit of a mess, but Homeaglow can take care of that. It's a soft pitch that works really well.
Takeaway: Find a way to provide subscribers with fun Easter inspiration as an intro to your products. Note that when you do this, the emphasis should always be on the value you provide, rather than on your offer.
Easter Is a Time to Connect and Promote
Easter is a widely celebrated holiday and thus a great time to send dedicated emails. Use the Easter promotion ideas in this post to craft a campaign that works for your audience and the types of products you're selling.
Need more email inspiration? Join MailCharts to spy on your competition, see which Easter emails they're sending, and to explore more Easter marketing ideas.