Optimize your transactional and broadcast emails faster than ever with inspiration from our dozens of carefully curated email collections. (They make it easy to fine tune everything from welcome emails to win back series.) Once again, this week's #EmailsWeLove highlight timely collections for building your big Q4 campaigns.
---
rapunzel, rapunzel, let down your hair 💁‍♀️
With its catchy subject line, animated GIF and 25% savings offer, this @wearehers' email promotion for women's Minoxidil is hard to resist! Definitely one of the #EmailsWeLove!
Like to see more Sales and Discounts campaigns? Check out our entire curated collection.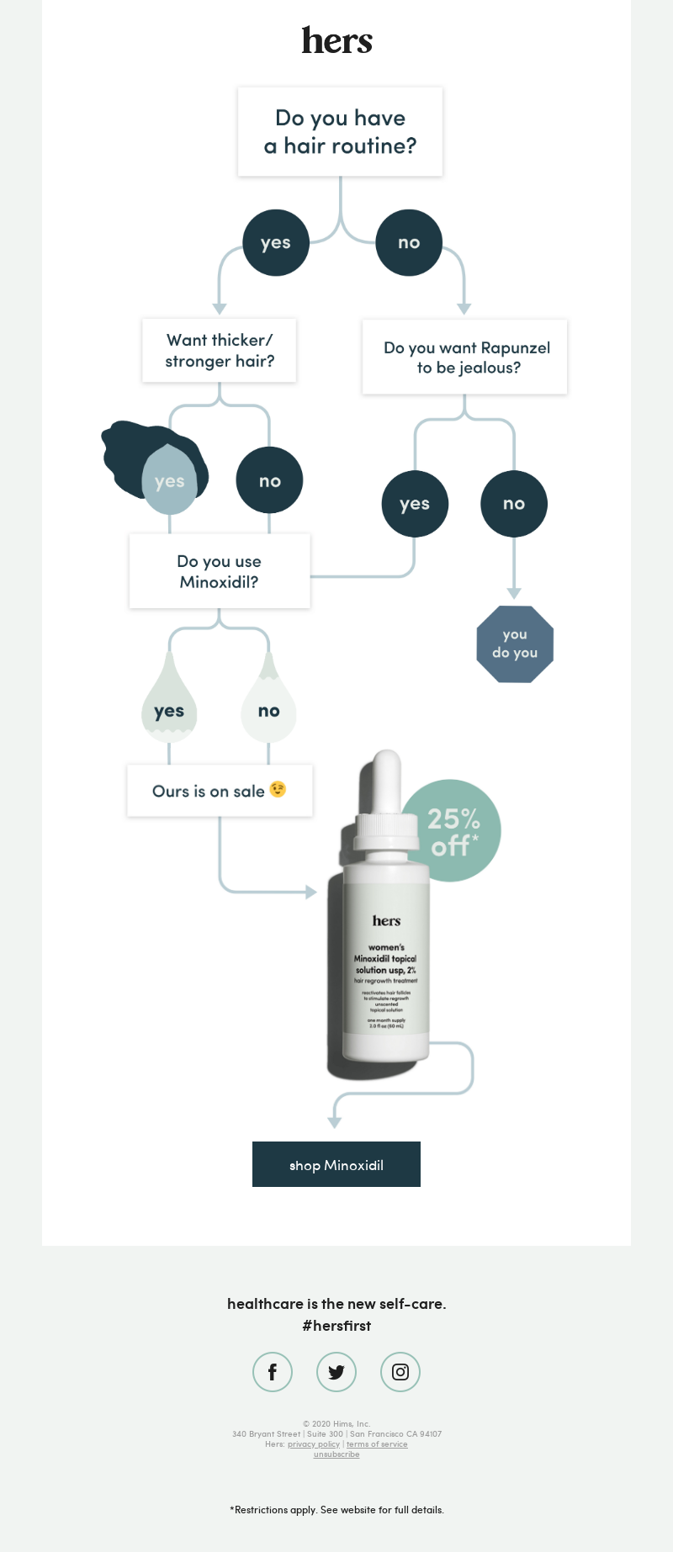 ---
Linda – ready, steady, Just Eat
This finger-licking welcome email from @JustEatUK is one of our favorites! Wave hello to the fries and ketchup in their cool gif image when you click here
Eager to browse more Welcome emails? We've got 190 in our curated collection.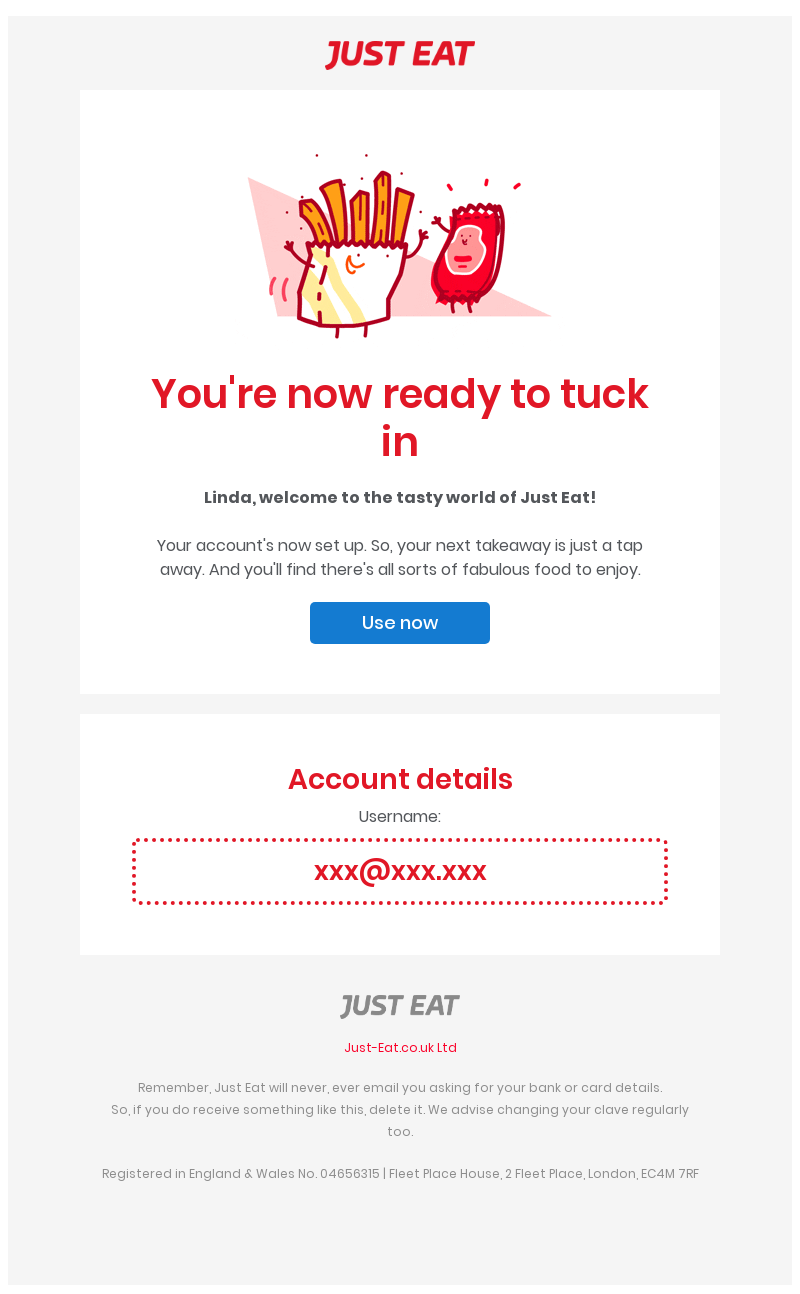 ---
Talk Turkey To Me – Extra 10% OFF!
Black Friday + Thanksgiving = BEST. EMAIL. EVER. from @NastyGal! This #EmailsWeLove fav has loads of discounts from subject line down to the email content. See how tempting the email is by checking this link
Or if you can't wait, grab a preview of our hand-picked Thanksgiving collection.

---
Black Friday In October?!
Black Friday In October?! That's the subject line from this promotional email by beauty brand @KorresUSA touting its ambitious Black Friday Preview sitewide 40% off sale. As the copy notes: "A month early because — you deserve it." Amen!
And for your browsing pleasure we've carefully curated over 100 Black Friday emails from brands as diverse as Footpatrol, Cecil and Lou, Team Tayroc, HOMAGE, Kidbox and more.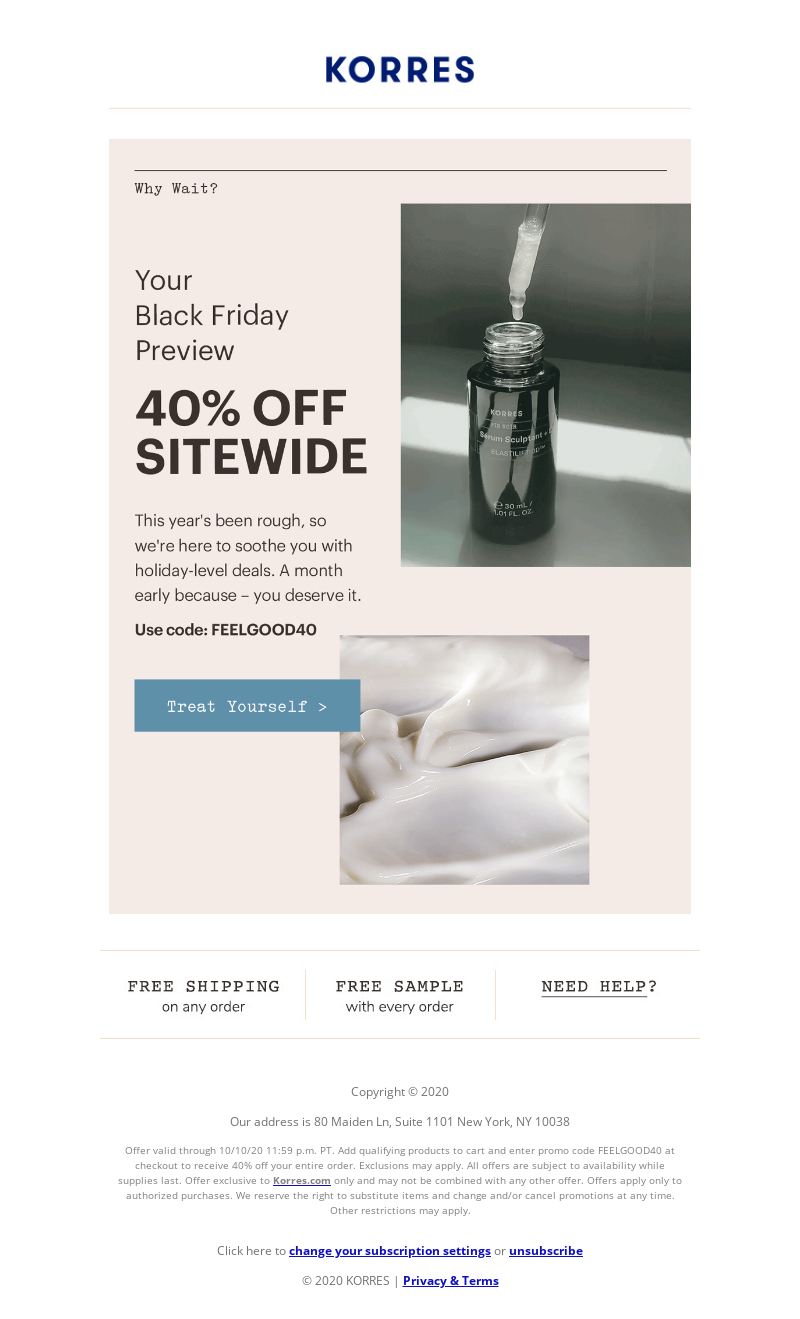 ---
🔍🕵️ MYSTERY SALE 🕵️🔎
Let's take it from @Crayola:
intriguing subject line
awesome
gif
witty content
𝗕𝗜𝗚 𝗱𝗶𝘀𝗰𝗼𝘂𝗻𝘁𝘀
𝘢𝘯𝘥 𝘮𝘰𝘳𝘦 . . . They just have everything we want to see in
#EmailsWeLove
!
To take the mystery out of optimizing your next promotional email, visit our Sales and Discounts collection.