NOTE: Thru December 13 we're unlocking 🔓 these Activewear industry journeys, or triggered series, for our free users to enjoy. Free users can gain unlimited access to all our thousands of triggered series — from purchaser and cart abandoner to browse abandoner, subscription canceler and more — by upgrading to a Pro Plan today.
One trend that many people have embraced in 2020 is activewear and loungewear work from home attire. It's hard to imagine ever putting back on that blazer we've had in the closet (does it even fit anymore? I'm afraid to check…) after living in sweatpants for the past 10 months. With this shift to working from home, many athleisure brands are hopping on the bandwagon and referencing "work from home" right in the subject line:
They are also talking about what this means for the industry long term. Take a look at the Lyst Index Q2 2020 Report. For the first time since the Lyst Index began, a sportswear brand, Nike, was the most popular brand outshining the luxury brands that typically take first place.
What we're seeing: Email Cadence & Promotions
Our data team measured a slight increase of +4.06% in average weekly email volume (by brand) throughout the year, with a noticeable increase when the pandemic started. This signals that although athleisure for work has become more popular, the cadence has remained the same. 
At the beginning of the pandemic, we saw an increase in promotions for athletic brands. These levels have since normalized to the levels we saw in 2019, even as the WFH athleisure trend has continued through the Summer and into the Fall.
Journeys: Our favorites from Athleisure brands 
Our team of data experts recently dug into a few activewear journeys and we'd love to share them with you! For this week only, we're unlocking the journeys shown below to all users thru Dec 13. Even if you're not in the activewear space, these are a great way to get inspired for your next journey!
In this series, The North Face welcomes members who have signed up for their VIPEAK rewards program. In this four-email series spanning 10 days, they include a 10% off welcome gift, benefits and perks of the rewards program, a partner discount for the AllTrails Pro hiking map app and finally, ways people can earn points by referring friends. 
While many of these emails are standard for rewards and loyalty programs, we found their AllTrails partner feature email (see below) a unique send specific to their brand as many of their shoppers are also hikers. They've also updated this email based on COVID-19 hiking trail closures, making it relevant and interesting to new VIP rewards members.
Cassandra, get 50% off 1 year of AllTrails Pro

Next, we've got a purchase journey from a fan-favorite activewear company, Lululemon. This journey consists of 3 emails spanning 7 days (which can change depending on ship date). While purchase journeys aren't big moneymakers, they do keep purchasers up-to-date on when to expect their package. These emails typically contain vital details such as order total, shipping address, and recipient name should there be any issues with their order.
We love that in the second email Lululemon has placed the tracking button close to the top of the email for easy visibility. We also appreciate that the last email (see below) includes product category links that, without marketing too aggressively, engage buyers back to the site for another purchase.
The waiting game is over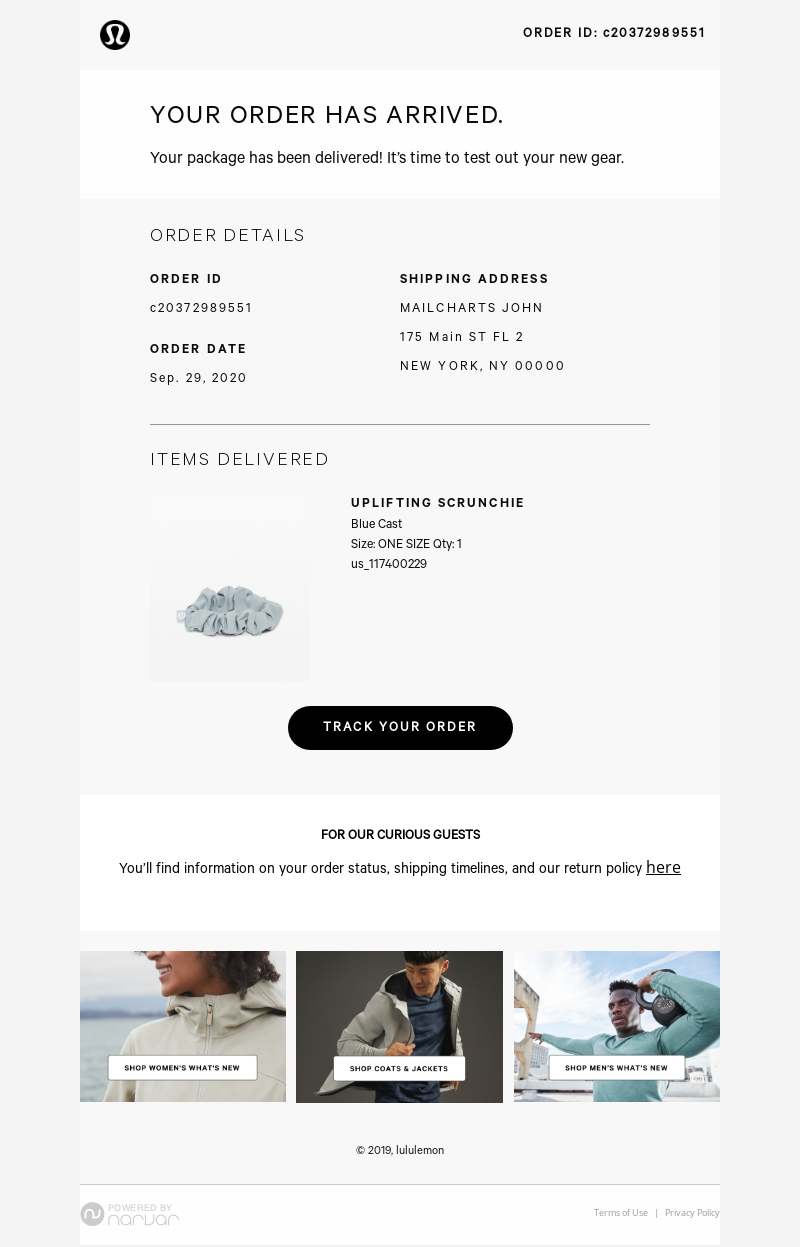 With 3 emails sent over 5 days, Athleta's welcome journey includes gorgeous imagery that complements the brand as well as a generous 20% off welcome offer plus an impressive list of perks of that Athleta purchasers enjoy. 
Our favorite from the series, email 2 (see below), shows off the versatility of Athleta clothes for running, training, traveling, working, doing yoga, hiking and more.
Finding the perfect style is easier than ever

While Vuori's cart abandonment series doesn't contain a discount, it does mention their free shipping on orders of $75 or more, their happiness guarantee, and free returns. These are all great incentives to encourage buyers to purchase. They also have product categories to bring cart abandoners back to the site for other products, too! If you're not a brand that frequently discounts, this is a great approach to take.
Lastly, we have a browse abandoner journey from golf apparel and lifestyle brand Travis Mathew. Their two-email sequence not only highlights the product left behind but emphasizes additional styles as well as physical stores to shop. We also couldn't help noticing the catchy subject lines Don't just look – bring this home! and You were right to linger on this product and strong CTA. 
Get more in the MailCharts app
Log into the MailCharts app to browse our collection of 300+ Athletic Apparel journeys — and search them by brand, journey type, recency and completion status.