NOTE: Through January 17th we're unlocking 🔓 these Pet industry journeys for our free users to enjoy. If you're currently a free user and want more journey access, upgrade to a Pro Plan today!
A lot has changed in the pet industry since the beginning of 2020 due to an increase in pet adoptions. In fact, many shelters across the country were empty because of the increased rate of adopted pets as stay-at-home orders took hold in many states. What does this mean for pet care brands? Have we seen an increase in pet industry marketing emails? Let's dive in!
What we're seeing: Email Cadence & Promotions
While pet adoptions surged, 2020 sending volume was flat compared to 2019. The biggest impact we saw in emails as a whole was for the percentage of those containing a promotion. 
There was a noticeable -17.8% decline of emails containing a promotion YoY. This could signal that although cadence didn't change, because the demand for pet-related products increased, brands didn't feel the need to discount products as heavily via marketing channels like email.
Another noticeable trend within the pet category in 2020 was the usage of the word 'pandemic'. This was the second most significant term used in pet brand subject lines in 2020 indicating brands were aware of the increased online shopping and curbside pick-up for brick-and-mortar pet retailers.
---
Journeys: Our favorites from pet brands
Our team of experts curated a few recent pet & pet care journeys just for you! As we mentioned above, these journeys are unlocked for all users (yes, even freemium plans!) from Jan. 12 – Jan. 17. Let's talk about a few of our favorites:
This loyalty & rewards series is the perfect 3-email series spanning 5 days that highlights all the benefits and perks of being a Petco rewards member. While all three emails touch on the benefits of enrolling, the third email is unique in that it drives users back to their account settings page to enter their pet's information. This information allows Petco to add more personalization to future communication and offer unique promotions.
Get a free birthday treat!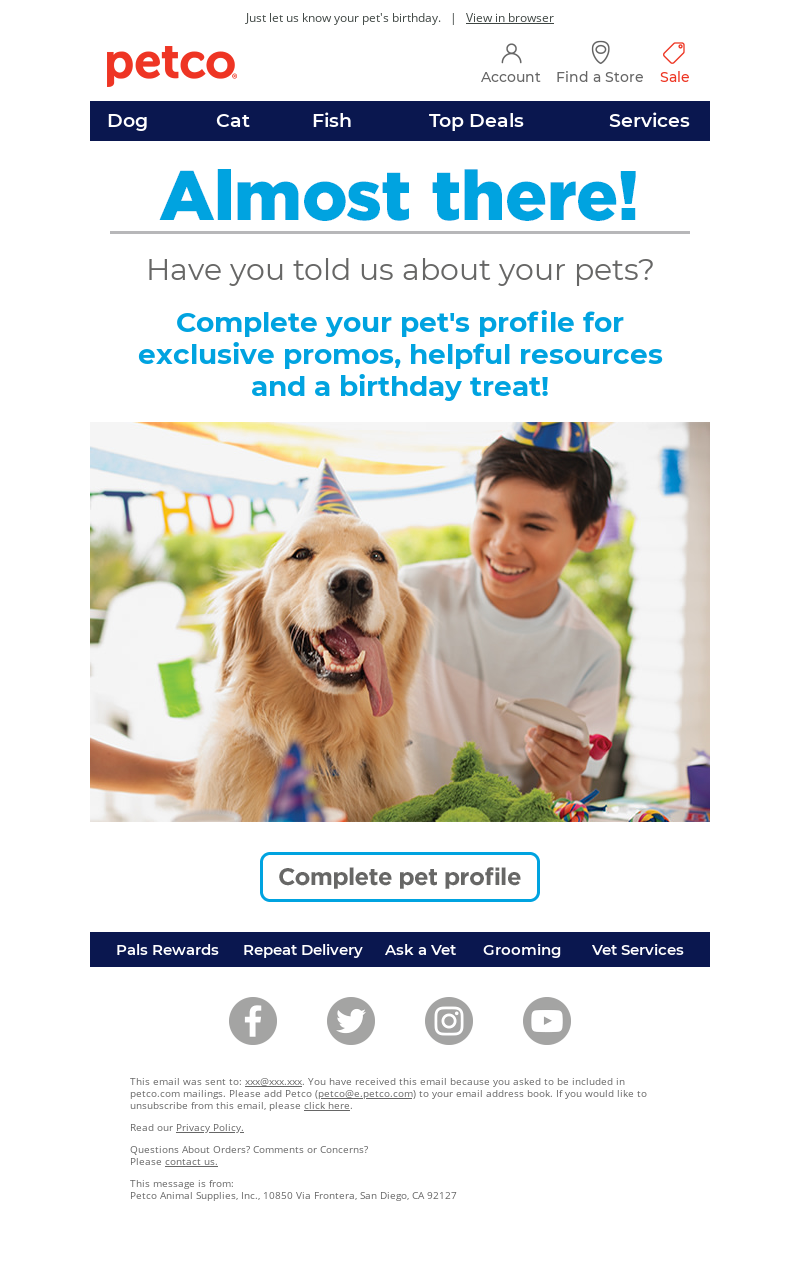 This quick, 2-email cart abandoner series from PetSmart is different from most cart abandoners we come across as there's no discount included. While there's no discount in this series, they do include quick links to the products to continue shopping and call out key benefits to shopping with PetSmart at the bottom of both emails.
It's hard to look at these welcome series emails from EntirelyPets without going 'Aww! So cute!'. The first email greets new subscribers with an adorable corgi and their contact information should new members need to contact the EntirelyPets team. Email 2 is sent 1 day later and includes a $5 coupon for new subscribers to encourage purchase.
Entirelypets.com - Welcome to the Family!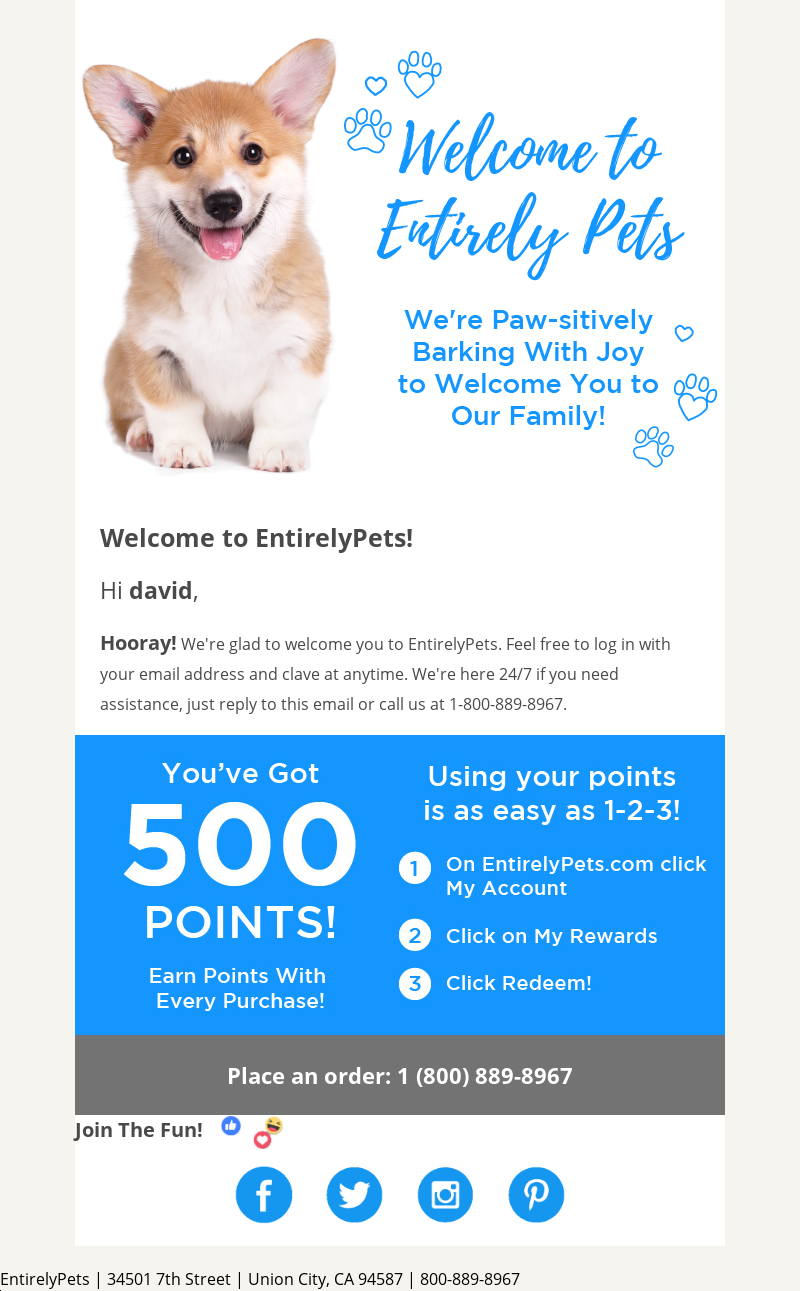 Only Natural Pet sends a well-rounded purchase series utilizing default notification templates to notify customers when a purchase has been made, the item has been shipped, and the item has been delivered. In addition to these helpful notifications, they also include two leave-a-review emails with the first review request email sent 9 days after the item was delivered.
Did your pet LOVE it? Let us know!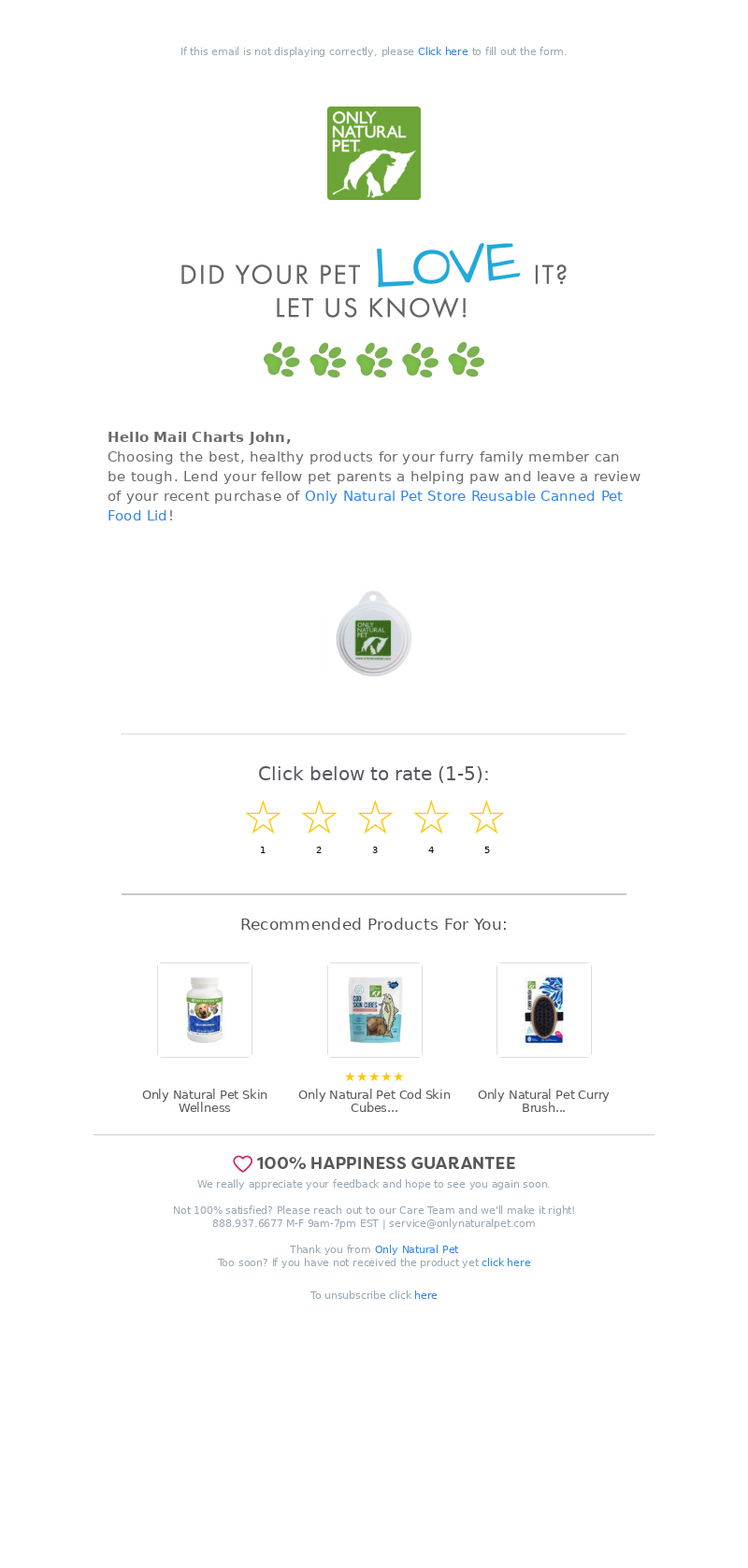 Subscription company, BarkBox, has a great active subscription flow including several requests for reviews of the customer's first box as well as several emails upselling additional products for their next box. By requesting feedback and maintaining communication with the subscriber, BarkBox can help reduce churn of subscription members.
Get more in the MailCharts app
Log into the MailCharts app to browse our collection of 150+ Pet Care & Pet Supplies journeys.