Journey emails are some of the most valuable emails you can send in your ecommerce email marketing program. They match up with key points on your customer's journey with your brand: welcome messages, remarketing emails, abandonment and loyalty, just to pick a few.
They're valuable because they match up with your customers' behavior, and behavior-triggered emails have high open, click and conversion rates. So it's worth taking time to create journey email campaigns that stand out in the inbox, offer your customers real value and encourage them to continue engaging with your brand.
You'll find all the inspiration you need to start planning your next triggered campaign with MailCharts' extensive collection of journey emails and a wide array of the data you need to create effective journey email campaigns.
Comparing and contrasting strategies across our MailCharts Index of brands has never been easier because the MailCharts team has done the work for you already. You just choose the variables you need.
How Mailcharts works
We've been collecting data on email sends and journeys since 2013. That gives you thousands of emails to study as you build your campaigns and seek inspiration. Here's how we do it:
We sign up for newsletters, create accounts, confirm email addresses, and abandon carts, browse product pages and subscription signups. We purchase, cancel our subscriptions, and join rewards and loyalty programs, and that means you get access to transactional emails without having to sign up for, buy or abandon anything yourself.
We are always updating user journeys to make sure you have the most up-to-date information. New journeys are available for popular, established brands and also for new ecommerce and subscription-based brands from a wide range of industries.
Key ecommerce lifecycle journeys
Choose from the most popular, important and high-value email journeys:
Welcome and onboarding
Purchase
Cart abandonment
Booking abandonment
Subscription abandonment
Loyalty and rewards program
Birthday
Onboarding for subscription commerce
Active subscription
Cancelation and Winback
---
---
Using MailCharts journeys
The journeys you want are easy to find. Browse our journeys four ways:
By brand: View all available journeys from thousands of brands, from top consumer brands, DNVBs, international brands in all product categories
By industry: View journeys grouped by our curated industries, including Apparel, Footwear, Accessories, Home, Baby and Pet Care
By type: We classified journeys into high-impact categories.
By custom groups: Create your own group of grands or industries and quickly view all the journeys for those brands.
4 ways to supercharge your planning and strategy
Reveal the messaging used throughout the buyer's journey of industry competitors and peers. The insights you gain by studying your competitors' sending frequency, cadence, volume and promotional content will help optimize your journeys, stay competitive and uncover missed opportunities.
Understand best practices such as send times, email cadence, and frequency for triggered campaigns. Compare your triggered campaigns against those sent by the top brands in your industry to be sure you aren't overlooking ways to improve content, create more compelling promotions and find new inbox opportunities.
Analyze the design and experience of a brand's triggered messaging. Improve and optimize your template designs to uncover advances in email design and functionality. Get the full inbox experience with subject lines and preheaders.
Choose your view: see all the emails or filter down to the ones you want. Get the full effect of a brand's messaging strategy – you'll see whether the brand mixes business-as-usual and targeted (segmented) emails with journey messages or suppresses them while the journey runs.
Email journey examples
The four journeys we highlight are the ones that generally drive the highest impact for ecommerce email marketers.
Welcome/onboarding series Sending a welcome message after a customer opts in to your email is table stakes these days. Top ecommerce brands like Lush give new customers and subscribers a warmer welcome. Lush sends a three-message journey over three days to greet newcomers, introduce best sellers and explain why users should download and install the Lush mobile app.
Cart abandonment More than three-quarters of shoppers abandon carts during the purchase process. Email helps you connect with them before they vanish and offer a chance to answer questions, resolve problems and claim the sale. Casper sends four emails with stunning creative and copy focused on conversion, such as 5-star reviews and a 10% offer to sweeten the deal.
Here's Casper's 30-day email timeline, mixing abandonment emails (outlined in purple) with business-as-usual messages:
Purchase Too many brands treat a purchase like the end of the journey. It's just the beginning! Purchaser journey emails need to reassure the customer about her purchase, help her solve any problems and keep her interested and engaged enough to want to come back and buy again. Tarte sends a well-rounded purchase journey that includes real-time package tracking, several upsell offers and requests for product reviews.
MailCharts, your order has shipped...get excited!

You're gonna 💜your new item

CUSTOM KIT IS HERE! BUILD YOUR KIT ⬇️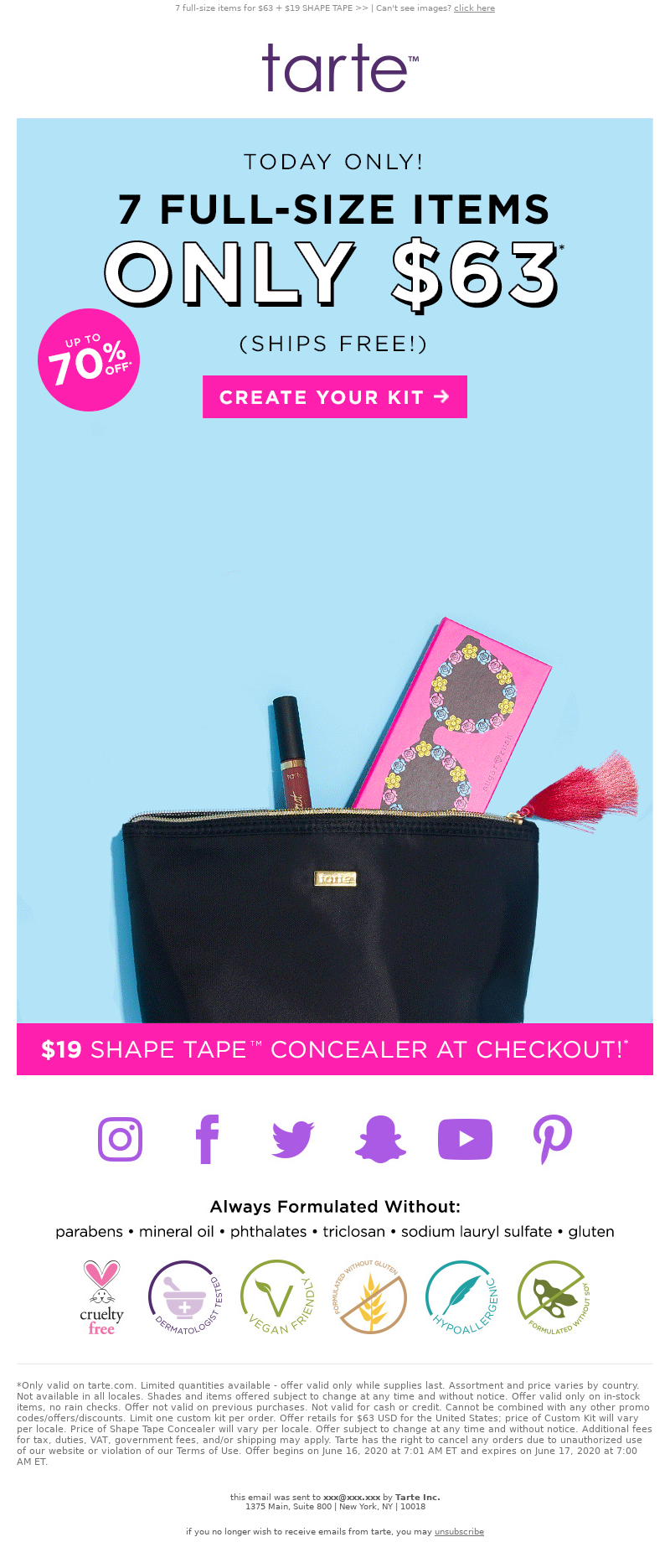 4 ways to earn team tarte points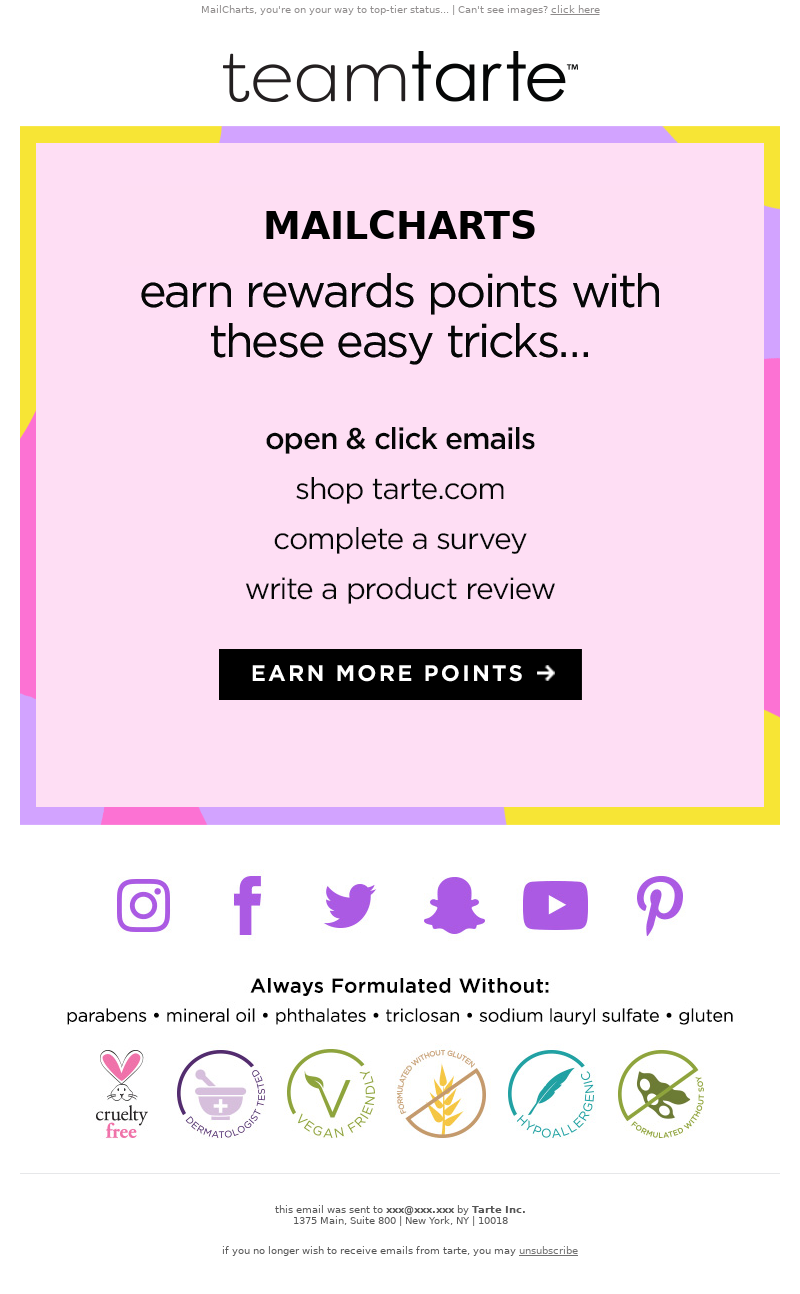 Subscription commerce Subscription programs are a growing sector of ecommerce, and email provides communication connections that texting and social media don't. Use the MailCharts database to study all the journeys that a brand like Netflix sends: welcome/onboarding, billing and offer reminders, subscriptions upsells, retention and non-journey emails that use behavior and viewing preferences to suggest shows to watch and keep users engaged.
Journeys for free and paid users
Free MailCharts account users can view examples of journeys from brands like those you're tracking. Take the first steps to learn how top ecommerce brands put their strategies into action and get selected high-level data for each example:
For every journey, you can view:
Journey date range
Number of triggered emails
Avg. time between emails
Journey is part of full lifecycle / related journeys
---
---
Unlock the full potential of journey emails with a Pro account
You'll take full control of your journey exploration with full access to all journey data, analysis and emails. Build a full journey program or use the information to revise and optimize your current campaigns. Here's a short list of the data at your fingertips
Analyze subject lines
See the email UI/UX
Download email images and data
View all the journeys a brands sends, including earlier versions to track how strategy and execution have evolved
Easily view the triggered emails in any journey to focus on planning and strategy. Use Timeline View for these visualizations:
Key journey events
Email frequency and sending patterns
To get the broadest view of a brand's strategy – a competitor, peer or cohort brand – you can see how a specific triggered campaign fits into the brand's full lifecycle journey.
Ready to get started?
Create a Pro MailCharts account now and start exploring email user journeys from the top brands in ecommerce.
Editorial photo by Clemens van Lay on Unsplash