For every ecommerce apparel brand, there's a group of email journeys critical for success. Journeys, known also as workflows, are automated email campaigns that trigger based on an action or property.
For most ecommerce brands, behavioral triggers like 'viewed product' and 'added to cart' are key to driving contacts back to the website in browse and cart abandoners. Besides abandoner emails, welcome email sequences are also essential to introducing people to your brand and converting first-time shoppers to purchase.
Last are purchase emails, AKA transactional emails. While these typically aren't revenue-driving, they can deliver a better customer experience.
In this article, we'll focus on these workflows using real examples from top apparel brands. Let's dive in!
Clothing brand Aeropostale sends more than the average number of browse abandon emails we typically see in one flow — a whopping 6 emails total. This 6-part email sequence is sent over 4 days after a product has been abandoned. We love this series because while all the emails are different, they do have a similar look and feel with the same background image used in the header.
Here's the first email, sent an hour after abandoning a browse session on the website. This initial email offers a modest promotional discount and includes all the products browsed as well as popular product categories to bring people back.
Your recently viewed items are 10% off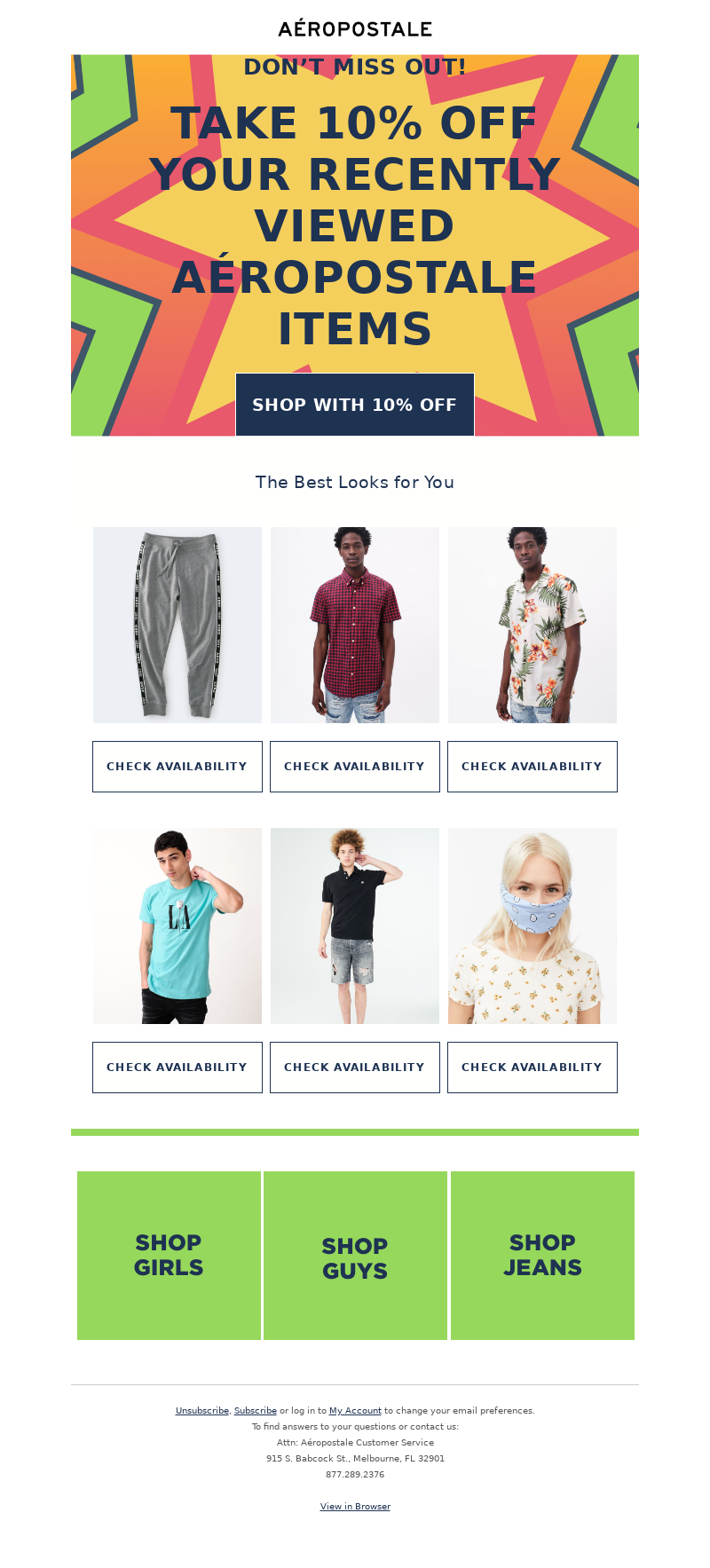 Between the first and sixth email, the brand increases the promotional value and expresses more urgency to buy. Below is the final email in the series. It features a countdown timer as well as a 15% discount. It also focuses on the same products browsed from the first email.
Your 15% off expires in 24 hours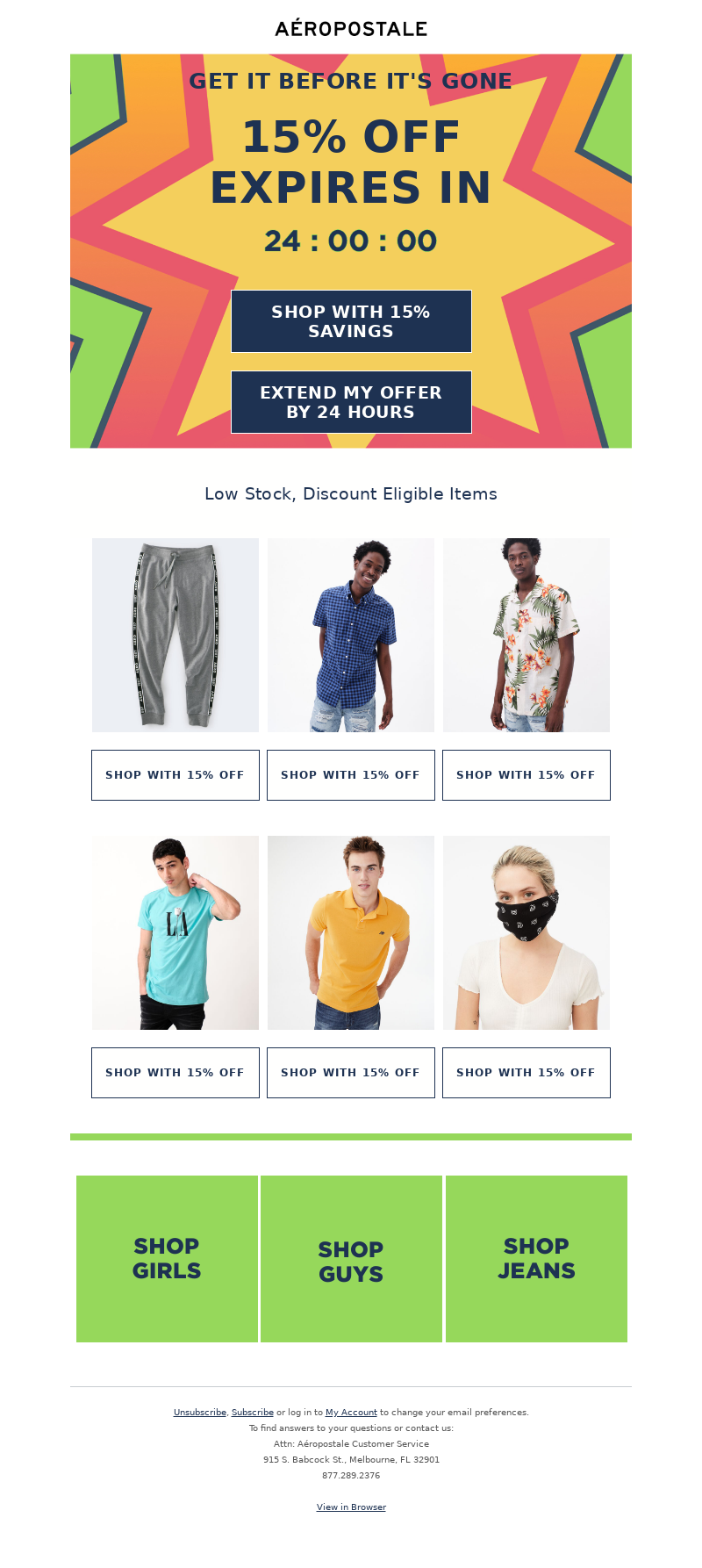 Much like browse abandoners, cart abandoner email sequences are based on site behavior when a known user abandons a cart. Some brands separate their 'began checkout' and 'added to cart' flows as the people who have begun the checkout process are more likely to purchase. The fashion brand J Brand has a great email sequence example of a 3-part cart abandoner flow.
In its initial email, J Brand uses fun and engaging copy to drive the shopper back to the website. This is sent 2 hours after someone has abandoned a cart. (We recommend adding some type of time delay before triggering in case the person returns right away to purchase). This email focuses on the item and, much like the browse abandoner example from Aeropostale, includes product categories to shop from the email, too.
Whoa. We Seriously Admire Your Picks.

Emails 2 and 3 have largely the same subject line and contain mostly the same information as the first email. The main difference is the header and subject line, which contain a generous 20% off coupon. Typically, we see cart abandoner emails contain discounts similar to browse abandon emails in the 10%-15% range. Email 2 is sent a day later than the first touch …
Get 20% Off Your Shopping Cart NOW

… and is followed by email 3 a day later.
You Get 20% Off Everything In Your Cart NOW

While a 20% off discount in a cart abandoner is awesome, it's too steep for many brands with tight margins. Don't worry! We've got another cart abandoner sequence example for you from the athleisure and shoe brand HOKA ONE ONE. The brand offers free shipping to cart abandoners but focuses copy around its 30-day guarantee.
In its first send, sent a day after abandoning a cart, the brand doesn't offer the free shipping. It focuses instead on just the 30-day guarantee and the products left behind. It also highlights top product categories for women and men and features more images than we typically see in a cart abandoner.
Still interested in HOKA ONE ONE?

Emails 2, 3, and 4, all sent over the next 3 days, feature the same hero and product categories and in general, the same look and feel as email 1. What sets these emails apart from the first is the attention to free expedited shipping as well as the urgency to act now and use the offer. Below is a quick look at email 4 in the series:
Last chance: don't miss out on free expedited shipping

Now that we've covered two of the essential apparel email sequences, let's talk about welcome and onboarding series!
Welcome series are critical to success as they are the first impression many shoppers have with your brand outside of the website. In fact, welcome series tend to perform 51% better in terms of revenue than a single welcome email.
You might not think an entire welcome series is necessary, but, given the stats on welcome series, we think it's worth your time. We're going to dive into one of our favorites from apparel brand Mack Weldon, which takes new subscribers through its product offerings and what makes them different.
Mack Weldon's onboarding series spans over 19 days, with email 1 sent a day after a shopper creates an account. In this first email, Mack Weldon takes a different approach from what we usually see with apparel companies. The email mimics a plain text email from Maurice at Mack Weldon. This email feels more personal and 1:1, given it's from a person (typically, we don't see this often in the apparel space as it's normally a tactic used in B2B industries). This email covers several topics including free shipping on your first order, the try-on guarantee, and personally recommended products:
Free shipping on your first order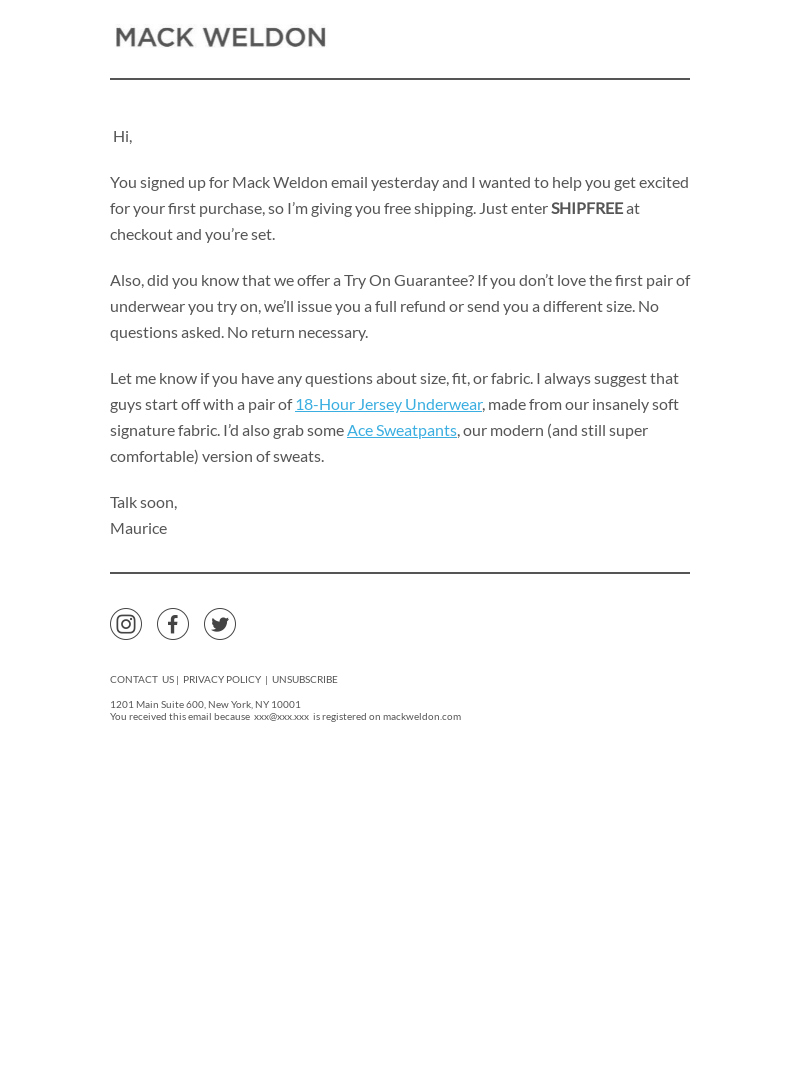 Email 2 comes five days after the initial email. This email has an entirely different look and feel from email 1 and follows branding while walking through frequently asked questions and how to get in contact with the customer service team. This email does a great job of articulating why you should give the brand a try and provides peace of mind for the shopper purchasing online.
Some answers—and free shipping.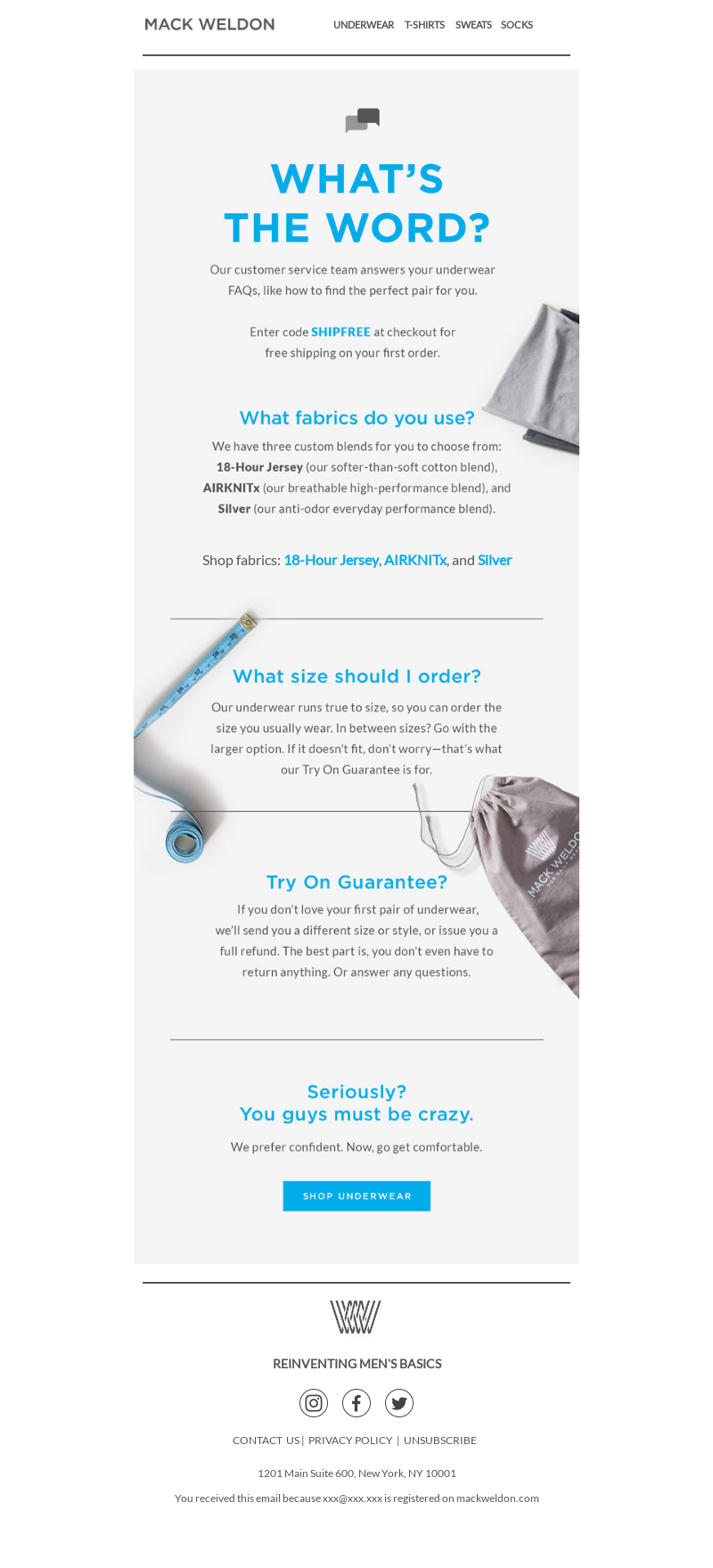 The remainder of emails in the series highlights the rewards program, try-on guarantee, and reviews from real customers. These are all great topics to cover in your email marketing, regardless of your apparel or fashion brand, with a new email subscriber to educate them and get the shopper comfortable with purchasing online.
Lastly, we've got the purchase series from intimates brand ThirdLove. Purchase email sequences are essential for ecommerce apparel and fashion email marketing as they provide the customer with details and updates regarding their order and are critical to a positive customer experience.
It's best practice to send an order receipt with clearly visible order number, shipping confirmation, delivery confirmation, and product review. As mentioned above, these aren't necessarily revenue-driving emails like cart abandoner or welcome series, but they can be the difference between a shopper purchasing again in the future or going to another site.
Right after a purchase is made on ThirdLove, the email receipt is triggered providing customers with their order details including shipping address, order number, and items purchased. This email does a good job of bringing recent shoppers back to the website with recommended products as well as customer service details.
Thank you for your order, MailCharts!

This email is followed by the shipping confirmation as well as delivery confirmation emails. Both of these emails follow a similar setup to email 1 including product details, shipping information, and another mention of customer service.
In the final email of the series, ThirdLove asks the recent purchaser to review the purchased product. This email is typically sent 7-14 days after delivery has been confirmed to ensure the customer has time to wear the product (ThirdLove sends its email 14 days after delivery confirmation). This email also has a fun section highlighting ThirdLove's Instagram feed as a way of engaging with users beyond email:
Can we ask you a favor?

---
Looking for more journey inspiration? At MailCharts, we've got the best journeys in ecommerce and more than 7 years of email data. Sign up for a free MailCharts account to get access to more great journeys like the ones we've shared here.