Does 2020 feel like a dumpster fire that just keeps on burning? Surprisingly, this year's pandemic, economic disruption, and social turmoil gave email an unexpected chance to shine, and email marketers rose to the occasion.
A population living in lockdown helped speed up digital transformation by five to six years. Retail email marketers can reap the benefits of the switch from physical to digital commerce if they can capitalize on these five email marketing trends in 2020: 
1. CEOs take over email for 2020 pandemic messaging
The CEO check-in gets the award for the most unexpected message of the year for 2020. Many brands put their CEOs front and center in emails to explain how their companies were responding to the COVID-19 pandemic or social movements like Black Lives Matter. 
Although 2020 is not the first year brands used CEOs to deliver corporate announcements, this email trend was widespread this year, and many brands kept their CEOs or other top company leaders in the spotlight throughout the year. 
CEO check-in emails were criticized or lampooned for off-brand messaging (not speaking in the brand voice, not using a recognizable template, or messaging to an entire list instead of active customers).
One exception was McDonald's UK, which represents the fast-food brand in the UK and Northern Ireland. It sent detailed emails updating customers about store closing and reopenings, safety measures, menu changes, and other news that would be top of mind for customers. The company used both long-form letters and promotional-style email formats for their announcements.
A message from our CEO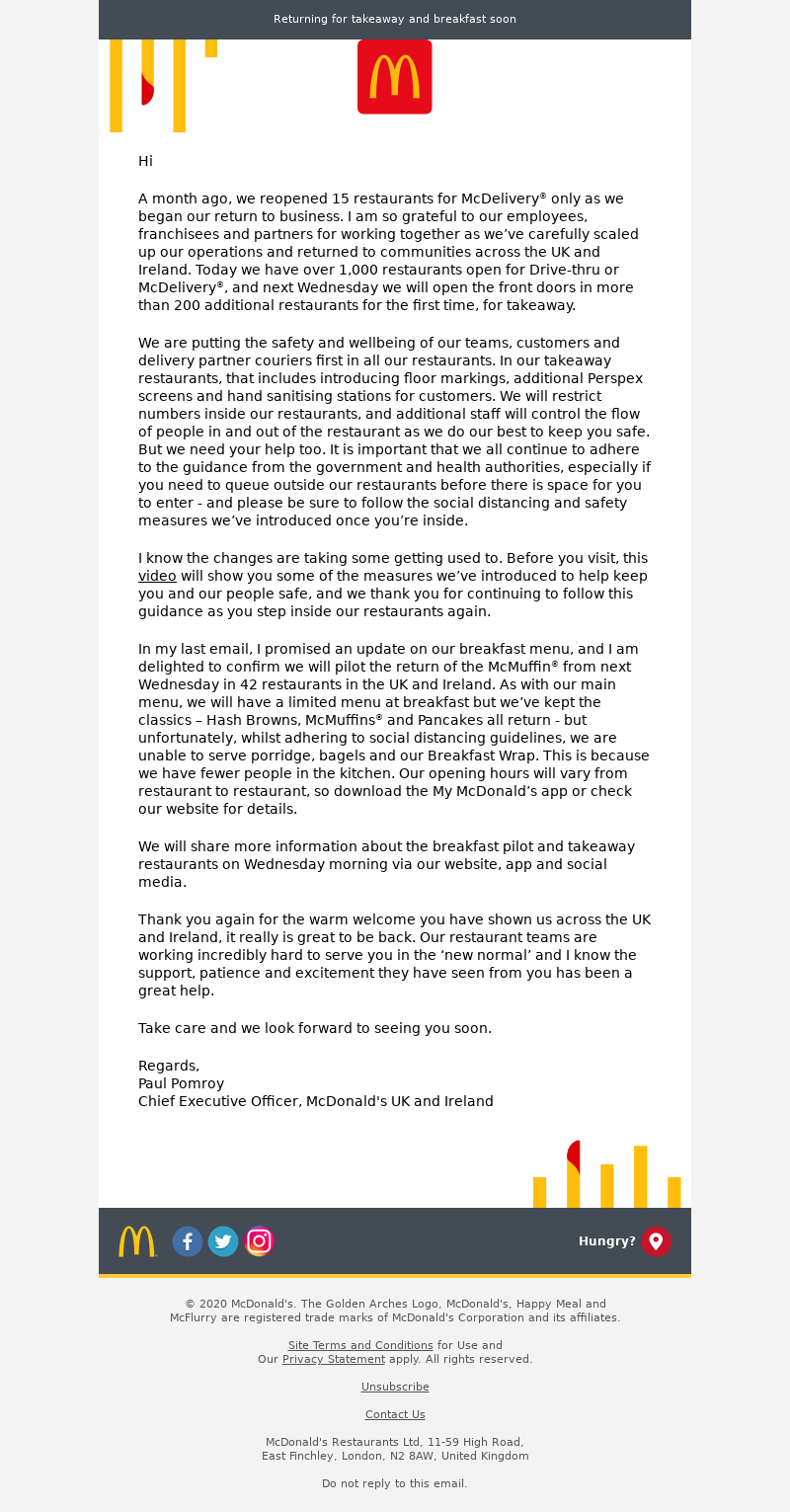 Being able to call on real-time messaging or segmentation by location came in handy for brands with physical locations in multiple regions, like Ulta. The brand, which could open stores in some locations but not others, created one message template and switched content in and out depending on local conditions. 
Your Ulta Beauty store is now open 🧡

2. Ecommerce email marketers shift gears in 2020
Throughout 2020, marketers had to factor in uncertainty and last-minute changes in everything from supply chain disruption to the wildly varied effects the pandemic had from country to country and, within the U.S., from region to region. 
Retail email marketers can't count on the usual pillars of the retail email marketing calendar like back to school, holidays or other events tied to the rhythms of in-store shopping. Some halted or throttled messaging early in Q2, while others pivoted to find ways to stay in touch with customers while avoiding tone-deaf messaging that would turn customers against them.
Planet Fitness, which closed its chain of workout centers, went virtual and switched its email messaging to promote livestreamed workouts, including celebrity trainers, a branded music playlist on Spotify and other services.
United We Move! Join a new Home Work-In today.

Other messaging shifted quickly from standard messaging around promotions and holidays and continued to track closely with the cultural zeitgeist to embrace quarantine life, like working from home, online schooling and social events, and economic realities for furloughed or fired workers. 
Home furnishings retailer Crate and Barrel sent two emails on the same day. The first one focused on a home-and-family theme, with only a faintly promotional message: 
Seeing the good in staying home

The second email spoke to the new work-at-home culture with a stronger promotional focus on multipurpose furniture and Crate and Barrel's design service:
Your favorite rooms, upgraded | Up to 30% off

3. Email sending volumes to soar earlier in the season
Email volume always increases during the year-end holidays. This year, email experts predict email volumes will soar even earlier than usual to catch customers who start their holiday shopping early. 
Overall volume held steady or declined through Q2 and began to recover midway through Q3. MailCharts email volume data shows travel and hospitality brands are still down compared to Q3 2019, while retail brands are sending the same to slightly lower amounts of email.
Apparel, which was one of the first industries to shift gears to reflect at-home comfort over office or evening wear, is sending an average of 5.27 emails a week, down 1.1% from Q2 and down 1.33% from the same time in 2019.
Home brands, which include furniture, lighting, appliances, and accessories, had reported stronger sales as quarantined homeowners put in time renovating their surroundings. However, MailCharts data also shows Home brands pulled back on volume, sending an average of 4.21 emails a week, down 7.54% from Q3 2019 and down 6% from Q2 2020.
4. The pandemic alters email engagement and habits 
Some say engagement went up because people who were stuck at home finally had time to read all the emails they had ignored previously. Others credit marketers for pivoting quickly and tuning campaigns to reflect the cultural shifts driven by the pandemic and its resulting economic, social, and cultural changes. 
Peak times for email opens and clicks have shifted because daily schedules and habits have changed, says Chad S. White, research director for Oracle Marketing Cloud. Work-from-home killed the office commute, while in households where parents are managing both work and child care or in-home schooling, email checking is more happenstance.
Here's a snapshot of email engagement benchmarks during COVID: 
Brands asked to do more with less: Even though email results are stronger this year, and marketers have been busy revising their campaigns and content, Litmus' mid-year State of Email Report reports 40% of email marketers have reduced their budgets to save costs as brands tighten their belts against lower revenue.
---
---
5. Brands discount heavily to drive sales
Beauty and apparel brands are sending slightly fewer emails on average compared to this time in 2019 and Q2 2020, but the discounts are higher. According to MailCharts data, the average promotion as Q4 kicks off is 43.7%, up 17.25 from the same time in 2019, and up 11.1% from early Q3 2020. 
Home brands, which include furniture, lighting, and accessories, have also cut back on volume but have slightly declined in promotional rates. Brands are sending an average of 4.21 emails per week, down from 4.56 in Q3 2019. Discounts are still the preferred promotion, and the average per campaign is down 8%, from 69.9% in Q3 2019 to 64.6% in Q3 2020.
Is Black Friday over? Email trends for Q4 and 2021
Both volume and discounting are predicted to increase in Q4 to persuade consumers to shop. Consumer sentiment is mixed. Some polls show shoppers intend to spend the same as in 2019, while others indicate consumers will cut back on gifts, avoid traveling, and nix large family gatherings. 
A Morning Consult survey found 19% of consumers are gift-shopping earlier. The 2020 trend toward earlier shopping means Black Friday's reign as a major spending event could be over, or at least muted if shoppers spend most of their holiday budgets earlier in the season thanks to Amazon's rescheduled Prime Day in October and heavy promotions from Amazon competitors.
---
---
Wrapping up: Which 2020 email marketing trends will last?
It's safe to say that nobody in 2019 could have predicted the 2020 email marketing trends that changed the way ecommerce marketers connected with customers. So far, few are looking ahead to 2021 to see whether these trends could change if the pandemic eases — or if they reflect lasting changes in shopper habits and attitude and the way brands respond.
Editorial photo by Brett Jordan on Unsplash