Recently, due to the pandemic, we've started to see a shift in consumers purchasing beauty and personal care products online instead of in stores. According to eMarketer, the beauty industry is expected to increase digital ad spending by 5.2% this year. 
Besides focusing more on ecommerce spending, beauty brands are constantly innovating, trying to remain up to date on trends and engaging social influencers to build the business. So, it's no surprise we see a lot of email trends and examples from skincare and beauty. It's also unsurprising that these brands typically have automated campaigns like cart, browse, welcome, and purchase series. 
With beauty brands stepping further into the ecommerce space and these automated campaigns, they're unstoppable! Let's take a look at a few skincare and beauty brand series and why we love 'em. 
It's hard not to drool over Kiehl's emails. They're always on brand and provide beautiful visuals of their products. While we can talk about Kiehl's email examples all day, we'll start by focusing on the cart abandoner email series. This series starts off like most cart abandoners, triggering 30 minutes after a shopper has abandoned the cart. 
The initial cart abandoner email highlights the products – in this case, hand soap and body wash that was left behind – and a clear CTA to complete their order. The rest of the email is relatively simple with mention of free shipping on orders over $50, customer service, and rewards program. 
May We Help You Decide?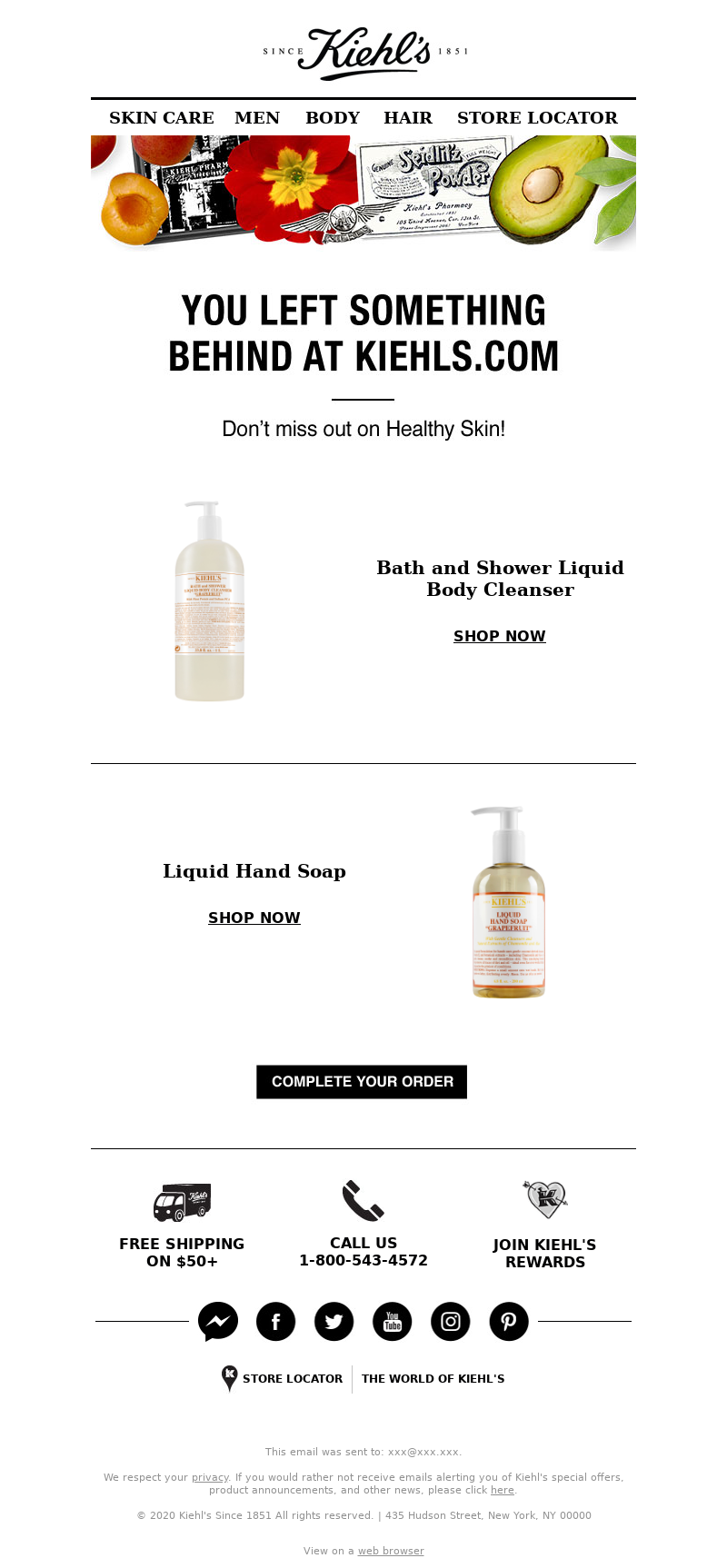 Email 2 is sent a day later and provides a bit more detail, including a bigger CTA to join their rewards program and other recommended products to shop. The last email in the series is sent 5 days after Email 2 and highlights most of what was highlighted in email 2 but adds a bonus offer for 2 deluxe samples with orders over $40. 
This is a unique way of driving conversions without reducing average order value (AOV), while still providing an incentive to convert the shopper one last time.
2 Deluxe Samples - Your Choice!

The Dollar Shave Club, having both a subscription and individual sale model, sends a subscription abandoner email series of 4 emails over 14 days. This is unique based on its business model. It's similar to a cart abandoner and triggers a day after a subscription has been abandoned. 
Similar to what we saw with Kiehl's, Dollar Shave Club's first send focuses on the products that'd be included in the subscription with a CTA to join for only $5. What we love about this email sequence is their use of personalization and simplicity. 
We noticed you didn't finish signing up.
Email 2 and Email 3 focus on the products themselves including product benefits and social proof from other subscribers of DSC. The fourth and last email goes out seven days after Email 3. This email focuses on the various subscription kits outside of the one browsed and also highlights the core competencies of Dollar Shave Club: quality ingredients at an affordable price and the convenience of delivery straight to your door. 
Want to try a different Starter Set? Easy.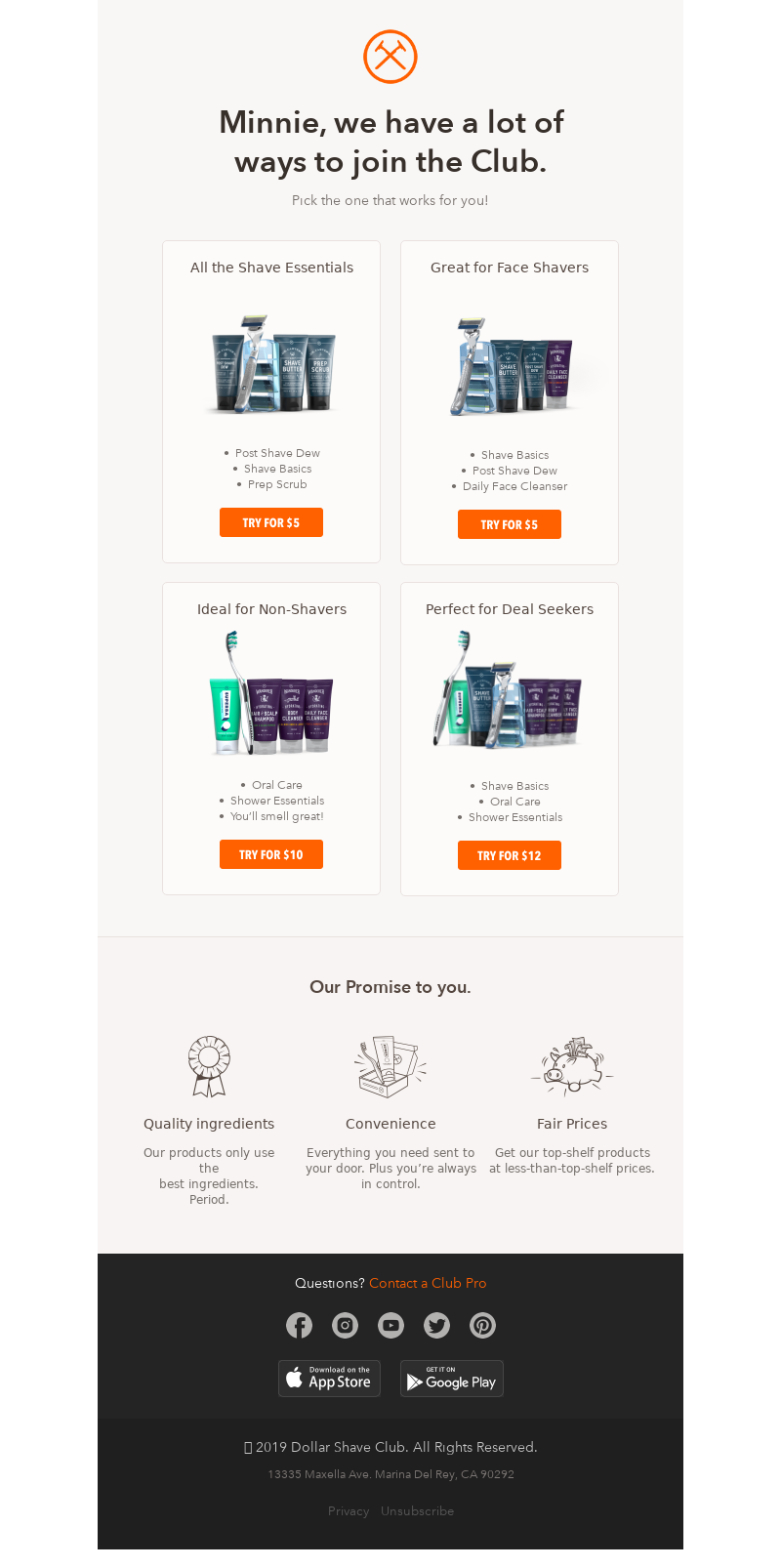 The skincare company Olay keeps its emails clean and simple. In its onboarding series, the content is clear and follows best practices by providing product details, best sellers, and reviews. 
The onboarding journey contains 4 emails sent over 5 days with Email 1 focusing on the rewards club perks, unique AI technology for finding the perfect skin solution, and a list of best sellers featuring discounted products. We love this email because it has a unique level of personalization with the skin advisor technology, unique to their brand. 
✴️ Welcome to the Club ✴️

Olay's second and third emails, sent over the next three days, focus on the shopper's earned points and customer reviews. Similar to what we saw with the social proof email from the Dollar Shave Club, this is a great way to get shoppers excited about the products based on what other consumers experienced. 
The last welcome email sent in the journey highlights Olay's various products based on the shopper's skin needs. Having distinct categories showcasing different problem areas for people is a great way to introduce products that might not have been recommended in the earlier welcome emails:
Skincare Pairings Inside

Fourth on our list is beauty brand Tarte, whose purchase journey gives us all the heart eyes. While the purchase email series is typically the least sexy of the automation series, it does have pertinent information about a shopper's order. 
Tarte's purchase journey covers 5 emails over 39 days. The first email is a pretty standard order confirmation but reflects the Tarte brand. We love that this email has a CTA to get text updates as well as contact information for the customer service team. 
GOT IT! Order Confirmation 60740258

Email 2 is a standard shipping confirmation email, mirroring Email 1 and sent once the item is shipped. The next email in this email flow is sent two days later and upsells the customer on other products the customer might like based on a recent purchase. The last two emails in the series are sent a few weeks later and prompt the purchaser to review the recent purchase. We love that this email is incentivized with a gift card giveaway to encourage shoppers to let others know what they thought of the product. 
We'd love to hear from you, MailCharts

Last on our list is Stila Cosmetics, which wowed us with its cart abandonment series. I know, I know, we've already talked about two cart abandoners so far, but we had to include this one, too. 
This cart abandoner series sends 3 emails over 8 days. Unlike the other series we've discussed here, this one does include a percent-off discount that increases over the 8 days. Email 1 features the typical 10% off discount as well as the product left behind. We love that it adds in a few more products the customer might want to add to the order! 
🛒 Don't Go Just Yet... You Forgot! 10% Off!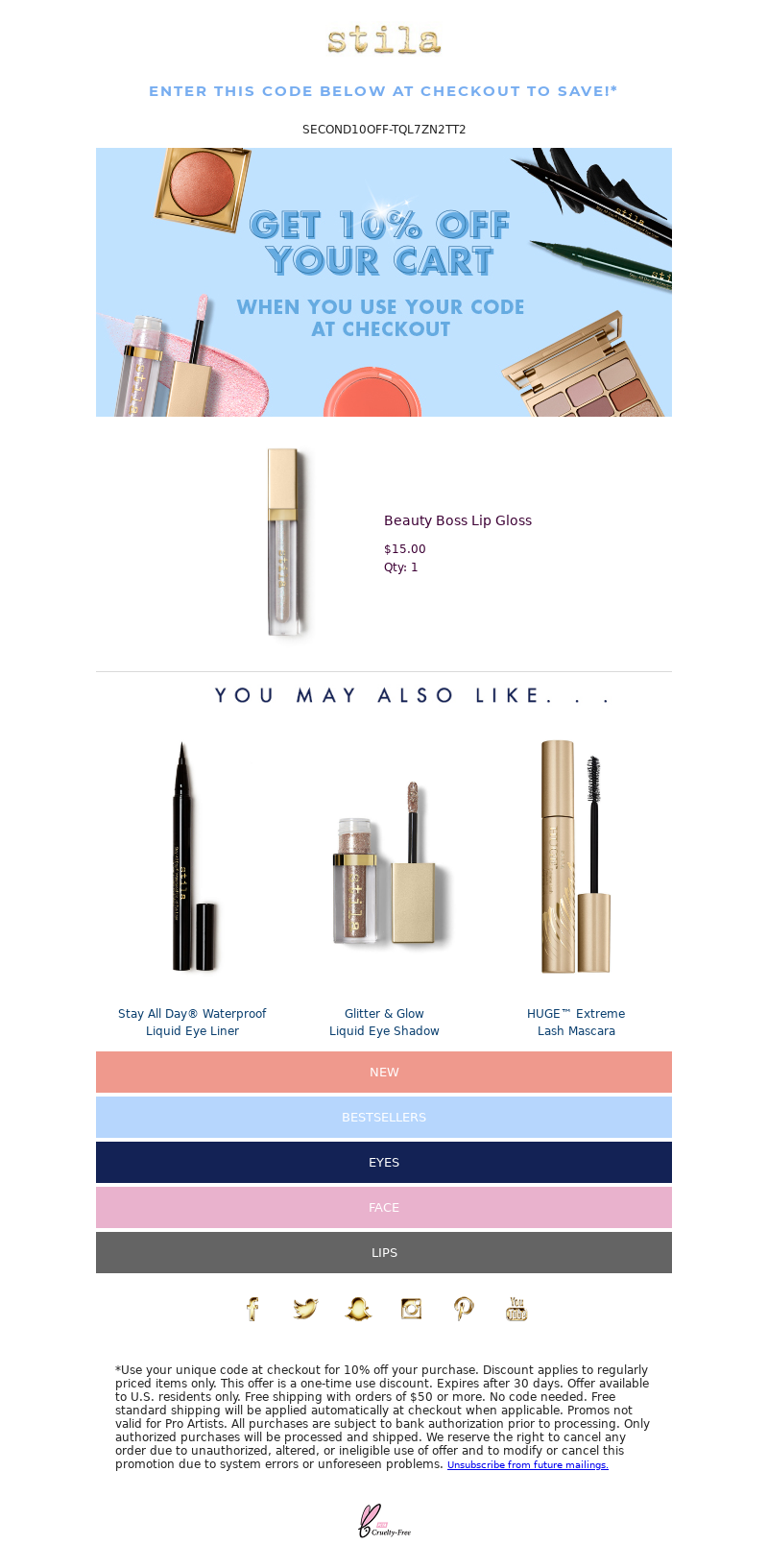 Emails 2 and 3 have a similar layout to Email 1 but offer 20% off the order. The last email, sent on day 8 of the series, also adds more urgency with its subject line:
⏰ Expiring Soon! Get 20% Off Your Cart!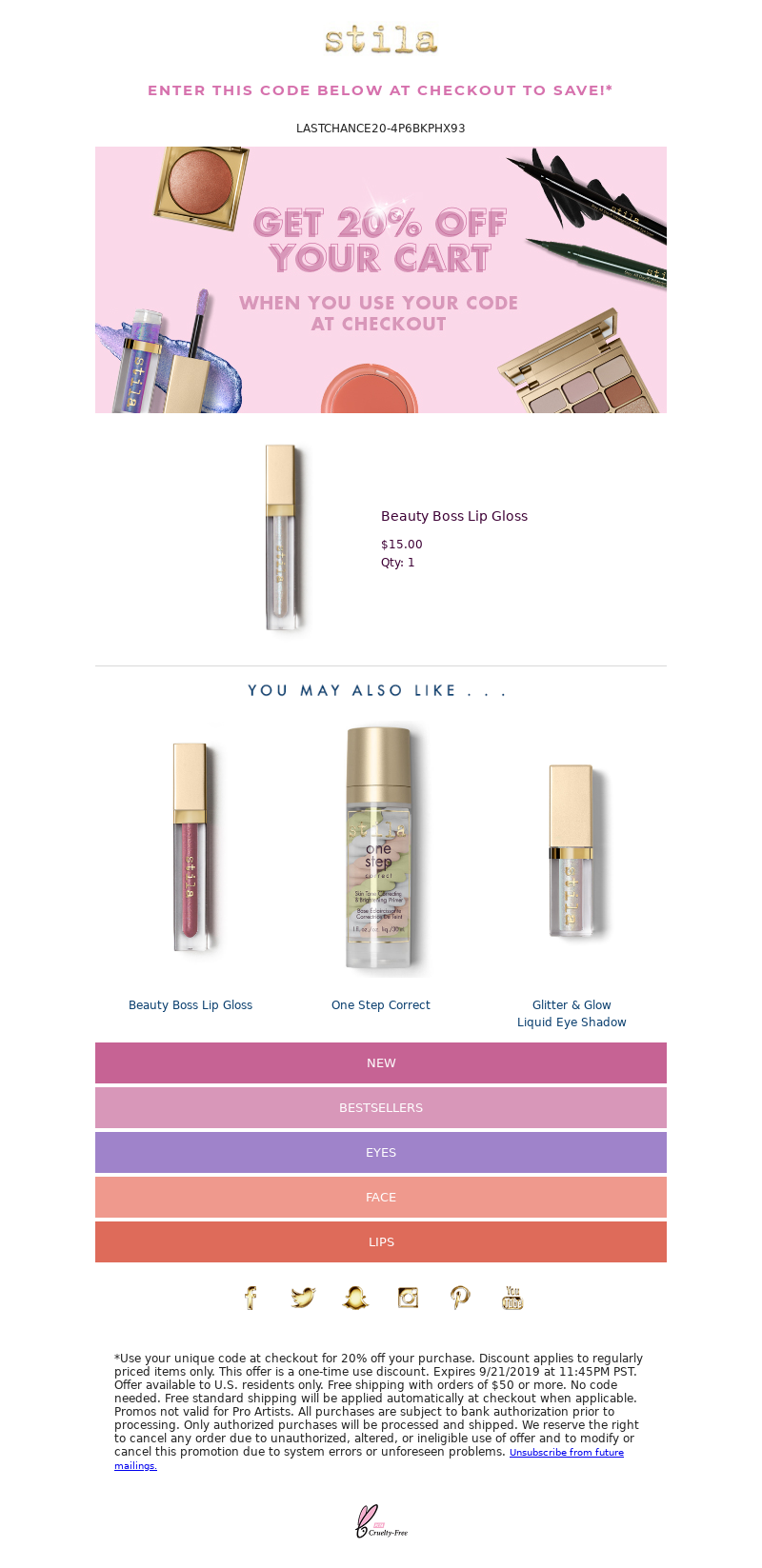 Looking for more journeys from beauty brands? Upgrade to a MailCharts Pro account to access unlimited journeys, reports and industry benchmarks plus millions of historical emails from thousands of brands.