You've probably heard it before: it's easier and more cost-effective to hold onto current customers than it is to win new ones. But you can't just sit idle and hope they'll stick around. You need a customer retention plan to follow and proactively put processes in place to keep your customers happy and engaged.
What Is a Customer Retention Plan?
A customer retention plan comprises the strategies to be used to hold onto existing customers, turn them into repeat buyers and increase the revenue earned from each of them. It focuses on creating a great customer experience and building customer relationships.
Below, we've listed some of the top strategies ecommerce brands can use to improve their online customer retention.
8 Strategies to Improve Ecommerce Customer Retention
1. Let customers create accounts
Customer accounts make it easy for users to make new purchases as their payment and shipping information is already stored within your system. On top of that, they give customers access to a list of their previous orders, which further facilitates repeat purchases.
As creating an account may be too big of a commitment for new customers, you can allow them to place an order as a guest while offering them the option to create an account once their order is placed.
2. Run a customer loyalty program
Good loyalty programs boost repeat purchases as customers are rewarded when they buy from you, and when they're close to reaching the points they need to get a freebie or other type of gift, they might just make that last needed purchase a little faster.
The key is to make it easy for users to participate. From the signup process to collecting points and exchanging them, it should be smooth sailing. And while you want to reward the most frequent buyers, you also don't want to make it so hard for more casual shoppers to reap the rewards of your program that they don't feel like the effort is worth it.
3. Improve your customer service
A great customer service experience can often turn a prospect or lukewarm customer into a loyal fan of your brand so don't skimp on your customer support team. Make sure they're trained to communicate clearly, friendly, and efficiently with users both before and after sales, and give customers plenty of opportunities to get in touch with you. There's nothing as frustrating as having to dig for contact details and then finding out the only way to reach support is by calling during working hours.
Offer live chat, email support, and social media customer support so your customers can reach you in the way they prefer to communicate.
4. Offer incentives to return
While you want to be careful not to become that brand that's always running a sale, offering a discount or store credits can work well to bring someone back. You may want to thank a new customer for their trust with a coupon for their next purchase, or re-engage inactive customers by offering them some store credit.
5. Optimize the user experience
You don't always need to do something extra to keep customers if you can ensure that your experience with them is frustration-free every time. That means providing an excellent user experience on your website and making sure that it's easy to take whatever action a customer may want to take.
Study how your customers interact with your brand, browse your site, and make a purchase, and then optimize those flows based on their behavior.
&nbsp:
6. Surprise and delight
Customers may expect to get discount offers from time to time, and they probably hope you'll provide them with great customer service and a smooth experience, but what they won't see coming is a gift just because.
Use the data you have on your most loyal customers to send them something that's in line with your brand and that you can be pretty sure will delight them. If you sell stationery, that could be a personalized pen. If you run a jewelry store, it could be a keychain with their initials on it.
Don't have the budget to send out presents? You can still surprise and delight by including something like a handwritten note to a customer's first order.
7. Build a community
Everyone wants to belong to something, so why not let them belong to your community? Whether that's a Facebook group, a community forum, or a way to interact with other customers through your app, helping customers connect with each other and find like-minded people will keep you at the front of their minds. This is especially so when you can create a community people want to engage with on a daily basis.
A good example of this is Fitbit. The brand of fitness-tracking watches has both an online community forum and a way for you to add, follow, and challenge friends within their app.
8. Send customer retention email campaigns
Email marketing is an extremely powerful tool when it comes to customer retention. It allows you to speak to your customers straight from their inbox, ideally with a message that's customized based on their demographics and customer behavior.
That being said, not every email you send should be super salesy. You want to use this direct line to build a relationship with them and keep them engaged so that when they're ready to buy again, they'll buy from you.
5 Examples of Great Customer Retention Campaigns
1. A win-back campaign
You've missed over 30 different snacks!

Snack box subscription brand Bokksu plays to the recipient's fear of missing out by highlighting how many snacks they've missed since they stopped their subscription. Not only do they mention it in the subject line and copy of their email, but they also show the actual boxes the recipient could have received if they'd only stayed subscribed.
To further convince the customer to come back, Bokksu offers them a sneak peek at the upcoming box but for that, they need to click through to the website where they'll also be able to sign up again. Pretty smart!
2. A welcome treat
Welcome to Spanx! Enjoy 10% Off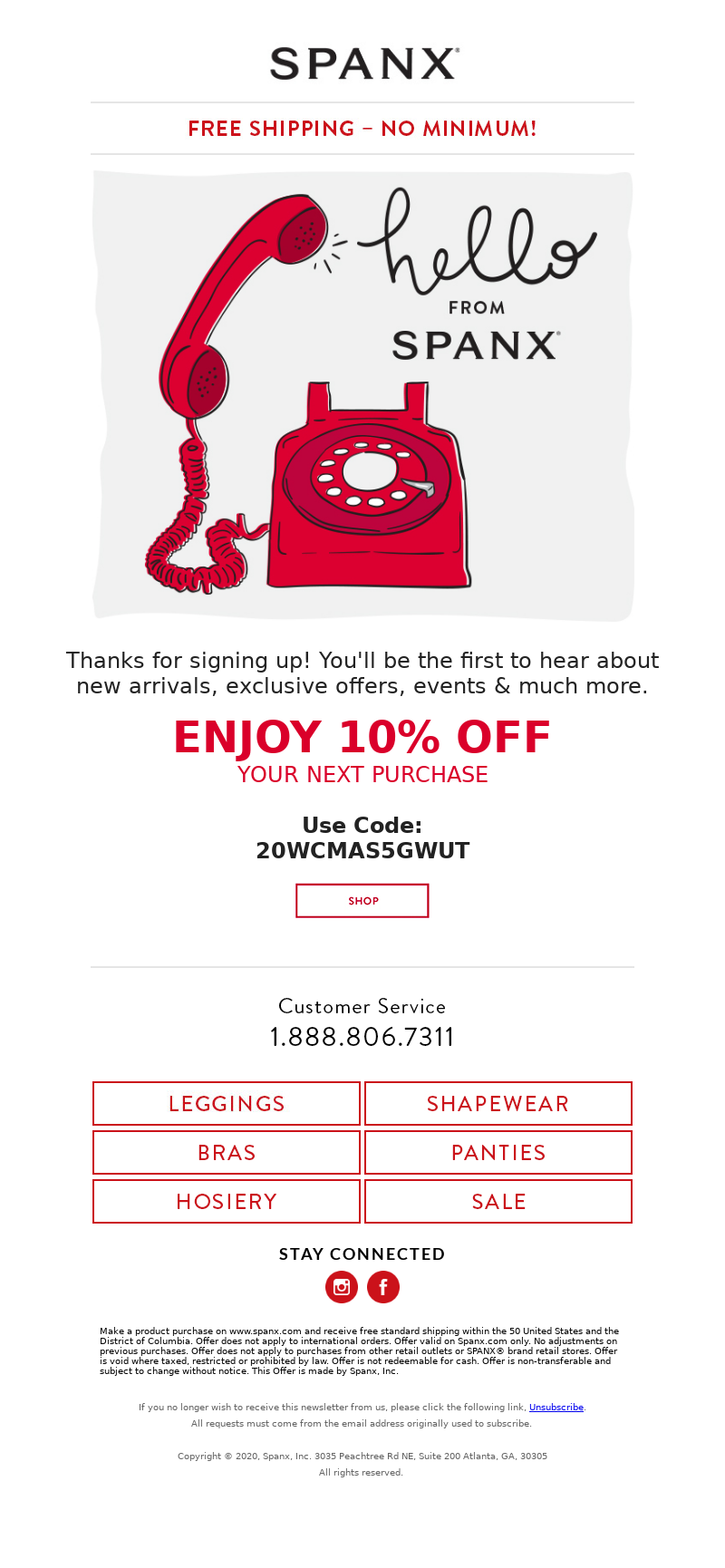 Shapewear brand Spanx welcomes new subscribers and customers with 10% off their next purchase. It's a great way to send shoppers right back to their website.
Note that there doesn't seem to be an expiry date for the discount code. This makes sense as someone who just bought shapewear probably won't buy something else a week later, but when they're in need of new panties or a bra, they'll have this coupon and Spanx will be the obvious choice.
3. A loyalty offer
15% off for Elevated Rewards members!

Outdoor brand Mountain Hardwear frequently treats its loyalty program members to special discounts. When joining their program, you get 15% off your next purchase as well as free shipping on all online orders.
This offer does have an expiry date, which adds a sense of urgency.
4. A birthday gift
Happy Birthday! Enjoy a special gift just for you.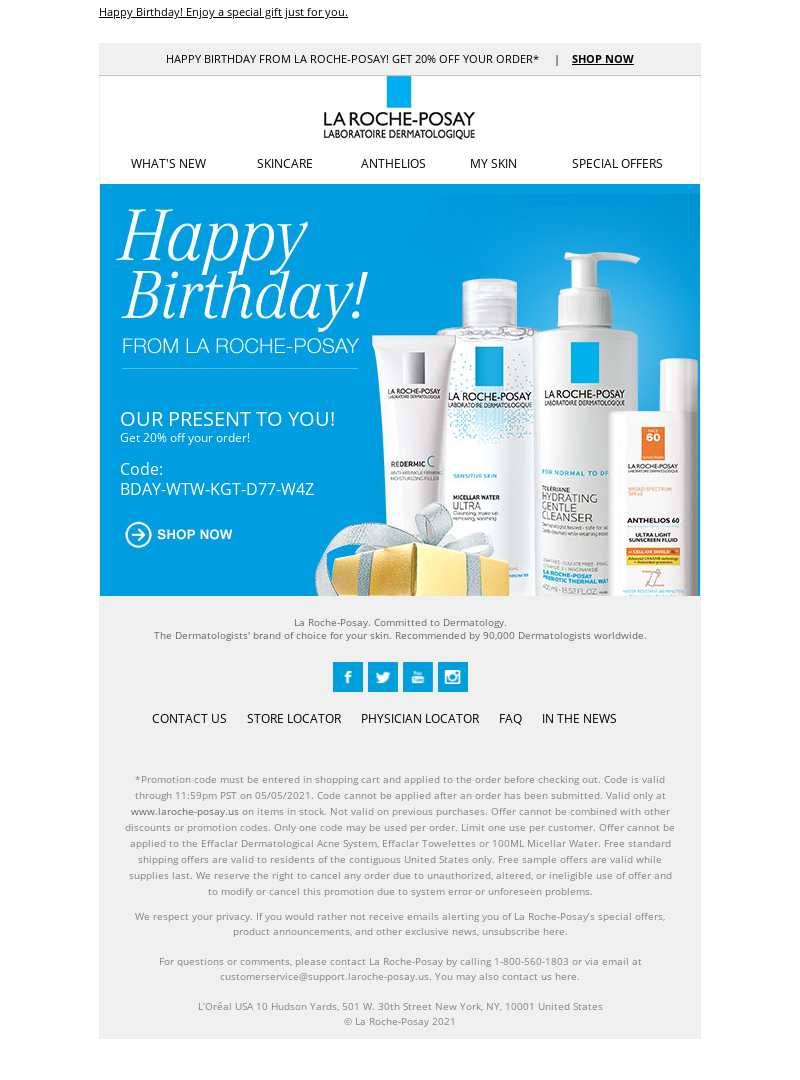 Skincare brand La Roche-Posay wishes its customers a happy birthday by offering them 20% off their next purchase. The image shows just a few of the products the recipient could use that discount for and by keeping the email simple, the birthday discount gets all of the attention.
5. A limited-time only sale
barbara, you have just 48 hours to shop this offer

Fitness brand Bulk Powders combines several smart email marketing strategies in this limited-time-only sale email. The subject line is personalized, which increases the impact of their message. It's not just about announcing a 48-hour sale, no, it's telling Barbara that she only has 48 hours to enjoy this sale.
Open the email and the copy repeats the limited time to enjoy the offer. On top of that, a countdown timer tells the recipient exactly how much time they have left. The bright orange image keeps the focus on the discount offer while the rest of the email highlights a few of the products the customer can use the discount for, all accompanied by a call-to-action button.
Leave No Customer Behind
There are lots of things you can do to increase customer loyalty and repeat purchases. Use the strategies and examples in this post as inspiration for your own ecommerce customer retention plan and start where you see the biggest opportunity for improvement.
One way to keep your customers engaged from the start is through ongoing email marketing. Sign up for MailCharts to get access to hundreds of examples of customer retention campaigns, including those of your competitors.