Before sending your first email campaign, you'll need to have a few free HTML foundation email templates available. I mean, you could always send your emails as plain text, but who wants to receive an email that looks like that?
I, for sure, don't. The problem with HTML email template development is that it's actually really difficult. There is no universal standards — different email clients renders CSS differently. And, most times, you're stuck with what feels like the 90s because you have to use nested HTML tables.
Luckily for you, some folks have taken the time to create starter email templates you can modify and use in your campaigns.
Templates needed for a comprehensive email program
Before sharing some great, free, email templates you can use, let's take a minute to understand the three different types of templates you'll want to have handy.
Simple template
Used to promote your latest blog post, a product announcement, or even an upcoming sale.
Here's a few examples:
Smart Messaging for E-commerce Integrations
Notice how simple this email is, with a clear "Read More" call to action. The MailChimp team did a really nice job adding other blog posts under the "Recently Posted" section.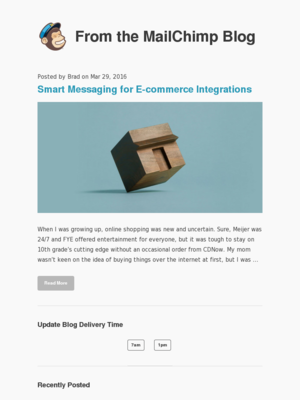 Sync: have every note, everywhere
A simple email from Evernote prompting you to download their native apps. As you can see, simple templates like this can be used to promote features, a recent blog post, or even an upcoming sale.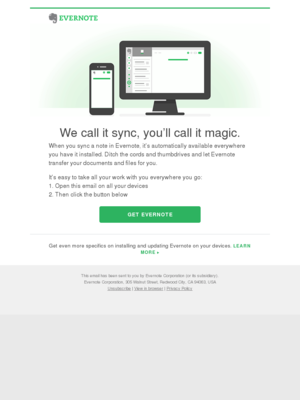 Multi-section template
Often used when you want to share more than just one blog post — such as a weekly recap — or promote several products.
Here's a few examples of foundation email templates:
Unbounce Monthly Update: Learn to critique your pages to perfection
Notice how Unbounce's email has several sections each promoting a different piece of content — from "announcement" to "pro tip" to "webinar" and so on.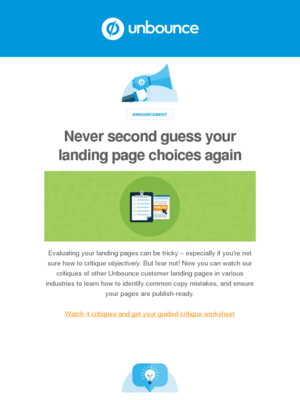 Crushing UX misconceptions in this week's digest
The Invision Team shares their latest blog posts using this clean multi-section template. Notice how each post feels like it's own card (or individual unit) making it easy to feature one, three, or a hundred posts.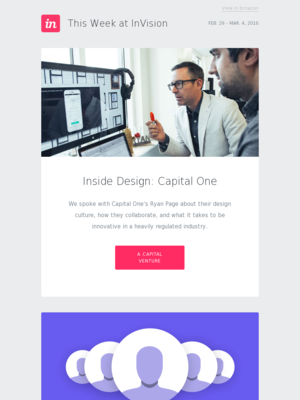 Transactional template
This includes purchase receipts, shipment confirmation, and any other transaction-related emails.
Here's a few examples:
Your order 224667513 has shipped!
Notice how this email template is much more complex than the ones we've seen before. Including a product image, description, shipment address, social integration, and support help. Phew!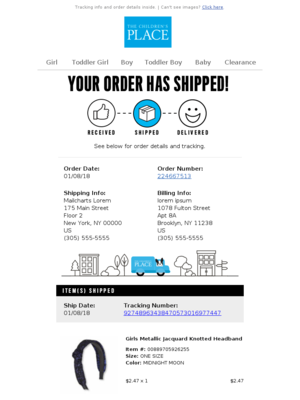 Your superfoods are on their way!
This is another transactional email example. Again, notice the amount information needed. While you don't need to include everything mentioned in these two emails, you need to make sure you cover all of the must-haves.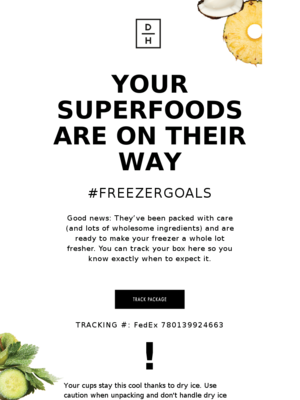 Interested in learning more about the must-haves? Check out our book Email Marketing Fundamentals. You can get it for free.
Free email template list
Below you'll find some of the best free online email templates. If you have any other resource that comes to mind, let us know on Twitter.
This is my favorite of the bunch. There's 25 templates to pick from, featuring 4 distinct styles.
Check these templates out, you'll have access to everything you need to send your next email.
I've personally used these templates in a few different email programs. They're robust and easy to modify.
As you can see, these are very versatile. Check out the Foundation templates here.
These are the OG of free email templates. The only problem is that they haven't been updated in 4 years. While the templates still work as well today as they did back then, email design has since evolved.
Also, these are great if you're a MailChimp user. If you're not, I'd recommend staying away from them because they include a lot of MailChimp-specific code (such as unsubscribe merge tag) which can get confusing. Check out the MailChimp email blueprints here.
Anything open sourced gets a special place in my heart. While I haven't used these templates before, the community is actively updating these templates. (The last commit was 4 days ago at the time of this writing.)
Not bad, right? Get the SendWithUs templates here.
So far we've focused exclusively on HTML email templates. Turns out that once you have a template you need to fill it with text (which can be much harder than you think). If you ever want to kick-start your email copywriting, these Aweber fill-in-the-blank email templates are for you (note: email required for access).
Now that you have access to great looking HTML templates as well as fill-in-the-blank templates, you have zero excuses. It's time to kickstart that email program of yours.
Email design inspiration
Before saying à bientôt, let's take a few minutes to share some sources where you'll find email design inspiration.
Email inspiration from MailCharts
I may be a bit biased, but we've created a ton of resources you can use:
MailChimp back at it again
Check out these email examples from MailChimp. Click on the "Browse by category" button to narrow your search.
Really really really good emails
We love the folks at RGE (Really Good Emails). They do an awesome job at curating good emails. Check them out.
Campaign monitor top 100
Here's another ESP helping us with great email examples. Check it out. Notice how many of these emails have phenomenal imagery.
Parting words
Now that you have access to great looking email templates, are you ready for an email strategy that moves the needle? If so, MailCharts's for you.
We help online retailers plan and optimize their email campaigns by leveraging competitive data. If you ever feel like your email program needs a little extra oomph — or that you want to save time planning your next campaign (while making data-driven decisions) with free foundation email templates — check us out.
Happy emailing,
Carl