Up to 94% off. That's how aggressive online retailers were with their Memorial Day promotional email examples in previous years. This year, with so many retailers struggling both online and offline, we expect discounting to start even earlier—though not sure they can get any steeper!
The great thing about Memorial Day is that there's an editorial theme for everybody: patriotism, the kickoff to summer, being with family and friends, the long weekend … take your pick!
Today, you'll discover four reliable themes you can adapt to suit your brand image and audience expectations, along with steal-worthy examples.
Given that driving sales and/or store visits is a major promotional goal for Memorial Day emails, we focused on emails showing fresh ways to dress up your offers so they don't look like everybody else's. Let's dive in!
Theme #1: Be patriotic
This is a slam dunk for Memorial Day, but be sure your email sends the right message. Memorial Day honors everyone in military service that has passed away—whether on active duty, in combat or after honorable discharge. It is NOT a general "support our troops/thank you for your service" day. (That's Veterans Day, on November 11th).
If that message doesn't fit with your brand or products, but you still want to tie your email to the holiday, refer to it symbolically by using American flag motifs and red-white-blue color choices.
ICYMI: the 2017 New Era Memorial Day Collection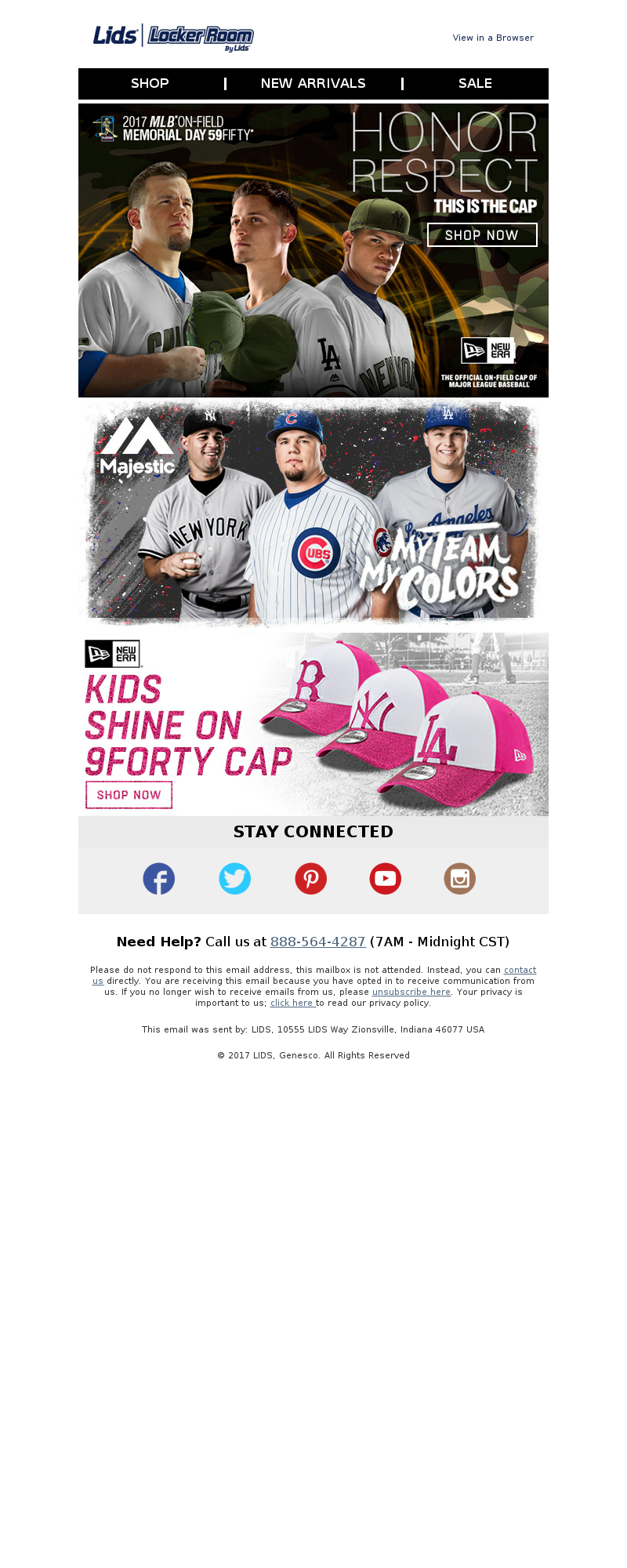 This is the best example we found that combines both a patriotic theme and a Memorial Day promotional email example while respecting the holiday's tradition.
The top image, with camouflage-style artwork and ballplayers doffing their caps as a sign of respect, creates an understated but sincere tribute to Memorial Day. The next two images, while unrelated, don't detract from the powerful message. Well done!
Special Memorial Day savings start now!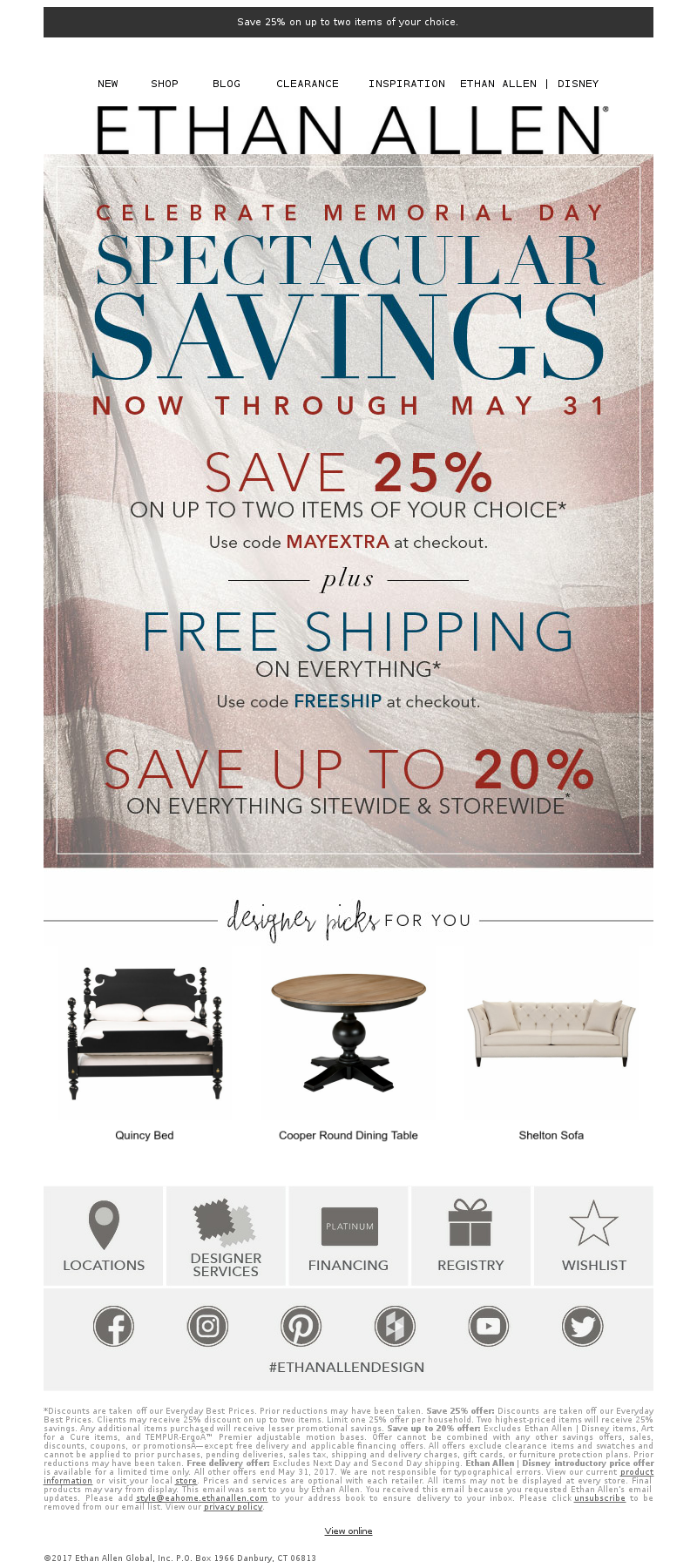 Patriotism and promos lived happily ever after in this discount-driven email.
The elegant fonts in the copy sing rather than shout, and the faded-flag background image ties it all together nicely. It's probably no accident, either, that the bed, table and sofa in the "Designer Picks for You" section are traditional rather than contemporary design.
Theme #2: Focus on summer
The long Memorial Day weekend is the official kickoff to summer. Fun in the sun, travel, and family are all part of this theme. But beware, your competition is likely going to follow this same exact recipe. The emails below show you how to create stand-out emails that your brand manager is going to love.
Memorial Day Sale Starts NOW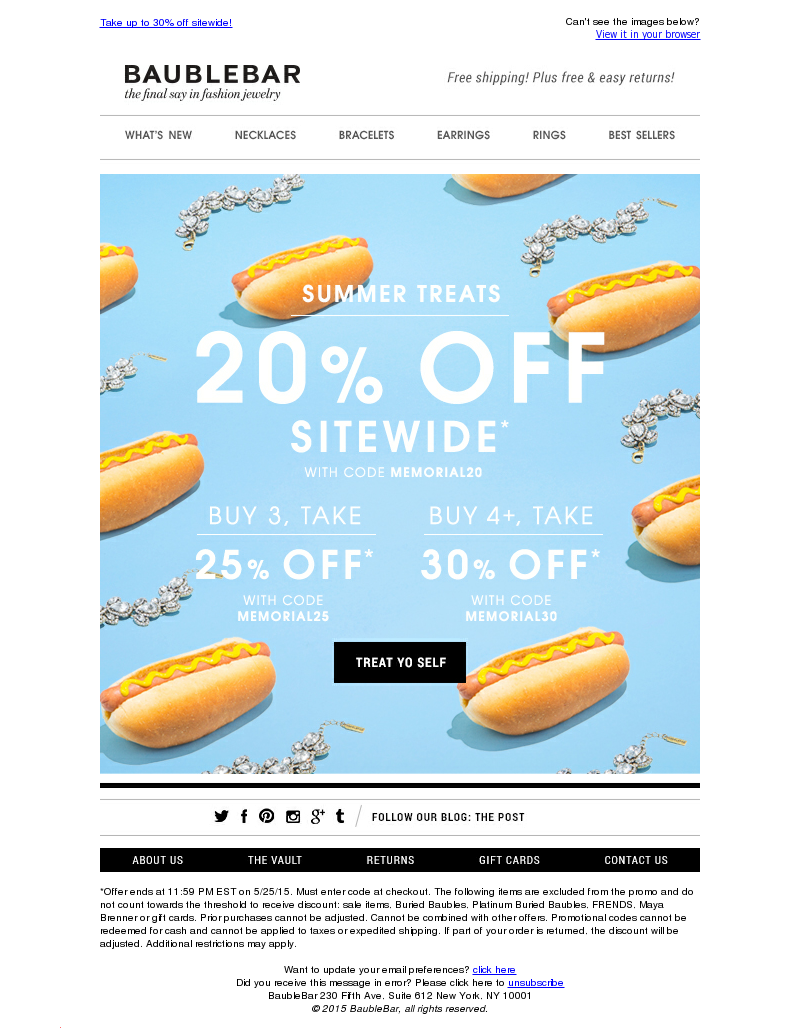 We love-love-love the artwork in this Baublebar email.
Nothing matches an elegant diamond bracelet like a good old American-style hotdog, right? It's unexpected and fun. It's good design, too, because the hot dogs frame the different discounts.
Shop the Memorial Day Sale and Save

Here's where you, the email guru at your company, have to persuade your team to zig where everybody else would zag.
Sun and fun are the prevailing themes in most Memorial Day email campaigns, but this email zooms in on another another essential aspect of holidays and living outdoors: getting far away from the city hubbub. The setting sun on the water, the city across the bay, the couple relaxing just before or after the dinner party – if this email makes you wish you were there right now, then our work is done.
How to pack for Memorial Day.

This content-marketing approach sells your products as well as your styles. We love that this email hits all of the Memorial Day themes – the beach, the park, the city and your own backyard. Seriously, check out the full email.
We like that each CTA takes shoppers to the right collections on the website (user-experience win!). Some style-guide emails use a single button that dumps shoppers on the home page (which is no bueno) or links each item to its own product page. The link-to-the-item strategy works well on desktops, but on mobile it's possible for shoppers to accidentally click the wrong link (which is also no bueno).
😎 Get ready for Memorial Day! Grab your beach towels, luggage and more NOW (in stores and online)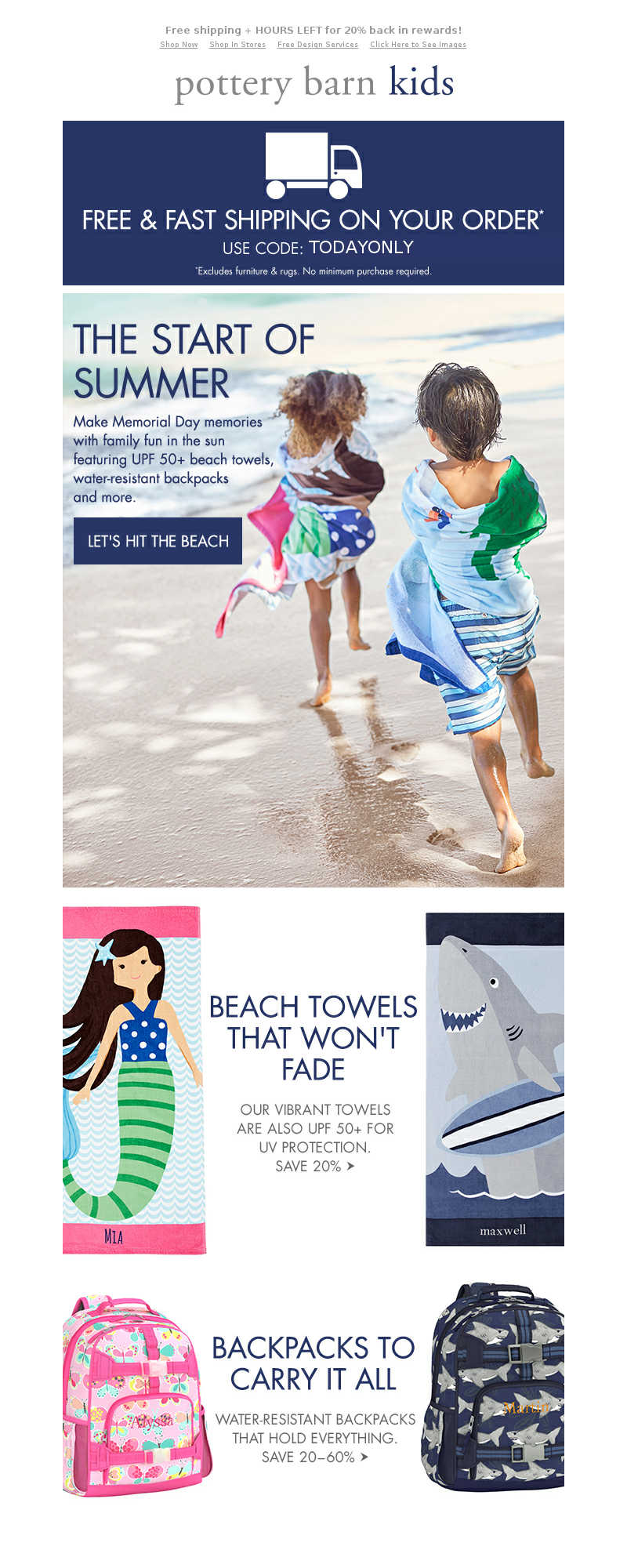 First, the subject line: This one shows you how to front-load essential information with keywords such as: Memorial Day, beach towels, luggage and NOW. It's hella long at 95 characters, but PBK is betting that enough email clients (especially on Android devices) will show the entire subject line in the inbox instead of clipping it at 40 or 60 characters. As an aside, though we prefer shorter subject lines, it's great to see that PBK front-loaded the most important keywords first.
The images in this email are totally on point both with the brand and the aspirational summer theme: beaches, kids playing and swimming in the sun instead of being tethered to their phones and tablets. Plus, a sun-and-sand theme is likely to appeal to someone stuck at a desk dreaming of a family trip.
Theme #3: Eating delicious food, and enjoying time with friends and family
That's what Memorial Day means for many Americans. Your emails can evoke togetherness, party prep and dressing, and everything else that goes with getting together on the long weekend.
Plan a Memorial Day BBQ in just minutes!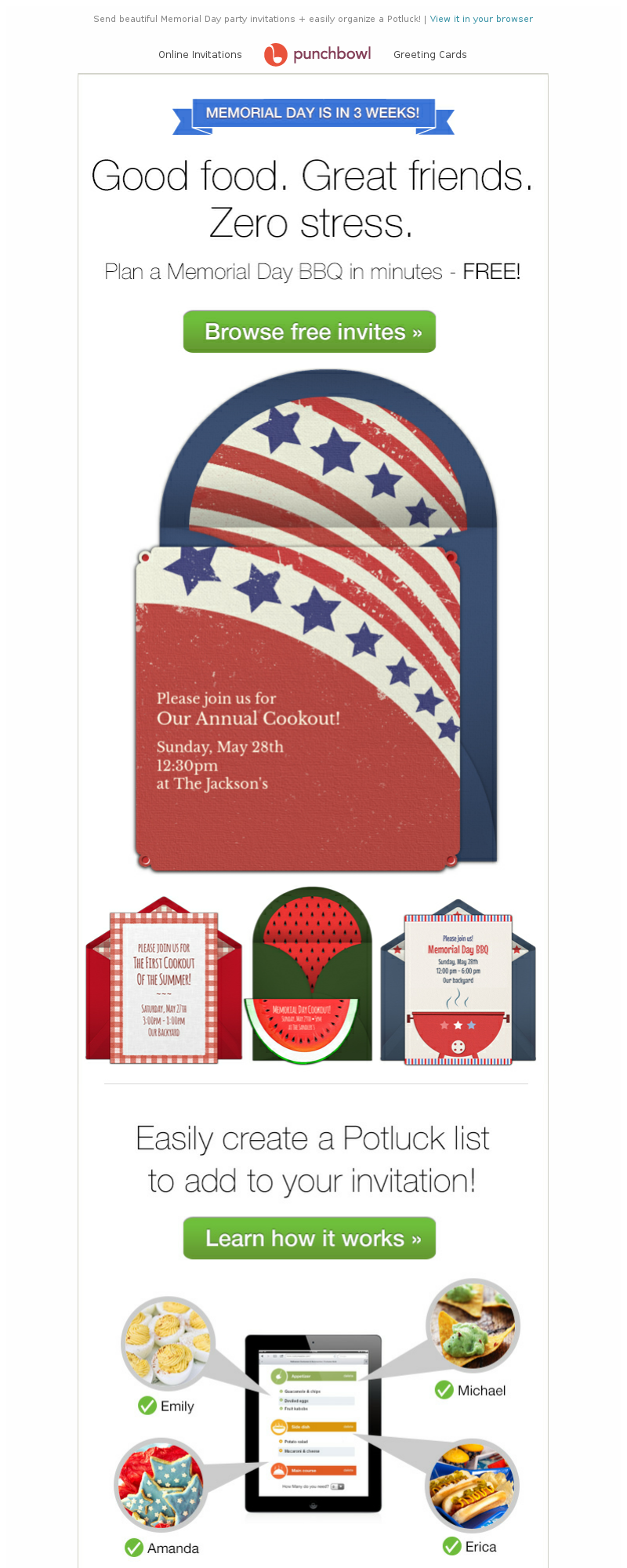 This email is awesome, starting with that spot-on subject line ("in just minutes" gets me every time). Also note the preheader text: "Send beautiful Memorial Day party invitations + easily organize a Potluck!". Totally on-brand, selling the benefits, not just the product and features.
In the message, the invitation examples evoke Americana and festivity, while the copy talks directly to the user who is probably overworked, stressed, and trying to put a fab party together from her / his work cubicle. The email nails it with its "can do" attitude.
Up To 50% Off Memorial Day Savings!

The top image looks like a left turn from the usual action-oriented artwork you see in sporting-good photos, but maybe that's why this photo, of a father and daughter sitting together quietly stood out in our search. The copy itself is pretty straightforward and promotional, but the subtle red-white-and-blue color scheme and the sentimental photo set it apart from other Dick's emails.
Inspiration for your Memorial Day spread

We chose this email for two reasons:
It highlights the other foods that star at a Memorial Day picnic besides burgers and hotdogs. Again, you're zigging when everyone else is zagging.
It's a great example of responsive design, using a modular layout that alternates copy and image blocks on desktop and tablet views but stacks them for easy scanning on a mobile screen.
If you're a MailCharts customer, go here to see how the email magically rearranges itself in mobile.
Theme #4: Go for the discount
"Yeah … so, if you could send out another Memorial Day email before you leave today, that would be grea-a-a-a-a-a-t…" We can just imagine the horrible "Office Space" boss saying that to you while hanging over your cubicle wall. On Thursday. When he knows you have Friday off.
But, instead of setting the building on fire, check out the emails below to see how you could put one together without scrambling your entire creative team.
Our Sale Ends Memorial Day (Only A Few Days Left)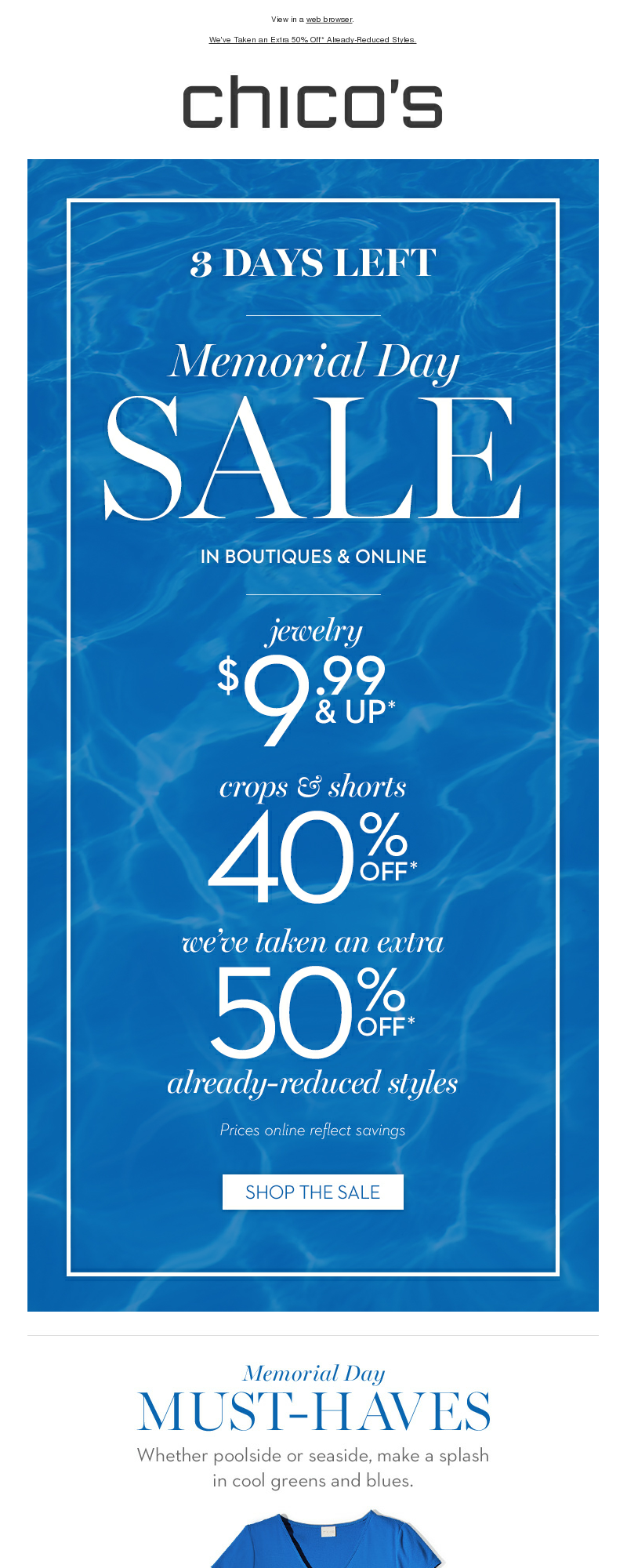 Chico's email makes us want to dive into that cool pool. Like, right now.
Notice the clean layout and white text over the colorful image. If you're under the gun to get out one more Memorial Day email before you leave the office, you can create something like this in a snap.
Ends Tonight: 40-60% off EVERYTHING! (Today's ONLY to-do.)

It's hard to beat an email that's simple and to the point. The calendar with the "last day" circled out is a really nice touch. We also like the "real life" photos included.
40% Off Everything for Memorial Day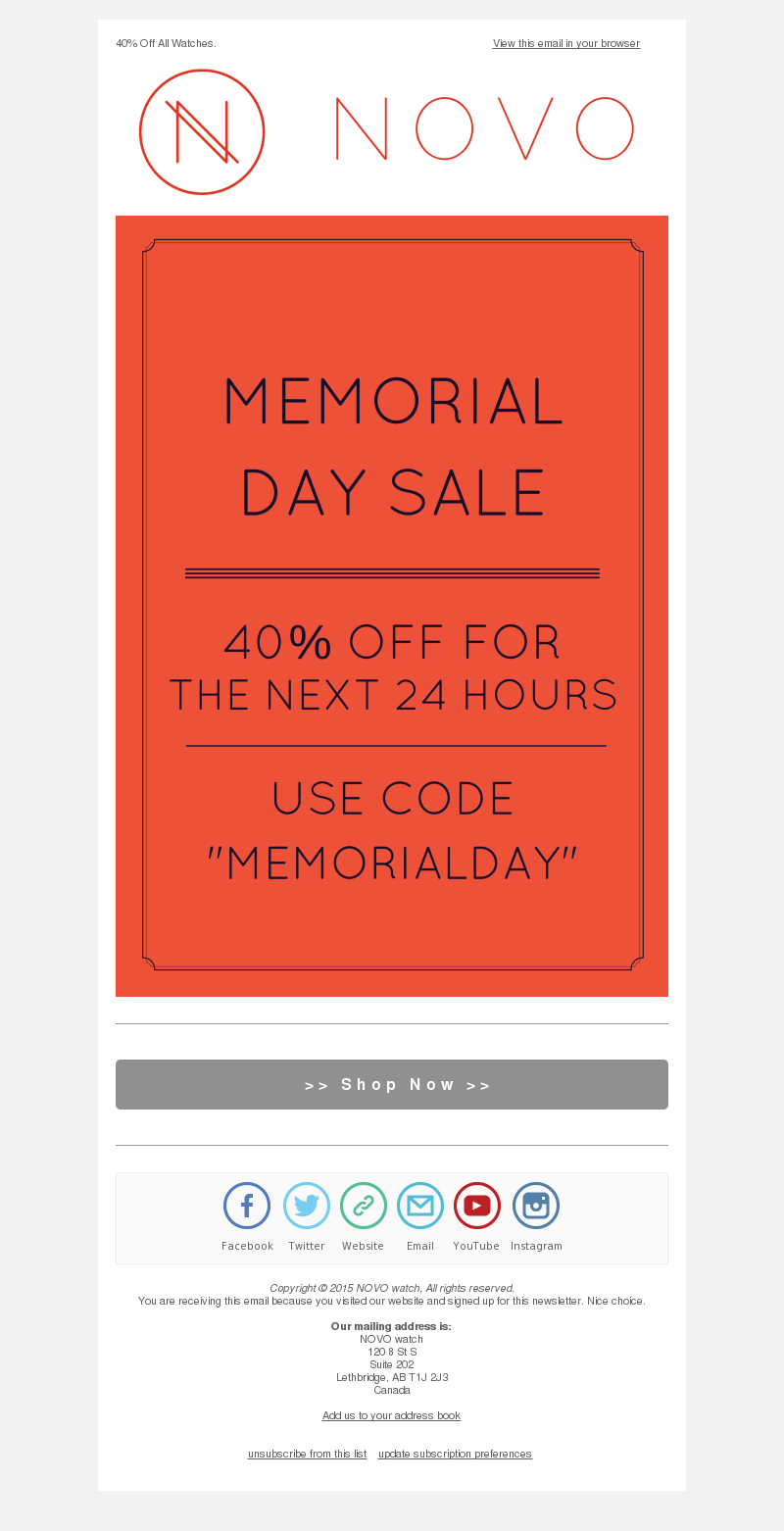 The Novo team stuck to bright colors and a clear message. This is a great alternative if you're design-constrained. Plus, the discount code is easy to remember: MEMORIALDAY.
Keep in touch!
We'd love to see what you come up with for Memorial Day promos. Tweet to us at @MailCharts. Don't forget to sign up for our free email newsletter. And, if you want to try out MailCharts for yourself, just drop us a note and we'll be happy to walk you through a demo. No obligation, no hassle!
Happy emailing, and we hope you enjoyed these promotional email examples!