Being humorous isn't easy, but that doesn't mean you should avoid sending funny emails. People base buying decisions more on emotion than on information and if you're able to make someone feel something positive, they're more likely to stay loyal to your brand.
Now, what's more positive than making someone smile?
Humor makes you relatable and draws attention, but stray too far from what your audience finds acceptable or what your brand stands for, and your jokes may hurt, rather than strength your image.
Below, you can find funny email examples from eCommerce brands who succeeded in finding the right tone.
Funny Email Examples and Why They Work
MPOWERD uses familiarity
FYI: You left a light on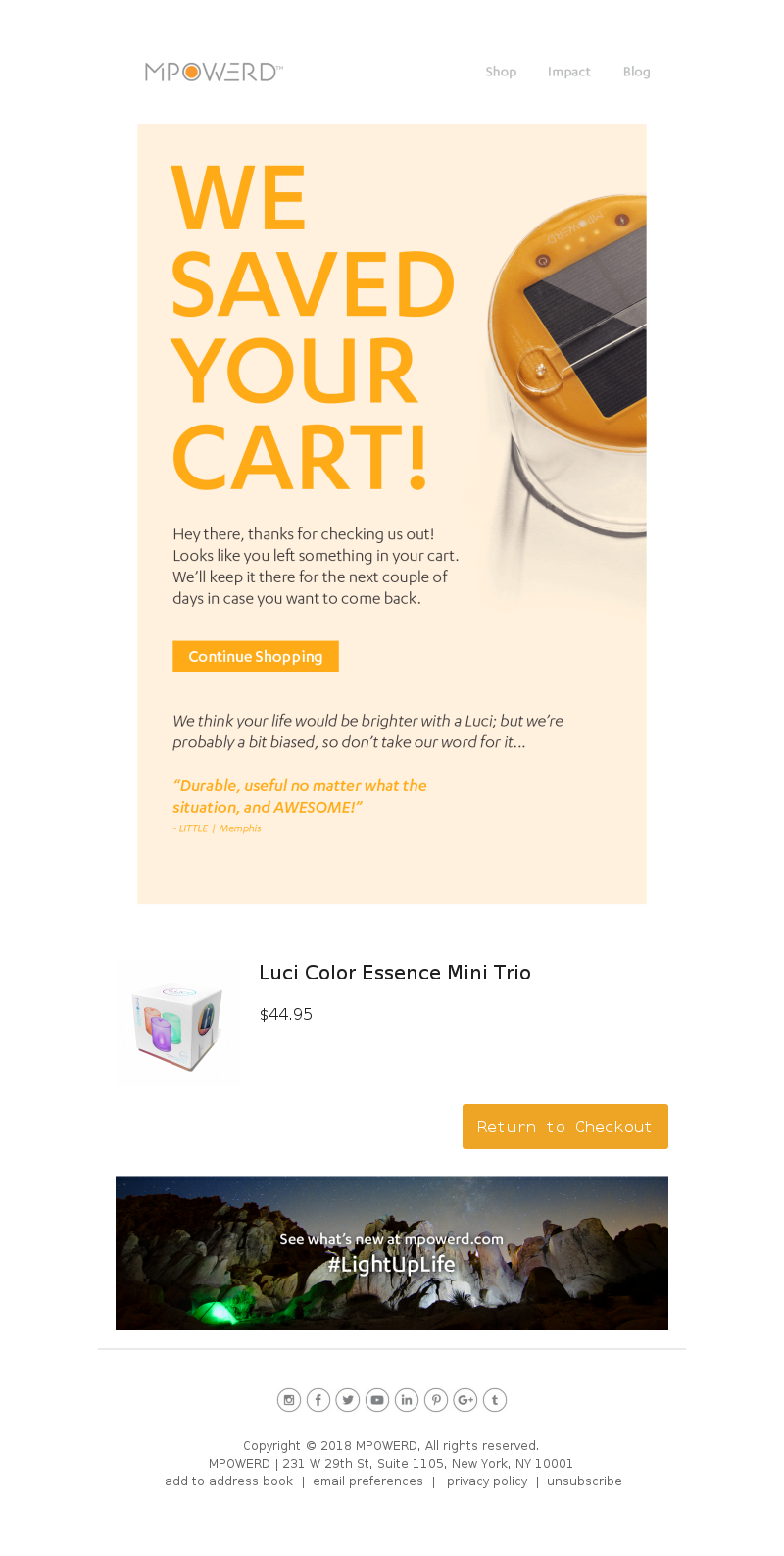 The subject line of this cart abandonment email by solar power products company MPOWERD is both on-brand and on-topic. It uses the all-too-familiar scenario of having to tell someone you live with that they left a light on, or better: that they forgot to do something. It's funny because it's so recognizable.
At the same time, the email's preheader text and body copy let the recipient know they forgot something in their shopping cart but not to worry, as it will be saved for a few days. By adding a vague time limit, MPOWERD does two things. First, it creates a sense of urgency, warning the shopper that if they still want to buy a Luci after those few days, they'll have to look for it again in the online store.
Second, by not specifying exactly how many days the cart will be saved, they urge the shopper to complete their purchase now.
The customer testimonials are dynamic and serve as social proof, while the CTA doesn't ask the shopper to "buy" but uses the copy "return to checkout" to make it feel as if the shopper is only finishing what they already started.
Shinesty manipulates… in a funny way
The interns won't be fed 'til you buy a pair

Humor is at the core of Shinesty's branding and its subscribers know they don't need to take the apparel company's email marketing campaigns too seriously. Still, you'd have to be a cold person not to want to support Shinesty's interns after they tie-dyed a range of underwear for a rather meager reward.
What's great about this email is that it not only maintains its funny storyline from the subject line until the end of the body copy but also uses that storyline to let the recipient know how amazing these new undies are.
Birddogs turns their products into people
Meet Mitch Cumstein: The Worst Roommate Of All Time

Shorts brand Birddogs has a particular sense of humor that goes well beyond the use of witty puns. This helps them stand out among all the vanilla fashion brands for men while attracting a specific type of customer.
In this email, Birddogs announces that a specific shorts model, the Mitch Cumsteins, is back in stock. However, instead of listing all the actual features of the shorts, the email introduces the Mitch Cumsteins as an annoying flatmate. The combination of textual complaints about Mitch's behavior and illustrative GIFs shows, rather than tells, what the Mitch Cumsteins shorts represent.
It's not something most people would want to have around but Birddogs knows its audience will think it's hilarious, and who wouldn't want shorts that annoy the heck out of people?
Brendon Lingeries and Brooklinen prove that wordplay work
Cheeky deal inside 👀

Employing puns to add humor to your eCommerce emails isn't very original anymore, but there is a reason so many brands do it: it works! And it works even better when those puns involve topics that might make some people blush.
The way Brendon Lingerie refers to its brief deals as "cheeky" is a good example of this. The use of puns continues within the email copy as the brand urges its subscribers to "keep it brief".
Wow, this sheet is good...

Brooklinen uses on-brand wordplay as well by substituting the colloquial use of sh*t for the product they're selling: sheets. The wit in this subject line will make the recipient smile and at the same time, it's vague enough that they'll want to open the email to check which sheet this is about.
Birchbox and Huckberry reference pop culture
Ch-ch-changes


Funny email subject lines don't need to be long. Birchbox' simple one-word subject line instantly puts David Bowie's song in your head – assuming you know it. This may not make you belly laugh, but it's likely to put a smile on your face and it's a much more entertaining way to announce your sustainability mission than simply stating "We're improving our sustainability efforts".

Yooou Shaaall Nooot Passs (Yet.)

In the email above, menswear brand Huckberry doesn't refer to popular music but to the famous movie trilogy Lord of The Rings. A true hype when it was released, Huckberry can be pretty sure that subscribers will recognize the "You Shall Not Pass" line as the one spoken by the wizard Gandalf.
Instead of stopping a fantasy creature from passing a bridge, Huckberry wants to stop the recipient from entering fall without the proper gear and to do so, they're organizing a Labor Day Weekend Sale.
Native lets customers be funny for them
"My Coworker Threatened to Call the Department of Sanitation. Not Anymore..." & Other Hilarious Reviews

If you don't have a great sense of humor yourself, or are struggling to come up with a creative idea for your email marketing campaign, why not leave the job to others? In this email, Native features cool customer reviews to promote their different deodorants and they chose one of the funniest lines from those reviews to use as their subject line.
Not only does this make you want to open the email to read the other funny stories, it also makes this promotional email more genuine as practically the entire email body consists of social proof. It's not Native advertising Native, it's their customers doing it for them.
Quip gets sassy
Break bad habits, not hearts (+$10 off!)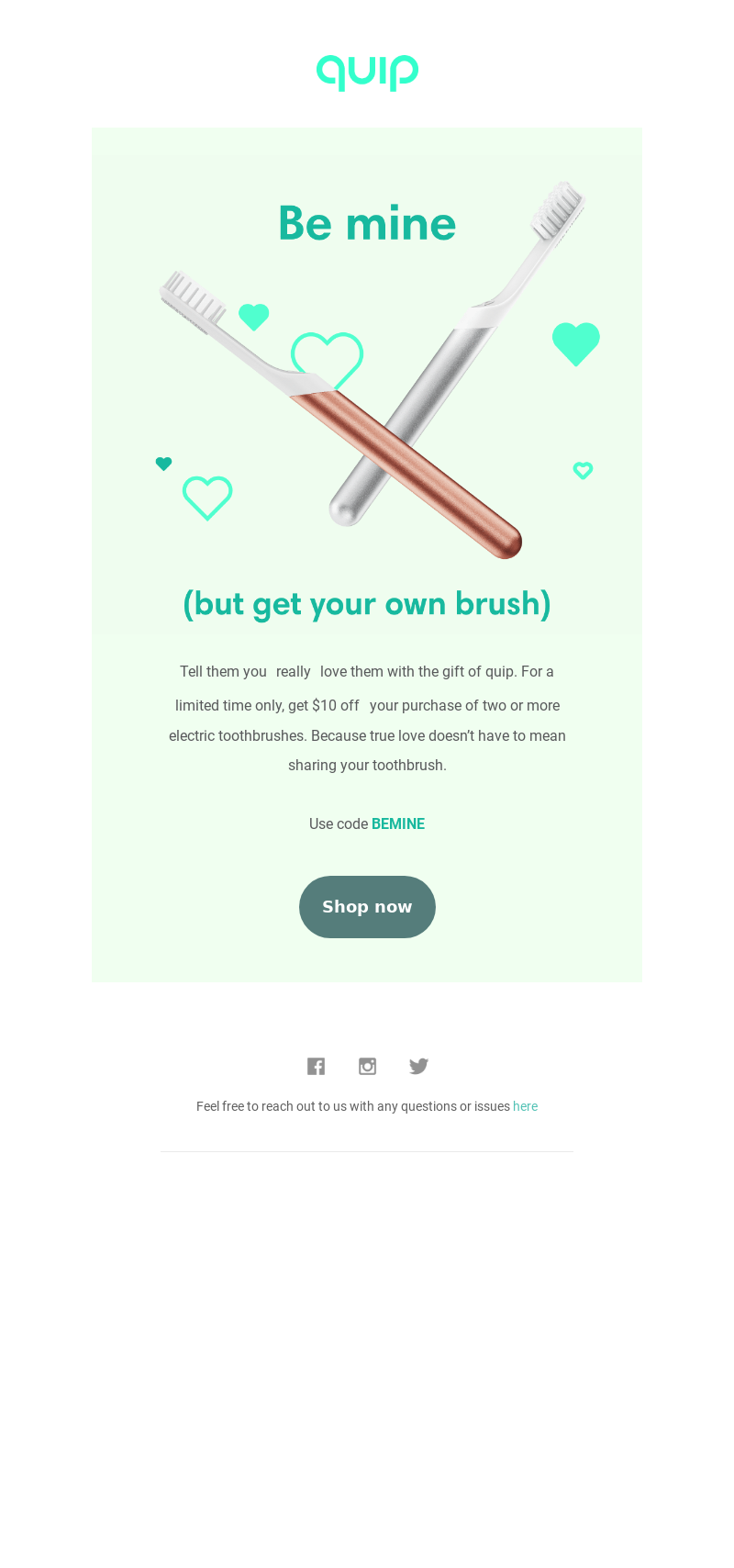 So far, the funny email examples we've seen have focused on using humor in their subject lines. Quip's email marketing campaign, however, hits the mark with their email copy. Sent a week before Valentine's, it starts romantically with "be mine" but then warns the recipient to get their own toothbrush.
If you were talking to your partner, this would be a cheeky thing to say, similar to "I love you, but don't touch my fries". Never used that one? Must be just me…
The line also reminds of a relatable situation: your partner may frequently be spending the night, but they seem to always forget their toothbrush. It's time to fix this issue and buy the both of you some Quip toothbrushes. You'll even get $10 off.
BarkBox swears away
🤬⚠️ FREE UPGRADE MOTHERPUPPERS

BarkBox sells subscription boxes for strong-charactered dogs and their owners. Their language is often as vibrant as the colors of their email templates and this email is no different. Offering new customers a free curse collar for their dog, BarkBox stays within the cursing theme by using strong vocabulary all throughout their email copy.
Nobody should be surprised when opening this email as the subject line already sets the tone with the funny "swearing" use of "motherpuppers". The risk of upsetting anyone is reduced through the preheader text, which explains that you'll get a free curse collar with your first subscription box.
Then again, BarkBox doesn't have much to fear as dog owners who can't be convinced with some funny cursing probably aren't a good fit for their brand anyway.
Poo~Pourri and TUSHY create subtle poop humor
In a GaLOOxy far far away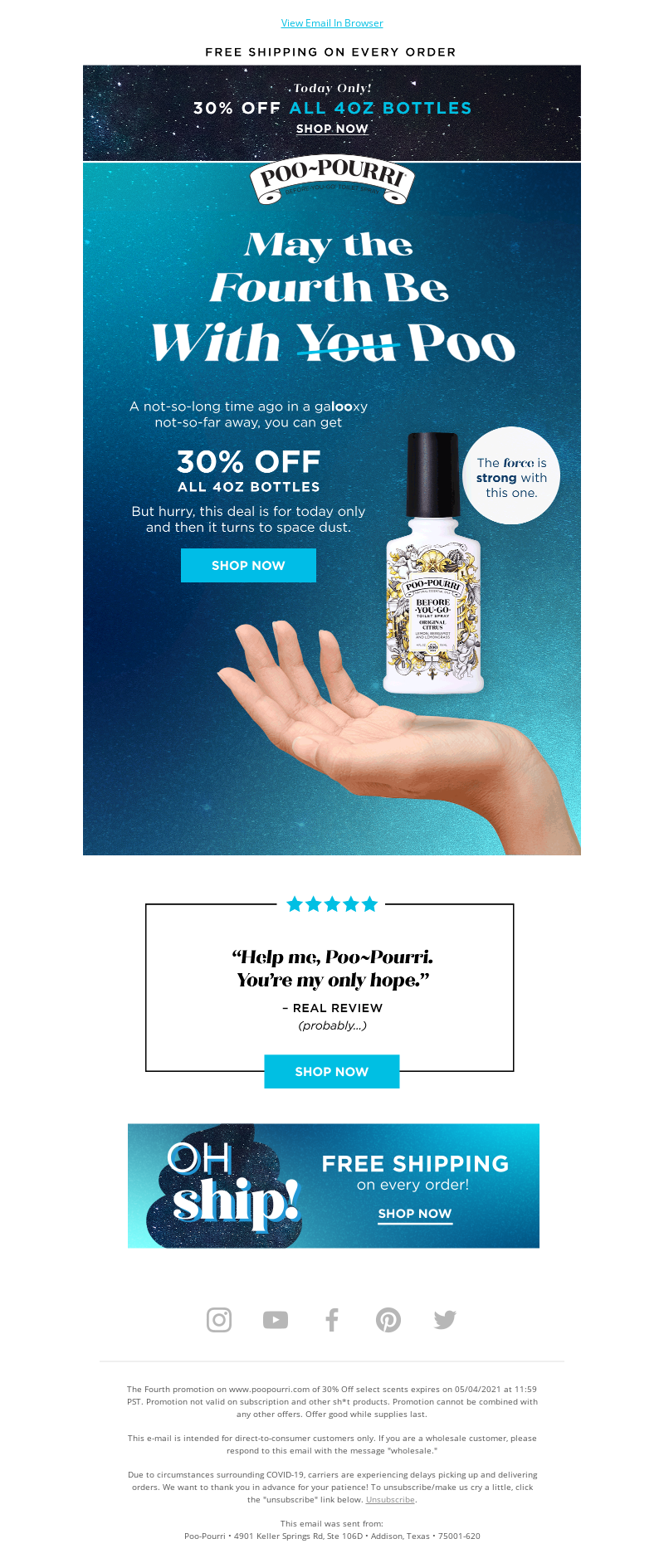 Poop humor is often seen as childish and easy but toilet spray brand Poo~Pourri proves that poop jokes don't need to be in your face (luckily). They use clever wordplay throughout their email marketing campaigns in such a way that it's become something to recognize them by.
Even when dedicating their emails to special holidays, like Star Wars Day, Poo~Pourri manages to include some brand-relevant vocabulary in their message by replacing the word "you" with the similar-sounding "poo". And the subject line for this email? That reads "In a GaLOOxy far far away".
Did you poo-crastinate?

TUSHY is another toilet brand that uses subtle poop humor. This Mother's Day email is aimed at those who "poo-crastinated" getting their Mother's Day gift and goes on to emphasize that every mom poops, so you really can't go wrong with a poop-related gift.
Funny Emails Make You Memorable
Putting a smile on your subscribers' faces is a surefire way to make them remember you while creating some instant goodwill. Make sure to not stray from what your brand stands for and find out what is funny to your audience, and what's not, to use humor successfully in your email marketing campaigns.
Analyze your data, survey your subscribers, and keep an eye on your competitors. Sign up for a free MailCharts account to get access to email marketing campaigns from thousands of eCommerce brands and see how they're using humor to get more sales.