Q2 offers many retail-friendly holidays and trends online retailers can use when planning their spring email marketing campaigns. In fact, the combination of Mother's Day, Father's Day, St. Patty's Day, and Easter amount to $58 Billion in total consumer spending, according to the NRF.
This is the perfect opportunity to boost revenue by introducing a new product, tapping into spring fashion trends, or inspiring customers with a vibrant marketing campaign.
Let's explore four spring email marketing strategies you can use to give your Q2 sales a bump.
1. Drive Sales with Timely Holiday Content
As mentioned earlier, spring is full of holidays you can leverage to boost sales. The typical approach is to use one-off promotions or "gift guides". But, this year, why not try something different?
We really like Shop Spring's content-first approach. The email provides beautiful visuals, stylish quotes, and the opportunity to shop the look.
Wearing mom jeans on Mother's Day is actually a sign of respect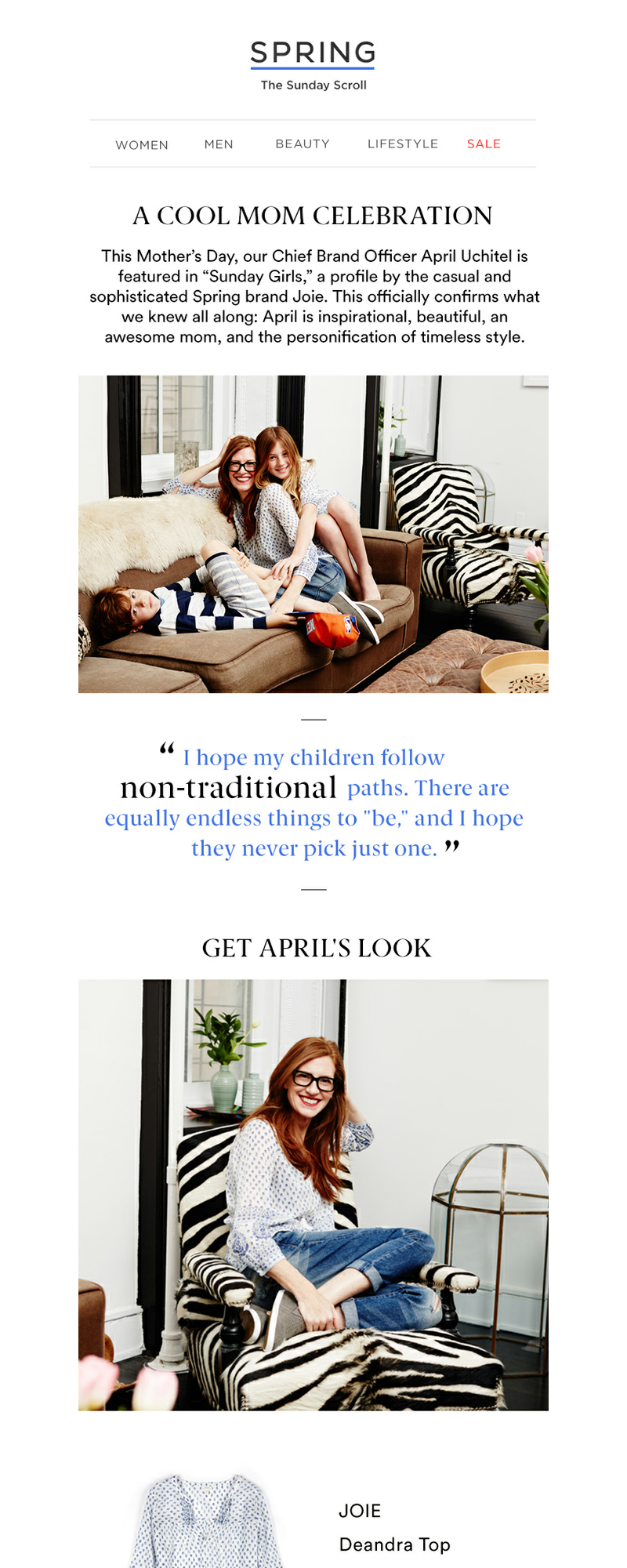 Takeaway: Give your standard promotional schedule a break and inspire your audience instead. Also, don't forget to mention the specific holiday you're promoting in the subject line.
2. Add Color to Your Emails
Use punchy colors and lively keywords in your emails—while sticking to your brand guidelines, of course.
Take Chatters, for example. Notice how they use bright blues, pinks, oranges, and yellows?
Spring Is Here And So Are Our New Deals!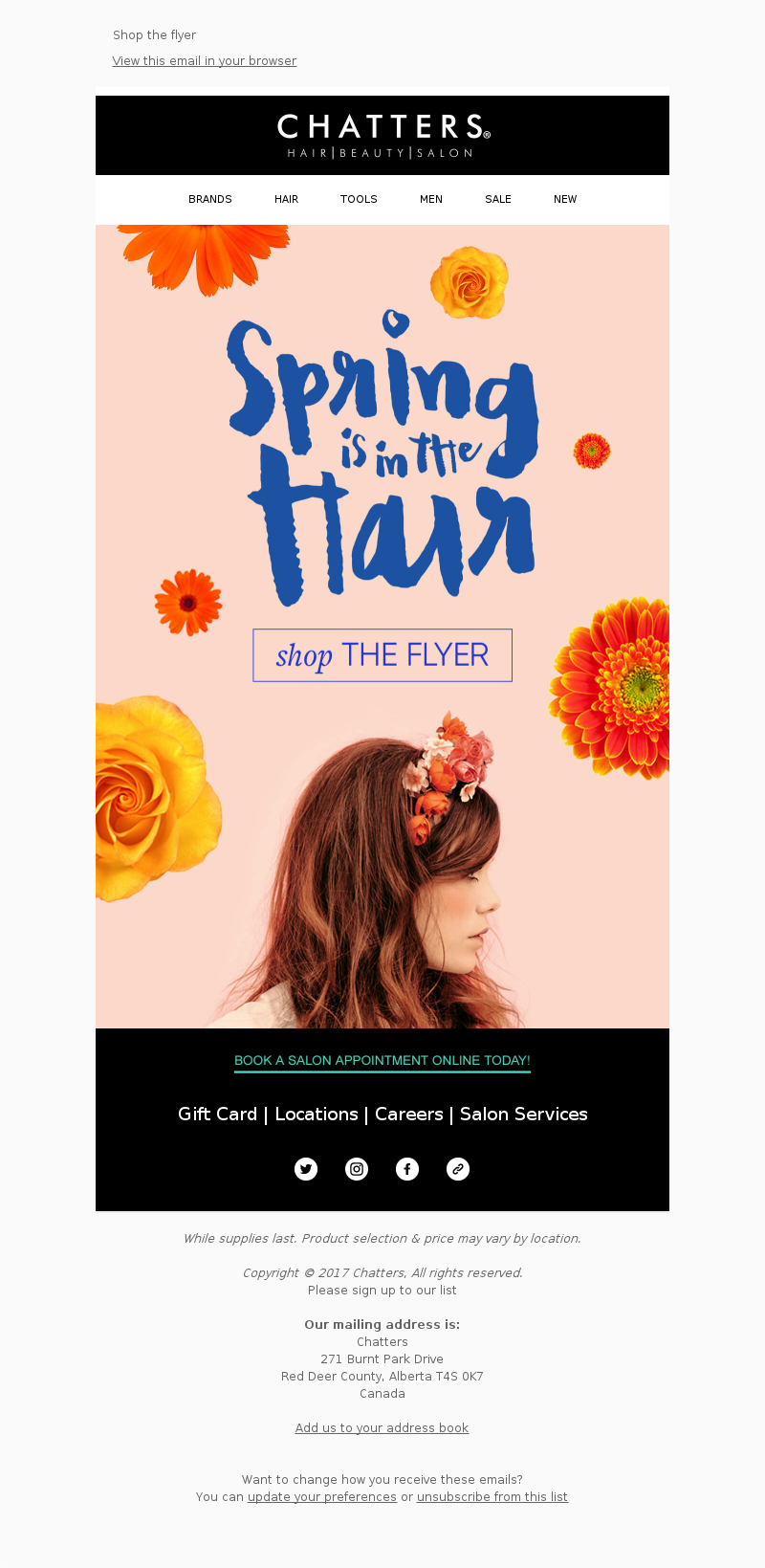 J.Crew did something similar.
It's spring! Celebrate with 30% off your purchase.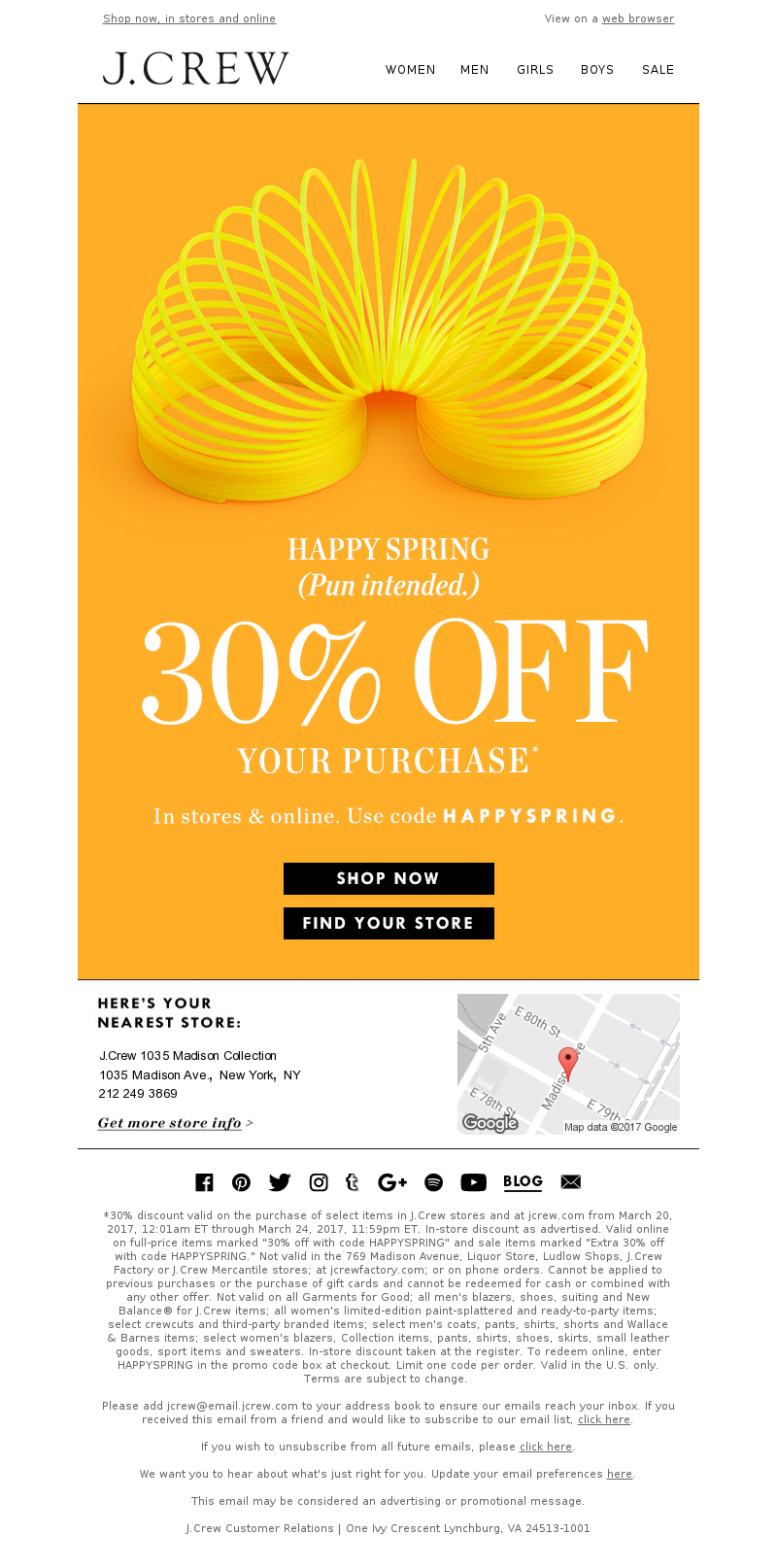 Takeaway: Excited by colorful blooms and longer days? So are your customers. Bright colors and language reflect these feelings. Use them in your layout and copy.
3. Launch New Products by Channeling Spring Trends
There's no better way to incite FOMO than introducing new products alongside content on the latest spring trends.
Very spotlights must-have, trend-driven, styles that are instantly shoppable. Notice how they use an animated GIF as a product carrousel too.
It's all about separates...

Takeaway: Spring trends give consumers a reason to shop out of desire instead of necessity. Tap into this mentality by showing them how your new product or collection relates to the latest trends.
4. Clean the House with a Sale
Rare are the times when we encourage you to send promotional emails. This is one of these rare instances.
Right now you have an opportunity to catch up from slow Q1 sales and get rid of outdated inventory by offering deep discounts.
Nordstrom Rack took the traditional clearance route by sending this email just before the official arrival of spring.
Last day for EXTRA 25% OFF winter clearance!
Abercrombie took another approach. They sent an email focused on their Spring collection and included the clearance as a secondary section in the email. (Click here to view the full email.)
Sayonara, winter!

You now have 4 email marketing strategies to boost Q2 sales. Try them in your upcoming spring campaigns and let us know how it goes!
And, if you're interested in understanding what your competitors are up to this spring, you should join MailCharts. We'll help you understand their email calendar along with their segmentation strategy.