People love coupon emails.
Coupon emails are digital vouchers or promo codes your subscribers can use to get a discount on their purchase or to get something extra for free.
In 2019, 92% of consumers reported using coupons and 88% of them preferred getting these coupons via email. On top of that, online shoppers tend to spend 24% more than people who don't use coupons.
If those numbers didn't convince you yet, email coupons are also more environmentally friendly than paper coupons, and allow for better tracking and optimizing of your coupon marketing campaign. You can:
track their open rate.
track their click-through rate.
track their conversion rate.
track their unsubscriber rate.
But what should your coupon emails look like? We listed some examples below.
Email coupon examples to experiment with
Seasonal offers
Seasonal offers like this can increase customer loyalty. When subscribers know you offer discounts and other types of promotions at certain times of the year, they might wait to buy from you instead of your competition because they know a discount is coming up.

Menswear brand Travis Mathew puts its Cyber Monday sale front and center in this email. If the promotional offer in the big font isn't enough to make the subscriber click, the images of discounted products might just do the trick.
Some other ideas for times of the year to send email coupons:
Valentine.
4th of July.
Labor Day.
The start of spring.
The start of the school year.
Local store-based discounts
If your brand also has physical stores, you can segment your subscribers based on their location and send them an email voucher to spend at the store closest to them.
An offer like this feels more personal and invites subscribers to engage with your brand offline as well.

Petco offers subscribers a 20% discount on their first purchase both online and in-store. The brand makes it super easy for in-store shoppers to claim their discount by including the coupon barcode directly into the email so that it's accessible on mobile.
Signup incentives
Getting a discount or other type of special offer is the top reason people sign up for an email list. It's a great way to get new subscribers who are ready to purchase as soon as you send them that coupon.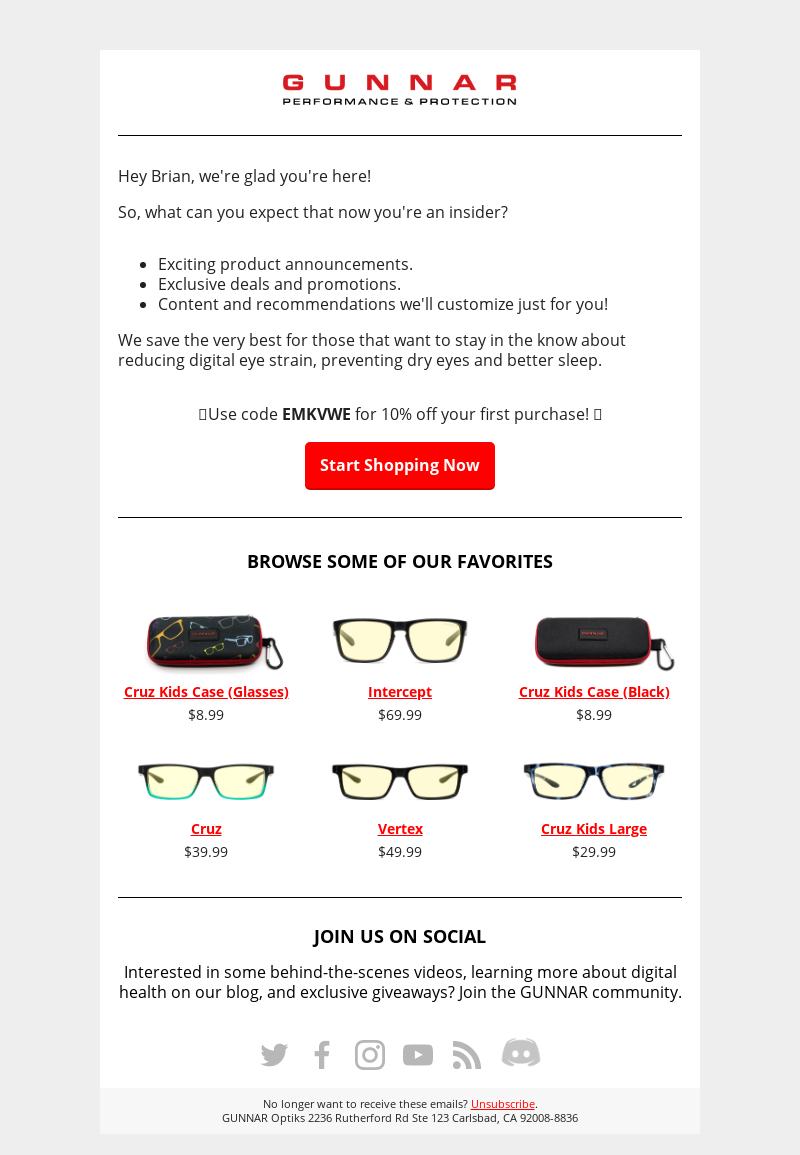 Eyewear brand GUNNAR offers new subscribers 10% off their first purchase. Their big red CTA button is impossible to miss and GUNNAR combines it with product images to entice the reader even more.
Subscriber-only coupons
People love being part of something exclusive and your list can easily be that something. Don't just ask them to sign up, but ask them to "become a member" instead. Offering member-only discounts works well as an incentive and makes your subscribers feel special each time they get an exclusive offer in their inbox.

World Market offers its reward program members a "member exclusive" discount they can claim both online and in-store. The word "exclusive" is used no less than three times, emphasizing that this really is a special deal other people aren't getting.
Reward schemes
Instead of offering discounts or doing a promotion for immediate use, a lot of brands have a reward scheme through which customers get a discount or free product after a certain number of purchases.
This creates loyalty as your customer knows that each time they buy from you, they're getting closer to a discount. In a study, more than 82% of respondents said they're more likely to buy again from a brand if that brand has a reward program.

JCPenney rewards subscribers for more than shopping! Here they're offering a bonus reward for completing a survey as well. While this email also features a coupon, the brand's rewards program is front and center, explaining to subscribers they can earn bonus rewards for completing a survey.
Event coupons
Brands use email coupons both to get people to attend events and to keep them engaged after an event. A coupon for a free drink might entice someone to actually visit your stand at a fair while a discount code valid for a limited period after a virtual summit might convince them to buy the session recordings.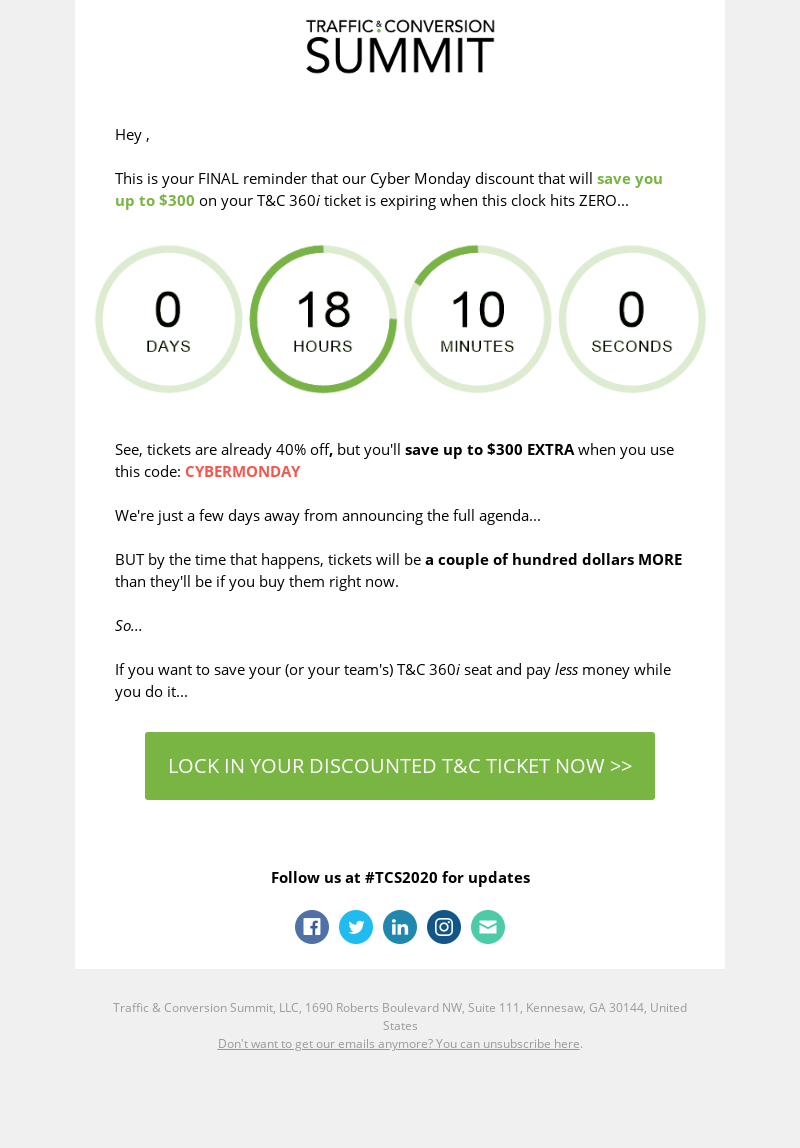 Traffic & Conversion Summit recently sent out an event promotion. They offered a whopping $300 discount off tickets for their 2020 virtual summit for Cyber Monday
How frequently do brands send email coupons?
While you should always test what works best for your audience, you don't need to come up with an email coupon strategy from scratch. By tracking what emails your competitors send, you can get a sense of what works for them and start from there.
Additionally, you can keep an eye on non-competing brands that target the same audience you do, as they might already have figured out what that audience responds well to.
If you sell glasses and sunglasses, for example, you'll want to stay up-to-date with email marketing trends in the fashion industry.
It's also useful to keep an eye on how frequently brands within your industry send out offers and promotions. With MailCharts you can view the most promotional brands in your industry and gain insights into the most common email promotions, coupon types, and other promotional trends. As the graph above shows, these promotion frequencies fluctuate throughout the year.
The Mailcharts database contains millions of emails from thousands of brands across a wide variety of industries. Not only do we collect these emails, we also analyze them to give you a breakdown of things like subject lines, email frequency…. and how often certain industries send promotional emails.
Want to get an in-depth understanding of the email trends within your industry and the email activity of your competitors? Sign up for a free MailCharts account and get instant access to thousands of email coupon examples.
Bonus best practices for sending email coupons
Segment your list
Segmented email lists outperform non-segmented email lists in every possible way. That means that if you make the effort to send your subscribers personalized email promotions, those promotions will convert better.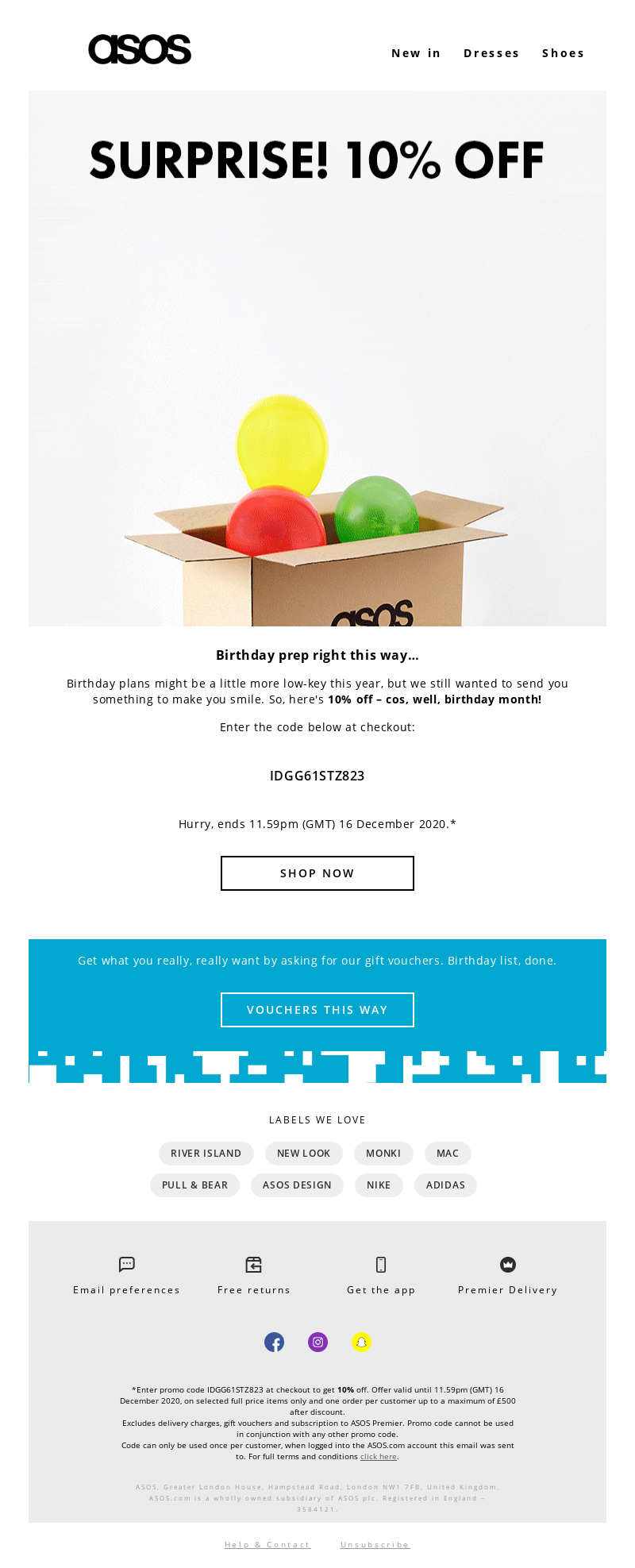 If you want to get truly personal, do like ASOS and send your subscribers a special offer for their birthday. As ASOS' email explicitly mentions, your customers probably won't be expecting this and with their birthday coming up, it's the perfect time for them to treat themselves.
Don't overdo it
Email coupons work well but you want to avoid people getting used to them. If you send your subscribers a discount every week, they'll stop paying attention to sales and always expect a discount.
You should be mindful of product devaluation. If you constantly offer a 20% discount on your $100 product, customers will learn that that product is really only worth $80. An offer that is always there isn't an offer anymore. It devalues your product and comes across as a little sleazy.
Wrapping up
People love receiving email coupons and tend to spend more money when they use them.
There are various ways you can use email coupons to boost sales. Always try what works best for your brand.
Tracking what kind of promotions other brands are sending and when can give you valuable insight into what works in your industry and what kind of tests you should be running next.
Following email marketing best practices, you'll want to segment your list so you can send personalized offers – but never overdo it.