This blog post is an extract from our 2016 Holiday Report. Access the 100+ page report for free here.
The majority of Cyber Monday sales took place online, accounting for a total of $3 billion. Sales in 2015 increased by 16% compared to 2014.
Mobile devices accounted for $799 million in sales and, based on 2014 numbers, 78% of sales were placed on an Apple device.
Unsurprisingly, retailers relied heavily on emails to drive sales during Cyber Monday. But as our data show, a staggering 56% of emails are sent on Cyber Monday. Less than 17% of emails go out the week leading to the holiday.
To build anticipation and make your company the one subscribers associate with the holiday, we suggest bucking the trend and crafting a pre-Cyber Monday campaign.
That's exactly what Motorola did in 2015, for example:
Preview Cyber Monday now!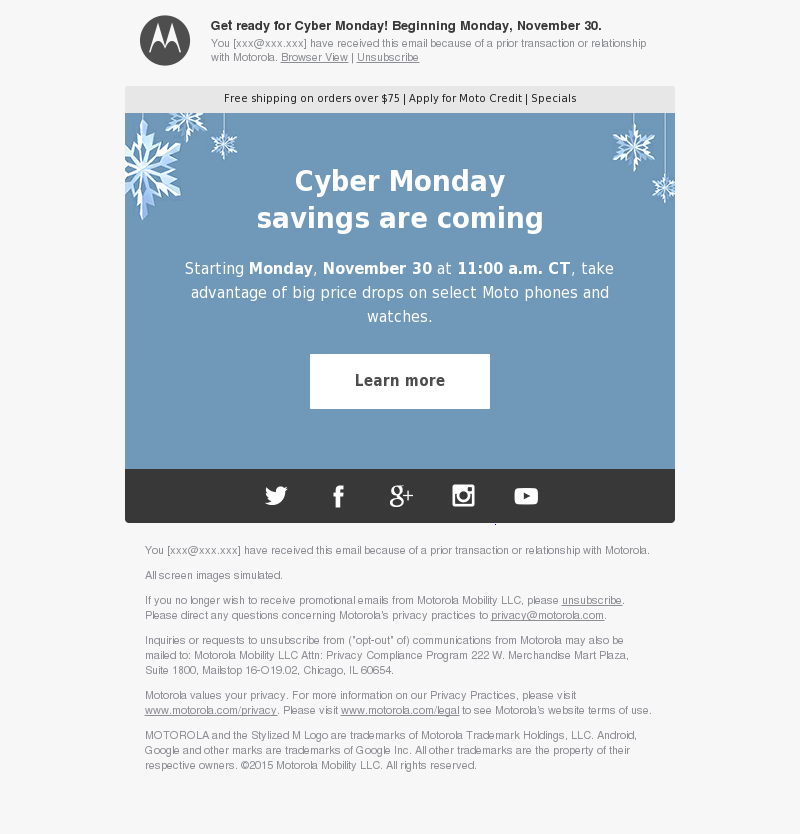 Cyber Monday savings up to 50% off today.

Motorola's two-part approach to Cyber Monday lets them capitalize on the thrill of a major discount not once, but twice.
Note: Like Motorola, space out your promotions to avoid consumer fatigue.
COOLS CYBER MONDAY SALES

Sometimes less is more. Most retailers use punchy language, bright graphics and color schemes, and high-emotion CTAs to advertise Cyber Monday; however, this email from COOLS clearly uses a more toned-down style.
The messaging and design speak to COOLS's target persona: young urban professionals, who'd probably be turned off by anything more aggressive.
The takeaway? Make sure your campaign stays true to your brand. It's easy to get caught up in email trends—you don't want to sacrifice long-term brand loyalty for a short-term boost in profits.
Note: Notice how their subject is all-caps (likely because their name is always displayed in all caps). All-caps subject lines are number five on Mailchimp's list of top 10 spam triggers. Use them with caution!
Cyber Monday Sale Extended! Save 50% Off Site-Wide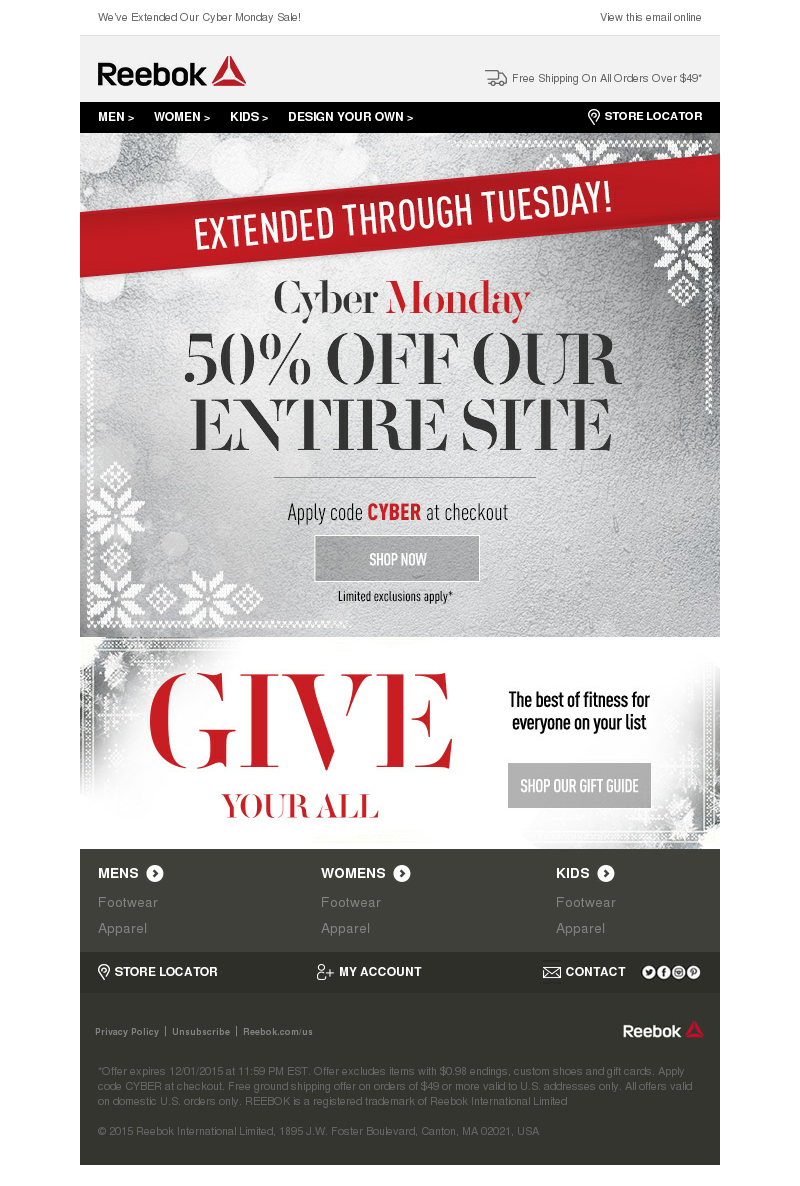 Reebok chose an effective subject line for its Cyber Monday extension announcement. It's descriptive, specific, and most importantly, attention-grabbing.
The campaign's well-crafted title is matched with a strong design and compelling CTA. The banner across the top immediately catches the reader's eyes (especially because it's red). The email doesn't tell them anything new—all the necessary information is in the title—so they can immediately click "SHOP NOW" to be taken to Reebok's site.
Extending your Cyber Monday sale for 24 hours helps capture all the customers who waited too long the previous day to make a decision. It's also a chance to stand out now that email volume is lower and the other deals are over.
Good to know: 14% of Cyber Monday emails are sent after Cyber Monday—as a "last chance" reminder.
It's your last chance to save 20% for Cyber Monday.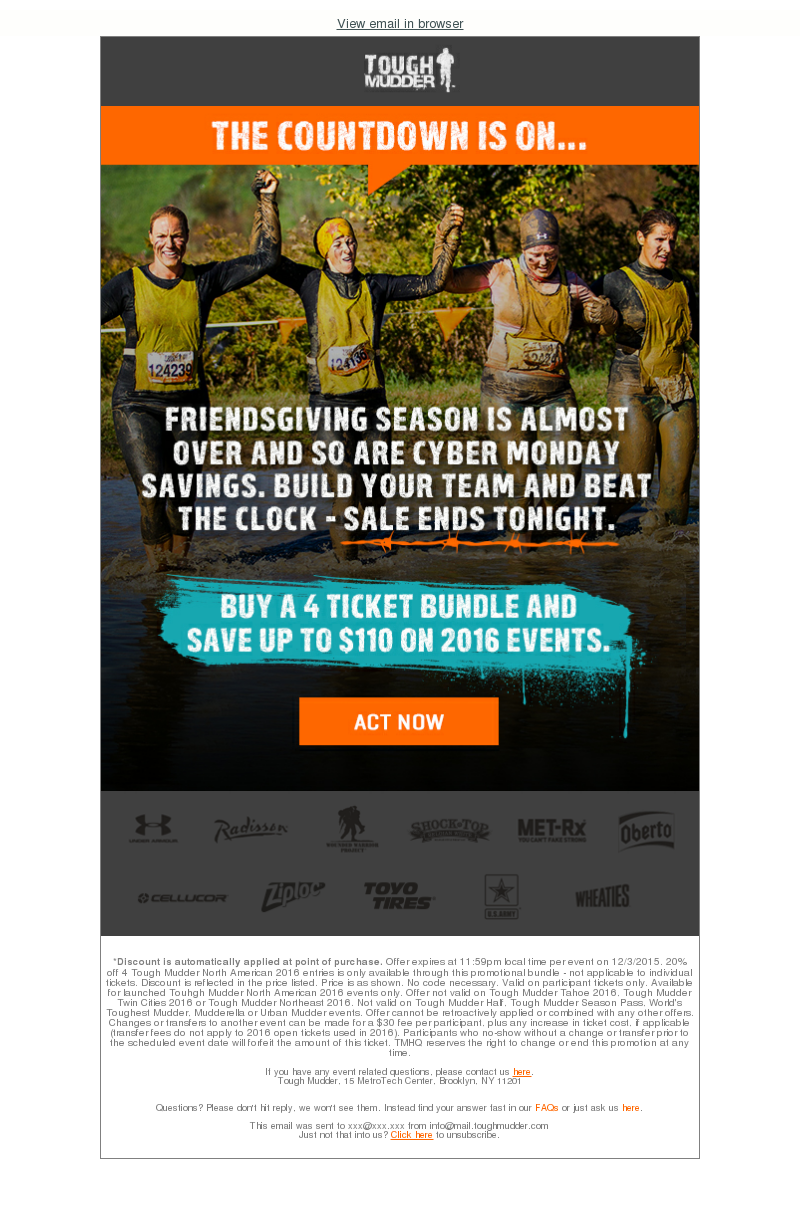 Notice how Tough Mudder's subject includes "last chance". Once the email is opened, the sense of urgency is heightened by the header announcing "The countdown is on," the directions to "beat the clock" and "act now".
Mentioning "Friendsgiving" is a nice touch. Not only is Tough Mudder borrowing lingo from its customers, but the brand simultaneously appeals to its community.
How to Optimize Your Cyber Monday Email Campaigns
Here are the essential takeaways:
Stand out from other retailers by sending a pre-Cyber Monday campaign
Don't compromise your brand's aesthetic or personality for the sake a temporary conversion boost
Try "giving away" your promotion in your subject line
Tie your call-to-action to consumers' emotions
Don't forget to send a last-chance email
It's not easy to drive traffic and sales so soon after a major retail event like Black Friday. But, with this game plan, you should have no problem reaching your consumers—virtually, that is.