Time is almost up. We're all under the gun to finish up our holiday outreach and, when we're not in the (work from home) office, finish up our holiday shopping.  Still, this week's #EmailsWeLove may give you some down-to-the-wire ideas for year-end campaigns — not to mention suggestions for tweaking your cart or browse abandonment or thank-you-for-your-order emails.
---
Mailcharts, Thanks for Shopping With Us!
We love the confidence in @Kiehls' appreciation email. The line "Healthy Skin, Guaranteed" reassures customers they've made the right decision! Find the inspiration to write the perfect "thank you for your order" email when you join @mailcharts (it's free)
Like to see more Thank you for your order campaigns? Check out our entire curated collection.

---
Gift like a pro with our holiday gift guide
We adore @Croc's Christmas gift guide: it's wrapped in the colors of the season, showcases popular styles and sports the kind of disarming, puntastic headlines that engage even the grinchiest holiday shoppers. Bravo!
Eager to browse more Gift guide emails? We've got 181 in our curated collection.

---
worrying about Christmas presents? we can help 🎅
Christmas shopping is usually stressful, so we were won over by @Diadoraofficial's soothing subject line and layout, festive animated GIF and shop-ready Gifts for him and Gifts for her click buttons. A December 5 and 20 #EmailsWeLove standout!
Or if you can't wait, grab a preview of our hand-picked Christmas collection.
---
Time is almost up on your cart!
Cart abandonment + countdown clock = instant sense of urgency! Even better, @RadioShack's countdown illustration looks like the alarm clock you've probably got next to your bed. Time to wake up and complete that purchase!
And for your browsing pleasure we've carefully curated over 216 Cart abandonment emails from brands as diverse as Snapfish, PetEdge, Ouai, Bumble and bumble, Swatch and more.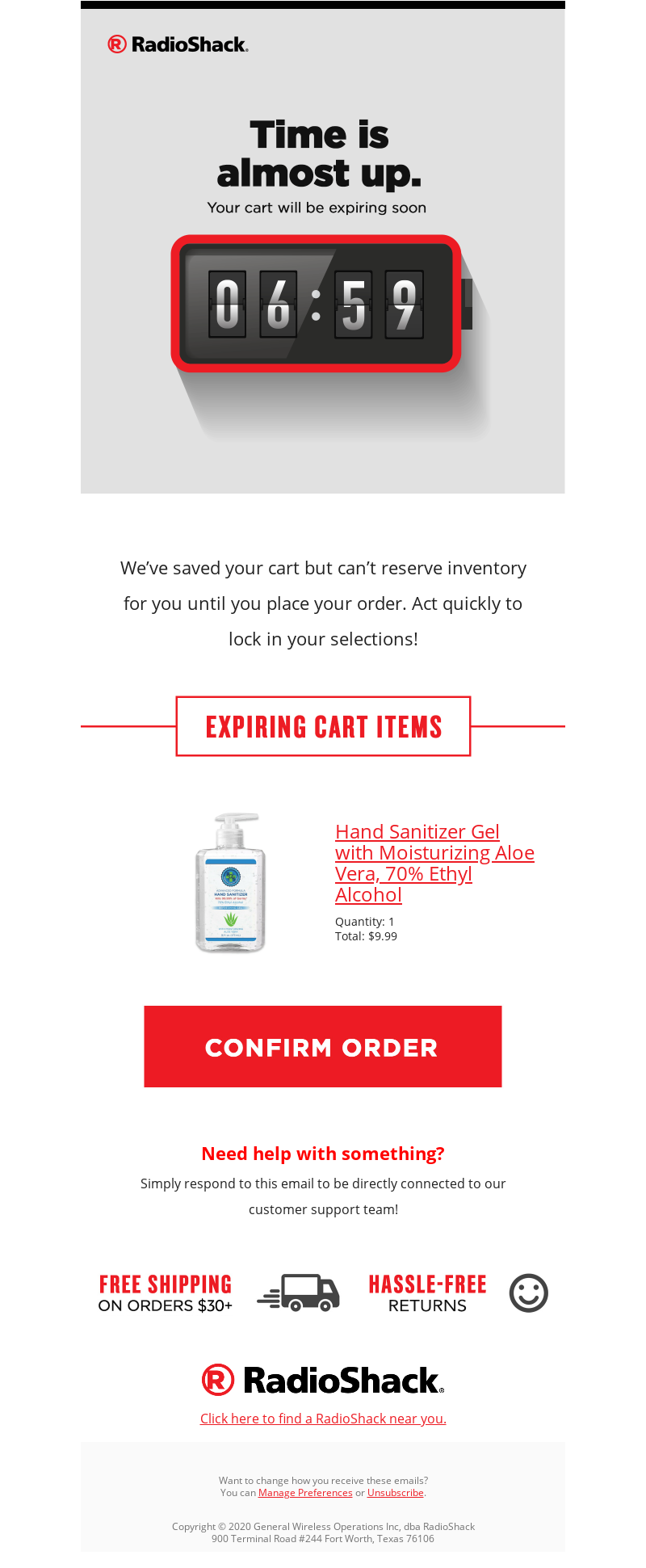 ---
Still Deciding? Buy Now, Pay Later
The #emailmarketing pros at @zinusUSA know how to win back browse abandoners and encourage them to complete their purchase. Once we noticed the engaging subject line and flexible payment options we knew we'd spotted another of our #EmailsWeLove!
To take the mystery out of optimizing your next Browse abandonment email, visit our collection.