This blog post is an extract from our 2016 Holiday Report. Access the 100+ page report for free here.
Movember is an annual event where men grow their mustaches during the month of November to raise awareness of various cancers, such as prostate cancer.
While this is not your typical holiday, Movember was quite popular during its 2011 height.
That being said, even though Movember is not quite as popular as it once was, it remains a great opportunity to connect with your male subscribers. Let's analyze what Birchbox and Chubbies did last year to gather inspiration for our own campaigns.
Birchbox's Movember Email Plan
Giving subscribers a sense of anticipation is a great way to prompt opens. This email from Birchbox Man executes this strategy perfectly, from the headline "We're Opening Up the Latest Box" and the actionable copy "See What's Arriving in the Latest Box" to the strong call-to-action.
Including a November 10th deadline makes it even more likely people will be compelled to click.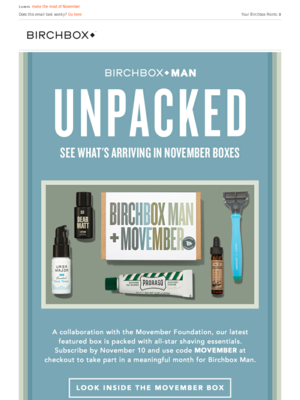 Eight days later, on October 21, Birchbox sent a follow-up email reminding subscribers about the Movember box. On November 9, the company sent one last "last chance" email.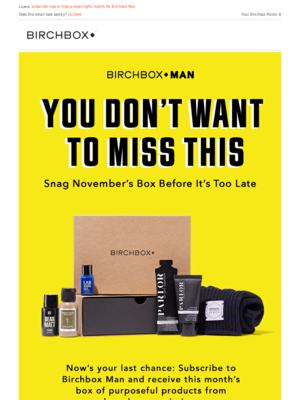 Sending multiple emails around a single, limited-time offer typically encourages engagement, as long as the emails are reasonably spread out.
The takeaway? Don't limit yourself to a single Movember-themed email.
Chubbies' Movember Email Plan
This email from Chubbies Shorts looks slightly less stylized than traditional newsletters, reinforcing the brand's laid-back, easygoing, informal personality.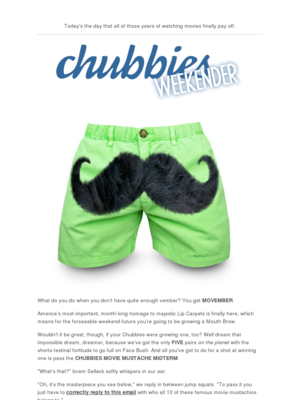 Chubbies has clearly taken a humorous approach to Movember. In their email they included a "midterm", an opportunity to have a thank-you card mailed to your mom, and a music playlist.
Pay attention to Chubbies lack of CTA, which makes it clear Chubbies isn't using this email to promote any product. They're instead focusing on audience engagement. So, if you're looking for inspiration on how to use Movember to connect with your subscribers, consider Chubbies' approach.