This blog post is an extract from our 2016 Holiday Report. Access the 100+ page report for free here.
Black Friday is the busiest retail day of the year.
In 2015, Black Friday sales totaled $13 billion. Online sales totaled $2.7 billion, representing a 14% increase in online sales compared to 2014. Email contributed to 25% of only Black Friday sales—followed by organic search at 21% and paid search at 16%. (Social media only accounted for 1.7% of online sales.)
The first thing you should know about Black Friday is that companies often use "Black Friday" and "steep discounts" synonymously. We've started to see "Black Friday in July" campaigns, like this one from Sonic. If you don't want to lose Black Friday credibility, don't let your audience think that when you mention "Black Friday" it's just another run-of-the-mill promotion.
Second, Black Friday may be losing some of its impact. Approximately 56% of consumers had already started their holiday shopping by the day after Thanksgiving, compared to 54% in 2014 and 49% in 2008.
When to Send Black Friday Emails
According to our review, some retailers send their first Black Friday-themed campaigns in mid-November. The volume of Black Friday emails grows steadily before peaking on the day itself. Surprisingly, these "day-of" emails account for 30% of the total email volume.
With this in mind, consider sending at least one email in advance. Not only do you want consumers to associate your store with the holiday, but they'll be mapping out their shopping strategy ahead of time.
Let shoppers know if you'll be open (if you have physical stores), what your hours will be, and what deals they should expect. Many department and general stores, like Target, Walmart, and Kohl's, send out virtual catalogs with their most compelling discounts.
16% of Black Friday emails are sent after the holiday, meaning there's an additional opportunity to create revenue. To see examples of pre-, traditional, and post-Black Friday campaigns, read on.
Hurry! Black Friday Specials are going fast | Up to 75% off

Sur La Table's Black Friday email works well on multiple levels. From the subject line to the copy, the brand incites a desire to move fast: Nothing is more powerful than the idea of losing out on a great deal because someone else snapped it up first.
Notice how Sur La Table incentivizes people to visit their brick-and-mortar locations by saying there are even more in-store deals.
Final Hours for Black Friday Savings - Here are our Bestsellers!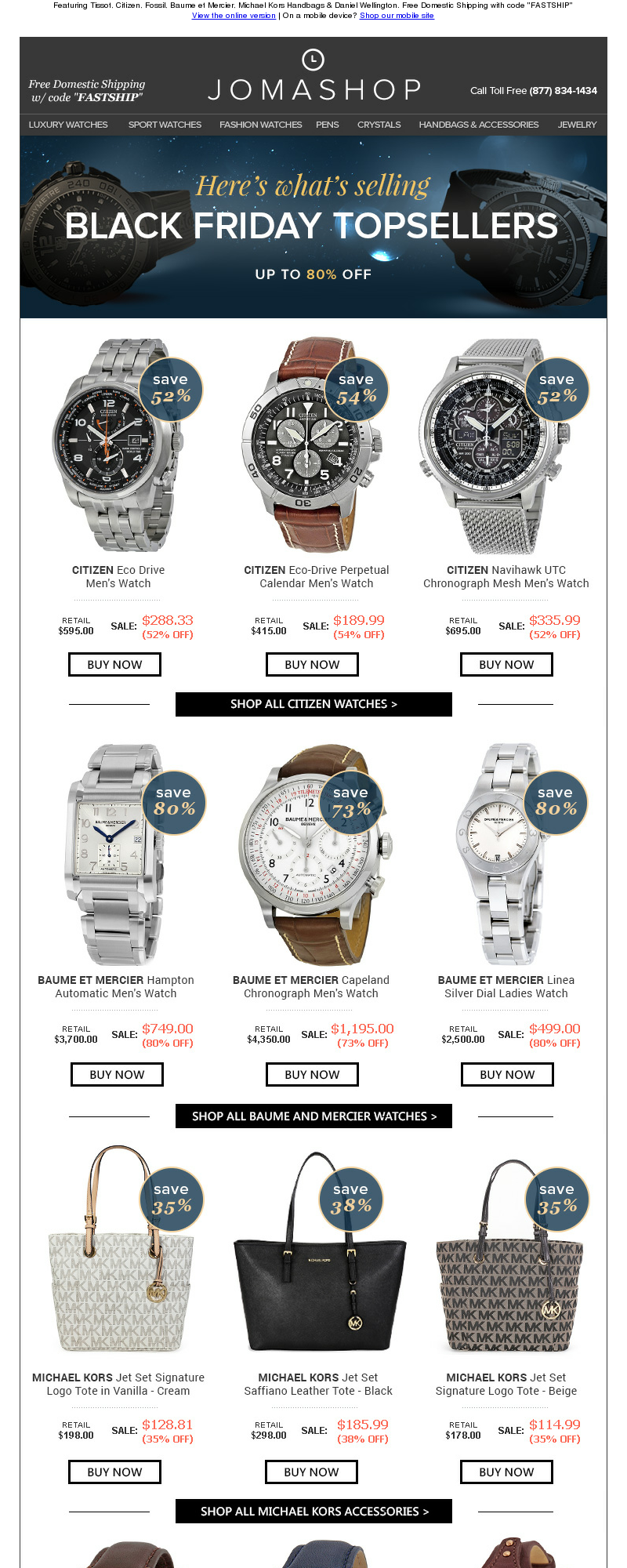 Notice how Jomashop not only talks about best-sellers, they also include a 50% discount. This is a very powerful combination.
It's often a good idea to leverage social proof when you want to create brand trust and encourage purchases. Showcasing your best-selling products is often a great way to drive sales.
Last Chance Black Friday Weekend - 25% Off Shoes & Boots Ends Tomorrow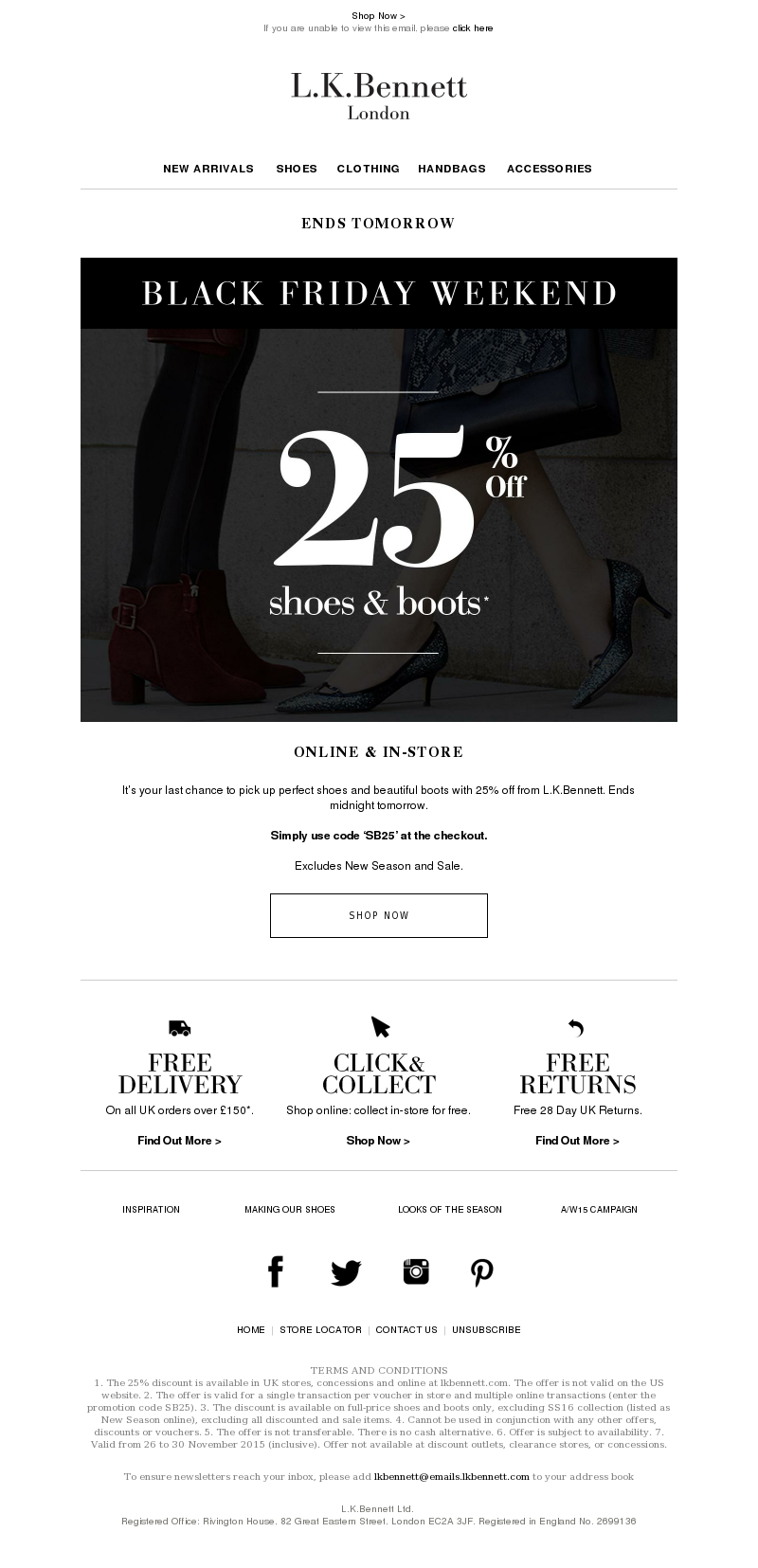 Many retailers—like L.K. Bennett—extend their Black Friday campaign over the entire weekend. This can backfire on you if you're not careful—according to an Ibotta survey, 65% of consumers believe the best Black Friday deals occur after the day itself.
L.K. Bennett used an interesting strategy (and one you might think about borrowing). The retailer created a single discount for Black Friday weekend and Cyber Monday: 25% off. On Monday at midnight, this deal expired.
If you're worried about bankrupting your audience's trust with a constant stream of promotions, L.K. Bennett's approach is worth implementing.
How to Optimize Your Black Friday Email Campaign
Here's a bird's eye view of the strategies we just covered:
To create anticipation and help your customers plan their spending, send at least one email before Black Friday highlighting your best deals
Distinguish between in-store and online deals
Leverage social proof to make products feel more desirable and create FOMO ("fear of missing out")
Remember that your audience's trust is the ultimate currency. If you're running an exclusive, limited-time offer for Black Friday, your Cyber Monday promotion should be different. Alternatively, run a joint Black Friday and Cyber Monday campaign.