This blog post is an extract from our 2016 Holiday Report. Access the 100+ page report here.
Christmas may only come around once a year but retailers reference it all year round.
Similar to Black Friday and Cyber Monday, many companies promote "Christmas in July" (and August, September, etc). Here's an example Bluefly sent on July 18. While promoting Christmas at different times of the year might be a good strategy, be careful not to pull the "Christmas card" too close to December 25.
Starting in September, all of your Christmas-themed campaigns should focus on the holiday itself. If you send a "Christmas in September!" campaign, your audience probably won't be as excited when you start running your real Christmas campaigns mere weeks later.
If you can't wait to start talking about Christmas, send subscribers a sneak peek like Crate and Barrel did on September 21, 2015 with their email "Thanksgiving and Christmas arrivals are here."
In 2015, MailCharts received 2,196 emails mentioning Christmas in the subject line. Here's what the email distribution looks like:
Based on the above data we know that:
8.15% of emails are sent on Christmas
5% of emails are sent after Christmas
28% of emails are sent in the 7 days leading up to Christmas (12/18 through 12/24)
It's worth noting that gift cards have been the most requested gift for 9 years in a row! Yet, surprisingly, email volume drops on Christmas and the following days. This is your chance to stand out.
For example, many of your subscribers may have received gift cards (e.g. Visa, Amex) that they can use to purchase products online. With their Christmas gifts now unwrapped, it's likely your subscribers didn't receive that one item of yours they badly want. With their new gift cards lying around, now's the time to email them!
Three Christmas campaigns to inspire you
$0.89 LED Christmas Lights - In Stock Now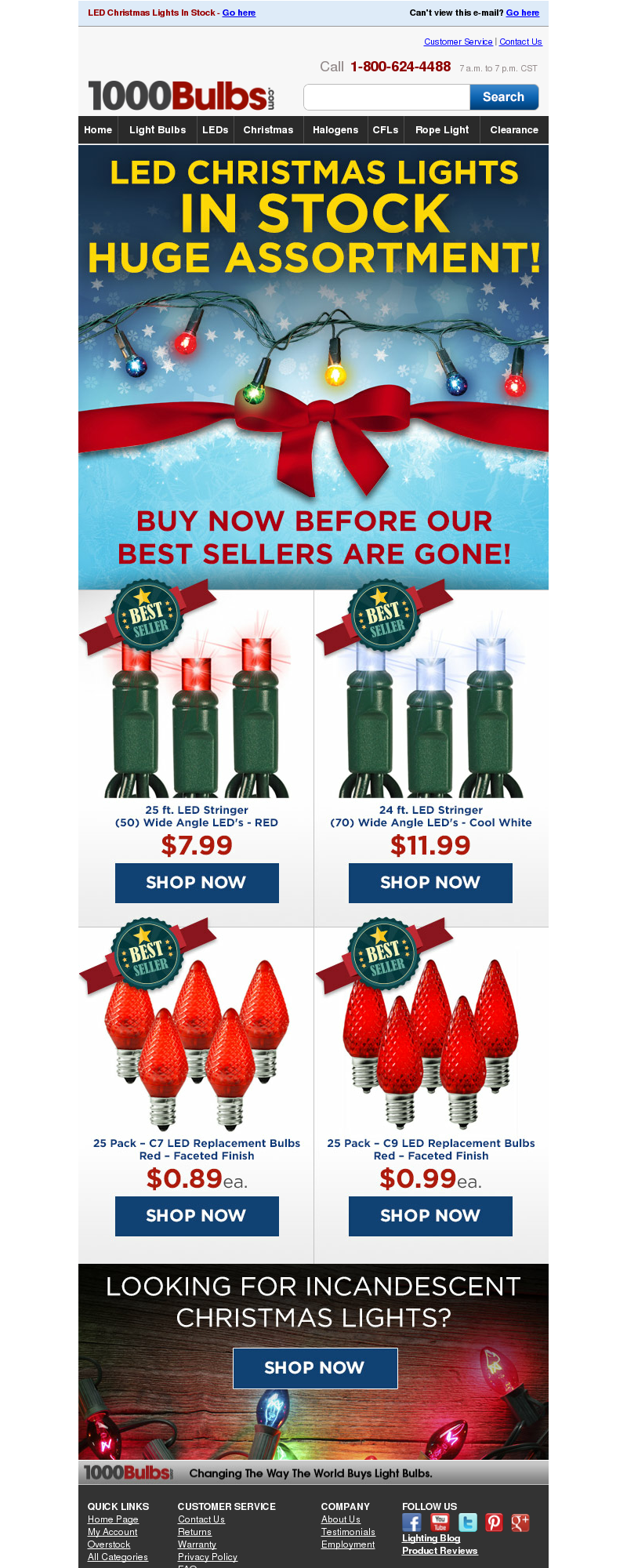 Our analysis shows 1000bulbs.com was the first brand to roll out a 2015 Christmas promotion. On September 15, its subscribers received the above message.
The subject line is straightforward and concise. According to Mailchimp, simple subject lines like this one typically generate a much higher open rate than "salesy" subject lines. (Such as "Get Your Hands On These Lights ASAP!", for example.)
Notice how 1000bulbs.com creates FOMO ("fear of missing out") by alluding that if you don't buy your lights quickly enough all the best-selling ones will be gone. Consider borrowing this "best-seller" strategy.
It's worth pointing out that people hang their lights several weeks before Christmas. So, giving consumers a nudge to purchase lights in mid-September makes sense. If you sell any Christmas-related products that purchasers will need in advance, mention them in your campaigns with time to spare.
Christmas made easy

In the weeks leading up to Christmas, make it as easy as possible for subscribers to check off their shopping list. Lifestyle brand Cath Kidston did a great job curating potential gifts in their November 17 campaign.
This fun, festive campaign goes beyond the typical one. It doesn't just hawk Cath Kidston products: It provides value to customers by giving them ideas for presents and holiday outfits. Retailers wanting to connect with subscribers should follow suit with a similar campaign.
As Christmas draws closer, incentivize your audience by offering free shipping—78% of retailers offer free shipping between November 1 and December 31.
Hurry! Get Your Order Before Christmas

Panasonic sent this email on December 15 last year. Note that the offer expires on December 20, which is the peak free shipping day of the holiday season—and just a few days after Free Shipping Day. Approximately 3 in 4 orders ship for free on this date.
Note: It's a good idea to let shoppers know by when they need to place their orders for them to receive the package in time for Christmas.
While your pre-Christmas email plan is important, you also have the opportunity to email subscribers the day of. Many consumers shop online on December 25. After they've opened presents, they know which items on their wishlist weren't purchased for them.
How to Optimize Your Christmas Campaign
Here's what to keep in mind when designing your Christmas campaigns:
If your product is relevant to the holiday itself, send emails in early November to encourage your audience to buy early
Create a curated gift guide to help your subscribers purchase gifts they'll love giving
Remind subscribers of shop-by deadlines to make sure they get their packages in time for Christmas
Send a product-focused campaign on, or right after, Christmas
Editorial image by monicore from Pixabay