Travel, food, and entertainment take center stage on Independence Day get-togethers. Couple that with a potential four-day weekend (Saturday to Tuesday), and you've got customers with even more places to go, people to see, food to cook and fireworks (and more) to buy and watch. It's a perfect time for 4th of July business messages.
4th of July holiday statistics and background
More than 219 million Americans will participate in some Independence Day activities over the four-day weekend and spend about $6.8 billion on food, the National Retail Federation predicts.
Although July Fourth is not traditionally a gift-giving holiday, almost 62% said in a survey by Prosper Insights & Analytics that they plan to or might buy more Fourth-related merchandise.
Even if your products don't fit the food-fun-family-fashion theme, using the red-white-and-blue color scheme gives you a relevant angle. Also, if you're into animated GIFs, we've included some great email examples below.
Today you'll discover 5 ideas to help your email marketing program capitalize on this 241st celebration of America's independence.
1.  Focus on the fun
the biggest little 4th of July celebration...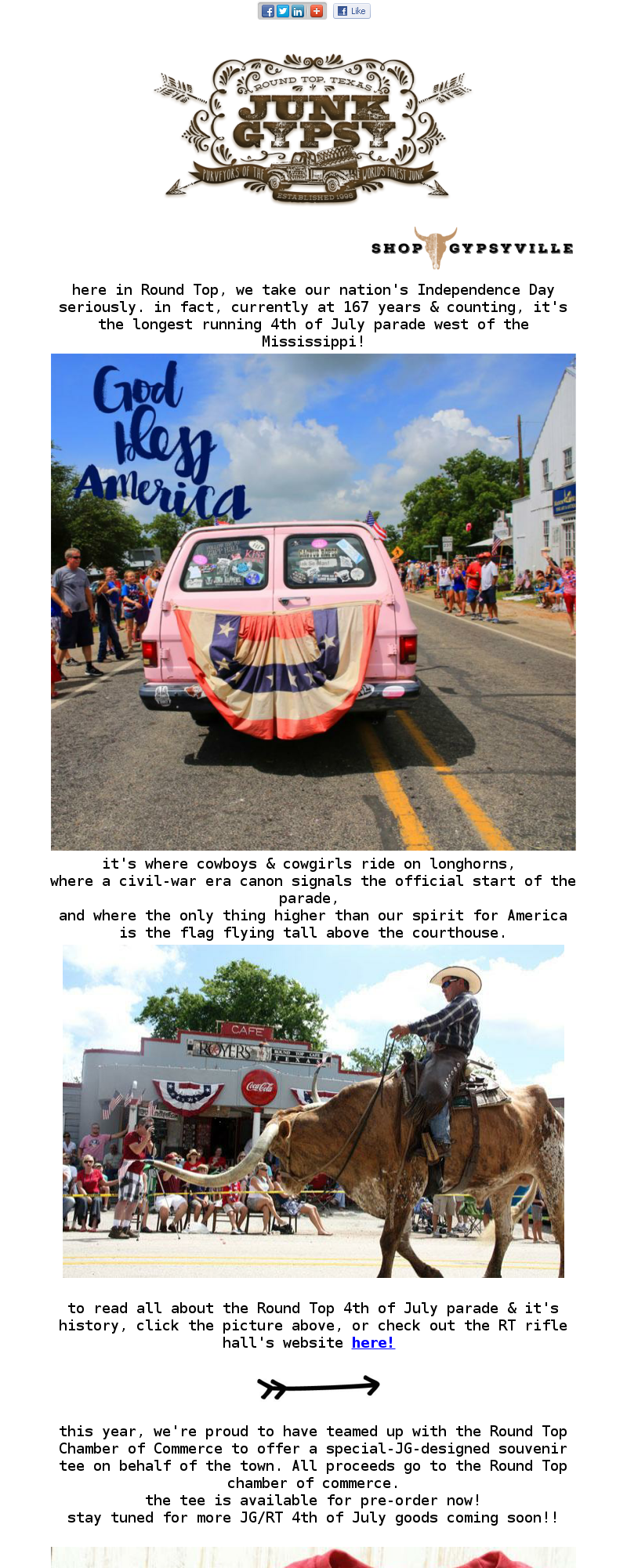 We love how this email captures the community Fourth of July spirit, which is spot on with the brand because it's located in that small town. Consider this approach if your company or brand is tied to a community with a distinct culture that would resonate even with customers a thousand miles away.
Star Spangled Summer!!

This email nails the hanging-out-with-friends vibe that's a huge part of Fourth celebrations. We liked the casual feel of the photos, which turns typical style-guide pics into a collection of photos you might see in your Instagram or Facebook feed. Also note the prominent value proposition – "fast and free shipping in the US" – which can encourage its faithful to choose this Idaho-based boutique over its competitors like H&M and Forever 21.
CHIC Outfits to Try This 4th of July!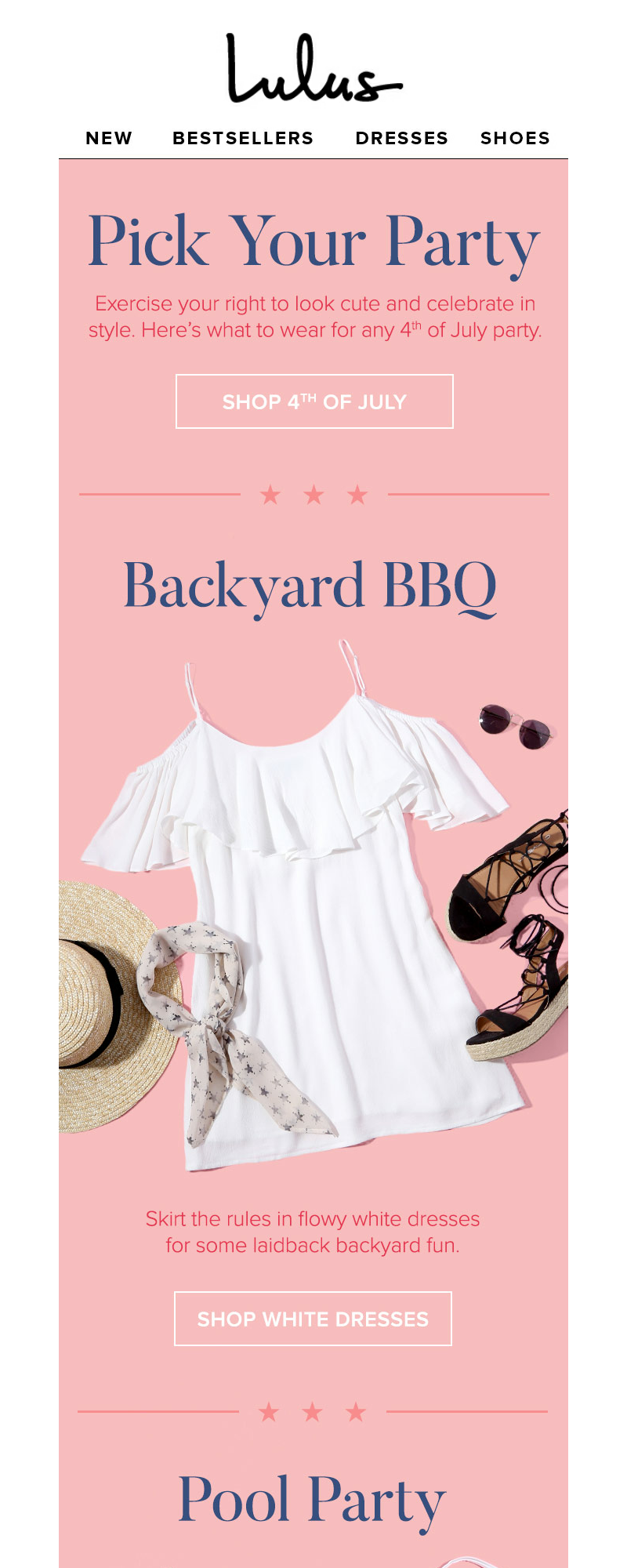 July Fourth marks the last big showcase for summer merchandise before retailers have to start clearing the racks to make room for back-to-school and transitional wear. This style guide thinks like its customers, who are shopping for party outfits, not just a top or shorts. An understated Fourth theme – red, white and blue lettering and red stars on a pink background – set it apart from the usual stream of fashion emails.
Another thing we liked about this email is that it's mobile-friendly, not just in the design but also by its function. It uses one unique and descriptive call to action per collection instead of linking to each item individually, potentially reducing the number of "fat finger" misclicking.
Takeaway: The Fourth of July is the ultimate party weekend, whether you're getting the family and friends together or celebrating with the masses at a parade, picnic and fireworks. Design your email to appeal to that hunger for community spirit which is unique to the Fourth.
2. Get animated
The Fourth of July offers a good opportunity for adding animation to your emails because it's such a visual holiday. Fireworks are an obvious choice, but we found some emails that use animation in a different and even more creative way. Click each email to see the animated GIFs.
Snag a Fourth of July sitter for your dog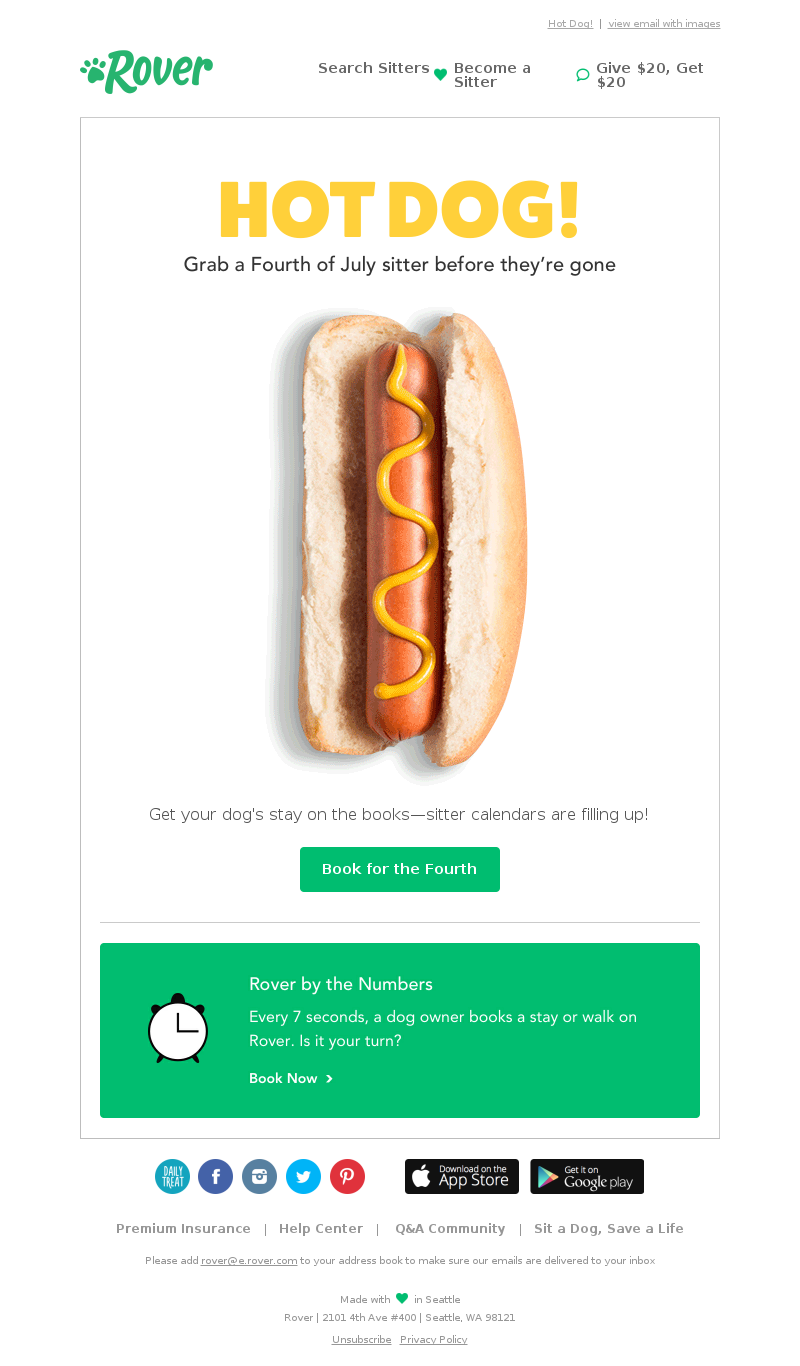 We love a good pun, and this one qualifies because both hot dogs and overheated pooches are part of Fourth festivities. This animation is a subtle but clever reminder to keep Fido and Rex far away from the fireworks fray.
Celebrate the 4th of July like never before

You want fireworks? This understated email has a great animation that blends fireworks and moving water to promote the cruise idea, and it goes beautifully with the "Sparks Will Fly" headline for 4th of July business messages.
If we had to pick a winner for "Best Animation Series," it would go to this two-part sweepstakes promotion with a subtle July 4th tie-in. The series uses one animation in the first email, then switches it up to another animation for the reminder, in which the reminder IS the animation. Genius!
First email
$7,000 in Stitch Fix Credit. Hello, Summer!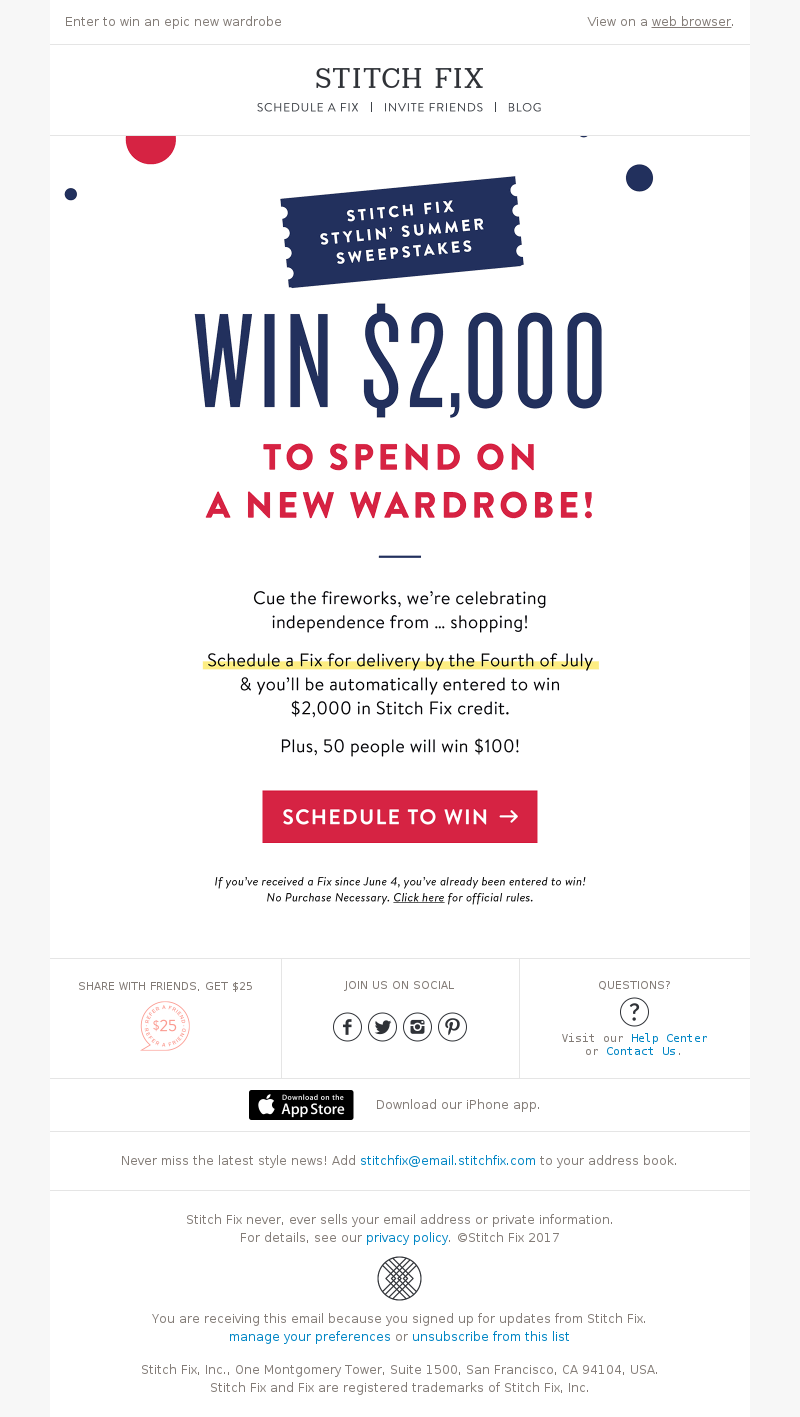 Reminder email
Last Chance: Stitch Fix Summer Sweepstakes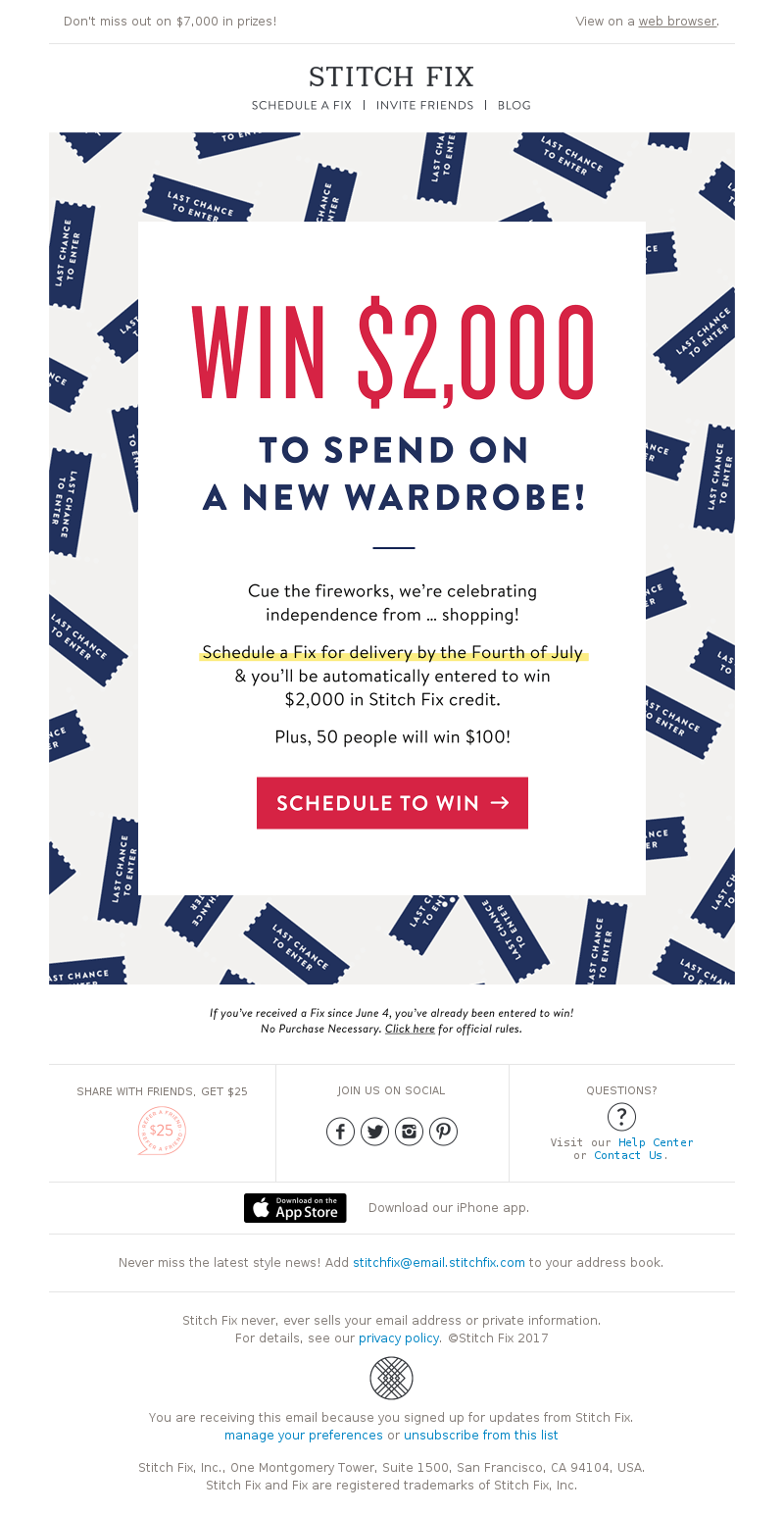 Note: Two other things we liked about these sweepstakes-promo emails. The yellow-highlighted urgency reminder: "Schedule a Fix for delivery by the Fourth of July" and the note below the message body that assures customers who are entered in the competition but didn't know for sure. It reduces uncertainty and builds trust in the brand.
Takeaway: It might be too late to pull an animation together for this year's July 4th promos, but add these emails to your list for next year, and think about how you could use animation in an upcoming promotion (Halloween, anybody?) MailCharts users can create lists and save emails like these for viewing later.
3. Do double duty with another holiday
July 4th promotional emails can be challenging because they overlap other holidays like Memorial Day, Father's Day and Graduation. You could boost your frequency (and potentially annoy your customers) with single-campaign emails, or you could do what the brands below did: combine them into a single email without reducing the impact of either.
Summertime, and the planning's easy.

Paperless Post regularly sends emails that both speak to the nearest holiday and the one coming up. The subject line doesn't call out Independence Day, but the email gives the holiday prominence with the red-white-blue theme, a clever headline and an on-the-nose call to action.
Father's Day Sale Starts Now - Take 25% Your Entire Order!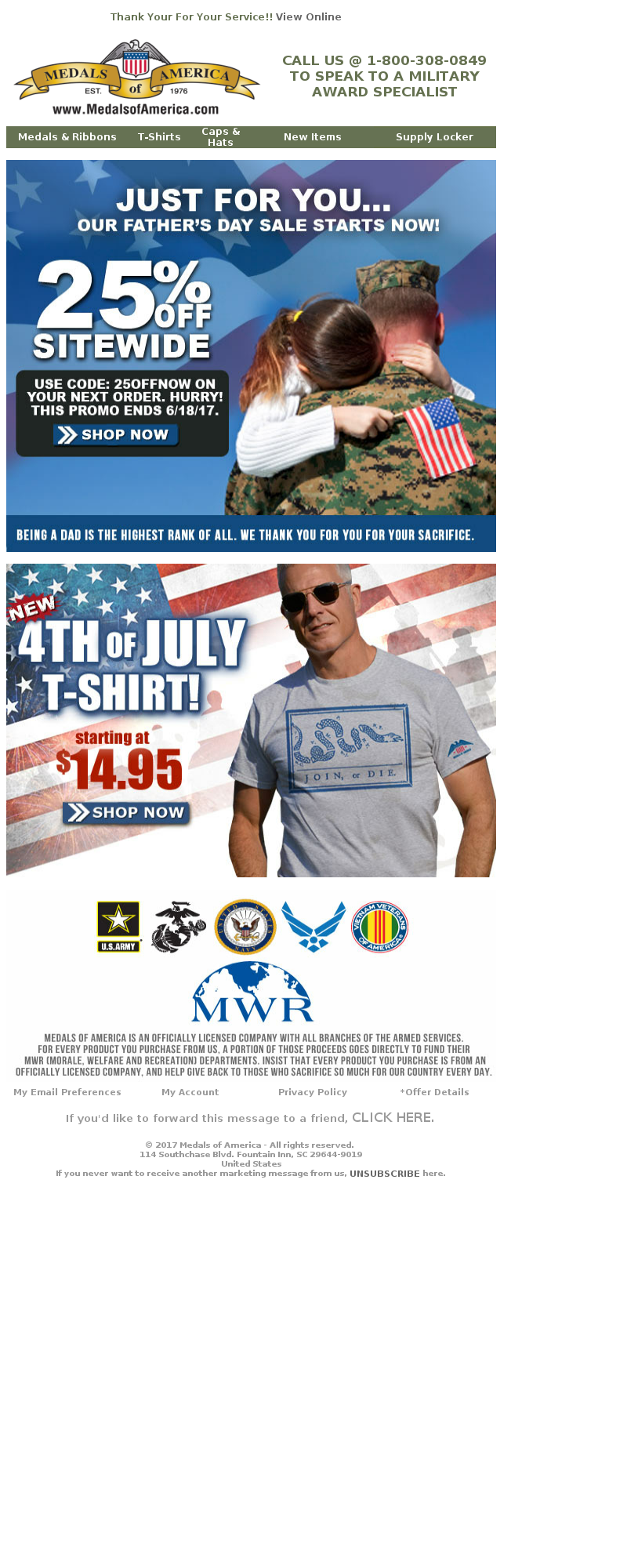 This double-duty email combines two holidays: Father's Day and Fourth of July. Although a dual subject line could work here, the promotion for the Fourth doesn't get lost under the Father's Day sale because the images are complementary.
Takeaway: If you have to crowd more than one promotional theme into a single message, you can use the preheader—the first line of copy in the message body that many email clients pull into the subject line to amplify it—to call out your secondary holiday if you can't fit both on the subject line. Both of these emails missed that opportunity.
4. Make it red white and blue with summer email subject lines
You don't have to sell American-flag board shorts to cash in on the Fourth frenzy. The emails below just took some liberties with the red-white-blue color theme in their summer email subject lines to join the party.
$15 OFF + 4th of July Sale Preview

We love the bright blue background for this email. The deep background color, the flag-motif pennants and the sparkler focus your eye on the promos in this message. It's not subtle, but neither is the Fourth. (Be sure to click the email to see the live animation.)
🔴⚪🔵 Red, White, & Brew - $17.76 Beer Kit Sale (Last Call)
Is there anything more all-American than home-brewed beer? Not according to this email, which combines both the RWB color scheme AND a $17.76 promotional price for its July 4th feature. You don't have to pay taxes on that home brew, either, patriot!
Plan Ahead for July 4th + Save $15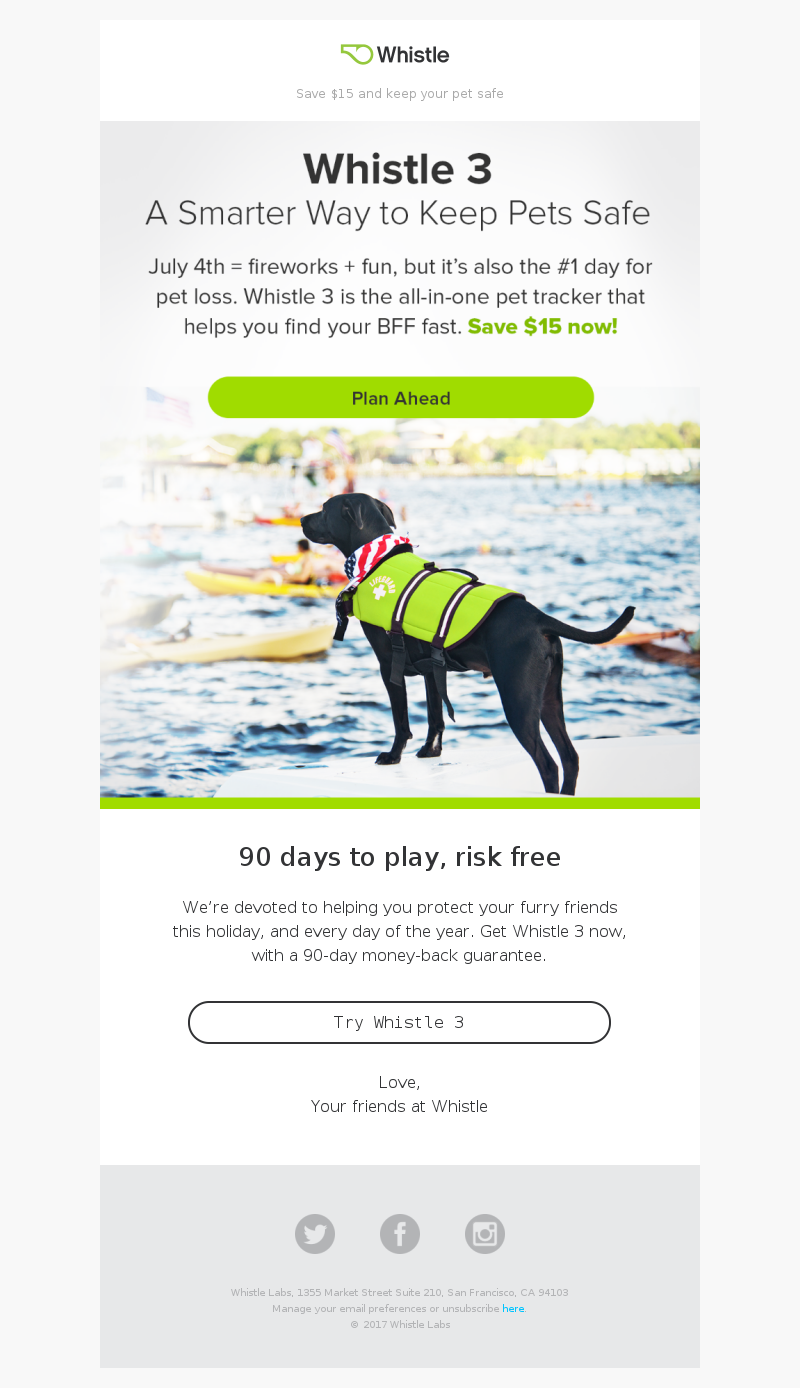 You don't have to drench your emails in red, white and blue to catch the eye for a July 4th promo. The flag scarf around this Lab's neck catches the eye and highlights the text: the fourth is the No. 1 holiday for pet loss. Smart move from a company promoting a pet-tracking system.
Takeaway: Whether you cover your email in red, white and blue, or opt for a subtle approach, adding color judiciously can give your emails a relevant tie-in to the Independence Day holiday, even if your products are not a natural fit. Your customers are already thinking about the holiday, whether they're making their own plans or got primed for it by your competition in the inbox.
5. Fly your patriot flag for July marketing ideas
The Fourth of July is one holiday that we don't share with the rest of the world (although it comes on the heels of Canada Day, on July 1). Because of this, many retailers look to tap into common feelings of patriotism through copy, images, products, and calls to action for your July marketing ideas.
The 2017 MLB On-Field July 4th 59FIFTY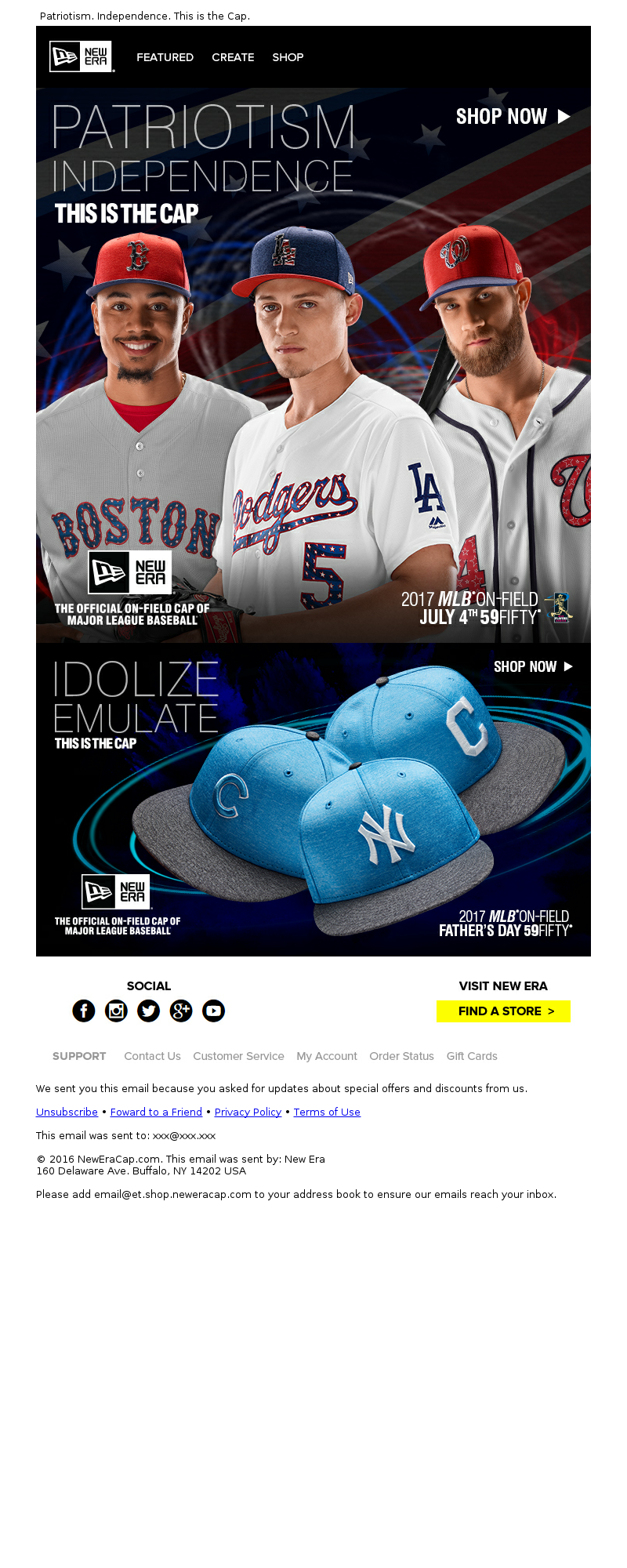 Baseball is another all-American activity on the Fourth of July, whether you're on the field or in the stands. This email takes a low-key approach to both baseball as an American sport and the patriotic feelings it evokes. Note: The preheader repeats the headline: "Patriotism. Independence. This is the cap."
The 1776, Stand Proud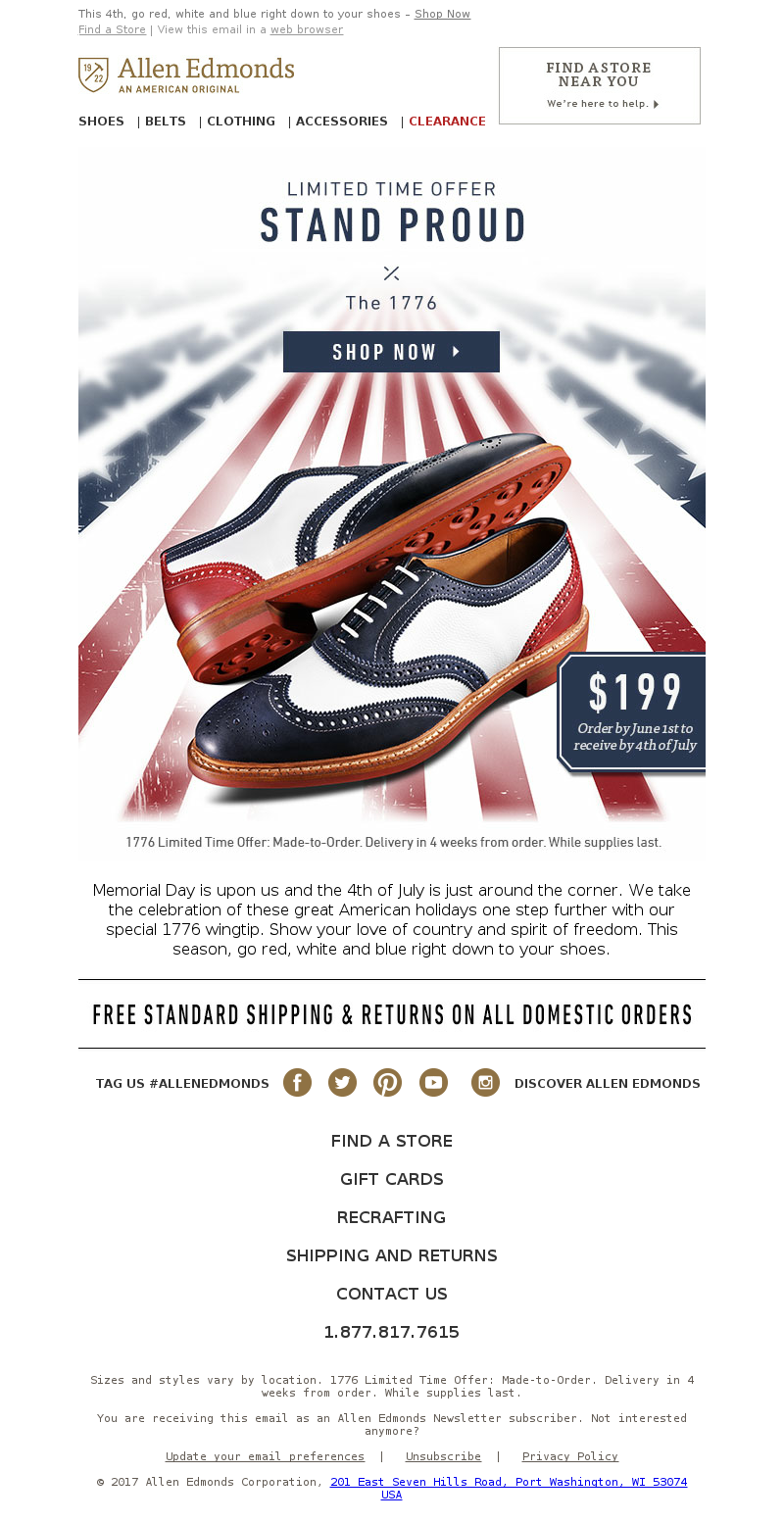 Golf might be Scottish in origin, but thousands of U.S. golfers will be on the links at dawn's early light on July 4. This email for a red-white-blue golf shoe named for our year of independence did double duty for both Memorial Day and the Fourth of July.
Ranger Up Military and MMA Apparel
Get Yourself Independence Day Ready!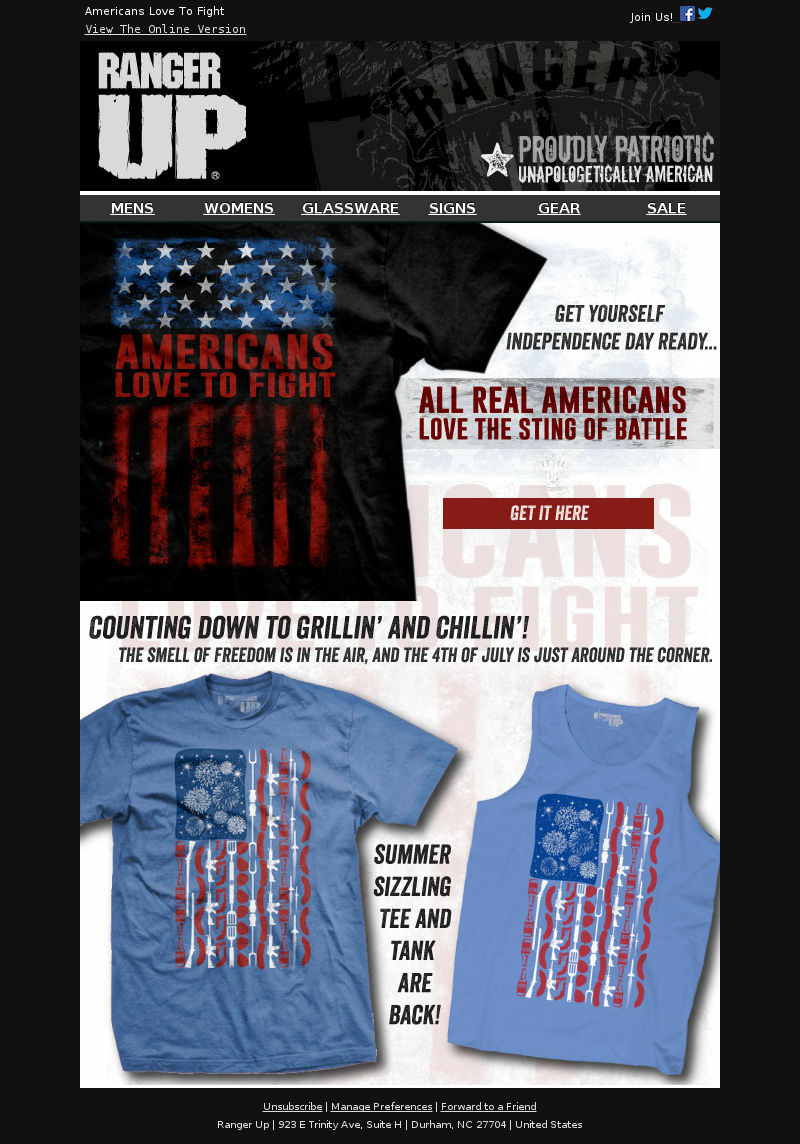 There's nothing subtle in this email, which equates Independence Day to the "sting of battle." That sentiment might raise eyebrows in some quarters, but it's spot-on for this brand, its products and customers.
Takeaway: Appealing to patriotism for the Fourth of July is a given. However, if you are an international brand and you rely on broadcast emails, consider how well the message might play in other countries. See if you can segment out non-U.S. email addresses and suppress them from the email.
For your U.S. customers, you might not know whether soft-sell or hard-sell patriotism will appeal more. Rely on your personas, what you know from past campaigns, and even what you might learn from your customer-facing departments like customer service and in-store personnel to guide you.
Bonus tip: Post store hours
Although gas prices are starting to inch up again, we still haven't seen the price spikes that forecasters predicted for 2017. Unless something catastrophic happens between now and July 4, many of your customers will hit the road to celebrate the holiday at the cabin, on the beach, or down the shore.
The long Fourth of July weekend gives you more opportunities for leisure shoppers. Let customers know whether you'll have the lights on this Fourth with an email like the one below from Container Store. Or, include a store-location link for people who find themselves in a strange place with a few extra hours on their hands.
Hope Your 4th of July Sparkles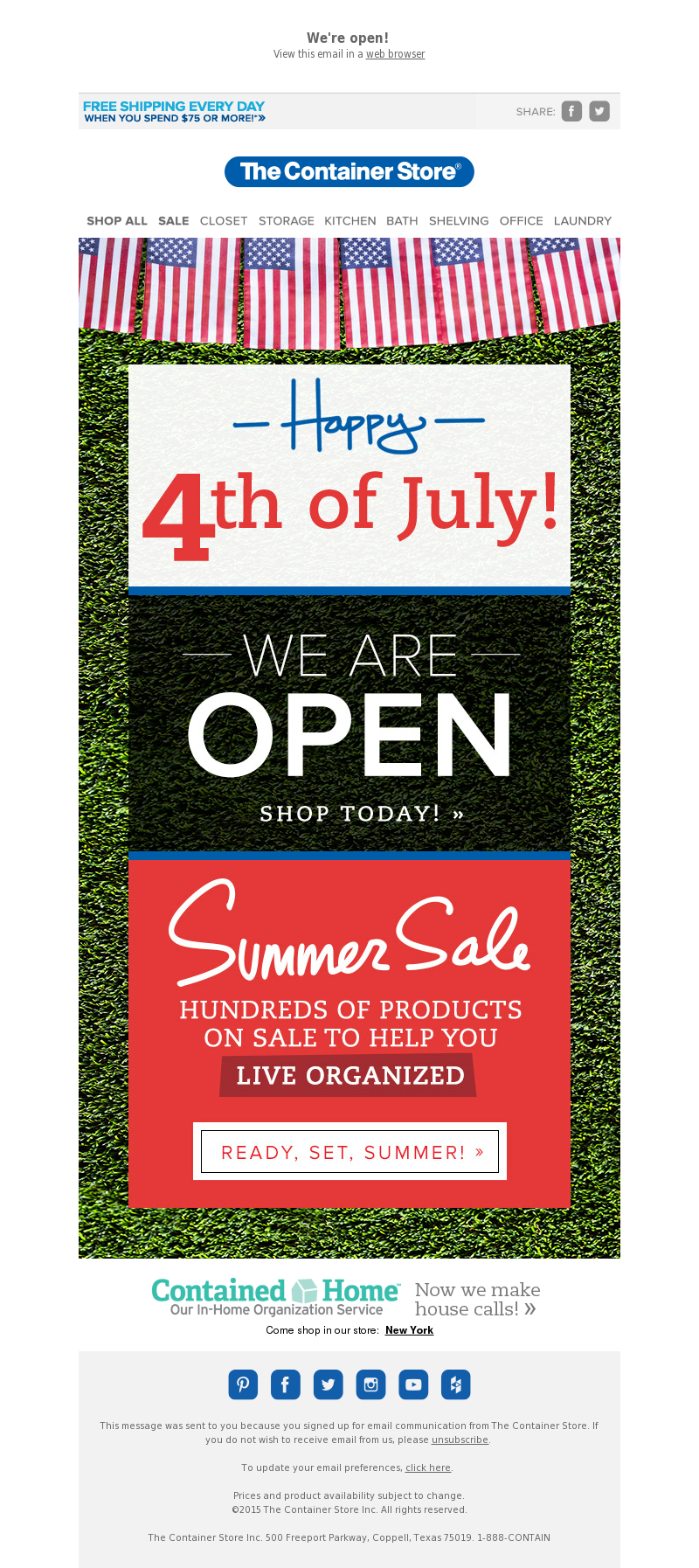 This email has it all: a July 4th greeting, a prominent reminder that stores are open on the Fourth, and a sale promotion with a catchy call to action: "Ready, set, summer!"
Keep in touch!
Sign up for our free email newsletter for email insights and inspiration. Bookmark our blog when you're looking for design inspiration and researching campaign ideas for Halloween, Black Friday, Christmas and more.
And, if you want to try out MailCharts for yourself beyond 4th of July business messages, just drop us a note and we'll be happy to walk you through a demo. No obligations, no hassle!