An optimized cart abandonment strategy is extremely effective with 33%+ of opened emails driving a sale. For online retailers big and small, that means big bucks. Today we'll cover several messaging tactics to include in your abandonment mailers.
Want to go straight into the examples? Check out these 100+ cart abandonment emails.
Don't Lead With Discounts, Offer Incentives Later
A study from Return Path shows that sending three cart abandonment emails increases revenue by 56%.
Take a look below at 1-800-PetMeds' abandonment sequence:
When sending multiple cart abandonment emails, your initial email can simply be a reminder about the forgotten products—without a discount or other incentive. If this email fails to drive the purchase, in the next email offer a discount or incentive.
If you're not still not convinced about the benefit of a multi-email strategy, know that 72% of people purchasing their abandoned carts did so within 24 hours—and 23% of purchasers converted after the first 24 hours.
If 1-800-PetMeds were simply to omit its initial 10% discount email, here's how its cart abandoner sequence would (and, we think, should) look:
Did you leave something in your cart, Lorem?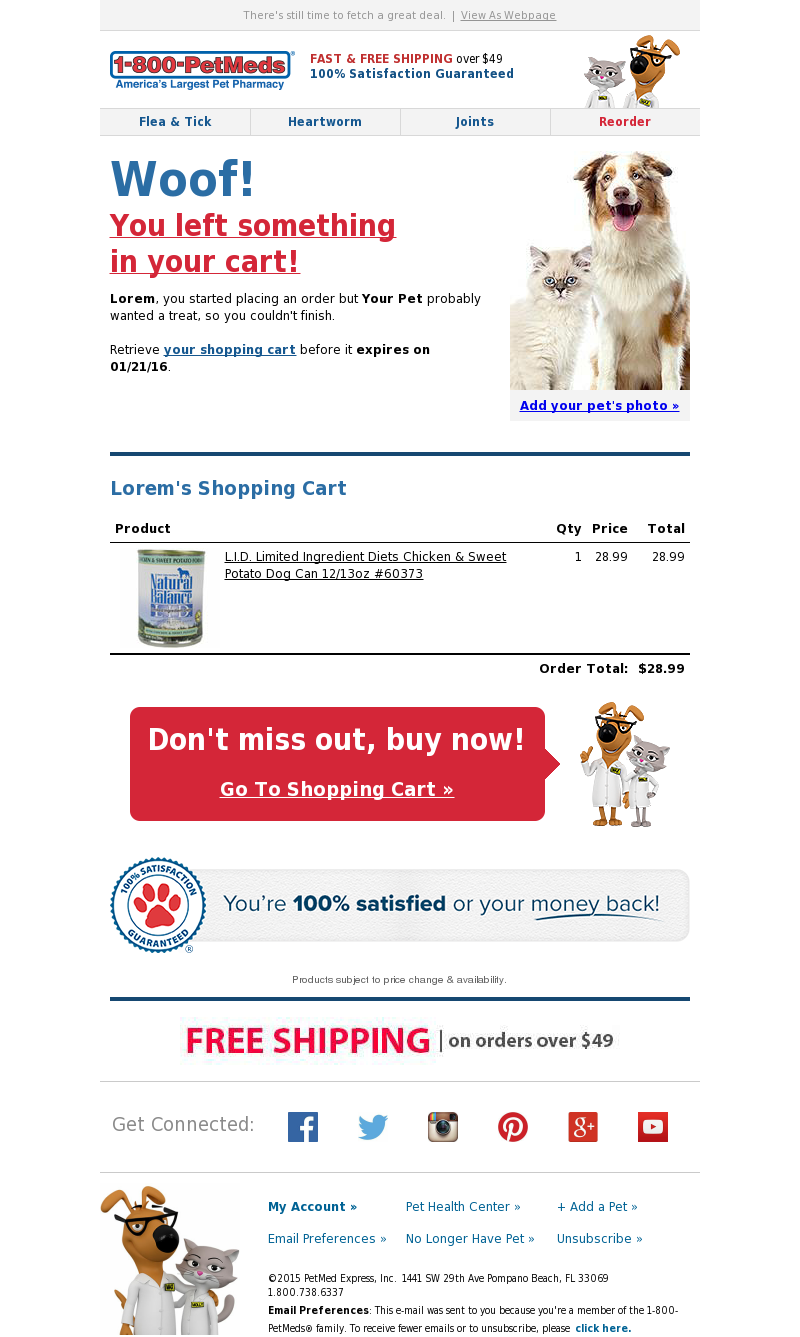 Reminder: Your shopping cart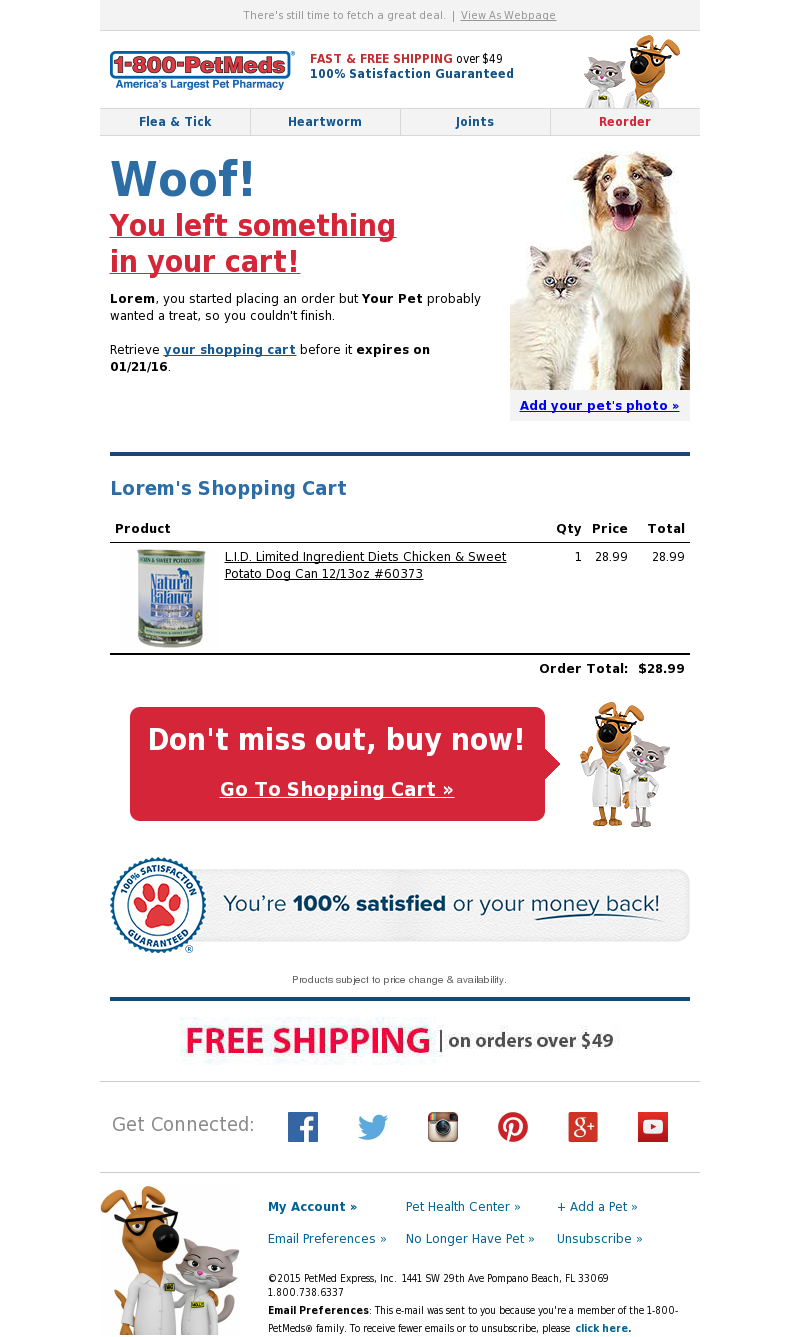 Enjoy 10% OFF your cart when you finish ordering today.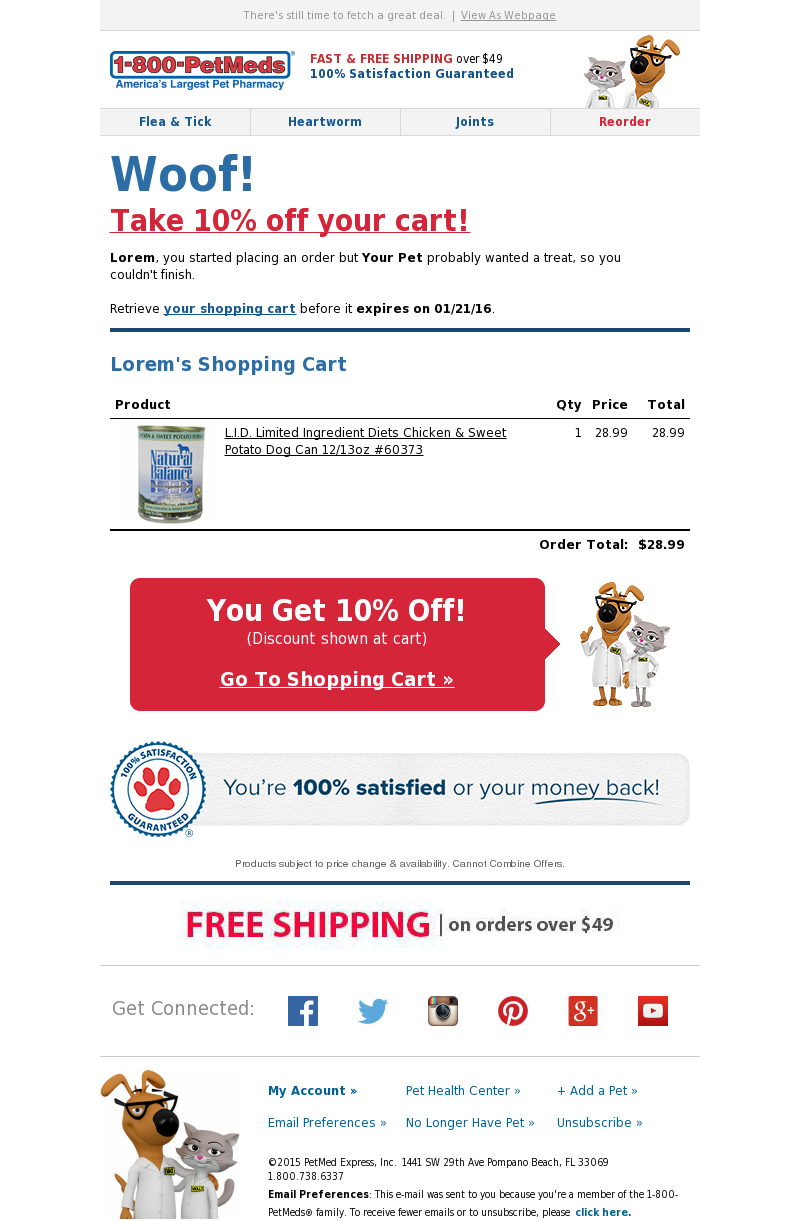 Last Chance: 10% OFF your shopping cart expires soon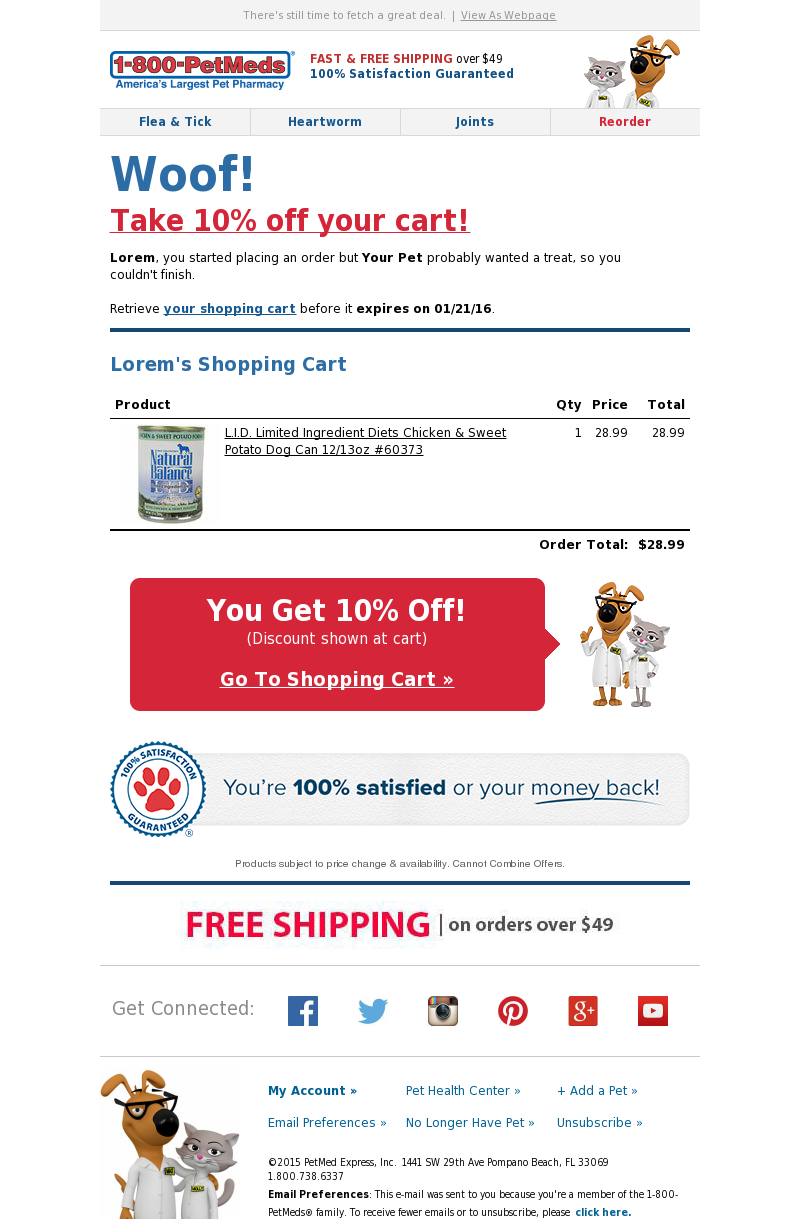 Focus on Your Return Policy

Offering potential customers incentives such as free shipping and free returns is a great way to encourage anyone who abandoned to complete their purchase.
Warby Parker leans heavily on free shipping and free returns:
Wilder might be the one
Free returns is exceptionally powerful for online retailers since customers can't "try before they buy". Your abandonment emails provide a great opportunity to push free return messaging.
Note: One of the primary reasons why people abandon their carts is because of unexpected costs. You can combat that by offering free shipping.

Create a Sense of Urgency

FOMO is another great way to draw abandoners back to the checkout.
Take a look at this reminder email from Toms. They've done a great job at creating a sense of urgency with their subject line:
Your TOMS are selling out fast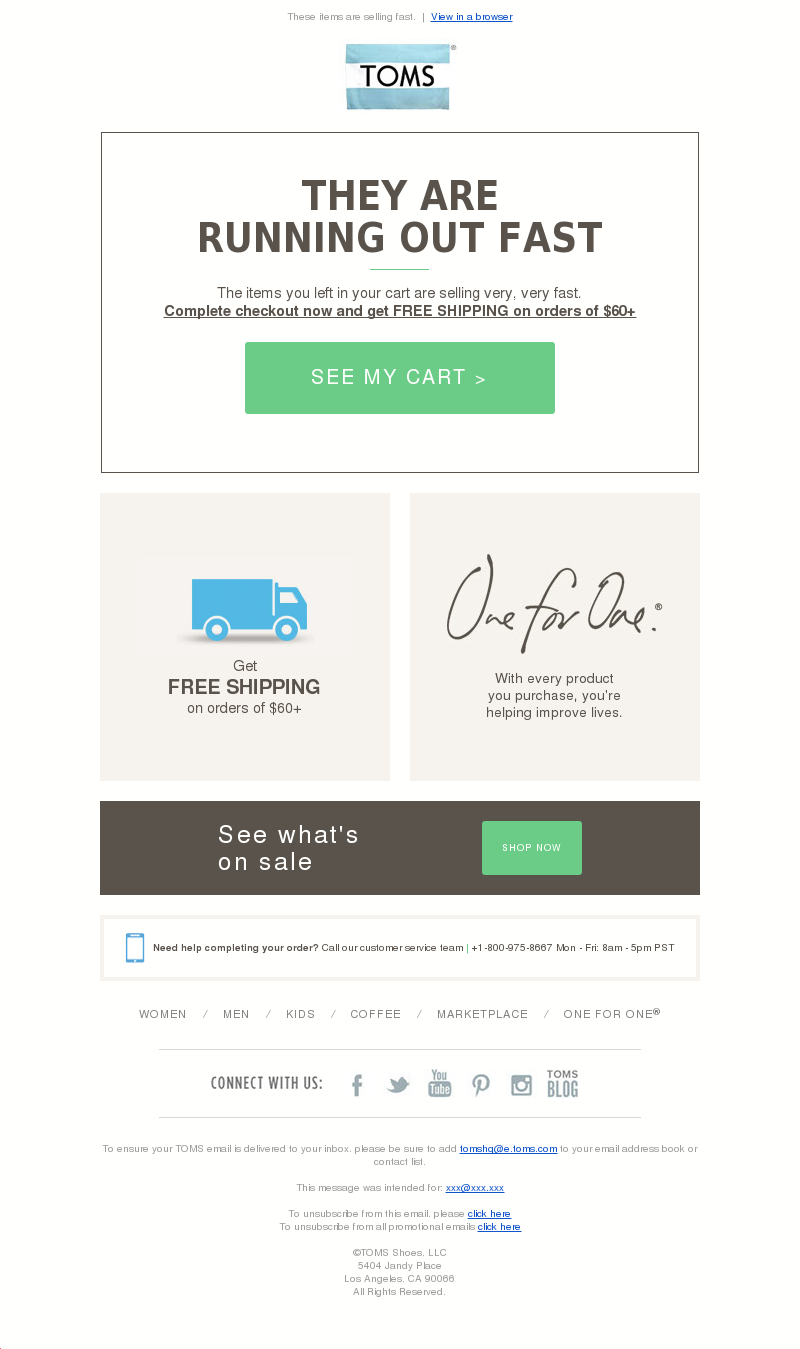 Some companies leverage FOMO only in the email's content. For maximum exposure use this tactic in your subject line too, like Toms did.
Leverage Social Proof
When emailing prospective customers, especially abandoners, use social proof to reduce mistrust of the unknown.
Diamond Candles provides ratings and customer feedback on its top products:
You Left Something in your Shopping Cart!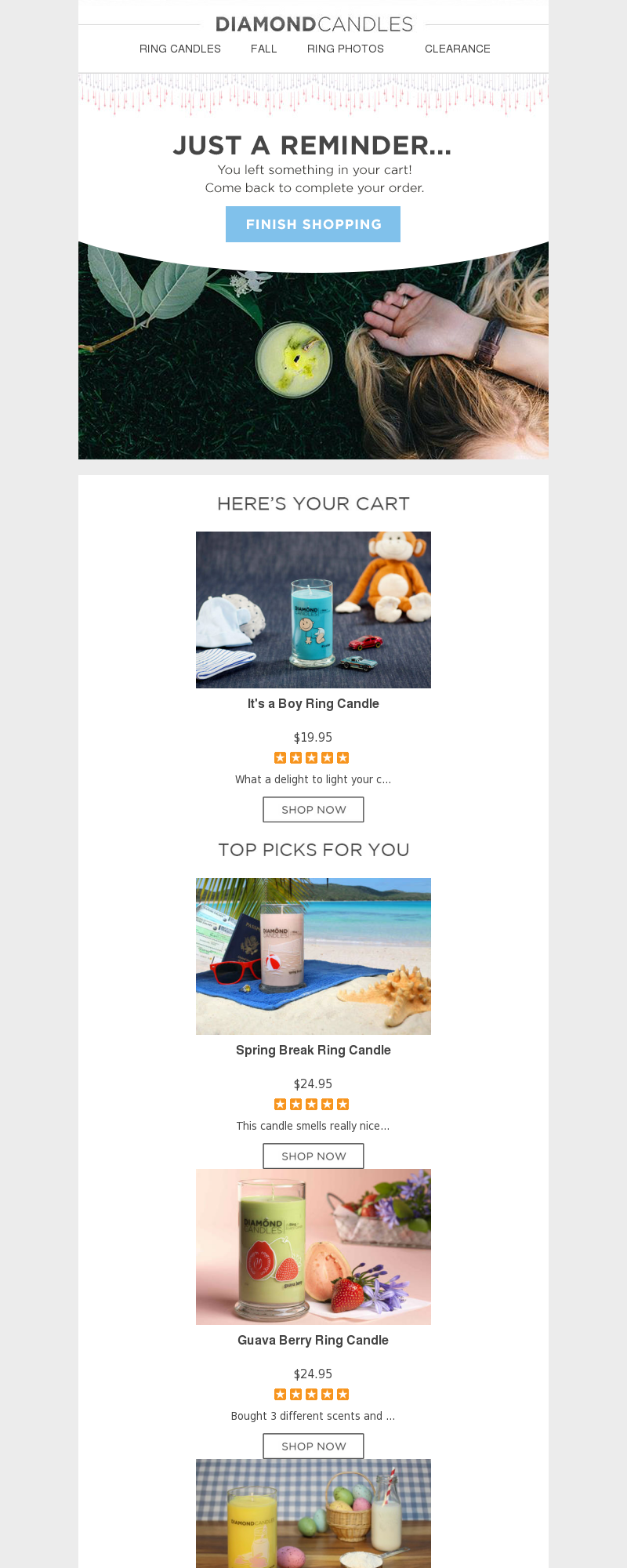 By leveraging social proof—and showing you're trustworthy—you can put prospective customers at ease.
What To Do Next
Take a look at your campaigns and those of your competitors to figure out next steps for optimizing your most valuable triggered emails.
Send more than one email
Offer discounts and incentives later in your abandonment flow
Clearly mention free shipping and free return policies you might have
Provide social proof from happy customers to reduce fear of the unknown
Want to see other examples and keep a handle on your competitors? MailCharts can do it for you. We tackle the tedious work of abandoning carts, purchasing from companies, and much more.