What is an email sequence?
An email sequence is a series of emails that are automated. They are used at various points throughout your customer journey and can help increase overall CLTV (customer lifetime value).
They typically consist of at least 2 emails and can be used as a one-off sequence or in ongoing automated campaigns (triggered by an event or action on the site).
The email sequence you implement should align with where your customer is in the marketing funnel. They may educate new subscribers about a product during the awareness phase, sell to previous purchasers in the loyalty phase, and even target people who have left items in their cart.
Let's look at 14 email sequence examples and where you should use them in your marketing funnel:
Awareness Email Sequences
Email sequences during the awareness phase of your marketing funnel educate new subscribers. These people likely have not purchased yet and might not know much about the brand. Some examples are welcome emails, onboarding drips, and account confirmation emails. Each of these email sequences would be triggered by a new email subscription or an account creation.
Account confirmation
Customer account confirmation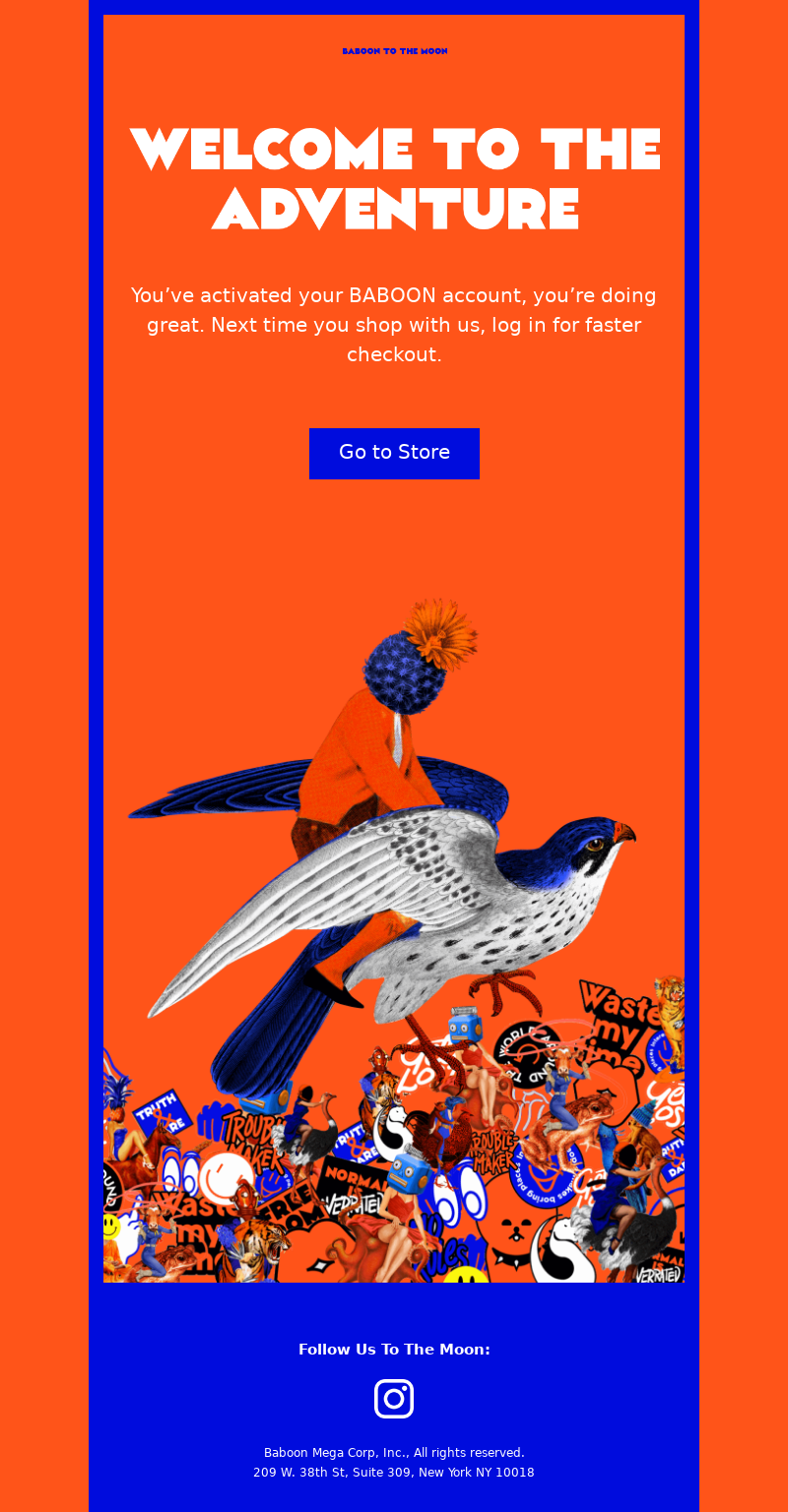 WOW. Travel bag brand Baboon to the Moon's account confirmation email pops out thanks to its lively, complementary colors. It welcomes new users and reminds them of the benefit they're getting now that they have a Baboon account: They'll be able to log in faster next time they visit the Baboon website. This is followed by a call to action to visit the online store.
The bottom of the email also invites the user to follow Baboon on Instagram. This secondary call to action is separate from the main message of the email through the design. It's placed against the blue background where the main message is placed on the eclectic orange background.
Another welcome email follows this email shortly after the account confirmation email and is part of the welcome journey.
Welcome emails
Welcome to PetFlow!

Pet supply retailer PetFlow opens with a welcome email and then immediately follows with a new-subscriber offer. While it reminds the user of the 5% discount they get for signing up, it first mentions the 10% discount they would get if they also opted in to auto-ship.
The CTAs below the offer text are separated by pet. Users can select which animal they want to shop for or choose from a list of best-selling brands. While this welcome email has a heavy product focus, PetFlow also mentions the donations it makes for every box sold and offers users a chance to get in touch with their pet experts.
Onboarding drips
Welcome to your Kroger emails!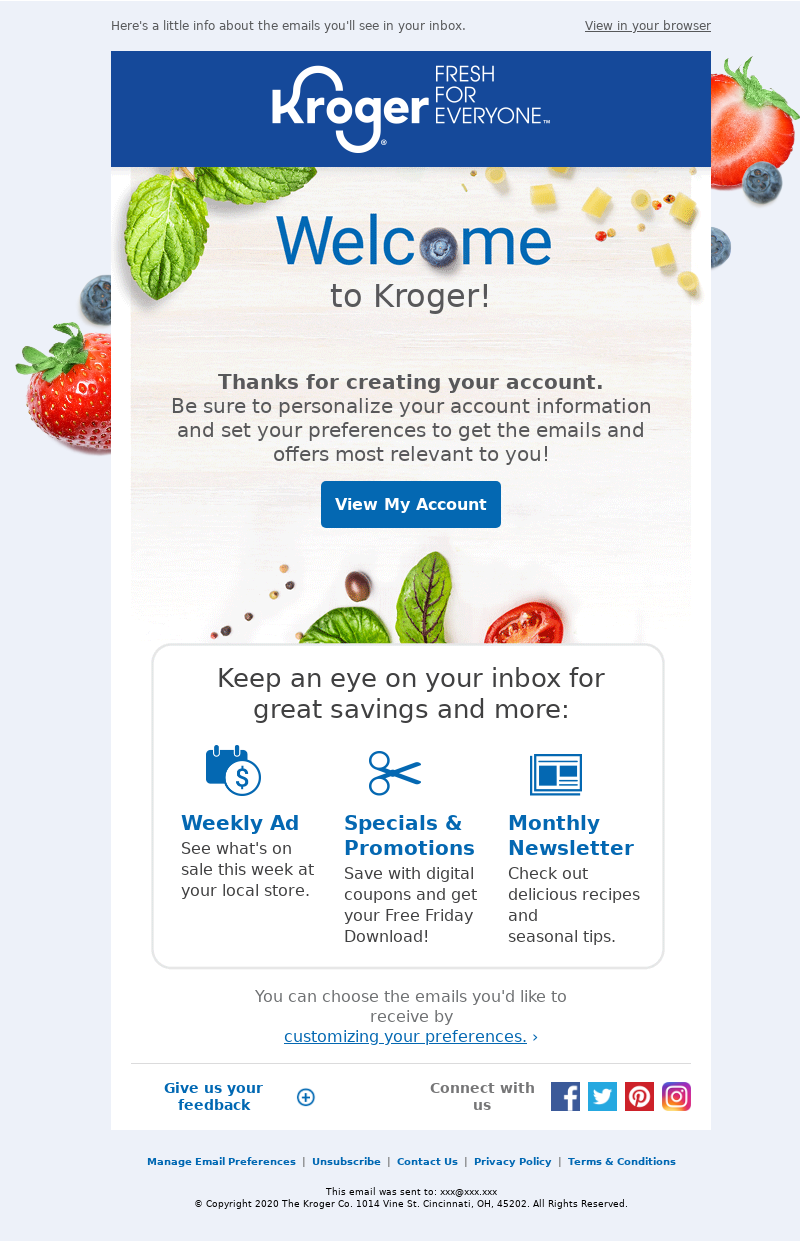 This onboarding email by supermarket chain Kroger is one of four emails in its onboarding email sequence. The first email welcomes new subscribers, asks them to personalize their account information, and then gives subscribers a sneak peek of what's coming to their inboxes.
🕛Save time when you order online!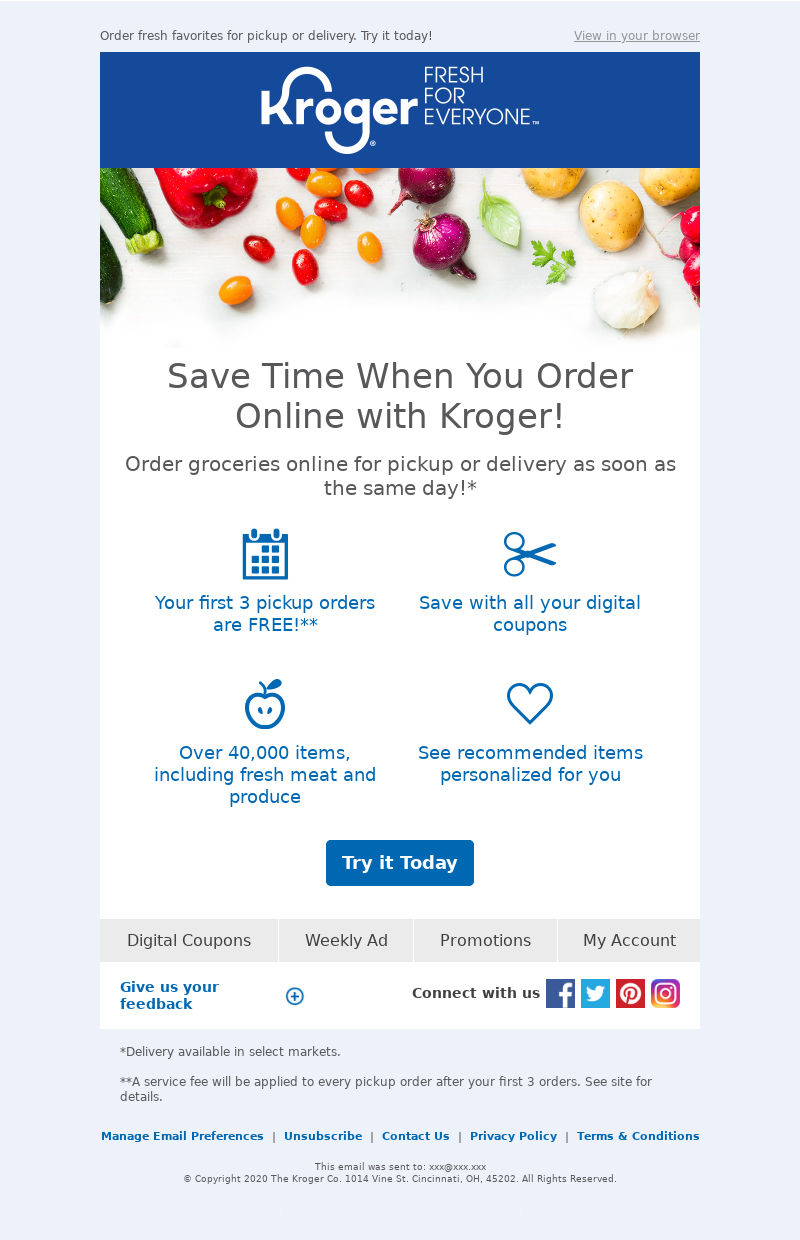 This second email highlights the benefits of ordering online. The main CTA links to the online store while less-prominent buttons at the bottom of the email link to different promotions and the customer's account. Kroger also invites the subscriber to connect on social media, something all four emails do.
See all the ways to save at Kroger!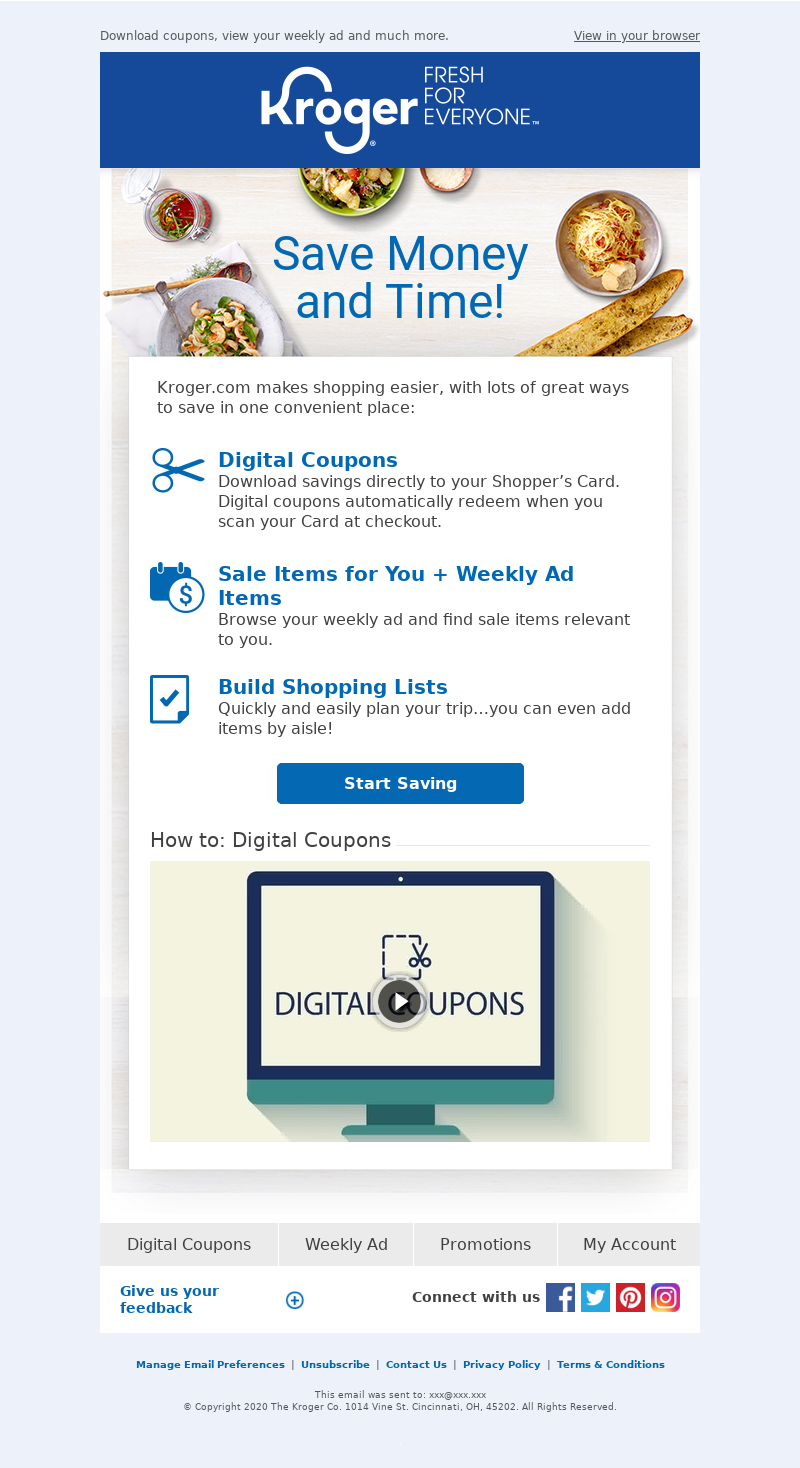 The third email in this sequence shows various ways in which Kroger.com makes shopping easier with a large focus on its digital coupons. The email includes an explanation video on how to use the coupons.
Save on the go with the Kroger Mobile App!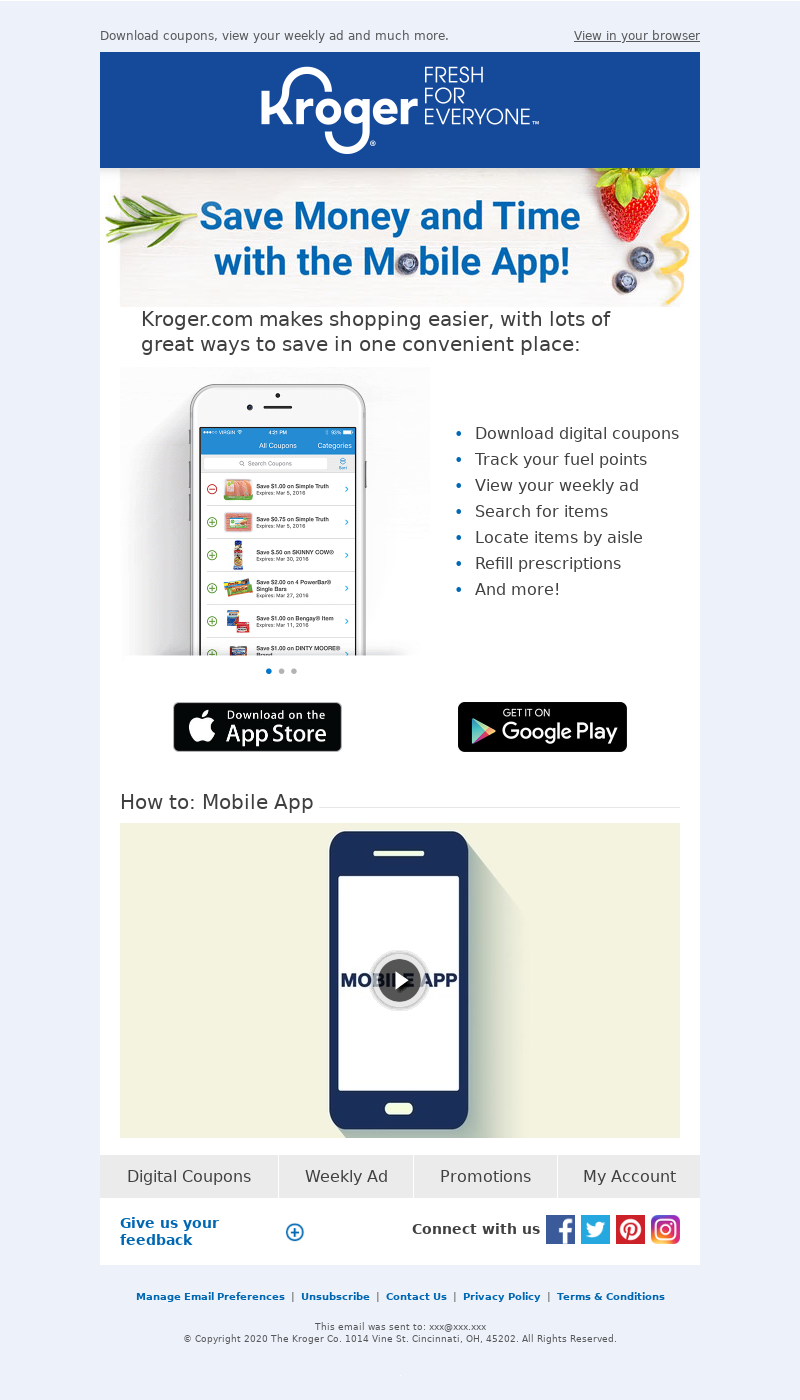 The last email has one specific CTA, and that is to download the Kroger app. The app's features are listed. A video explains how to use the app. Two recognizable CTA buttons to the Google Play Store and the App Store make it easy for the customer to act.
---
---
Consideration email sequences
These email sequences can go hand-in-hand with your awareness email sequences but are targeted toward those who are aware of the brand and its product offerings.
Because they're not triggered by account creation or on-site events, these sequences can be less about on-site events and can include multi-touch email programs such as new product launches, semi-annual/annual sales, cart abandoner, browse abandoner, and holiday email sequences.
Cart abandonment
Healthcare brand Native has a lengthy cart abandonment sequence with a total of seven (yes, seven) emails over six days.
This is atypical for ecommerce brands, as many cart abandoner series focus only on a few email touches.
Hey there... 😉

The first email kindly reminds the shopper of the toothpaste left behind and offers the chance to "Checkout Now." The second email adds some social proof for the Native brand by promoting the positive 4.72/5 rating for Native products.
You'll love Native Toothpaste 😍

This email is the third of the sequence and promotes Native's 100% satisfaction guarantee, its 30-day full-refund policy, and free shipping. The email concludes with a glowing review of the product from an actual customer.
In the remaining emails in the sequence, Native promotes a limited-time 10% off discount and then a BOGO travel-size deodorant for completing the purchase.
Throughout this email sequence, Native goes from focusing on brand trust and product benefits to offering a discount and BOGO deal. We love this approach because it gives shoppers time to complete their purchase at full price before adding a discount offer.
Browse abandonment
Re: your shopping bag
Fashion retailer Tory Burch starts its browse abandoner by complimenting the shopper's style before reminding about the product they left behind. It also recommends alternative products (in this case, sunglasses) and promotes its free shipping and returns policy. Towards the bottom of the email, the brand uses customer data to invite shoppers to the closest retail location (complete with embedded map).
New Collection
Something lovely is on its way...

This pre-launch email is part of the shoe brand Rothy's recent product launch. Consisting of four emails in total, this first email reveals just enough detail to pique subscribers' curiosity. A story is created around the shoes, bringing them to life and sharing their many day-to-day applications. This is the perfect introduction to get shoppers interested to purchase. The emails that follow promote the new shoe, the colors available, and the team behind the shoe. This series is a great example of a one-time email sequence where content could be repurposed in the future (think welcome series emails!).
Holiday sequences
SNEAK PEEK 👀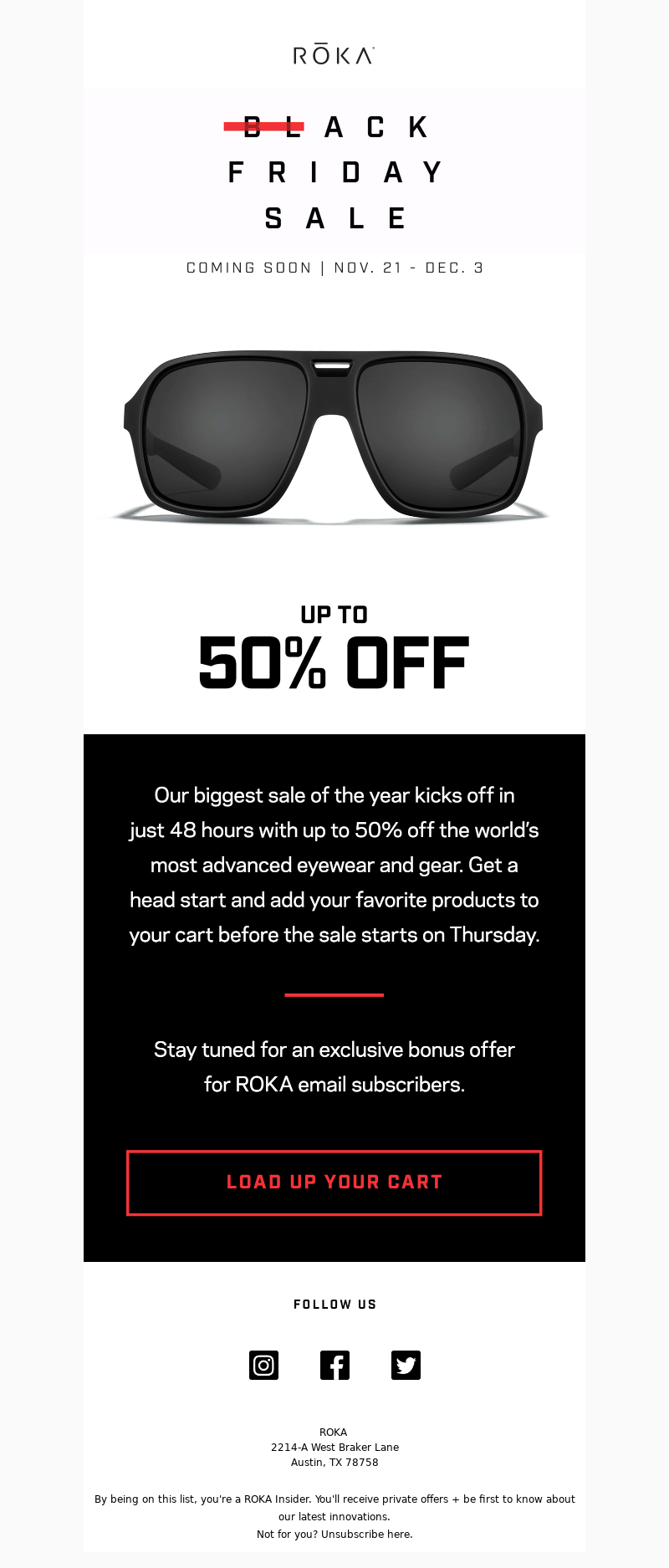 Activewear brand ROKA had a long Black Friday campaign, sending emails in a sequence throughout the whole month of November. All the emails have the same recognizable Black Friday Sale headline and showcase different products as well as the discounts at which these can be bought. ROKA reminds shoppers that they can return their purchase for free within 30 days and also offers them an additional $10 off on orders of $150 or more.
The email pictured here was sent right before the start of the sale, encouraging customers to add their favorite products to their carts so that they would be ready to buy when the sale starts. ROKA also mentions that this is their biggest sale of the year, implying it's not something subscribers will want to miss.
Sale sequences
Save up to 60% at our Spring Sale

Nordstrom's spring sale email sequence consists of three emails promoting the seasonal sale and its most popular shop categories and items. They also include a 40%-off sale for new styles and mention the sale's end date. After the main sunflower image, they include language around free shipping, free returns, and free style advice.
Purchase email sequences
Purchase emails are typically transactional and are less marketing-heavy than the top-of-funnel efforts. They are triggered by a purchase and can include order confirmation, purchase receipts, shipping confirmation, and review email sequences.
Shipping confirmations
A shipment from order #285273 is on the way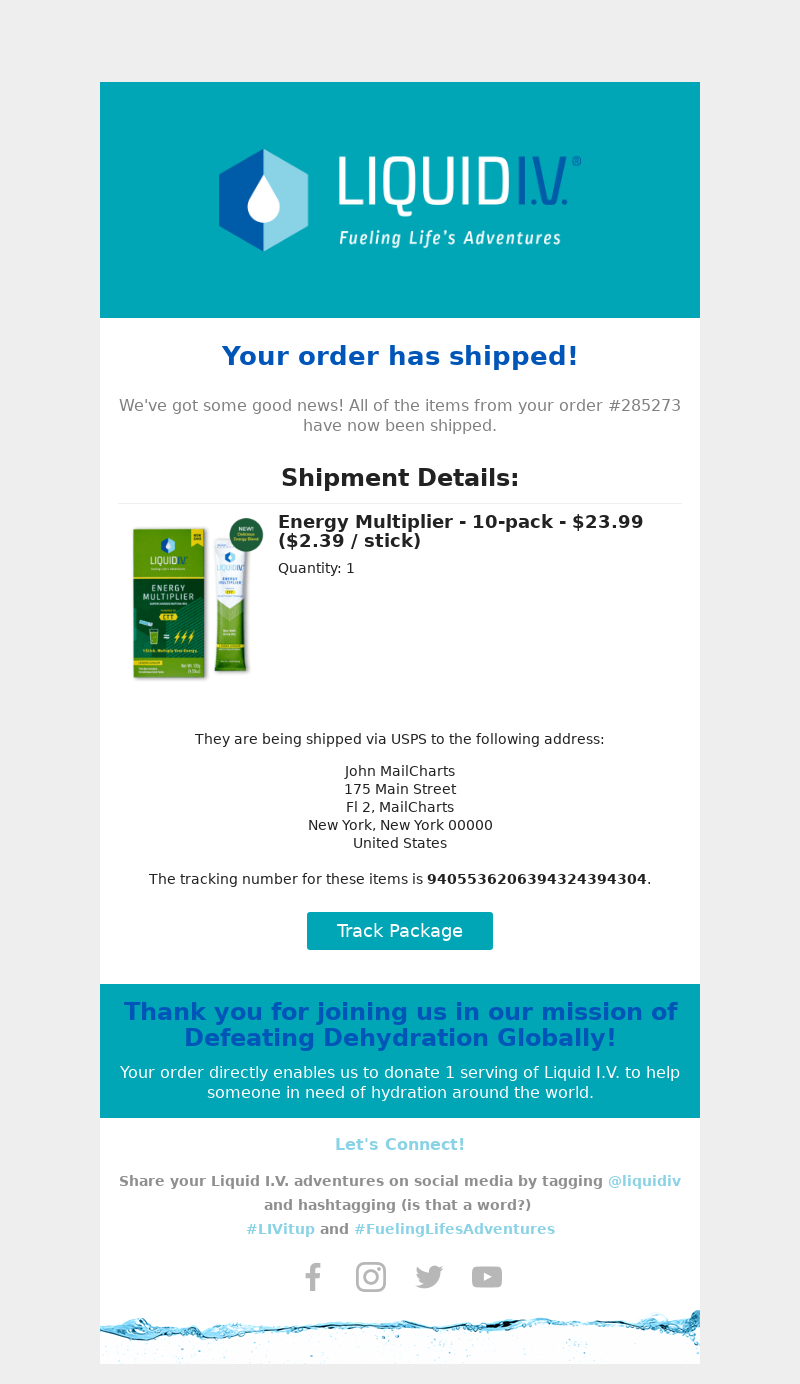 Liquid I.V. sends three emails in its shipping confirmation sequence that provide status updates to their order. In the first one, it informs the customer that the package has left the warehouse and includes the shipping address. The second and third emails notify customers when their packages go out for delivery and when they have been delivered.
All the emails in this sequence show the purchased item as well as the tracking link. They also mention the wellness brand's donation program and invite the customer to follow it on social media.
Everything you need to know about your next delivery!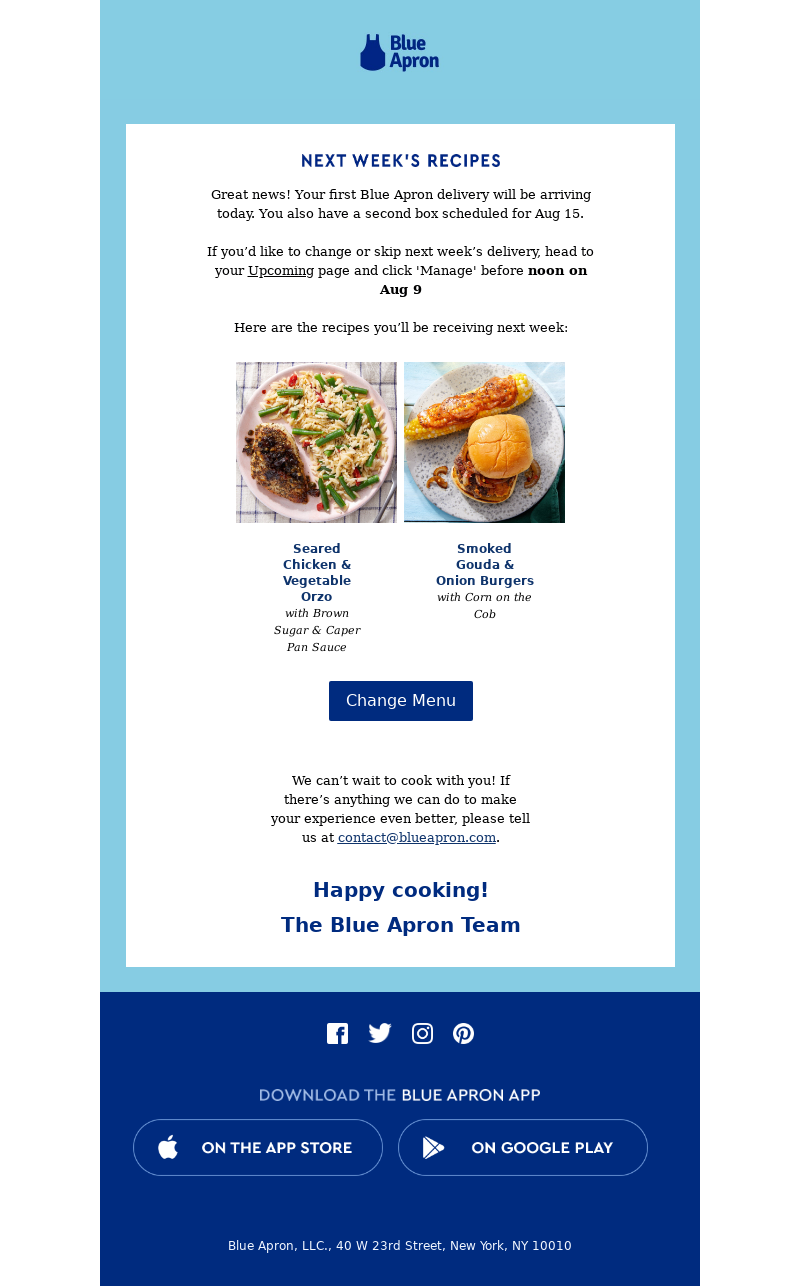 Meal delivery service Blue Apron sends a delivery confirmation as part of the post-purchase shipping sequence. It informs customers that their current order will arrive that day and also mentions when their next delivery is planned. Customers have the option to reschedule or skip the next delivery as well as to change any upcoming recipe selections.
By being flexible, Blue Apron prevents customers from canceling their subscriptions and allows them to customize their subscriptions as needed.
Leave-a-review emails
How's your new gear?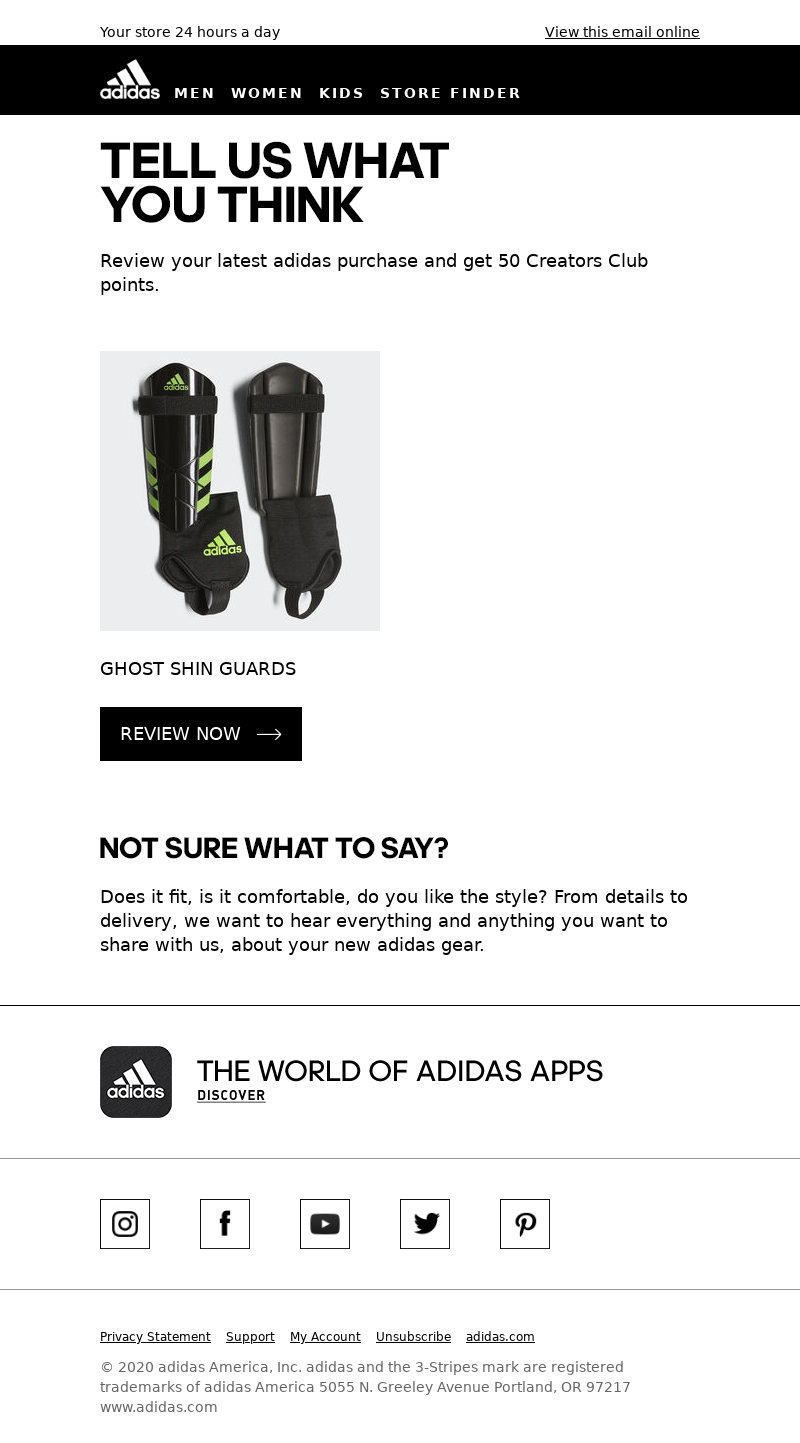 This leave-a-review email from Adidas gets straight to the point: What did they think of their orders? It reminds customers of their purchases and incentivizes them to leave a review in exchange for 50 points. We love this email because it has a helpful prompt for what customers can add in their reviews including their shipping experience and the product fit and style itself.
Loyalty email sequences
It's important for brands to keep their customers happy and (fingers crossed) generate more sales from purchasers in the future. Loyalty email sequences include post-purchase upsell sequences, loyalty or rewards club offerings, refer-a-friend offerings, and, for those who cancel their accounts, win-back campaigns.
Post-purchase upsell
Upgrade your box before time runs out!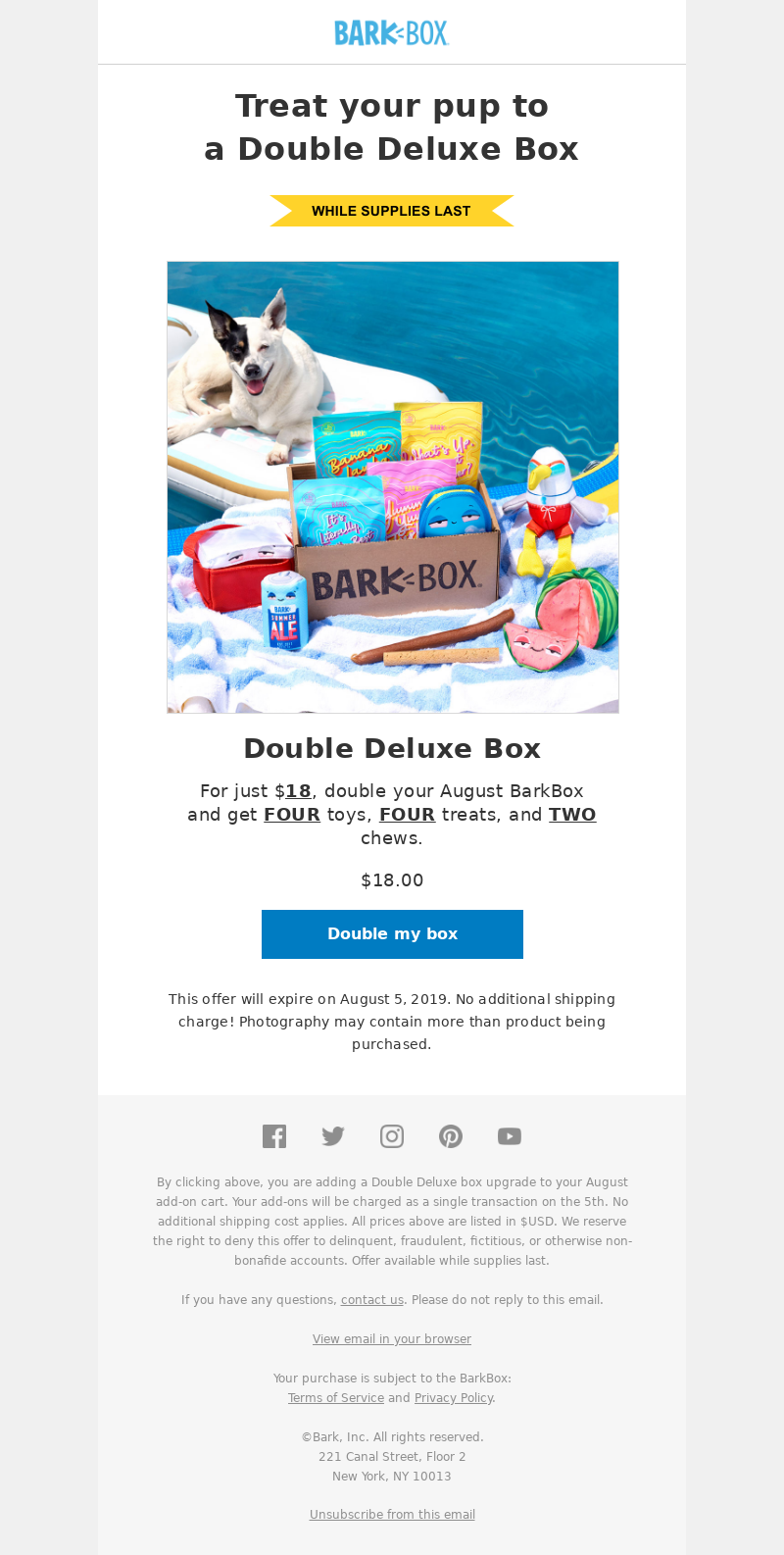 Pet-products company BarkBox offers customers the chance to "upgrade" their purchased box at a discount price. It also adds urgency by mentioning that this offer stands only "while supplies last" with a clear end date.
Win-back campaigns
💎Time for a jewelry refresh?

This win-back email sequence by jewelry subscription service Rocksbox consists of four emails. Interestingly enough, all its win-back emails contain emojis in their subject lines. The first two emails are more product- and image-heavy and contain a CTA button. Both emails offer customers who have canceled a generous 50% off if they decide to reactivate their memberships. The third email in the sequence promotes the same offer but in text format. In the last email, the brand adds a bonus: a $21 monthly credit to bring back those previous customers.
Subscription reminder
Your Harry's Shave Plan order

Men's grooming brand Harry's has an auto-refill subscription service for shaving blades. Customers who opt in to auto-refill receive reminders of upcoming deliveries and can upgrade their next delivery by adding products. Customers also can reschedule their deliveries and earn credits by referring friends.
Refer-a-friend
Share good vibes. Get two $5 referral credits.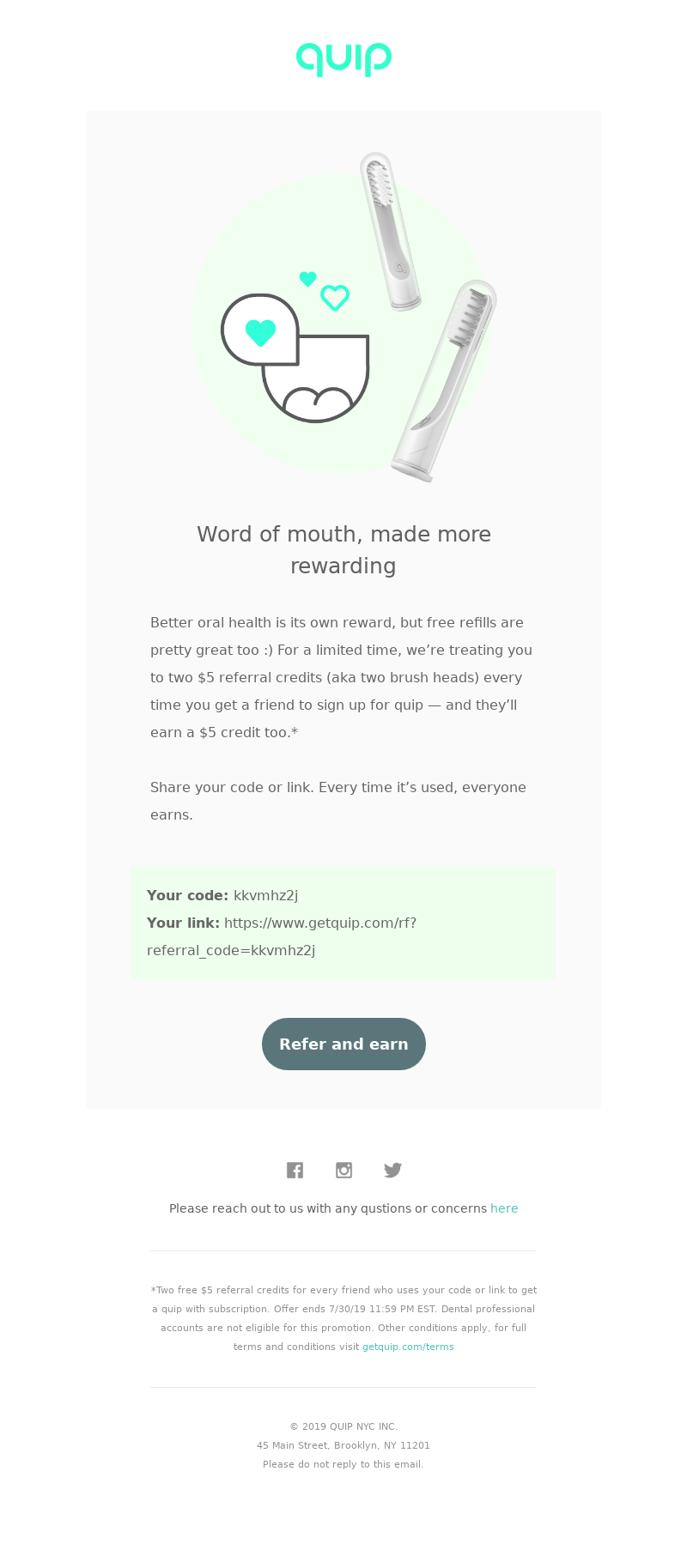 This email is part of Quip's post-purchase sequence for loyal customers. It focuses on one thing: asking customers to share Quip with their friends. For each person who purchases from a referral, the referring customer gets a credit applied to a future order. Quip provides a personal code and link in the email to share with friends, making it easy for customers to send to others.
When customers successfully refer a friend, they receive an email notifying them which friend used their referral code and how many credits they've earned.
Email sequences can be used in various stages of the marketing funnel. If you're looking for more email examples and sequences, sign up for a free account with MailCharts! 
Photo by YIFEI CHEN on Unsplash