Poor old Dad can't catch a break. Fewer people shop for Father's Day than for Mother's Day, and the ones who do spend less. But the spending gap is narrowing, and shoppers' willingness to open their wallets is great news for your Father's Day promotion ideas for your email campaigns.
Father's Day by the numbers
The National Retail Federation (NRF) projects Father's Day spending will hit a record $15.5 billion in 2017, with the largest share of spend going to experiences like ballgames, concerts, and dinners. Sounds like a lot, but it's 34% less than the $23.6 billion the NRF estimated people would spend this past Mother's Day.
The good news is that Dad is catching up: In 2008, the gap was 43%. Also, just over a third of shoppers—33.7% to be precise—plan to buy online this year. That's right behind the No. 1 location: department stores (39.9%).
How should you position your Father's Day promotion?
After analyzing email creatives from hundreds of companies, we found that strong email content falls into one of four themes (and sometimes into a few of these at once):
How will I find the right gift? This is where gift guides come in.

My dad is my hero. That's a great theme to leverage.

My dad is a goofball. Go for the laugh.

I love my dad. Share a sense of appreciation.
Below you'll find share-worthy examples for each category along with an explanation of why these messages stood out from the crowd. As always, you'll also find important takeaways to help you with your own email planning.
1) Help shoppers out with a gift guide.
Your customers might know the brands their fathers like but have no clue what to buy him. Help them by sending a gift guide showcasing gift-worthy items at different price points. This is a handy way to promote merch your shoppers might not find otherwise.
Father's Day is Less than One Month Away!
Here's a great way to organize your gift guide: provide collections based on personas or interests and include price-based offering that don't scream "discount!" We get an idea of the products this retailer offers and clicking any of these boxes gives us a laser-focused shopping experience to quickly find what we want.
We love this gift guide because it leads off with evocative images and copy that goes right for the emotion and nostalgia of learning to play golf with your father. And that call to action: "Shop gifts (but call your Dad too)." Did you just hear your mom's voice in your head, too?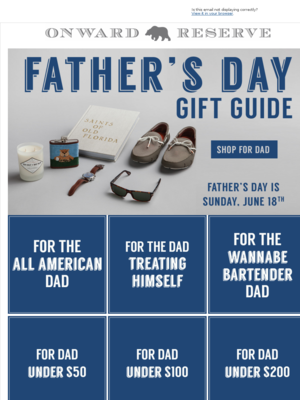 The #CoolDad Gift Guide
If this guide looks a little different from the others, it's because it's actually an edition of the UrbanDaddy email newsletter. We picked it because you can easily adapt its format – mixing a curated selection of items with editorial instead of promotional copy to establish a mood or attitude. Use this soft-sell format early in a holiday promotion calendar, and save the hard sell for closer to the day.
Takeaways: Retailers use two main formats for gift guides: you either show the items in the email itself or you link to a gift guide on your website.
Have time to run an A/B test? Consider testing whether in-email guides or on-site guides generate more sales. You can also test whether emails showing prices lead to more sales than emails simply showing the gift recommendations.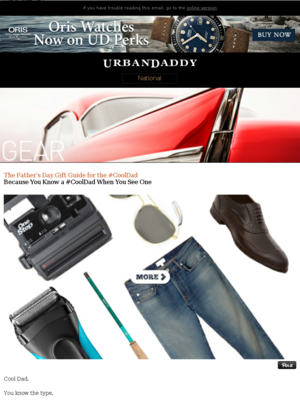 2) Make Papa the hero
Dads often get the short end of the stick. Even Father's Day is almost an afterthought, It comes during summer, so Dad doesn't get cute little school art projects like the ones that come home for Mom. This is your opportunity: use your email to put Pops front and center.
New Launch: Just In Time for Father's Day
Birchbox did a really nice job of making both the email and the product relevant. This email is short, visually appealing, and disguised as a new product announcement (notice the preview text: "Announcing an exclusive first gift box just for Dad").
Your takeaway: The hero image pays a compliment to fathers, but it also can be a gift to your creative team (which is probably longing to exercise its talents and come up with something different than the usual hero-image-and-offer message). Turn them loose and let them impress you!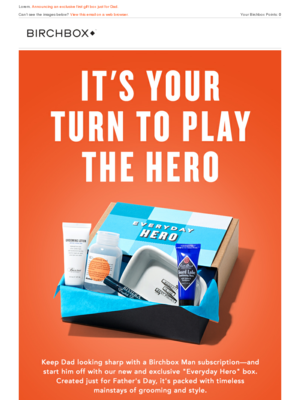 Make dad feel like a hero
Some dads would rather make a difference than score a hole in one. This email takes a different approach to the dad-as-a-hero concept. We like the email's clean, uncluttered, look and the images—at the top showing what the recipient sees and the (presumably) father and son at the bottom. This makes it perfect for your Father's Day promotion ideas.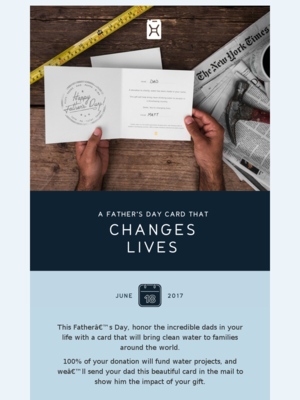 3) Have a laugh with Dad.
It's a rite of passage that your father will embarrass you, whether he shows up wearing black socks with sandals or cracks jokes that make you cringe in front of your friends. But it also means that humor can resonate with your customers and give your creative team room to play.
No More Dad Jeans
Hands down this is our favorite Father's Day email. The "Dad Jeans" subject line? Perfection. The preheader promotes the main offer for this subscription clothing-box company, which sends a curated selection of outfits once a month (hence the gift card offer rather than selling individual pieces). The image showcases the items in a typical box. Plus, the email has a clever little animation. Click to view the email animation.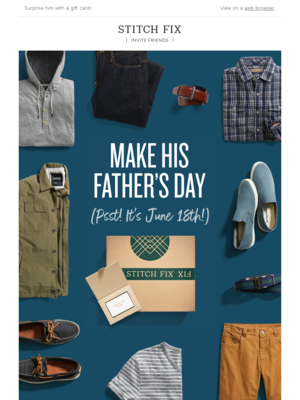 Free Football toy - Goooo Sports!!
So, who said a father has to have human offspring? In this age of "pet parents," the "dog dad" is the natural brand extension. We loved the gentle humor of this email. Click it to see the full email on the MailCharts site. Bonus points for a preheader that calls out the "dads and dog dads" focus of the main email and for a fun freebie as incentive.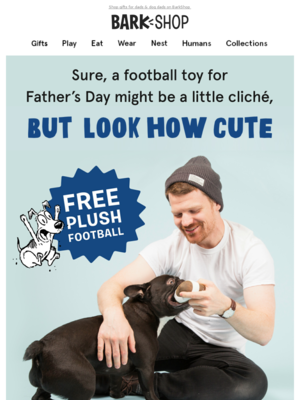 Make dad feel like a hero
Is that a hero image or what? Companies that market home-security devices don't usually take such a light-hearted approach, which is why this stands out. But mixed in with the humor is a more sentimental approach aimed at people who might have more complicated relationships with their dads.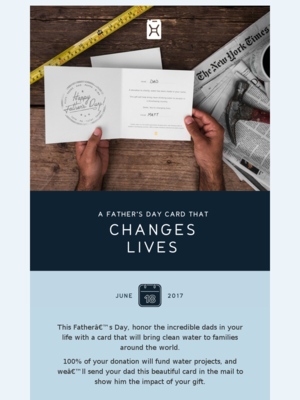 Star Wars™ pj's for dads...for a Force-ful Father's Day.
Hanna Andersson goes into cheeky-Jedi-mode with the headline "I am your father" to promote their Star Wars PJs. Even the subject line is on point: "Star Wars pj's for dads…for a Force-ful Father's Day." Plus, we liked the image of a father and daughter together—a rare combination in Father's Day messaging.
Your takeaway: You don't need to highlight a sale or discount to have an engaging email that has good-natured fun with a traditional holiday. Good copy and fun imagery can humanize your brand and make customers feel good about buying from you.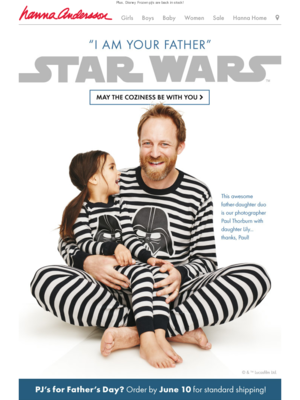 4) Show Dad the love
We found some great examples of emails that tap into the emotional aspect of Father's Day—not the hearts-and-flowers sentiment that pervades most Mother's Day marketing, but a quiet message of strength and support.
Fill his Father's Day with love & chocolate
The tempting hero image in this email might be enough to drive a hungry shopper to the website, but what made it share-worthy for this post was the chocolate cigars in the secondary offer.
Nice touch, too, with the customer comment tagged to the cigar offer. It ties the product clearly to Father's Day and also shows how to incorporate your customer's voice into an email to make it more human.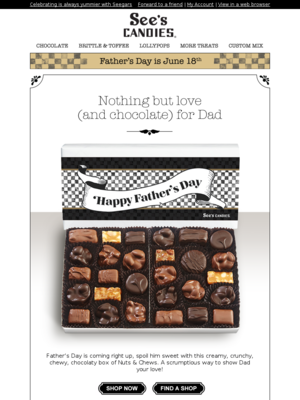 Thank Dad For All His Support – 25% Off Shirts & More
Even a cowboy has a soft side. This email conveys that gentle sentiment without getting mushy. But, what looks like a sweet informal snapshot is actually a strategically designed gift guide.
Everything ol' Tex is wearing is for sale elsewhere in the email (click to see the full version).
Your takeaway: Don't shy away from sentiment or nostalgia in emails geared toward holidays that have emotional pulls. But, always be sure the message you send is something your subscribers would expect, something that reflects your brand equity and "voice." Emotion-driven campaigns don't take off—or worse, backfire—when the marketing team leaves the customer out of the creative decision-making.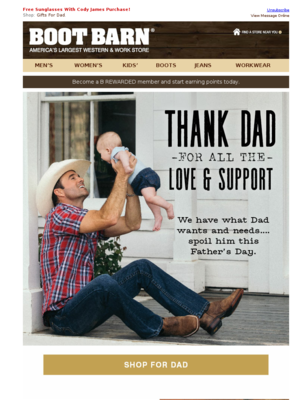 Keep in touch!
We'd love to see the Father's Day emails that drive great engagement and sales for your brand. Tweet to us at @MailCharts or post your comments below.
Sign up for our free email newsletter for email insights and inspiration, too, on more than just Father's Day promotion ideas. And, if you want to try out MailCharts for yourself, just drop us a note  and we'll be happy to walk you through a demo. No obligations, no hassle!