This blog post is an extract from our 2016 Holiday Report. Access the 100+ page report for free here.
Free Shipping Day, which takes place on December 16, is exactly what it sounds like: a day on which thousands of retailers offer guaranteed no-cost delivery by Christmas Eve. In 2015, Free Shipping Day contributed over $1 billion in online sales.
This opportunity couldn't be better-suited to consumer preferences. To put it simply, people love free shipping.
According to customer engagement company Accent, 88% of people are more likely to buy something online if shipping and packaging costs are waived. However, 3-in-10 businesses never offer free shipping. Roughly 6-in-10 offer free shipping based on a threshold—usually a minimum purchase amount.
Thanks to Free Shipping Day, you can tap into your audience's enthusiasm for free shipping.
If you look at the below graph, it's obvious most brands chose to send their campaigns on Free Shipping Day itself. But, Interestingly enough, our data shows this holiday isn't being used to its full potential—we found only 35 emails that used "free shipping day" in their subject line in 2015—out of thousands of companies we track.
Since Free Shipping Day isn't yet popular, this could be a fantastic opportunity for you to differentiate yourself from other companies.
Take My M&Ms, for example. On December 17, 2015, they were the first retailer to promote Free Shipping Day. 
Celebrate Free Shipping Day Early!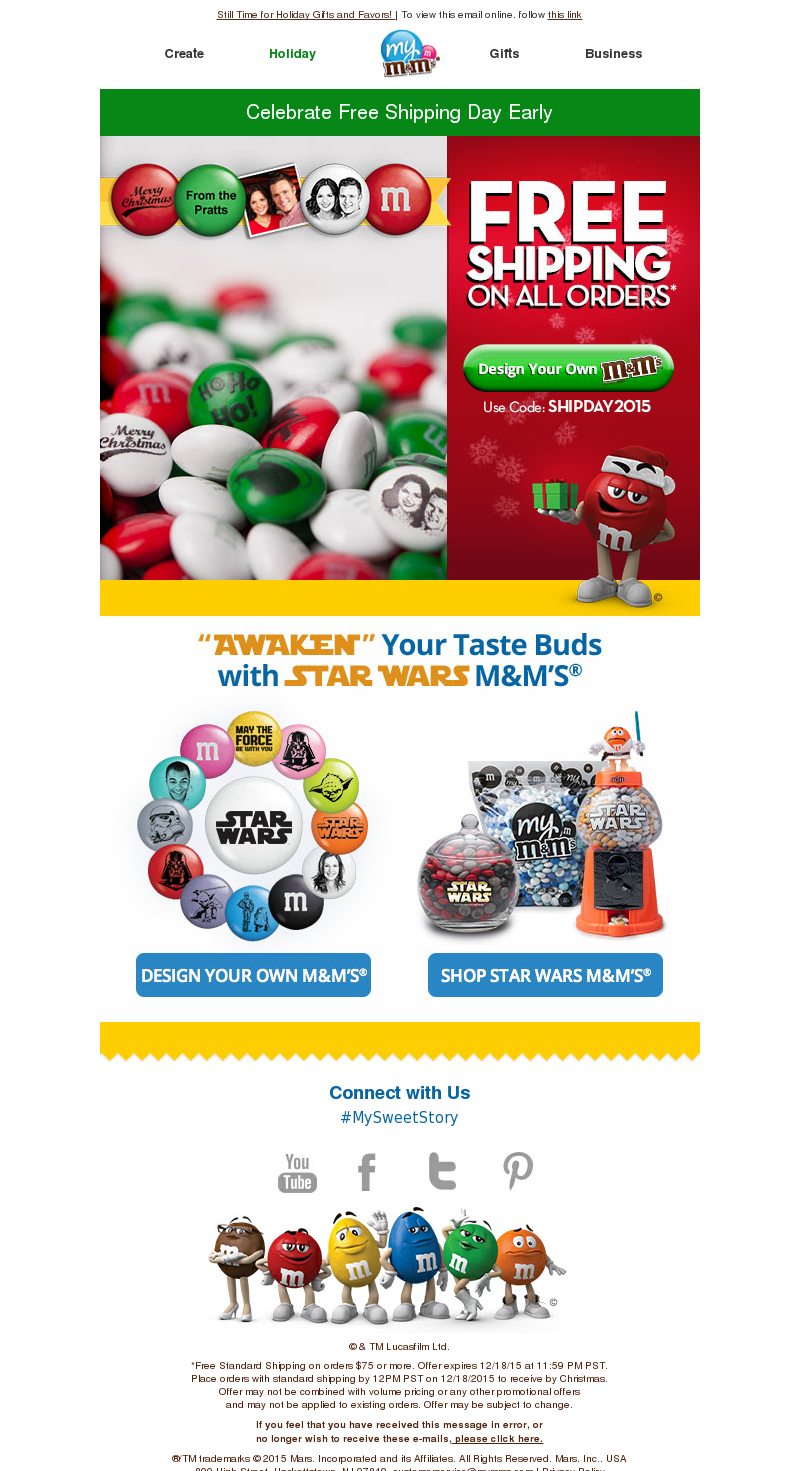 This is a nice, simple, email that does the job.
Let's look at a few more examples from 2015.
Let's Celebrate Free Shipping Day!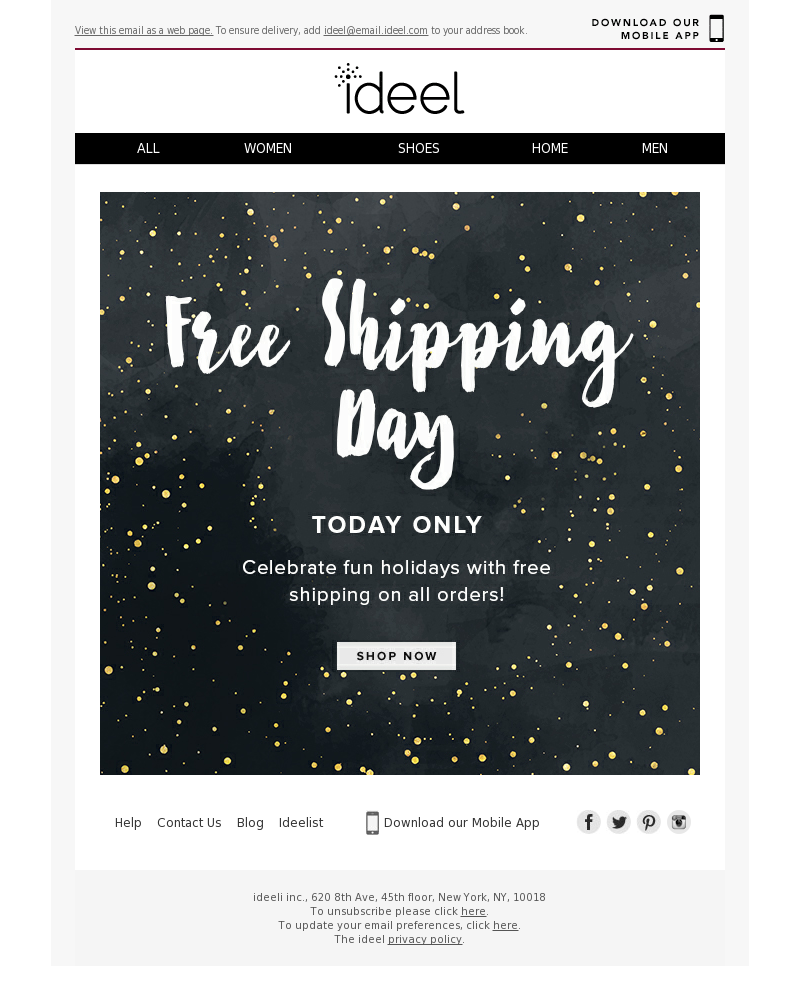 Like 80% of the Free Shipping Day emails we analyzed, Ideel's email was sent on the day of the holiday. Both the design and the concept are extremely simple. There isn't a complicated promotion structure or an overwhelming number of visuals, allowing subscribers to immediately home in on the call-to-action.
🚚 Free 2-Day Shipping on These Favorites & More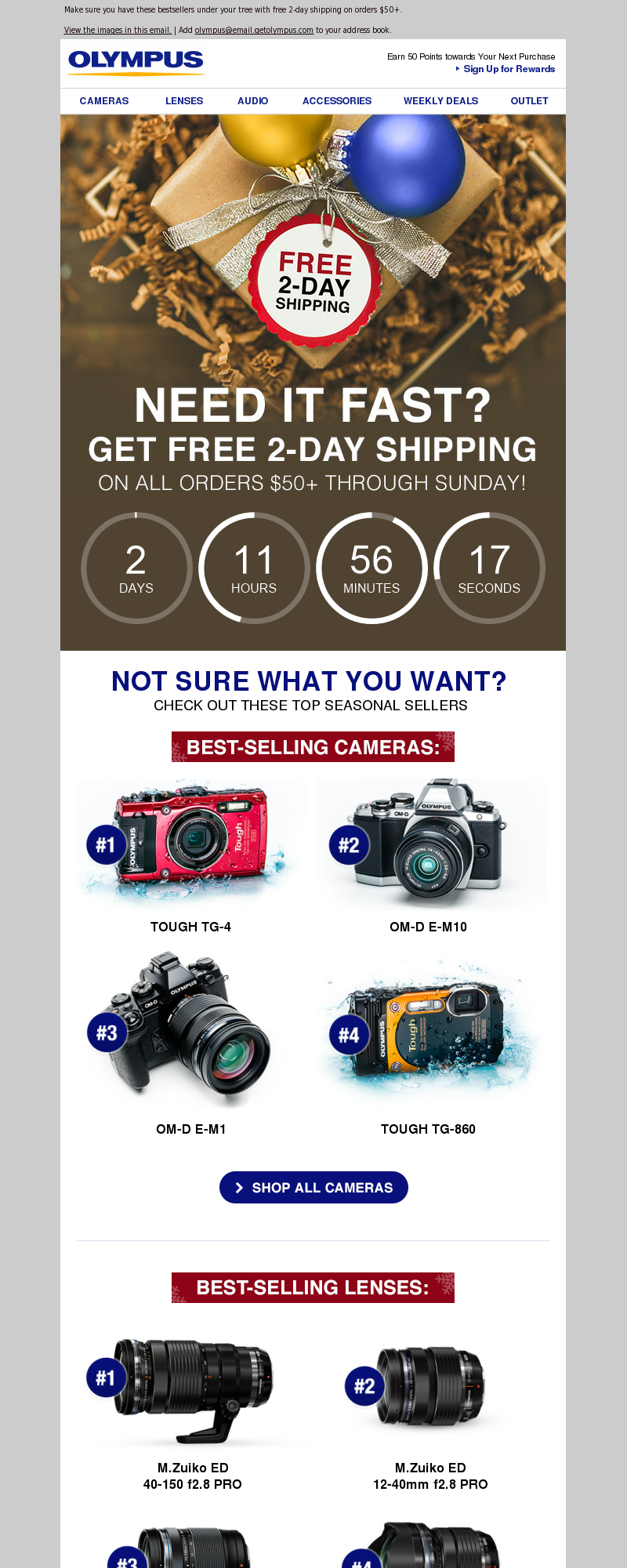 This newsletter from Olympus uses a different strategy. Notice how their email header mentions a $50 minimum to qualify for free shipping. In their case, this is acceptable since most of their products start at around $500. If you're a higher-priced brand, you could consider using an order minimum as well.
Also note how Olympus tries to drive action with its headline by reminding subscribers that the clock is ticking—a message that's reinforced with the count-down timer underneath. This is a classic technique that creates urgency.
Even if you offer free shipping year-round, you can borrow from Olympus' campaign. You could, for example, offer expedited (two-day) free shipping instead of standard shipping times.
1 Day Only! Free Shipping + Up to 70% Off

Belk took things to the next level for Free Shipping Day. Complimentary shipping is barely emphasized—most of the attention is given to the "biggest sale of the season," with 60 to 70% discounts, and a separate tiered discount offer.
While we love how appealing this offer is, there's a lot for the reader to digest. If you can, simplify your promotions. The easier it is for subscribers to say yay or nay, the better.
Free 2 Day Shipping + Lipstick? Yes, Please.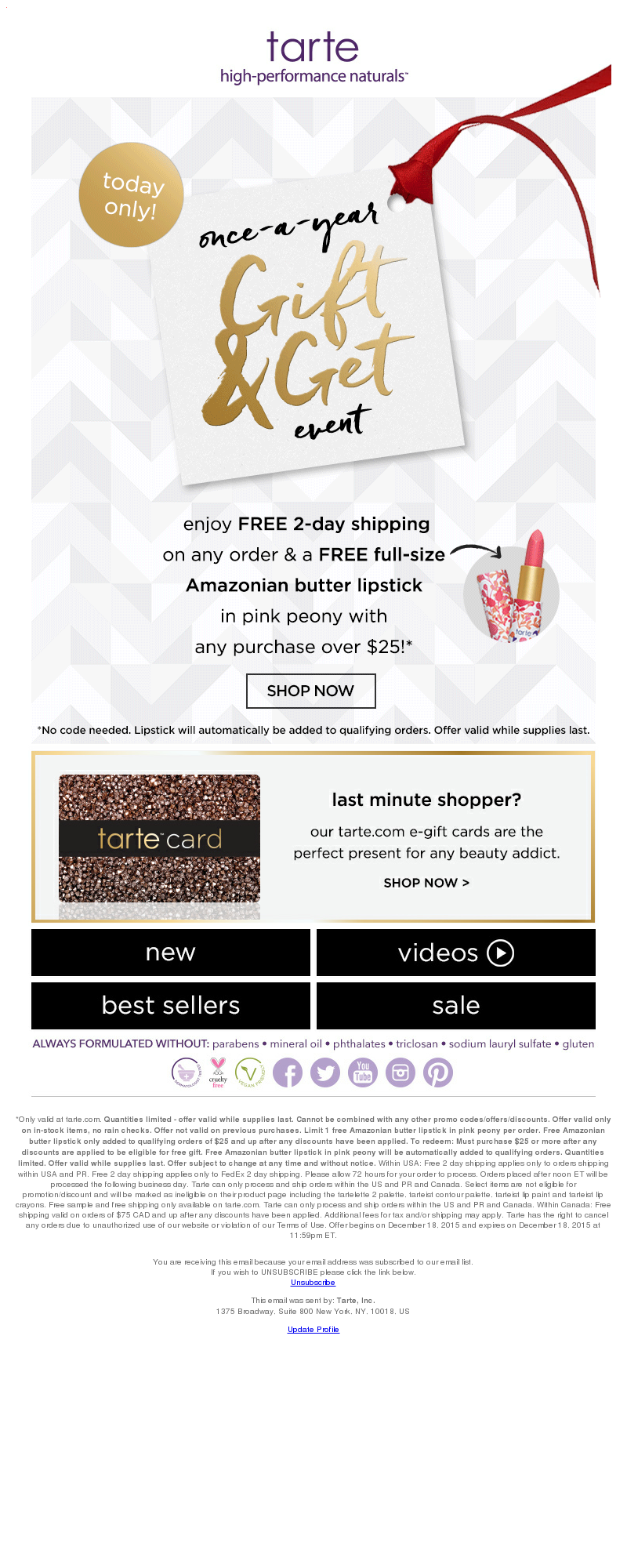 Tarte also did something out-of-the-box. Along with free two-day shipping, the cosmetics brand threw in a free full-size product.
Giving customers freebies is an excellent way to make your offer feel special and exclusive. Plus, if you offer free shipping frequently, your freebie offer tells subscribers you're not just trotting out the same old promotion.
How to Optimize Your Free Shipping Day Email Campaign
Here's a quick recap:
Take advantage of this under-utilized holiday: Do something for Free Shipping Day!

Use a straightforward, comprehensible email to advertise a simple promotion. More complex promotions (with multiple ways to save) warrant more "flashy" emails which take more time to produce and are harder for subscribers to understand

Align your "free shipping" offer with your average product's price point

If you already offer free shipping, consider providing free expedited shipping or waiving the minimum order threshold

Combine free shipping with a complimentary gift to make your campaign feel like a special event
On December 16th, will you help subscribers buy last-minute gifts in time for Christmas?
We hope so 🙂