Labor Day weekend is fast approaching and it's time for you to start planning your email marketing campaigns. If you're currently scratching your head, wondering how to go about that, then this blog post is for you. We've spent hours scouring the web and analyzing what happened last year to help you plan an effective Labor Day email campaign.
It's often easiest to plan your campaign by first understanding what other companies are doing. To do this, we'll look at the MailCharts dataset to understand what happened on Labor Day last year.
Once you have a basic understanding of the landscape, it becomes a lot easier to mold the campaigns you like to suit your subscriber's specific needs or interests. Let's being by looking at some examples from last year.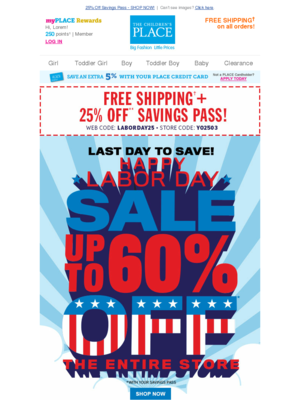 Even though it's Labor Day weekend, the average family has only completed about half of their back-to-school shopping. If you sell anything related to back-to-school, this is a great opportunity for you. It's worth noting that over 40% of back-to-school shoppers said that half their purchases were influenced by sales, coupons and promotions.
In the above example, The Children's Place did a really great job of combining their Labor Day sale with the back-to-school theme. Notice how they call out specific back-to-school items in the email, such as lunchboxes, uniforms, and backpacks.
Another great example comes from The RTA Store.
30% Off Labor Day Sale Ends Tonight!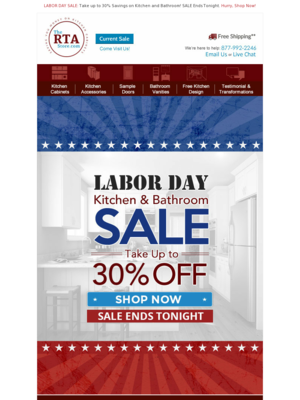 While not focused on back-to-school, The RTA store created a visually appealing Labor Day email using the colors of the American flag as well as the symbolism of the stars. It's on topic for Labor Day but not overly cheesy. Also, notice how clear the value proposition is: "SALE – Take Up To 30% off".
Studies have shown that 35% of people will decide whether to open an email or not based on its subject line, which is why The RTA Store opted for a short, and to the point, subject line. On a related note, Experian determined that a staggering 85% of emails sent during Labor Day mentioned a sale or special offer in the subject line. Make sure your subject line includes your offer!
Adorama has fostered a strong sense of urgency in their email, encouraging subscribers to purchase now. The mention of "Last Day" in the subject line, the big "Last chance" stamp, and the copy suggesting there are "limited quantities left" are all great ways of promoting this sense of urgency.
Due to the changing seasons, back to school blues, and the start of football season, your Labor Day email campaign does not need to focus solely on the holiday itself. Adorama chose to position it as an "End-of-Summer sale".
The last point to note about this particular Adorama email is the sent date, which happened on the Wednesday following Labor Day holiday. As an aside, you'd be interested in knowing that 8.5% of Labor Day emails are actually sent after the actual holiday.
As with all email marketing, it's a good idea to start sending out emails early. Depending on your industry, this timeframe can vary significantly.
For example, companies focusing on tourism, accommodation, or holiday packages should begin their campaign between July and August in order to ensure their services are in the front of subscribers mind when planning a weekend getaway. Secret Escapes began sending Labor Day emails on July 24th, asking subscribers if they had "Labor Day plans yet?" (that's the subject line they used). When you start sending your Labor Day campaign early you're also able to send multiple emails promoting your offers over a longer period of time.
For those of you in the online retail space, here's a recommended Labor Day email plan:
Email 1: A week before Labor Day

Email 2: A few days before Labor Day

Email 3: On Labor Day

Email 4: A day or two after Labor Day
How To Optimize your Labor Day Email Marketing Campaign
Following a mix of the strategies employed by the above companies is a great starting point for your own Labor Day email program. To summarize all of this, here's how you can set your emails apart from the Labor Day competition:
Offer a competitive discount (but don't be too aggressive either — you want to make sure you're keeping healthy margins)

Be patriotic and leverage the "America" theme in your emails

Craft an eye-catching subject line that includes any discounts or special offers

Foster a sense of urgency

Follow a theme such as end of summer, start of school, or start of football season

Start your campaign early and send multiple emails
Send subscribers an email personalized with products they'll like based on saved items, browsing behavior, or any other attributes you might have handy
Labor Day is a time for celebrating all those that work so hard, and retailers do so by offering consumers a variety of discounts and special offers.
Due to the large number of marketing emails every American will receive around Labor Day, it's important your emails have a clear purpose with actionable next steps. If you follow the above tips and send multiple emails with attention-grabbing subject lines, you'll see how well your program will fare this year.
Happy emailing,
Carl