Americans will splurge on Mom in a big way again this year. The National Retail Federation projects a record-setting $23.6 billion on jewelry, flowers, cards, restaurant meals, clothing and "experience" gifts for Mother's Day which is why it's really important to get your retail promotion ideas in order.
Besides the overall spending jump—up 10.3% from last year's record of $21.4 billion—shoppers also say they'll spend more per person: $189.39, up 8.2% from $172.22 in 2016!
A lot is riding on Mother's Day for retailers and e-commerce companies: It's the third-biggest holiday of the year.
Email marketing trend analysis
Last year we saw that only 13% of Mother's Day emails were actually sent on said day. 85%+ of the emails were sent beforehand with a few right after the holiday. One interesting shift we saw from 2015 to 2016 is that, in 2016 50% of the Mother's Day email volume had already been sent 7 days prior to the holiday, up from 45% in 2015.
Takeaway: Companies are sending Mother's Day emails earlier than ever. With just 17 days until Mother's Day (as of this writing), it's time to get those emails live!
Today we'll explore four email marketing ideas for Mother's Day to help you connect emotionally with your readers—instead of relying on discounts and deadlines.
1. Forget the discount. Go for exclusivity for Mother's Day marketing ideas!
Mother's Day is one of the few holidays where retailers can promote aggressively without resorting to heavy discounting or incentives. Mother's Day is driven more by emotion (joy, longing, even guilt) than other holidays. You might scrimp on a date or a spouse on Valentine's Day,  but you want only the best for your mom, or another mother in your life.
Mother's Day is one of the few holidays where you can be aggressive without having to use discounts. Why? Because we all want the best for mom. On this holiday exclusivity reigns over "SAVE 50%." You'll see plenty of discounting as the day gets closer, but with more than two weeks to go, you can afford to promote pleasure-giving over penny-pinching.
Here are a few great examples of Mother's Day marketing ideas:
The Key to Her Heart | A Tiffany Mother's Day
You saw that one coming, didn't you? Notice the premium feel this email has. The elegant design and minimal copy mesh perfectly with Tiffany's premier brand equity. This email is the equivalent of shopping in a Tiffany's store.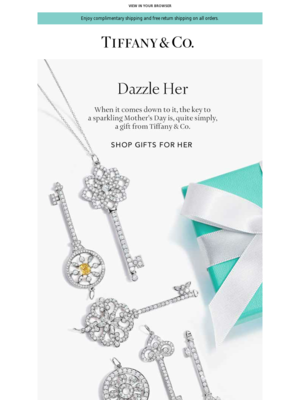 Make her day. Shop Mother's Day gifts
This email promotes everything from handbags to iPhone cases — all without mentioning a discount.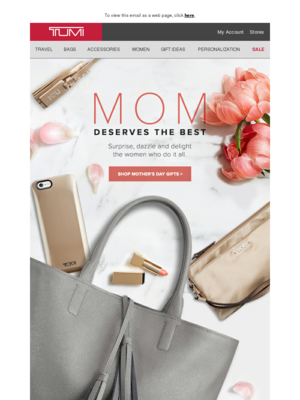 Tell Mum, thanks this Mother's Day
Even Tar-jay is on this wavelength. While the email does include prices, you don't see any special offer mentioned. Also, notice how Target smartly promotes products with a wide price range — from $29 to $295.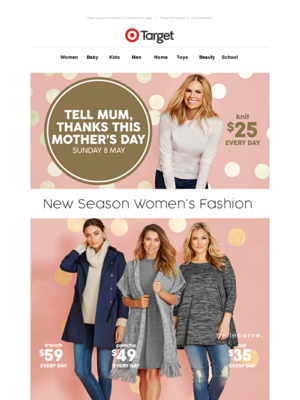 2. Incentive-driven emails can be attractive, too, for Mother Day marketing ideas.
Once again, we're talking about Mom here. Even for heavy discounters, elegant design (attractive copy and typography with appealing imagery) wins out over hard-sell, discount-driven and anxiety-inducing last-minute messages.
Save Up to 50% on Our Exclusive Mother's Day Gifts!
No Mother's Day is complete without a bouquet of flowers. Notice how 1-800-flowers offers a 50% discount without appearing cheap. Starting the email with "Be the reason mom feels loved!" is great.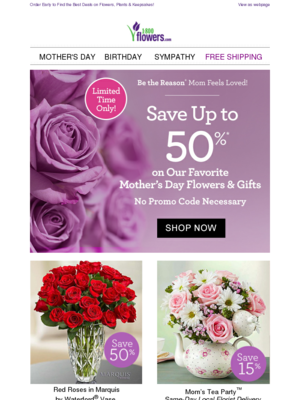 The Mother's Day Collection: 60% Off!
Even though Nautica Factory is an outlet (which tends to be associated "cheap" goods) its email remains elegant and clean. Notice the beautiful products promoted along with this clear header: "The Mother's Day collection."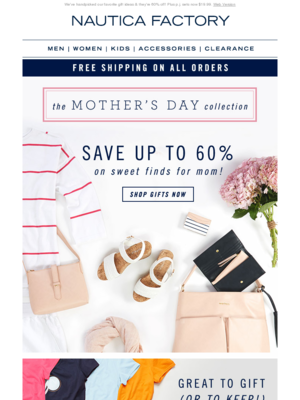 Shop our Mother's Day Sets - before they're gone!
The Origins team not only offered a discount, they also positioned their product as a premium gift ("Moms are a gift so give them our best"). Very nicely done for a Mother Day marketing idea.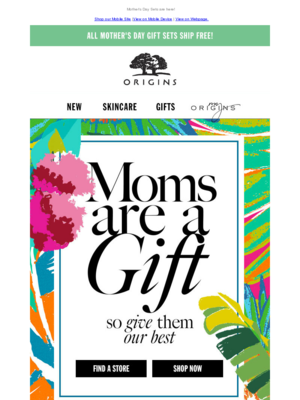 3. Go for the experience as well as (or instead of) the merch.
Jewelry is always a hot seller, but Statistic Brain research says baubles are pretty far down in Mom's priorities—35.5% of shoppers have jewelry on their lists, but only 11.2% of moms said that's what they really wanted for Mother's Day.
What does Mom really want? Something handmade topped the list at 36.5%, followed by dinner (34.8%), greeting cards (31.5%), gift cards (24.7%) and flowers (22.5%).
This year, we've seen some great emails from companies that either specialize in experience gifts or found a way to create experiences around their products. If you need to come up with a new email offer on the fly, think about showing how your shopper could use your product to create an experience with Mom.
First Look: Mother's Day Gift Guide
This San Francisco company is like Etsy for experience marketing. Independent providers put packages together and promote them under the IfOnly banner.
In this email, the team assembled a combination of packages, this time choosing from both travel and DIY. Prices range from with a wide range of locations and prices, from $30 to $549 per person.
This email also has a custom preheader, which is another reason why we featured it here: "IfOnly For Women Who Mean the World." It's a warm, positive statement that sets up the message tone and IfOnly's brand promise—much more useful than the usual "View in browser/Add to address book" boilerplate.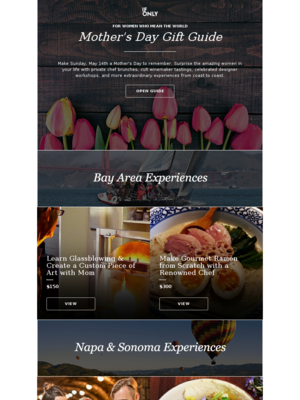 Your Mother's Day DIY Gift Guide Is Here!
Here's an example of turning a product promo into an experience. Remember back when we said "Something homemade" was the No. 1 item on most moms' wish lists for Mother's Day?
Brit & Co capitalizes on both DIY and experience market with an email suggesting the next best thing could be either making Mom something special or working together on a project from this craft-kit maker.
Bonus: Another warm and fuzzy preheader: "The most thoughtful gift your mom can receive…"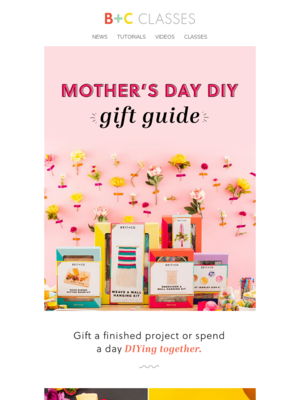 4. Amp up the emotion.
Mother's Day is a celebration that goes beyond the fun of Halloween or the romantic love of Valentine's Day. A UK marketing agency found Mother's Day messages with emotional content (copy and images) converted better than product—or incentive—focused emails. So, don't hesitate to pile on the hearts and flowers to help your Mother's day messages stand out from your day-to-day messaging stream.
(Caveat: Test two versions, one with a hero image that includes people and one with just products in it, and see whether it moves the needle on conversions.)
Below are three email that demonstrate effective ways to add emotion without getting too gooey or saccharine.
The Mother's Day Lookbook is HERE!
This email goes right for the heartstrings, beginning with the header ("Forever and Always") and the opening copy referring to Mom as "… your biggest fan, truest friend and sometime-therapist."
The images make the email itself looks like a mother-daughter shopping trip through the store.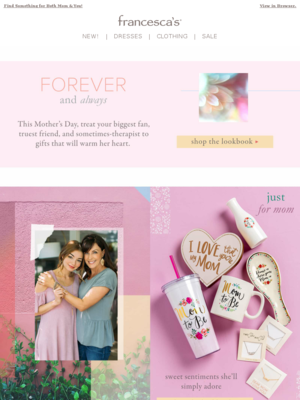 WE ❤️ MOM – Our Mother's Day Gift Picks Are In!
This email is more hard-core promotional than other Mother's Day messages we reviewed, but it represents the power of a strong hero image. The soft lighting and colors, the invitingly rumpled bed covers and the casual arrangement of items on the bed-tray make it look as if Mom just got up after lounging in bed on her special day.
Although there are no people in this image, the look tells a story, more so than a static placement of products.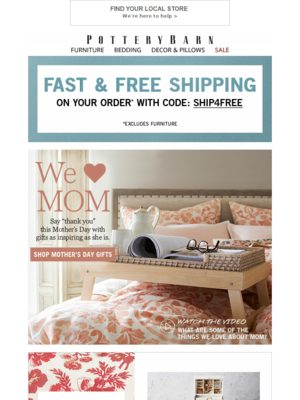 Mother's Day Is May 14
Mother's Day often lean toward the feminine, either because they're talking about moms or feature moms and daughters together. This Ralph Lauren takes a less sentimental approach by featuring a mom-and-son combination with nary a heart or flower anywhere in the email. Consider this crisp, efficient approach if you want to make your Mother's Day messaging stand out from the pink-drenched competition.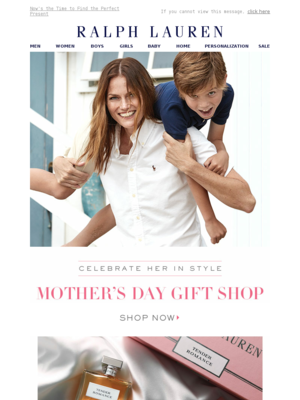 Closing thoughts
As noted last year, while the holiday is indeed called Mother's Day, many shoppers plan on making purchases for other relatives such as wife, daughter, sister and so on.
Here's the breakdown according to the National Retail Foundation:
Don't forget to mention these other important relatives in your Mother's Day campaign.
Your mom wants you to follow these tips for better Mother's Day emails:
1. Don't be afraid to mix-and-match offers:
1-800-Flowers used several offers over the course of its Mother's Day email campaign:
Here are some of Jared's emails, notice the subject line diversity:
2. Frequency can be your friend.
Jared the Galleria of Jewelry is a heavy emailer, sending 6 out of every 7 days and sometimes twice in a day. Beginning in early April, Jared began introducing Mother's Day emails, first one for every two to three regular mailings and then every other email.
If you're planning on sending just one or two emails for Mother's Day, think again. Could your program benefit from adding one or two messages? If work time is an issue, try resending an email to those who didn't open, perhaps with a tweaked subject line.
3. Make it mobile!
The NRF says 34% of shoppers will research gifts on their phones this year. and 19% will buy while on mobile. Yet only 1 or 2 of every 10 emails we reviewed were truly mobile-optimized, either using responsive design or a mobile-friendly format that would look and function well on a desktop as well.
More emails, more details, more info!
If you want to dig deeper into your competitors' email efforts, join MailCharts. We'll help you understand their email calendars and segmentation strategies and show you how well their emails comply with good email marketing practices.
Happy emailing!
P.S. Interested in Mother's Day retail promotion ideas for subject lines? See below.
Subject lines ideas
Below you will find 60+ Mother's Day email subject line examples to inspire you.  Find hundreds more by logging into MailCharts.
| | |
| --- | --- |
| Company name | Subject line |
| AllModern.com | Love you, Mom. Shop Mother's Day gifts, buyers' picks, and more |
| Allurez | Need Mothers' Day gift ideas? Open this! |
| Apartment Therapy | Dedicated: Not-Your-Mother's Mother's Day Bouquet |
| Artifact Uprising | Pssst… The Mother's Day Sale ends tomorrow! |
| Bergdorf Goodman | Let's Talk Mother's Day Gifts |
| Big Ceramic Store | Pottery Charms for Mother's Day! |
| Biko | Treat Your Mum This Mother's Day |
| BlissWorld | perfect Mother's Day presents |
| Bobs Discount Furniture | Show Mom some love! My Mother's Day Gift Guide makes it easy! |
| Brooks Brothers | Mother's Day gifting made easy |
| Build-A-Bear Workshop | Free shipping just in time for Mother's Day! |
| Burberry | Make your Mother's Day with a Burberry gift |
| Cartier | Brighten Her Mother's Day |
| Comedy Central | The accessory every mom wants for Mother's Day |
| Coupons.com | 21 Brunch Recipes to Celebrate Mother's Day |
| Davids Bridal | Need a Mother's Day gift? |
| Diamond Candles, LLC | Spoil Her This Mother's Day! |
| Fossil | Personalize Your Mother's Day Gifts! |
| FusionBeads.com | Great Gift Ideas for Mother's Day! |
| Garden Fun | Your Mother's Day Coupon Code! |
| Giordano's Pizza | Mother's Day is around the corner…Get mom what she really wants this year |
| Ice.com | Mothers Day Sale – up to 75% off |
| Jack Stack Barbecue | Great Mother's Day Gifts |
| James Avery Jewelry | Last Day for Mother's Day Engraving |
| Juice Beauty | Pamper Her for Mother's Day + Free Shipping, No Minimum! |
| LaRoche Posay | Need a gift idea for Mother's Day? |
| Levenger | A Mother's Day gift as rare and lovely as she is! |
| Lifeway Christian Resources | 10 Perfect Gift Ideas for Mother's Day |
| Limoges Jewelry | Top Mother's Day gifts under $40 |
| Lion Brand Yarn | 7 Ways to Make Mom Proud this Mother's Day |
| Majestic Athletic | She's Always On Your Team – Mother's Day Jerseys |
| Michael Kors | Gifts She'll Love For Mother's Day |
| Minted | There's still time to find the perfect Mother's Day gift. |
| Minted | Mother's Day gifts with big impact. |
| Moda Operandi | The gifts she'll love this Mother's Day |
| Nautica | The Mother's Day Collection: 60% Off! |
| Nuts.com | Mother's Day Gift Ideas + New Products You'll Love |
| OnlineShoes.com | Mother's Day gift guide 2016 |
| Open Table | Have you made Mother's Day plans? |
| Organic Bouquet | Mothers Day Free Shipping Order Now |
| Origins | Mother's Day Sets are here! And they're wrapped & ready to give. |
| Panasonic | Psst…The PERFECT Mother's Day Gift is Here |
| Picaboo | This Mother's Day, give her more, for less! |
| Pier 1 Imports | Our biggest Mother's Day sale ever! |
| Powell's Books | Mother's Day Gift Ideas |
| ProFlowers | Countdown to Mother's Day: 2 Weeks! Shop our thoughtful gifts now for up to 65% savings! |
| Sephora | Best Mother's Day gift ever? |
| Teavana | Introducing the Perfect Mother's Day Gift |
| The Lakeside Collection | Hey Mom…Treat Yourself This Mother's Day |
| The Lakeside Collection | Mother's Day, Her Way |
| The Real Real | Mother's Day Gifts: Timeless Timepieces By Chopard & More |
| Things Remembered | Made with Lots of Love for Mother's Day |
| Tiffany and Co | She Deserves a Blue Box | Shop Gifts for Mother's Day |
| Tiffany and Co | Give Her Your Heart | Tiffany Gifts for Mother's Day |
| Treatsie | Check out these sweet Mother's Day gifts! |
| TUMI | Make her day. Shop Mother's Day gifts |
| Uncommon Goods | 50 fabulous finds for Mother's Day |
| UrbanDaddy | All the Mother's Day Gifts… |
| White Flower Farm | Elegant, Long-Blooming Orchids & Fresh-Cut Flowers for Mother's Day |
| Wine Country Gift Baskets | Mother's Day Gifts – send something special |
| WineMag | Our Mother's Day Gift Guide |
| Yoox | Just for her…Mother's Day Gift Ideas |