All companies send transactional emails and everyone who has ever bought a product online has received them. But what are they exactly, and how are they different from marketing emails?
Let's find out.
What Is a Transactional Email?
Transactional emails are emails that are triggered by a specific action taken by a user on a website or inside an application. They contain information directly linked to the action taken by the user.
Examples of transactional emails and their triggers include:
account confirmation emails: sent when someone has created an account.
list confirmation emails: sent when a user has subscribed to your email list.
password reset emails: sent when a user has indicated on the website that they forgot their password.
order confirmation emails, email receipts, and tracking emails: sent when a customer has made a purchase.
order download or access emails: sent when someone has purchased a virtual product they can download or access instantly.
shipping confirmation emails: sent when a customer's physical product has been shipped.
delivery confirmation emails: sent when a customer has received their order.
product review emails: sent after a customer has received their order.
support tickets: sent to confirm the opening of a support ticket or the receipt of a support inquiry.
canceled subscription emails: sent when someone cancels their subscription.
Transactional emails maintain and strengthen the relationship between that subscriber and your brand by providing them with the above critical information.
Transactional Email vs. Marketing Email
The main difference between a transactional email vs. a marketing email is that a transactional email facilitates an action or transaction by the customer and is non-promotional.
A marketing email, on the other hand, is promotional by nature and does not provide necessary information related to a specific transaction or customer interaction.
In general, you don't need permission to send transactional emails while you always need permission to send marketing emails. However, always check email regulations for your country and the country your subscribers reside in to make sure you're compliant.
That being said, transactional emails can still serve marketing purposes. They allow marketing teams to track and run tests for essential moments of contact during the customer journey and just like any other email, offer the opportunity to establish a positive relationship with subscribers.
Transactional Email Best Practices
1. Use different email addresses
As transactional emails tend to follow user actions, they generally have higher engagement rates than marketing emails. That's why it's a good idea to use a different sending address for your transactional emails and your promotional emails.
Even better is to have different addresses and sender names depending on the type of emails your sending. For example, you could send account confirmation emails from account.confirmation@brandname.com and shipping confirmations from shipping@brandname.com.
Whichever way you decide to go, just make sure not to use a noreply email address.
2. Use transactional email templates
This may be obvious, but having templates for all of your transactional emails makes it very easy to make tweaks and run tests. You can also use one template as the basis for the creation of a new template.
3. Be careful mixing transactional messages with promotional ones
While it may be tempting, and maybe even efficient, to include promotional messages in your transactional emails, doing so could put you in trouble with the law. This is especially the case if you have subscribers who reside in Europe and fall under the GDPR.
Great Transactional Email Examples
MailCharts has collected thousands of transactional email examples across a wide variety of brands and industries. We gather everything from sending time and date to the sender address, subject line, and the full email body.
Below, you can find a list of different types of transactional emails including examples straight from our database.
Account confirmation emails
With the General Data Protection Regulation (GDPR) going into effect in 2018, account confirmation emails have become a necessity for any company that has European citizens among its audience.
The sole goal of these emails is to have people confirm their subscription and so they tend to be short with one clear call-to-action.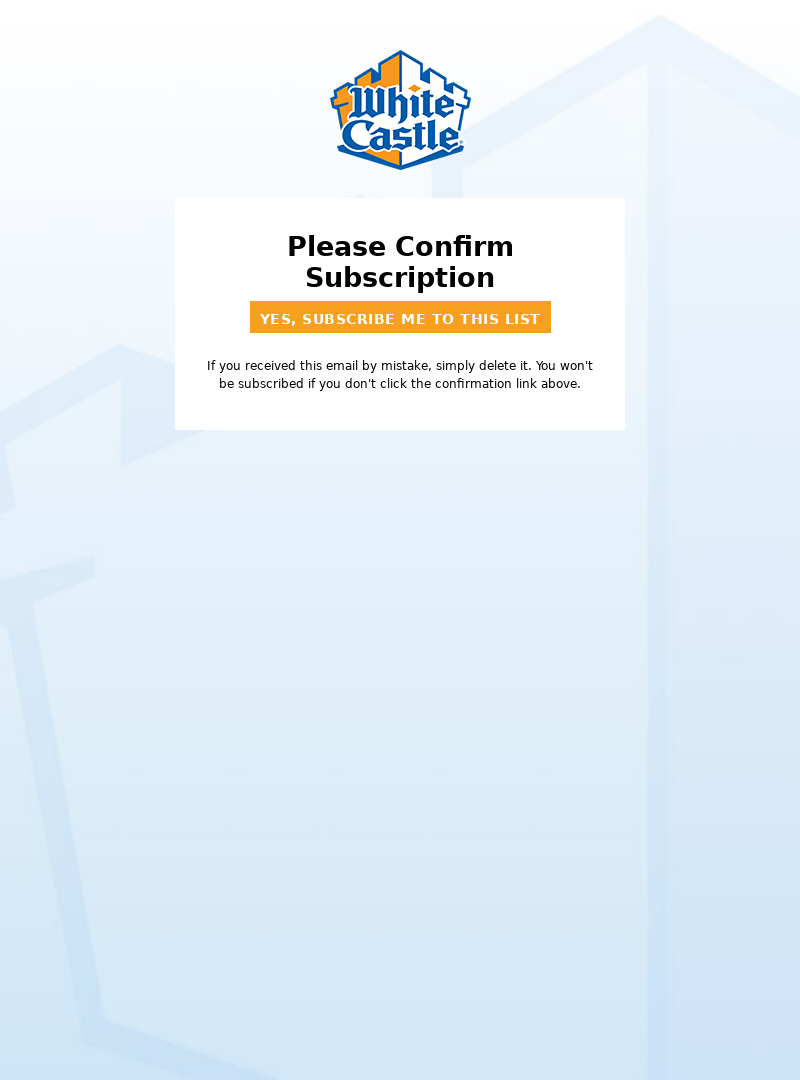 This White Castle confirmation email is a good example of that. There is nothing that draws the attention away from the bright orange button and the request for the recipient to confirm their subscription.
Not all brands keep their confirmation emails this minimalistic, though. We've gathered a good variety of account confirmation examples here.
Canceled subscription emails
It's never fun when a customer cancels their subscription but rather than send a bland cancelation confirmation, you can see this as an opportunity to leave a positive impression.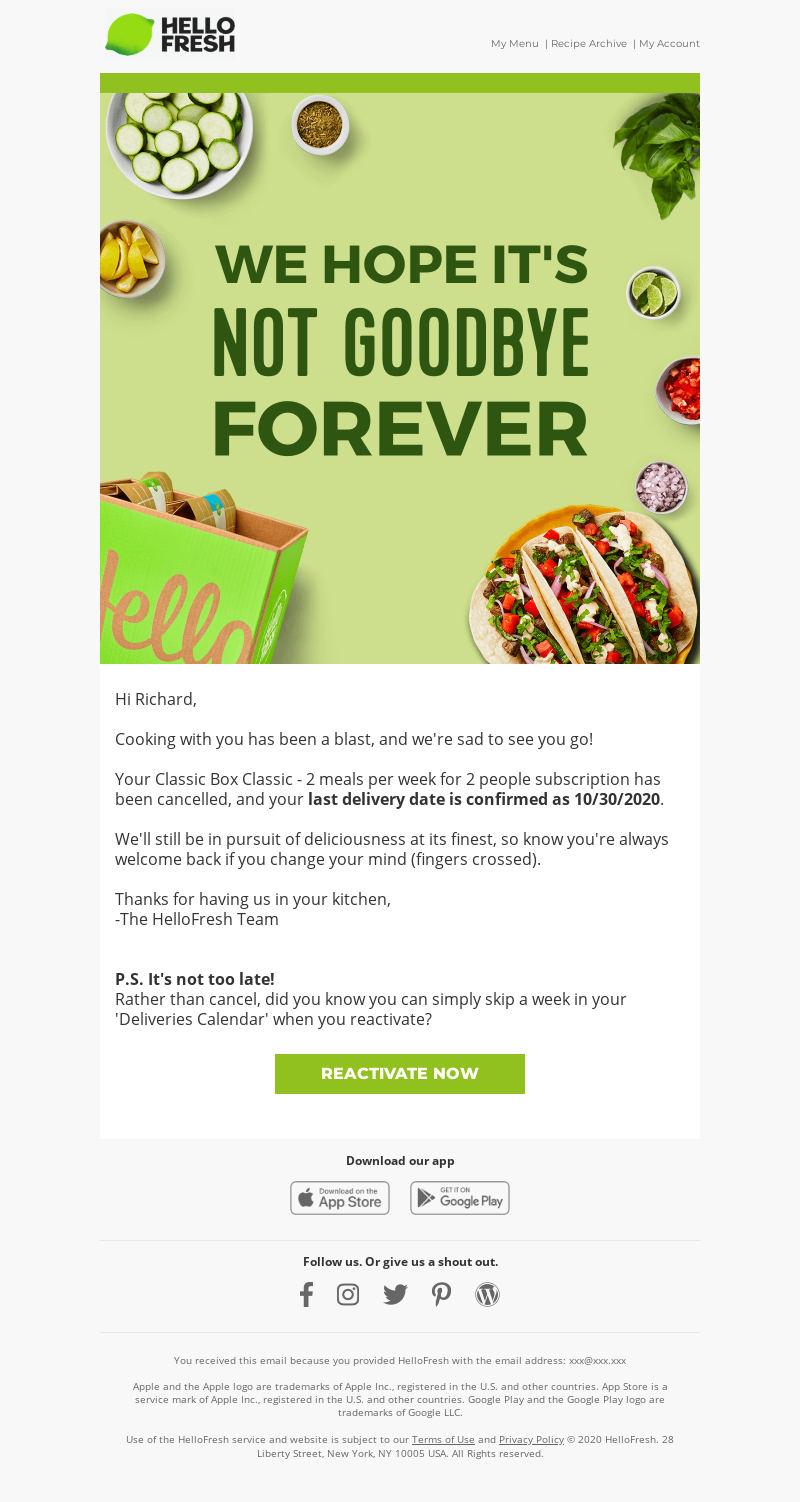 This subscription cancellation email from HelloFresh does a good job at outlining what's been canceled and when that cancelation takes effect:
the Classic Box Classic
after October 30, 2020
When the practical details have been shared, they take it a step further and thank the customer for having them in his kitchen. They make it clear that they're sad to see him go and let him know that he can also pause his food deliveries rather than cancel them if he decides to reactivate his subscription.
Remember that you never know why someone is canceling (unless you explicitly ask them) and that happy former customers might still recommend you to their friends and family.
For more examples of emails like this, check our selection of canceled subscription emails.
Purchase receipts and order confirmation emails
While paper receipts are often boring black-on-white crumbled up slips at the bottom of our pockets and bags, email receipts done well have the power to strengthen your customer relationships.
There are various ways to upgrade your purchase receipts and order confirmation emails. One successful strategy is to highlight what matters most to customers: the delivery date.

PrettyLittleThing knows its customers can't wait to get their order and so they put the delivery date right at the top of their receipts. They also cleverly include an option to add more items to the purchase as well as an invitation to join their loyalty program.
Lastly, the FAQ at the bottom of this email answers all the questions a customer may have, lowering the need for people to reach out to PrettyLittleThings's customer support.
Shipping confirmation emails
Shipping confirmation emails are sent after order confirmation emails and while they should focus on providing practical information about the delivery process and exchange or refund policy, they still offer the opportunity to elicit some engagement from the customer.
The Daily Harvest email below, for example, uses the shipping confirmation as a way to promote the brand's app. This isn't a stretch, as the app allows customers to manage their orders and deliveries from their phones.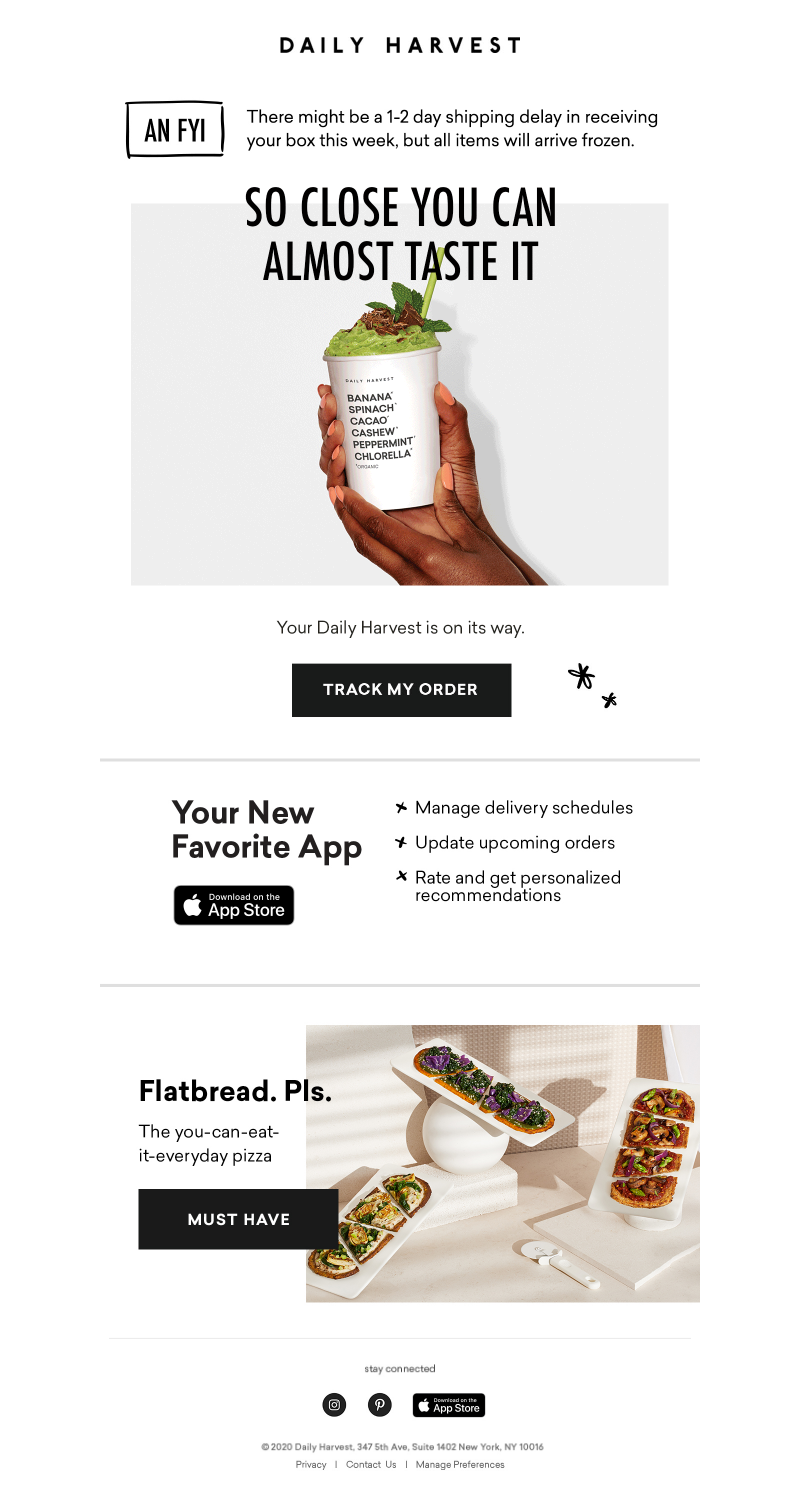 We've compiled an extensive list of what to include in your shipping confirmation emails, with examples, here.
Wrapping up: Don't Neglect Your Transactional Emails
While transactional emails may seem a little boring at first, they're crucial for user engagement due to their nature. Contrary to marketing emails, they provide the user with much-needed information to keep interacting with your brand and can thus make or break your relationship with that user.
There are a lot of ways in which you can spice these emails up a bit. Just make sure to keep local regulations in mind and be careful about mixing promotional messages with transactional ones.
Want to see what types of transactional emails your competitors are sending? MailCharts has collected 1000s of email examples from top brands across a wide variety of industries. Check them out with a free MailCharts account.