You might say that account confirmation emails are a necessary evil. Yes, you want to make sure your new subscriber is a real person who really wants to hear from you (and not a teenager who signed up using the email address Guyinagorillasuit@googoomail.com). No, you don't want to turn off a potential new subscriber by making your "confirmation" step stuffy, formal and unwelcoming.
Then, too, in the era of the EU's General Data Protection Regulation (GDPR) and the California Consumer Privacy Act it's always a good idea to make sure your subscribers opt in — and stay that way.
And yet, confirmation emails can actually be useful. They're an inexpensive way to re-confirm potentially dormant subs to ensure the folks who are hearing from you still want to do so. Successful re-confirmations can even offer you the opportunity to segment these "I'm still listening" subs for distinct "VIP" mailings.
Our curated Account Confirmation list shows a range of ways to add a spoonful of sugar to help your account confirmation medicine go down.
Let's take a look:
Show your sense of humor
TheraBox offers what it calls "a one-of-a-kind self care subscription box delivering fresh new ingredients of happiness straight to your door every month". The brand also has a sense of humor, as evidenced by this email comparing the confirmation process to Homer Simpson in an animated GIF struggling up a mountain in a snowstorm gasping "JUST A FEW FEET MORE."
Not taking any chances, TheraBox also encourages subscribers to confirm their account by offering a 10% off coupon code.
TheraBox: Please Confirm Subscription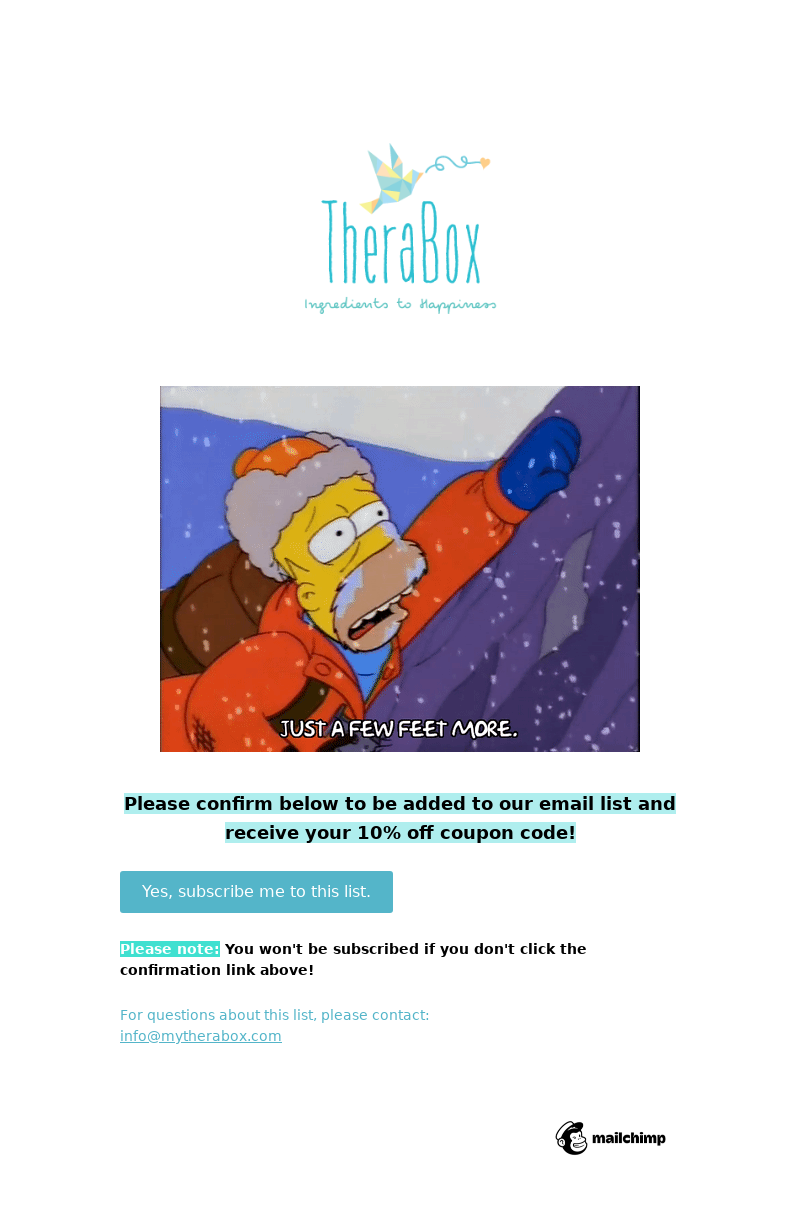 Blend the serious with the playful
Luno's mission is to make it easy to buy Bitcoin and Ethereum cryptocurrencies, which means the serious business of online security is baked into the promise of its services.
Still, the company lightens the mood by using a fun illustration of a space-walking astronaut. And it sensibly asks and answers its own question about why this confirmation is important: "So we know it's really you."
Confirm your email address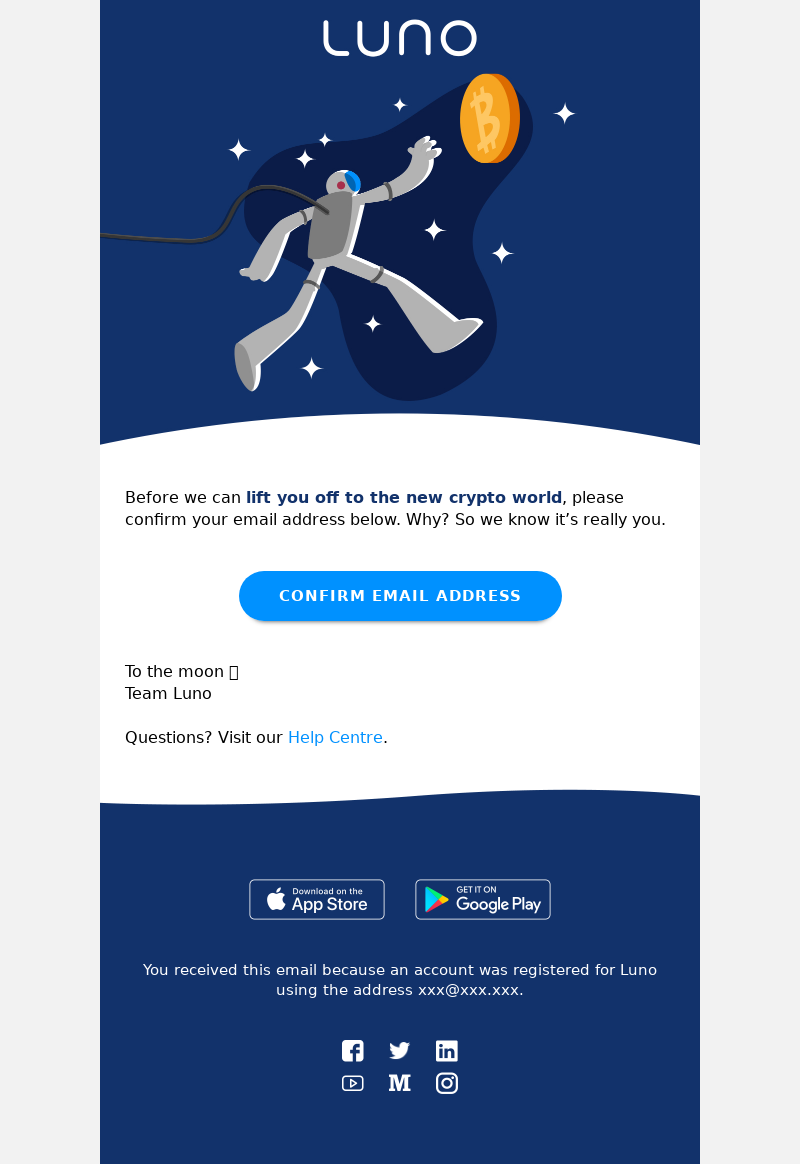 Make reactivation the easy choice
ezpz creates "developmentally-focused products that make mealtime less about mess and more about fun." Because the company's personalized confirmation email makes clear that the recipient, Rhonda, is already a subscriber and quite possibly a customer, its message may be intended mainly to confirm her continued interest in the brand and its offerings.
In any case, as a business geared toward the frazzled parents (mothers in particular) of hungry infants and toddlers, ezpz takes a soft and gentle approach. Its charming animated mother-and-baby GIF, soothing pastel colors and reminder that "we're here to help support your mealtime journey" make account activation (or reactivation) an easy affirmational choice.
Activate your account on our new website!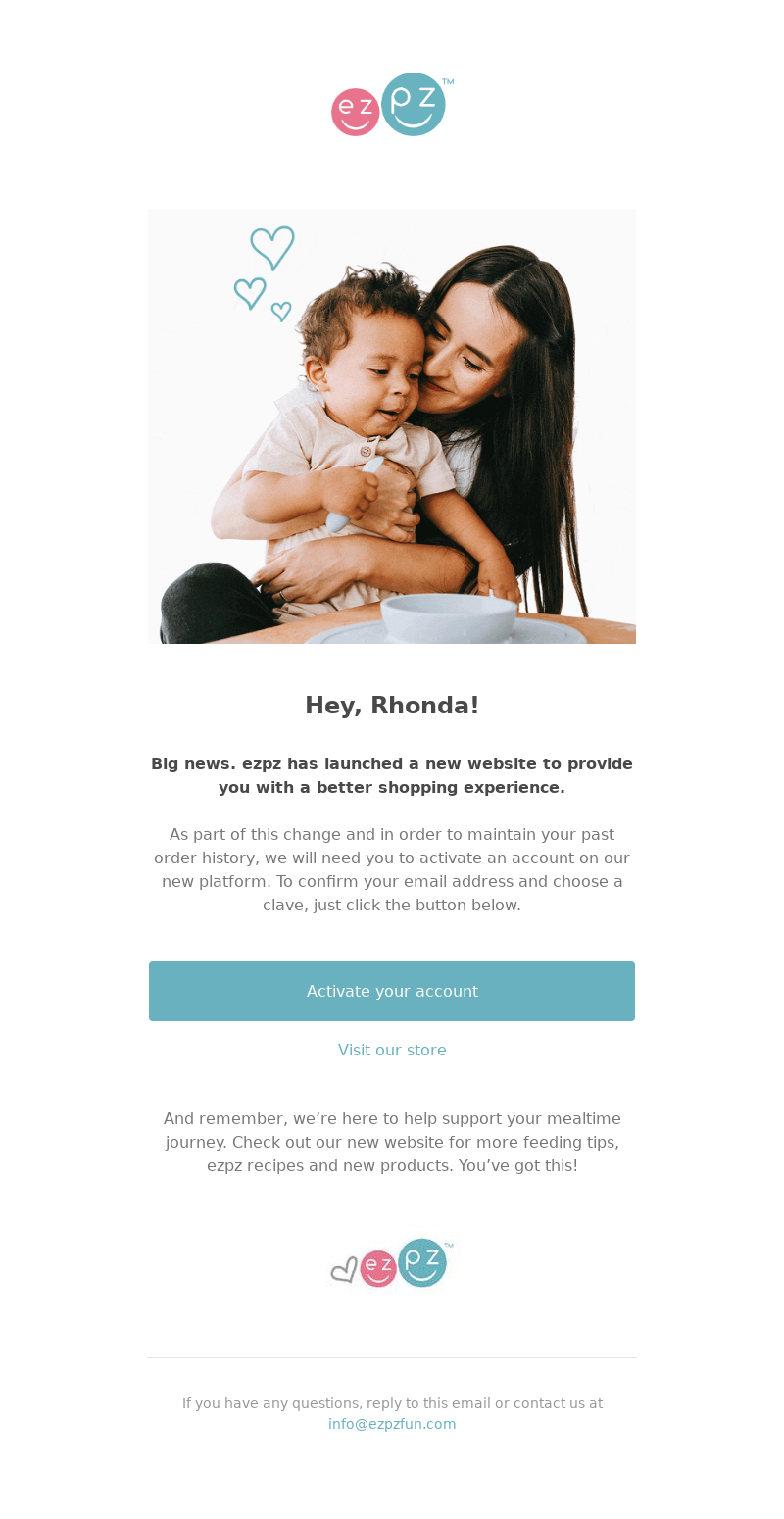 Turn the complex into the simple
The multinational ride-hailing company Uber needs new users to complete a critical task —  confirming their mobile phone number — for successfully setting up their account on the Uber app. Since this setup process isn't trivial, the company offers an informative animated GIF plus a concise set of instructions to guide users across the finish line.
Uber also recognizes that not everyone will succeed on their own, so it wisely takes the belt-and-suspenders approach by including a convenient link to contact support. It's also lucky enough to be so well known it needn't bother padding its email by touting its advantages or offering costly new-user incentives.
Verify your mobile number to complete account setup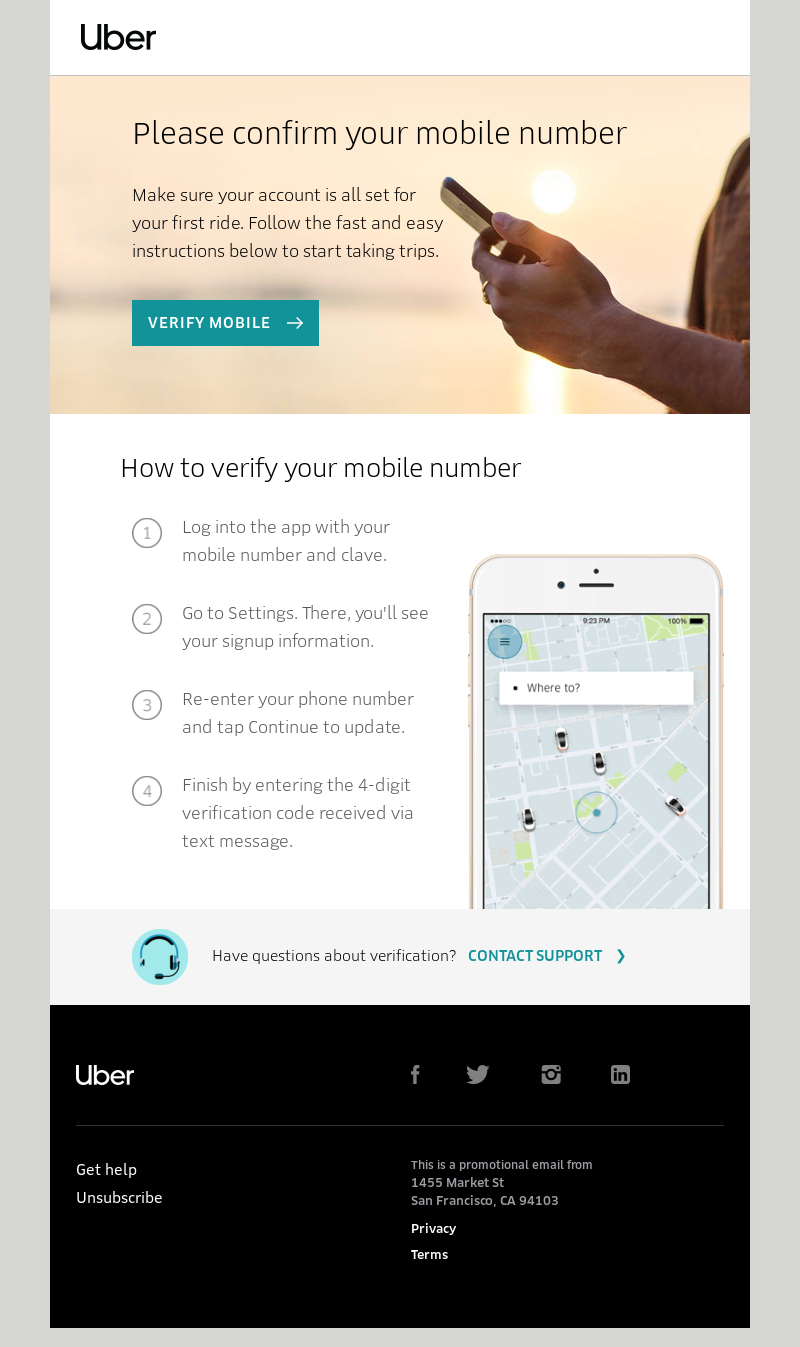 Confirmation emails clearly serve a vital purpose. And as you can see, there are plenty of ways to make this necessary added step so entertaining — or at least painless — for subscribers that they willingly complete (or reconfirm) their signup and maintain their positive view of your brand.
To see all 99 confirmation emails in our curated collection, sign up for a free MailCharts account.