Fire up that shiny Trapper Keeper, email marketers. It's time to go back to school and discover all of the best back to school marketing ideas.
Brands are expected to rake-in almost $1 trillion this Back to School season—with over 33% of revenue coming online.
So, lace up those rad new kicks let's start planning our email strategies.
If you're an online retailer, chances are you've already gotten started with your Back to School (BTS) campaigns and promotions. By this time last year, about four weeks out from Labor Day, online retailers had already begun an uptick in BTS volume.
Now that you know it's time to start sending school-related mailers, what should you say? What should you promote?
Speak to the parents
Similar to what we mentioned during Mother's Day, the BTS season is every parent's opportunity to let their kids look hip and be cool.
Gap is segmenting their messaging to both girl and boy children, ensuring both look great.
Taking this a step further, the Piperlime bunch of brands — which includes Gap — is getting the whole entire family suited up and looking great. Why should the kids have all the fun? Time for Mom and Dad to get in on the Fall Fashion, right?
Give it up for teachers
Banana Republic is sending a promotion we just love: additional 20% for educators. The overall campaign itself is still about fall fashion—the subject line is New arrivals + you = ?—but incorporates a huge event for the teachers on their list.
Don't over-do it
Personalized Vera Wang, Waterford & More For Weddings
Things Remembered sends mails for all types of events—not just promoting back to school marketing ideas. But even when promoting wedding gifts and accessories, they've maintained prominent `Back to School` link in their navigation.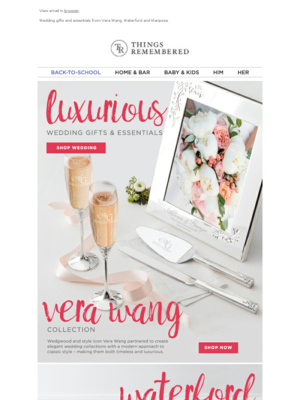 What more email data?
Our friends at Return Path have great data on back to school marketing ideas. Check out the recent post.