Many marketers consider Black Friday to be the day that kicks off the holidays shopping frenzy. Let's take a look at what happened in the email marketing world during Black Friday and Cyber Monday.
Email volume spiked
Subscribers received 50% more emails on Black Friday versus the previous Friday and 68% more emails on Cyber Monday versus the previous Monday.
Crowded inboxes make it much harder for your emails to stand out. As mentioned in our Holiday Report, sending subscribers a few emails in anticipation of the upcoming holiday is a great way to make sure your messages are read.
Pro tip: The next big holiday is Free Shipping Day, make sure your email plan includes more than just an email on the day of the event.
Sending schedule remained relatively consistent from 2015 to 2016. That is to say, there was no significant shift in companies' promotional calendar.
Note that companies consistently give subscribers additional heads up for Black Friday deals versus Cyber Monday. Also, notice how companies keep talking about Black Friday even after the actual holiday has passed (e.g. "sale extended"). This behavior is common for most major holidays.
More emails were promotional in 2016
62% of emails sent on Black Friday 2016 contained a promotion. Compared to 59% in 2015. We observed the same pattern for Cyber Monday. In 2016, 62% of Cyber Monday emails contained a promotion versus 56% in 2015.
Talking about promotions, the average discount for Black Friday was 38% off. The average discount for Cyber Monday was 36% off.
On Black Friday, 50% off was the most popular discount, followed by 20% off and then 25% off.
Click to view an interactive chart.
On Cyber Monday 20% off was the most popular discount, followed by 50% off and then 30% off. 

Click to view an interactive chart.

As we saw in 2015, this year marketers leaned heavily on "percent off" promotions.
Include your promotion in the email's subject
In 2016, like in 2015, close to 60% of Black Friday and Cyber Monday emails containing a promotion first made note of the promotional intent in the subject. When sending a promotional email, make sure your promotion is front-and-center by mentioning it in your subject.
Black Friday emails we loved
No MailCharts post is complete without sharing some great email inspiration 🙂 Below are some of our favorite Black Friday emails.
Hurry, Black Friday Deals End Soon!
We love the simplicity of this email. The creative is 100% on par with the brand. This is an example of clean, smart, execution.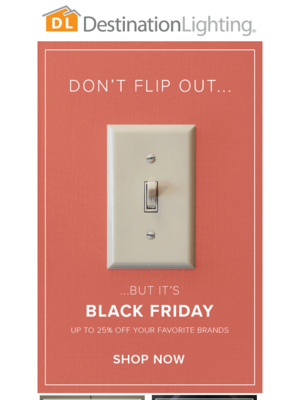 Shop our Black Friday Collection from $4.99!
Even though H&M is advertising products at $4.99, this emails reads, and feels, like an ad you'd see in Vogue's September issue.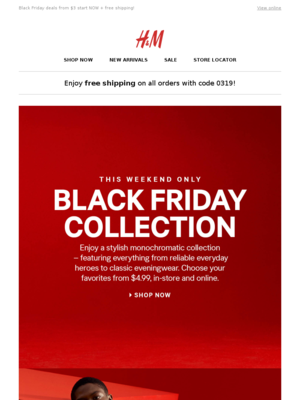 Black Friday | $5 BarkBox
BarkBox hit the nail on the head with their copy and creative. Long lines at the mall are so 2010. We'd much rather stay home and sleep in. This email allowed BarkBox to offer a deal while connecting with it's audience on an emotional level.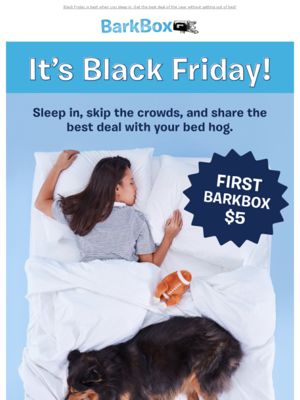 Black Friday is here - 25% off all photography accounts
500px clearly calls out that no promotional code is required to get the deal. Removing friction in the buying process is something we, marketers, should keep in mind when planning our marketing campaigns.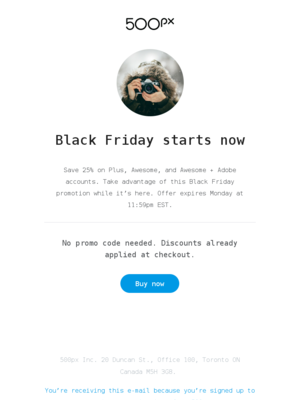 Missed Black Friday? There's Still Time!
Notice that this email was sent on Wednesday—5 days after Black Friday? This illustrates the point we made earlier about post-holiday reminders.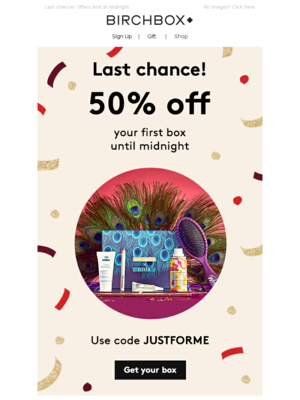 Over 6 Million of You Chose to #OptOutside
REI has received many praises for their #OptOutside Black Friday campaign. Last year, they celebrated 1 million joiners. This year we're talking about 6 million people.
The campaign is brilliant because it aligns so nicely with REI's business. They're able to show their love for the outdoors while not having to fight for your attention during the crowded Black Friday inbox frenzy. They'll instead send you the mega discount the day after 😉  Brilliant.