According to the Verizon Retail Index, e-commerce traffic spiked dramatically over the 2016 New Year weekend. Why? Because retailers created a sense of urgency with timely promotions.
This shows that while the New Year marks the end of the holidays, it doesn't mean you should abruptly stop emailing subscribers and lose the momentum you built during the holidays. New Year's marketing ideas are always a great area of exploration for your bottom line.
Your New Year Email Marketing Game Plan

In 2015, companies began sending New Year's-themed campaigns during the first week of November. While this may seem pretty early, it's the perfect timing for some industries (think travel, for example). How early you should start talking about the New Year depends on your audience and the products or services you're promoting.
Email volume increases steadily starting in November, with a giant spike on January 1st (as expected). It's interesting to note that 38% of emails were sent after the holiday itself (January 2nd onwards).
Diving into specific examples of New Year's promotion ideas
November 5, 2015
New Year's Eve: Your First Look for 2016

While the timing of this email might seem early, it makes sense for a company like Rent the Runway: They want subscribers to find the perfect NYE outfit early. Notice the lovely GIF included in the middle of the email. This is a great way to showcase different stylish outfits while breaking the monotony of a long list of suggestions and offering several New Year's promotion ideas.
January 2, 2016
New Year, New Trends: 10 Pieces to Try in 2016

While promotions are typically an effective lever to pull, there are other strategies you can use to drive demand. Moda Operandi does a nice job with this January 2 email, which highlights fresh new pieces for the new year. This is a great example of a company talking about the new year, after NYE.
December 31, 2015
Ring in the New Year with GLOSSYBOX!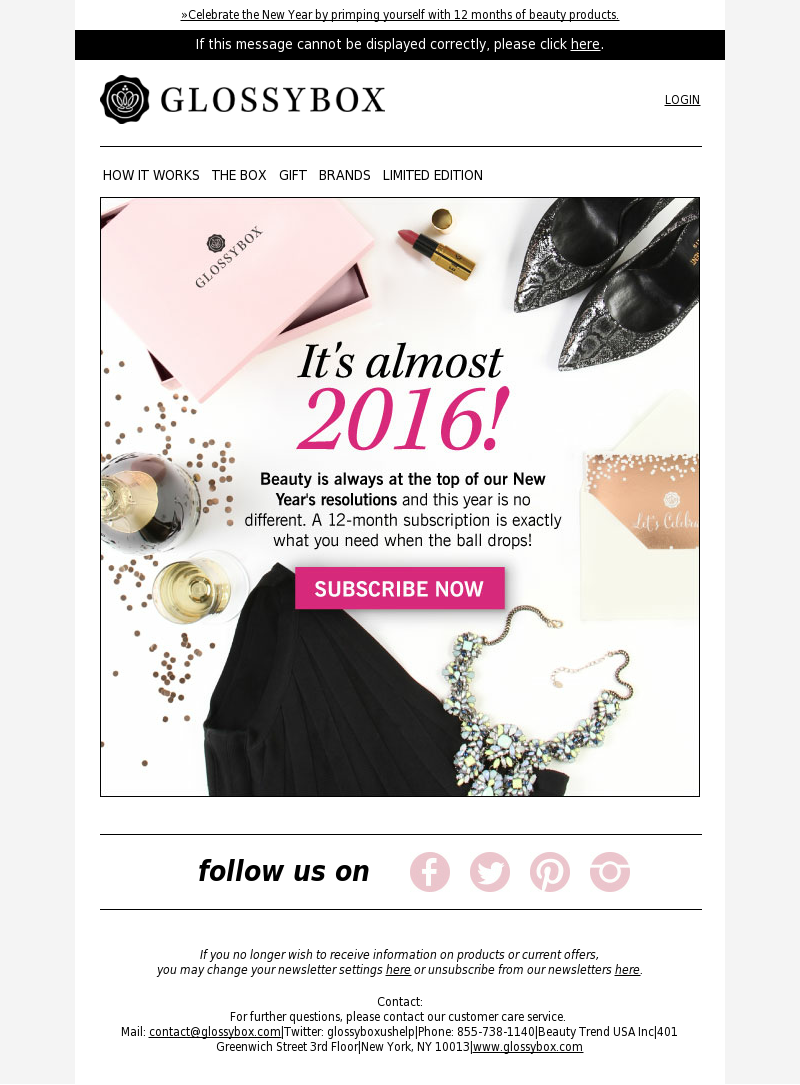 Glossybox sent this campaign at noon on New Year's Eve, when its recipients were probably just starting to think about the night ahead—and what they needed to do to prepare.
Your email will always make a greater splash if it's strategically timed. Think about what your audience will be doing on New Year's Eve (and Day) and how your products might fit in. Then, craft your campaign accordingly. Just like Glossybox.
Side note: One non-promotional approach Glossybox could have taken is to to share outfit and makeup tips. They could then send a follow up email the next day wishing subscribers a happy new year and encouraging them to sign up for the 12-month subscription. What a great New Year's marketing idea!
December 27, 2015
New Year's Resolutions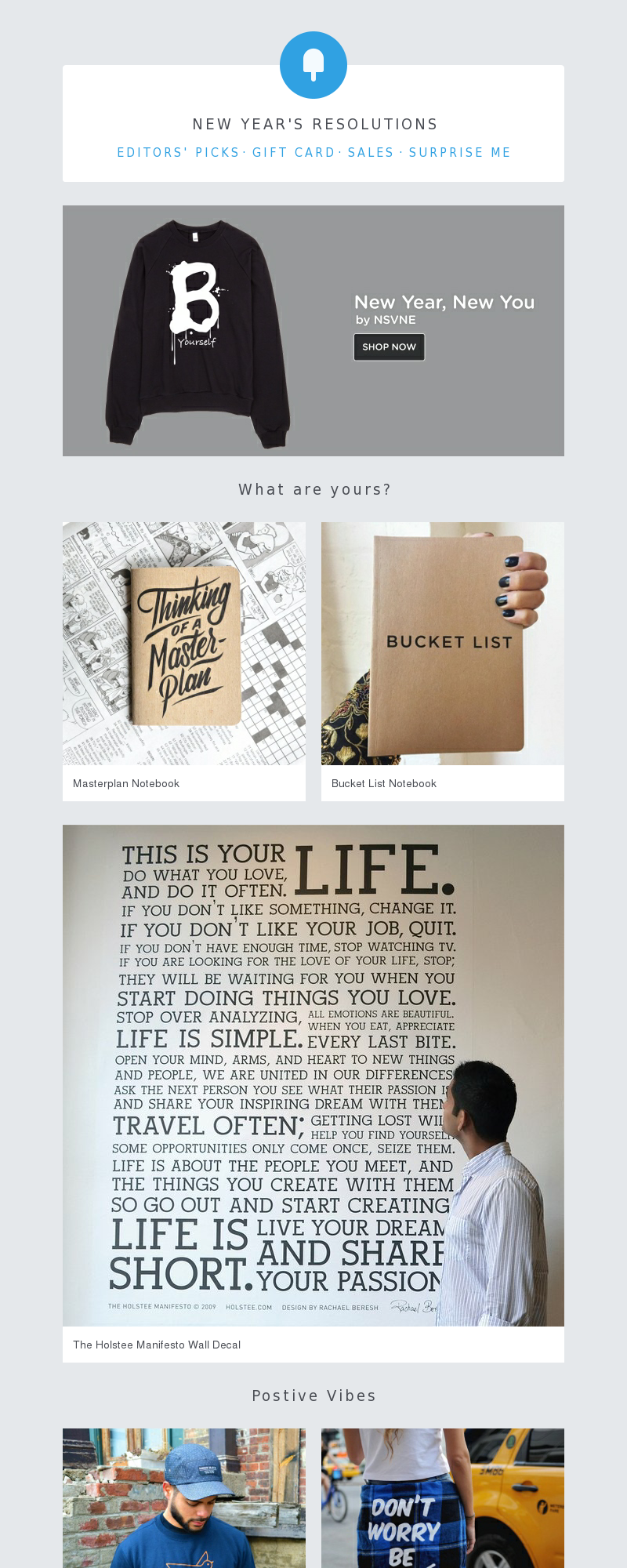 Approximately 40% of Americans make New Year's resolutions (to give you some context, ~30% of Americans watch the Super Bowl).
The promise of a "new year, new you" is extremely powerful. Fancy cleverly leverages this by promoting great clothes and inspirational notebooks. If you want to lean on your audience's desire for a fresh start, let subscribers know how your brand can help them get there.
How to Optimize Your New Year's Campaign
Here are your key takeaways for some New Year's marketing ideas:
Leverage your audience's desire for a fresh start.
Retailers don't need to run a promotion. You can instead focus on a "showcase" of your latest products, most popular items, or a combination of both.
Unless your product needs to be ordered in time for New Year's eve, don't send New Year emails until your holiday email volume has decreased a bit. Almost 50% of people say businesses could improve their email efforts by simply sending fewer emails. That being said, it doesn't mean you should abruptly stop emailing subscribers and lose the momentum you built during the holidays.