A crucial part of your email marketing, promotional emails aren't always easy to write. Luckily, you don't need to start from scratch. While every ecommerce shop and product are different, there are certain best practices to follow regardless of whether you're selling outdoor gear or craft supplies.
In this post, we'll cover those promotional email best practices as well as the different types of promotional emails you can write to boost conversions.
But before we do that, let's get clear on what a promotional email is.
What is a Promotional Email?
Promotional emails aim to increase awareness about your products, sell them, and/or boost customer loyalty and engagement. Their purpose is to turn subscribers into customers and customers into loyal fans. They're a crucial part of your email marketing as their purpose is to increase conversions.
In a study by SaleCycle, 59% of respondents said that promotional emails influence their purchase decisions. Over 50% said that they make a purchase through a promotional email at least once per month.
Contrary to purely transactional emails, email promotions don't require a triggering action from the subscriber to be sent. Once someone has subscribed to your list, you can send them as many promotional emails as you like, regardless of whether they've already bought from you, contacted you, or performed another action on your site.
Whether it's a good idea to email bomb your list is something we'll discuss further down this post. First, we'll go over the different types of promotional emails you can send. We'll also include promotional email examples so you can easily spot the differences between these types.
6 Types of Promotional Emails (with Examples)
1. Welcome Offers
Someone who has just signed up for your email list is highly likely to be interested in your products, so what better way to welcome them than with a discount coupon.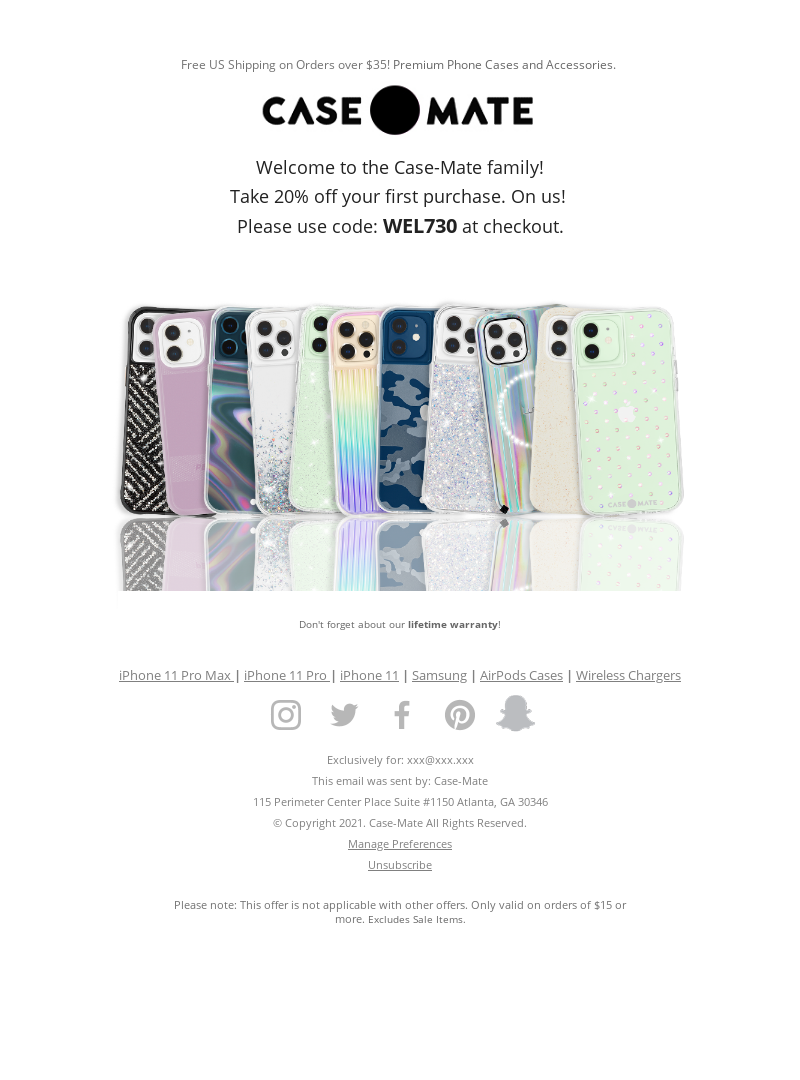 This Case-Mate welcome email does just that. The subject line instantly tells the user they're getting a discount because they've just signed up and the promotional email itself clearly puts this discount code front and center. To make it easier for the subscriber to start shopping, Case-Mate put links to their different product categories right below the eye-catching image.
When you send welcome offers, it's important to segment your list based on new subscribers who merely signed up for your list and people who became subscribers when they made their first purchase. You don't want to send an email offering 10% off their first purchase to someone who just made their first purchase… at the full price.
2. Seasonal Promotions
A lot of holidays have become sales periods and so people expect to receive more promotional emails during holiday seasons.
While this can be a good thing, it also means you'll be battling for your subscribers' attention even more than usual, and your holiday email promotions should really pop out.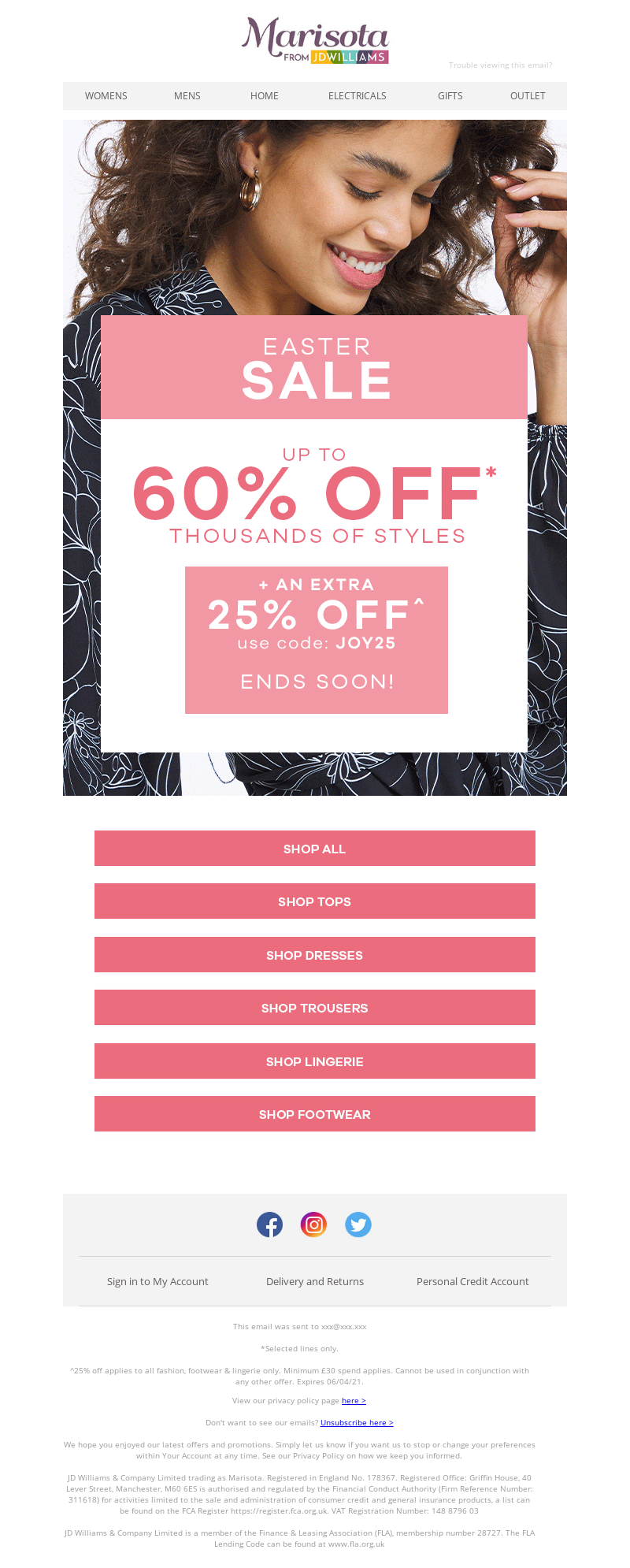 Fashion brand Marisota has a fun way of catching the user's attention by adding an Easter Bunny emoji to the subject line of their Easter sales email. While the use of all caps can come across screamy, it works here as the rest of the subject line is in lowercase.
When you open the email, it's impossible to miss the massive "60% off" offer as well as the blinking "+ an extra 25% off" below that. This is a very simple but at the same time very clear promotional email.
More playful is this next email by Coast.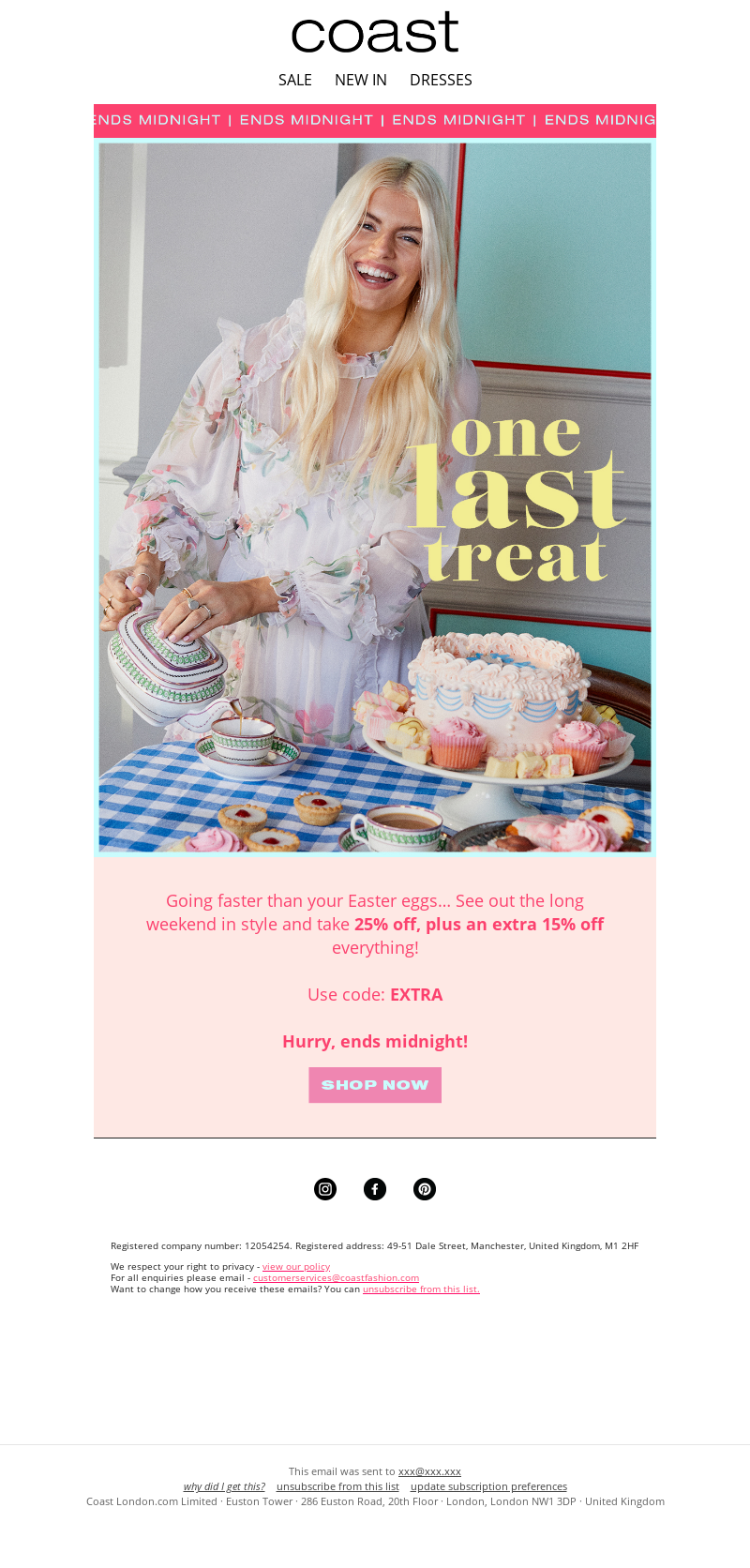 With the line "Going faster than your Easter eggs" both in the preview text and the email copy, Coast creates a holiday-relevant sense of urgency. We all know we finish those chocolate eggs just a little faster than we should, but Coast's dresses are selling out even more quickly. The sense of urgency is increased by making the offer valid for only a limited time.
The suggestion to have "one more treat" refers just as much to having another Easter sweet as it does to buying a dress. If the recipient is a bit of a sweet tooth, this promotional email is bound to make them smile and click the call-to-action button.
While you can certainly offer discounts in your holiday promotional emails, adding freebies, free gift wrapping, or free shipping to orders works well too.
3. Special Offer Emails
Special offer emails are more specific than general sales emails. They usually offer one or just a few related products at a discounted price, or they may promote a free addon, like free shipping.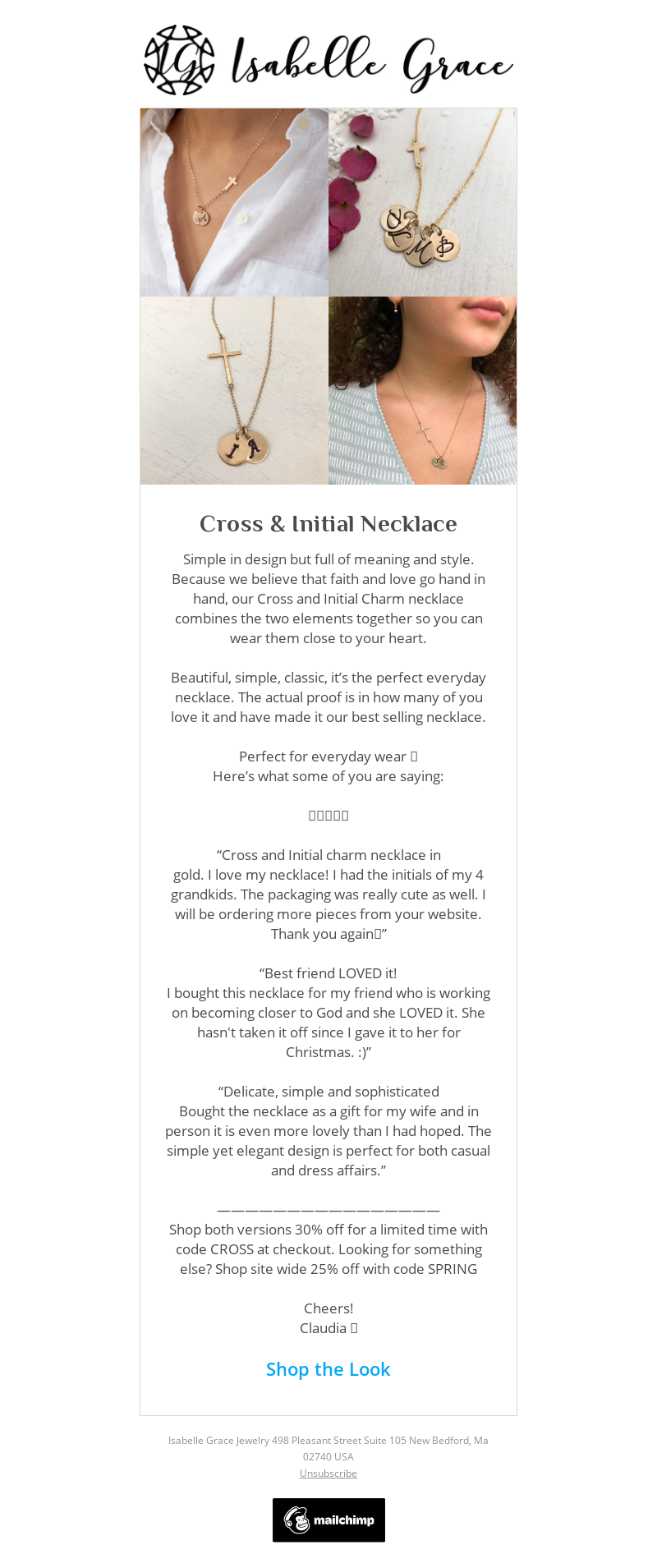 Isabelle Grace is a jewelry brand, but in this email, they're only promoting their bestselling necklace. The subject line is super clear about their offer and adds a sense of urgency by making the offer limited-time-only. The email itself showcases the necklace and adds social proof through customer reviews.
To tone down the promotional aspect a bit, the email is sent from claudia@isabellegracejewelry.com and signed by Claudia. This way, it almost feels like a message from someone you know. Because of that approach, it makes sense that the call-to-action is just text and not a button. The bigger, bolder, and brighter font does make it stand out.
4. Product Launch/New Arrival Emails
The launch of a new product or new additions to your store are great reasons to email your subscribers. These are people who've already shown interest in your brand so promoting your new product to them can give it a good take-off boost.

Promotional emails don't always need to be flashy. It all depends on who you're targeting and with this new products email, Macmillan Publishers is clearly targeting the history buffs on their list. The publisher is not just recommending any new history books either. These books are from a best-selling author, a Pulitzer Prize winner, and other writers-to-watch. The only thing missing from this email is an enticing preview text alongside the subject line instead of the standard "To view this email as a webpage, go here."
Another thing to note is that while discounts can work well for product launches, they're also what obviously make an email promotional and a product, to some, worth less. You always want to be careful that your discounts don't reduce the perceived value of your products. In the email above, Macmillan Publishers uses discounts in a smart way by applying them only to certain ebooks and only for a limited time.
5. Subscriber and member-only Offers
When you have a loyalty program, members expect to receive exclusive perks, but you can also make your regular subscribers feel special by recognizing them as members of your community, rather than just names on a list.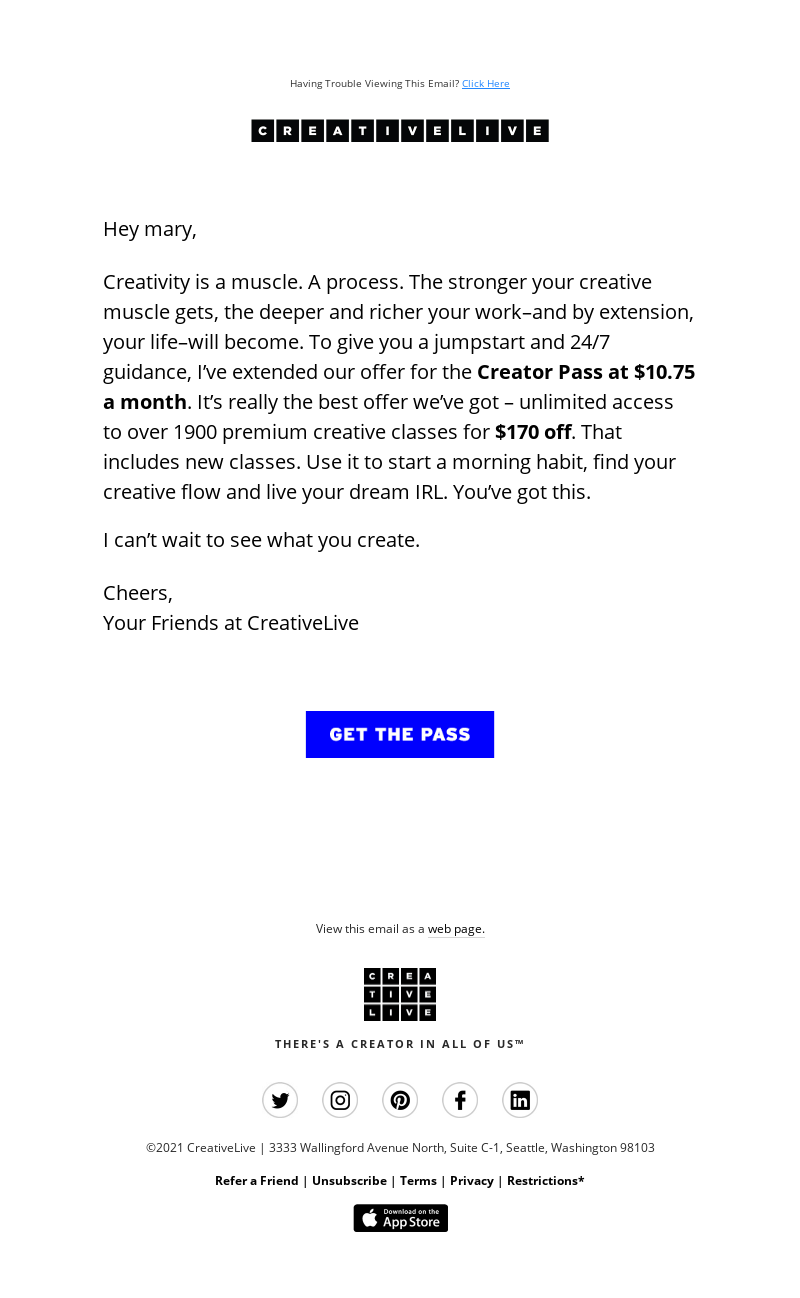 This promotional email from CreativeLive reads like a message to a friend. Aside from the CreativeLive header and the bright blue call-to-action, it doesn't contain any visual elements. The copy is written from an "I" perspective, just like you would write an email to someone you know, and while it doesn't emphasize the member-only aspect, the subject line clearly does.
6. Birthday offers
Birthdays are the perfect moments to send your subscribers a discount or other special offer so they can treat themselves… by buying from you. Simply by using the recipient's first name and sending your promotional email at the right time, you can make it feel personalized.
Athletics brand Asics does just that by speaking to Eduardo directly in the subject line of the email below:

While Eduardo's birthday gift seems to be a perk of being an Asics loyalty program member, you can send birthday offers to all of your subscribers even when you don't know their names. All you need to know is their birthday.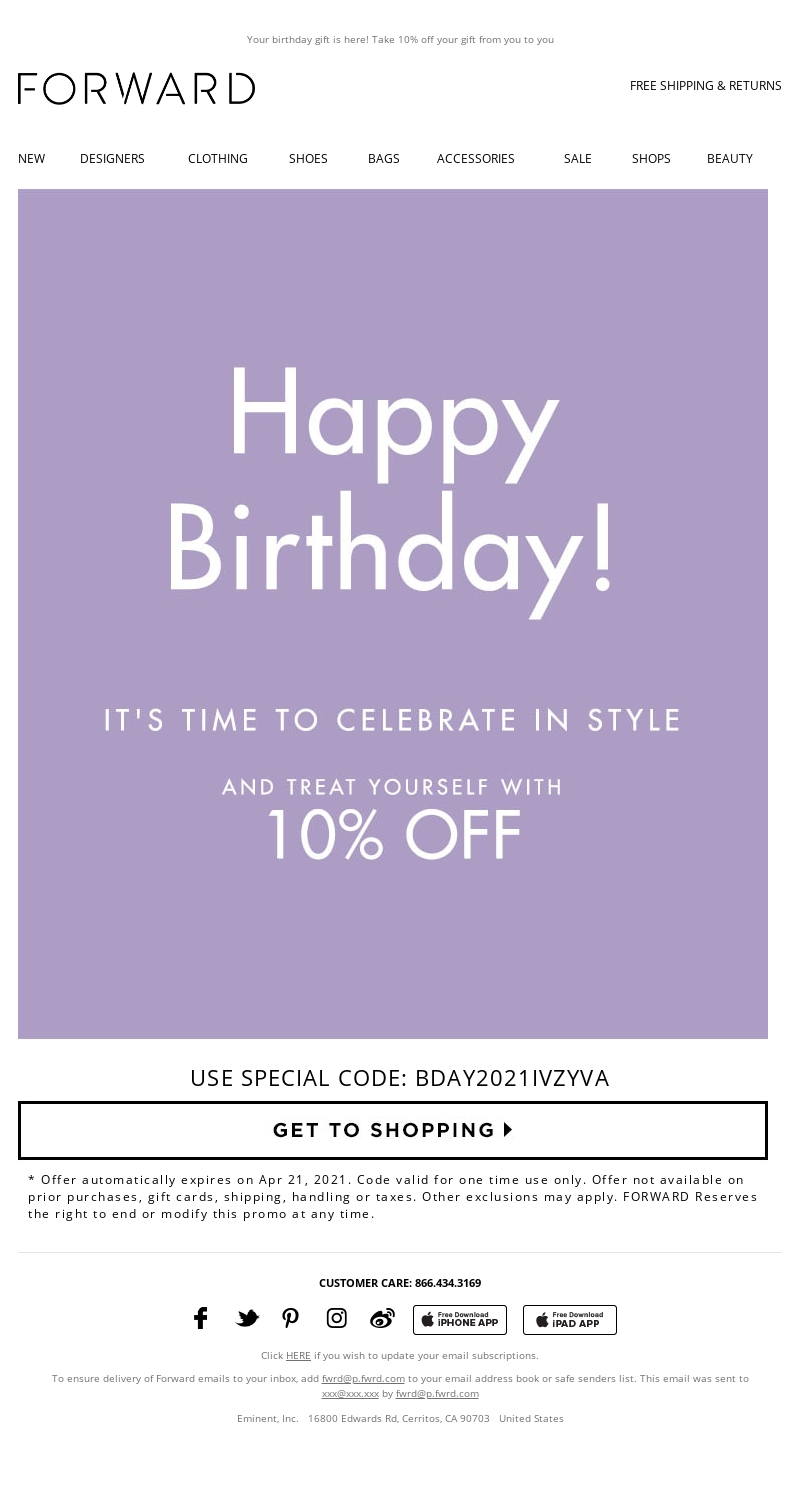 A little less personal, this birthday email from fashion brand Forward highlights its birthday offer in both the preview text of the email and the email copy itself. It has only one call-to-action button, leaving the recipient just one action to take: "get to shopping". And while not emphasized, making the offer valid for a limited time only does add some urgency to this promotional email.
How to Write a Promotional Email: 5 Best Practices
1. Always segment your list
It might be one of the most general best practices in email marketing, it's still too important not to mention. Your list is not a solid thing. It's made up of individuals who've interacted with your brand in different ways, who live in different places, and who have different backgrounds.
Your promotional emails will be much more successful if you take this into account.
2. Craft promising subject lines (and then deliver)
There are a lot of ways you can write great ecommerce subject lines but all of these tactics have two things in common:
Your subject lines need to be interesting/enticing/clear enough to make the user click.
Your subject lines should only promise what's being delivered within the email.
Being able to create a click-worthy subject line is one thing. Making sure the user doesn't then get disappointed when reading your email is another. It's often better to make them curious and pleasantly surprise them when they open your promotional email than it is to write a sensational subject line when you're only going to offer them free shipping for a week.
Being very clear about what they'll get (Think: "30% discount inside") is another tactic that works well.
3. Don't forget about the preview text
Oftentimes neglected, your preheader will show as the preview text in many inboxes. It could mean the difference between an open and a delete. A good preheader complements the subject line and functions on its own once the email has been opened.
4. Have one clear main call-to-action
Promotional emails should always have one clear call-to-action. Sure, you can ask subscribers to forward your promotional email to a friend, to join your loyalty program, or to follow you on social media, but those are usually actions you'd like them to take in case they don't do the main thing you want them to do: buy from you.
5. Optimize for Gmail annotations
Since Gmail rolled out the Promotional tab back in 2013, many email marketers have tried to convince subscribers to move their promotional emails to the inbox. Unfortunately, whether subscribers do or don't do that isn't something you can control.
What you can control, is how your promotional email looks when it does land in that Promotional tab.
In 2019, Gmail introduced Annotations for promotional emails. These allow you to set and highlight your shop logo, a deal label, a discount code, an end date for your deal, and an image preview.
Done right, these annotations increase the chance that your promotional emails will be ranked as a "Top Deal" at the top of the Promotions inbox by Google. Whether they actually do, also depends on Google's filtering mechanism as well as how much your subscribers engage with your promotional emails.
What Are The Most Common Promotions Sent via Email?
At MailCharts, we track the email marketing campaigns of thousands of ecommerce brands. That means we can extract which types of promotional emails are most commonly sent in general as well as within specific industries.
When you sign up for a free account and log into MailCharts, you instantly get an overview of the different ecommerce industries we track and what percentage of the emails sent in that industry are promotional.
Click "view overview" to get more data and scroll down to find the most popular promo type for that industry.
With a paid account, you can go into even more details and open a report with the four most common types of promotional emails as well as examples of those types of emails.
How Often Should You Send a Promotional Email?
Now that you know what types of promotional emails to send and how to write them, the question remains how to send promotional email without annoying your subscribers. The key part of that puzzle is to optimize your email frequency.
While what you promote should be valuable, and how you promote it should be fun to read, how often you promote it is what carries the highest risk of generating unsubscribes.
Contrary to what many "click-bait" articles want you to believe, there is no single optimal rate at which to send promotional emails. What works best for you depends on your target audience and the industry you operate in.
MailCharts organizes the thousands of ecommerce brands it tracks into industry groups. When you sign up for a free MailCharts account, you can look up how many promotional emails a certain industry group sends on average. That looks something like this:
With a paid account, you can also look up the most popular send times and days within your industry, which brands are sending most promotional emails, and what the trends are over larger periods of time.
By looking at what your competitors are doing, you can derive industry best practices to test on your own email marketing.
Improve Your Promotional Emails to Improve Your Conversions
Promotional emails are a crucial part of your email marketing as their purpose is to increase conversions both for new and existing customers. The different types of promotional emails outlined in this article along with the promotional email examples we included allow you to test what works best for your audience throughout the year, always keeping into account promotional email best practices.
If you want to get a headstart, sign up for a free MailCharts account to see which types of promotional emails are most common in your industry, and how often your competitors tend to send them.